When you hear St. Patrick's Day, we know what springs to mind. Apart from celebrating all things Irish, it's also time to break out the green and join in the fun. Revellers will put on green clothes. Some cities will dye their rivers green.
Here at Olivieri®, we're going to celebrate the day by sharing our most delicious green dishes. So if you're a veggie lover, looking for something nutritious, or maybe you're just in the mood to up your green game, we've got you covered. Let us take you through our suggestions for green recipes so you can learn how to make the most elegant veggie dishes.
Zucchini
Why is zucchini an ideal meal option? It has mild flavour, tender texture, and great versatility. If you're looking to add some green to your meal, zucchini is always a great choice. These delicious dinners with zucchini show some of our favourite options to make sure you're never short of ideas.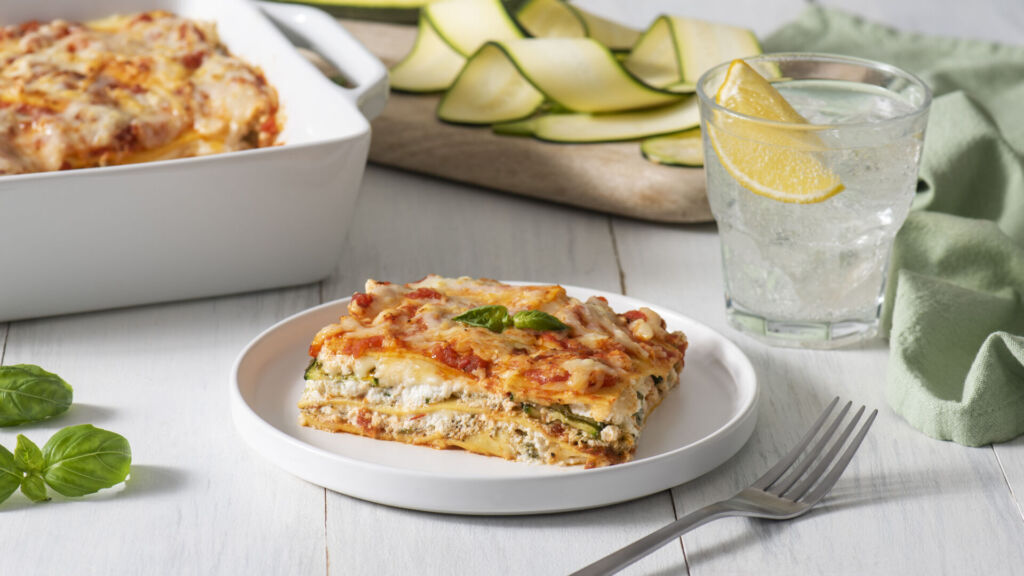 One of the most delicious options is this Roasted Zucchini Lasagna, a blend of creamy cheese, tomato sauce and nutritious greens instead of meat.
Asparagus
There are so many reasons to be a fan of this tasty and versatile veggie. Asparagus can be roasted, grilled, or sautéed, but one thing is certain: it brings a fresh, earthy flavour to any dish. Here are some of our favourite options:
You can treat yourself to a delicious meal any day of the week with this plate of Asparagus and Red Pepper Linguine. With veggies all smothered in basil pesto, this is perfect for a weeknight family dinner, a sure hit that'll leave everyone satisfied.
You'll be hooked on this Cheese Filled Skillet Gnocchi with Lemon, Ricotta and Asparagus if you like the sound of these ingredients: succulent asparagus, aromatic garlic, lemon zest, flavourful Parmesan cheese, and a generous spoonful of creamy ricotta cheese. Doesn't it sound like a dish the whole family will love?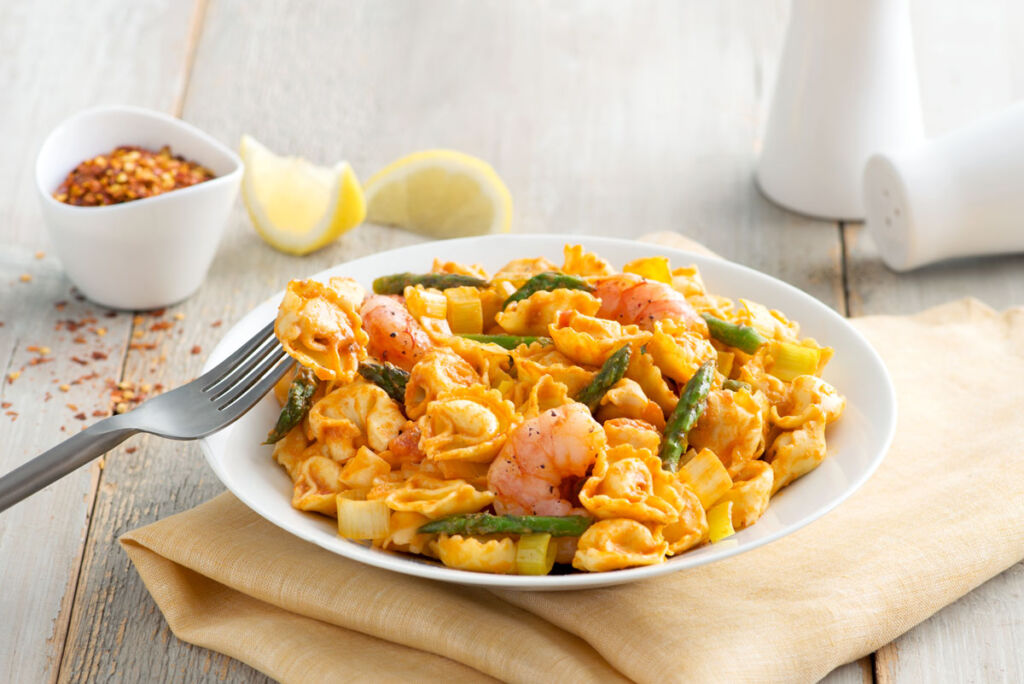 Let's not forget how much juiciness and tang cherry tomatoes can add to a dish. This Chicken Pesto Tortellini with Cherry Tomatoes could be what you're looking for. Stuffed with a rich blend of creamy ricotta, tangy Romano, and nutty Parmesan, these fresh tortellini pack a serious punch of cheesy goodness that stand out from your everyday pasta dishes.
Shrimp lovers needn't look any further than this Tortellini with Asparagus Shrimp. The succulent and slightly sweet flavour of shrimp complements the richness of cheese-filled tortellini, creating a delicious and well-rounded taste.
Adding shrimp to tortellini brings some elegance and sophistication to a dish which is why it's a great option for evenings when guests are around. For a similar dish with a Quebec-inspired twist, try this Tortellini with Matane Shrimp and Québec Asparagus.
Peas
They make look like nothing other than little green beads, but peas pack a powerful punch in terms of flavour and nutrition. Their slightly sweet and grassy taste works well with plenty of foods, and – as you can buy them frozen or canned – preparing them is hassle-free.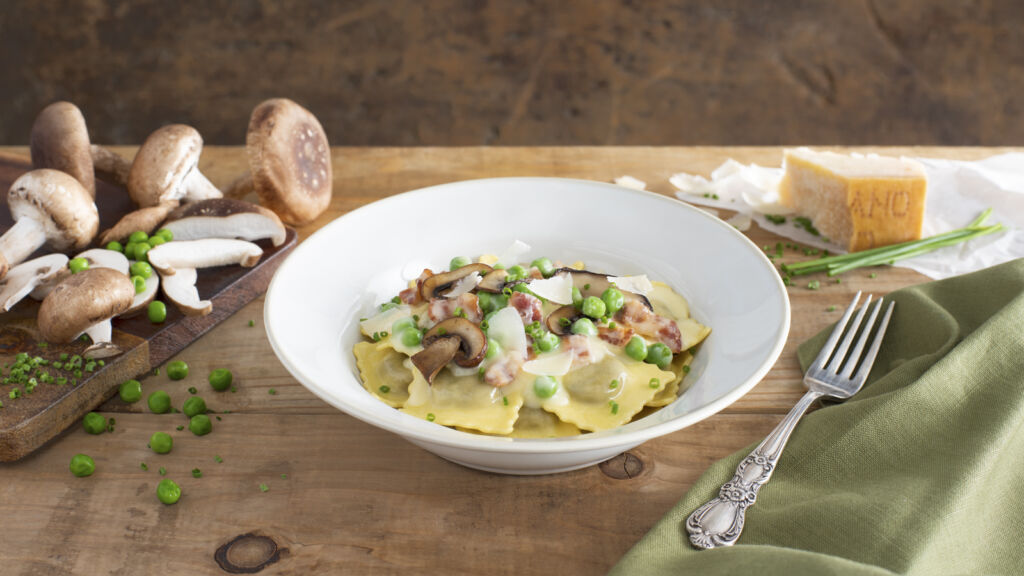 This Mushroom Ravioli with Bacon & Butter Sauce dish features Olivieri® Mushroom Lovers Ravioli as the centrepiece, coated in a rich and buttery cream sauce. To add a delightful green touch, tender peas are added while a touch of lemon juice lifts the overall flavour profile.
Skillet Gnocchi With Fresh Goat Cheese and Green Peas is a simple dish that combines tender, pillowy gnocchi with the tangy and creamy flavour of fresh goat cheese and the sweetness of green peas.
Spinach
It's impossible to go green without mentioning spinach. Its mild flavour compliments with so many other ingredients, its texture makes it a joy to eat, and its bold colour makes it look just as good as it tastes.
Enriched with Spinach
Tortellini and spinach are a great match. As tortellini is a hearty pasta, spinach adds a light contrast, soft texture, and extra nutritious properties. Our Olivieri® 7 Cheese Rainbow Tortellini contains a blend of 7 cheeses including ricotta, Swiss, Parmesan, mozzarella, provolone, asiago and fontina. If you add spinach into the mix, the result is irresistible!
Alternatively, you can use our Olivieri® 3 Formaggi Rainbow Tortellini which has ricotta, Romano, and Parmesan Reggiano, and goes down a treat with some creamy Olivieri® Classic Alfredo sauce.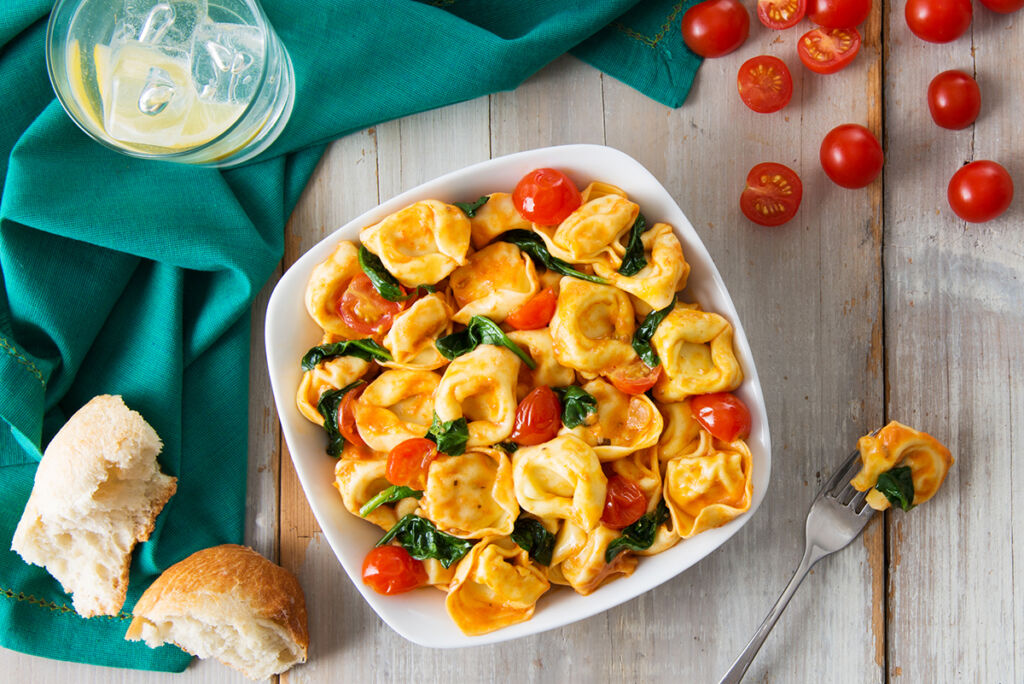 Stuffed Pastas
Spinach also tastes great when it's hidden inside stuffed pasta dishes.
Olivieri® Fresh Ricotta & Spinach Ravioli: a rich and creamy mix of ricotta cheese and spinach, enveloped into thin sheets of fresh pasta and moulded into square shapes.
Olivieri® Fresh Ricotta & Spinach Cannelloni: Fresh, elongated rolls of pasta, carefully wrapped to perfection, and bountifully filled with a luxurious mixture of rich ricotta cheese and flavourful spinach leaves.
In this Skillet Gnocchi with Mushroom and Goat Cheese you'll find creamy goat cheese with spinach, savoury mushrooms and tender gnocchi, making for an irresistible and satisfying meal.
For something with an elegant flair, try this Rosé Cheese Tortellini with Spinach. The spinach adds a touch of freshness to the delicious rosé sauce with creamy cheese-filled tortellini.
This leafy green also works well in soups, blending seamlessly into broths for a smooth and comforting consistency, as you'll find in this Mama's Tortellini Soup. Topping Tip: Sprinkle some parmesan on top for even more flavour.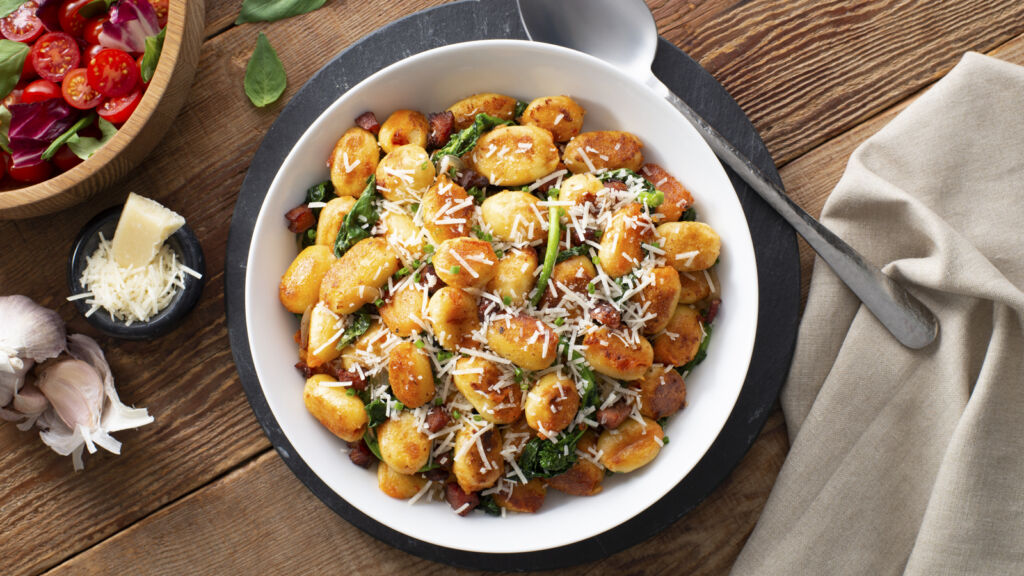 Cruciferous
Cruciferous veggies are a type of plant food that come from the Brassica family. This includes yummy favourites like broccoli, cauliflower, cabbage, kale, bok choy, and brussels sprouts. They're named after their cool cross-shaped flowers. Just see how they can liven up a recipe or two!
Take this Skillet Gnocchi with Rapini and Pancetta, a hearty and flavourful dish that combines three main ingredients. They're cooked in a single skillet, giving you a delicious and satisfying meal full of bold flavours and textures.
You don't have to wait until Christmas for brussels sprouts. If you're a fan, you can use this cruciferous wonder in an Italian-inspired cheesy dish, such as this Cheese Gnocchi with Bacon and Brussels Sprouts. Even the little ones will be asking for seconds!
With such a wide range of green gems to bring into your kitchen, you can fuse the tasty with the nutritious and cook up a memorable meal for the family. At Oliveri®, we're always happy to help you with new and innovative recipe ideas.