There's no such thing as too many family-friendly fresh pasta and gnocchi meals in your recipe box. It's time to mix up your mealtime routine by adding in more greens! Thanks to Olivieri®, you can easily incorporate more vegetables into your weekly meals. After all, you don't have to choose between quality and convenience!
Whether you're looking for more meat-free recipes or want to sneak more veggies onto the plates of picky eaters, these recipes with zucchini will please everyone around the table! Zucchini is a versatile vegetable; it's mild yet refreshing, adding a burst of extra flavour to your dishes.
Come along as we go through some of our favourite simple yet satisfying meals with zucchini that your whole family will love.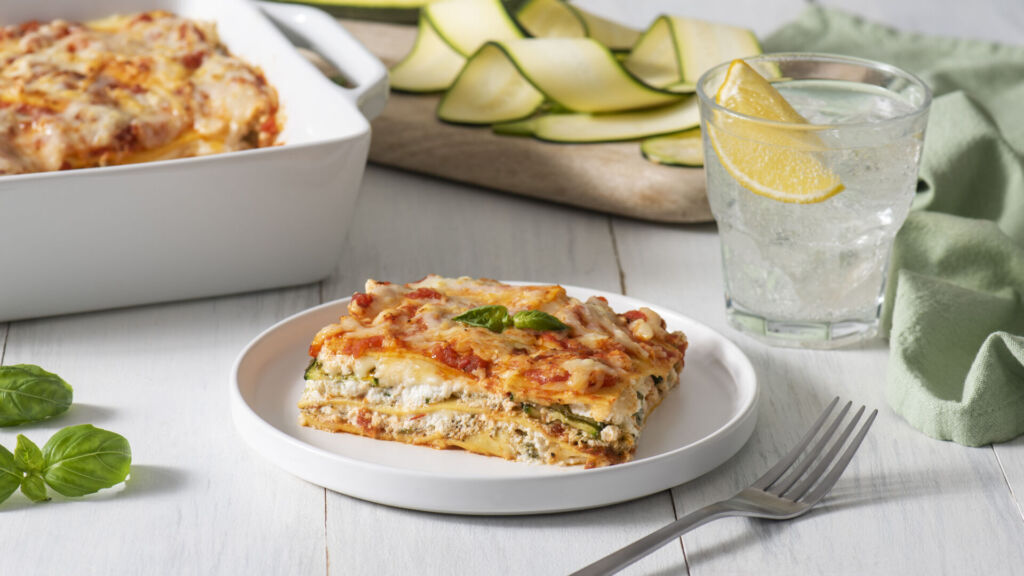 Craveworthy Classic Cuisine with Zucchini
Classic cuisine keeps everyone happy – from Nonna to bambino! There are plenty of traditional recipes that contain zucchini for you and your family to try. Here are some tried and true dishes:
Lasagna: Whether you've mastered the art of making lasagna and want to get creative with some variations or are simply searching for a meat free alternative, this Roasted Zucchini Lasagna never disappoints!
Gurguglione: Change things up with another Italian classic hailing from the islands of Elba. Gurguglione is just as fun to eat as it is to say! It's a hearty stew consisting of fresh herbs – basil and parsley– and plenty of vegetables – onions, eggplants, tomatoes, green peppers, and – of course – zucchini! Slowly simmer seasoned vegetables of choice until they are fork-tender. Sprinkle on Olivieri® Fresh Classic Potato Skillet Gnocchi for some crispy texture!
Ratatouille: A French staple, ratatouille consists of stewed eggplant, zucchini, and tomatoes in a tomato sauce loaded with herbs, garlic, onion, and carrots. Why not try ratatouille with an Italian twist? Top with skillet gnocchi to get the crunch you're craving. Plus, it makes this French classic that much heartier! For a simple yet satisfying shortcut, try a flavourful fusion using Fresh Sauces.
Hearty Zucchini Boats
Zucchini boats are perfectly-portioned meals that even the pickiest of eaters will enjoy. It's the ideal gateway to mastering stuffed vegetables because it's easily-customizable, universally loved, and so simple to prepare!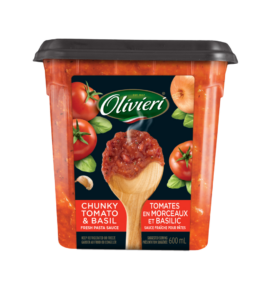 Scoop out zucchini into boats with plenty of space for filling.
Add sautéed sausage and Olivieri® Chunky Tomato & Basil Sauce into your veggie shells and sprinkle mozzarella and Parmesan cheese overtop.
Bake at 425°F until golden brown, or about 20 minutes.
Top with sautéd Olivieri® Cauliflower Emmental Skillet Gnocchi just before serving for a satisfying crunch
Veggie-Packed Plates
Thanks to Olivieri®, making meals for meat-free Mondays has never been easier! After all, vegetarian dishes are anything but boring when you use quality, flavourful ingredients. From Pasta Salads to soothing soups, there are plenty of Vegetarian Recipes that will keep you and your family satisfied. Toss it into a tasty pasta dish. Loaded with onion, mushroom, eggplant, and zucchini, this Cheese Tortellini in Rosé Sauce is a filling and flavourful dish that will soon be a family favourite.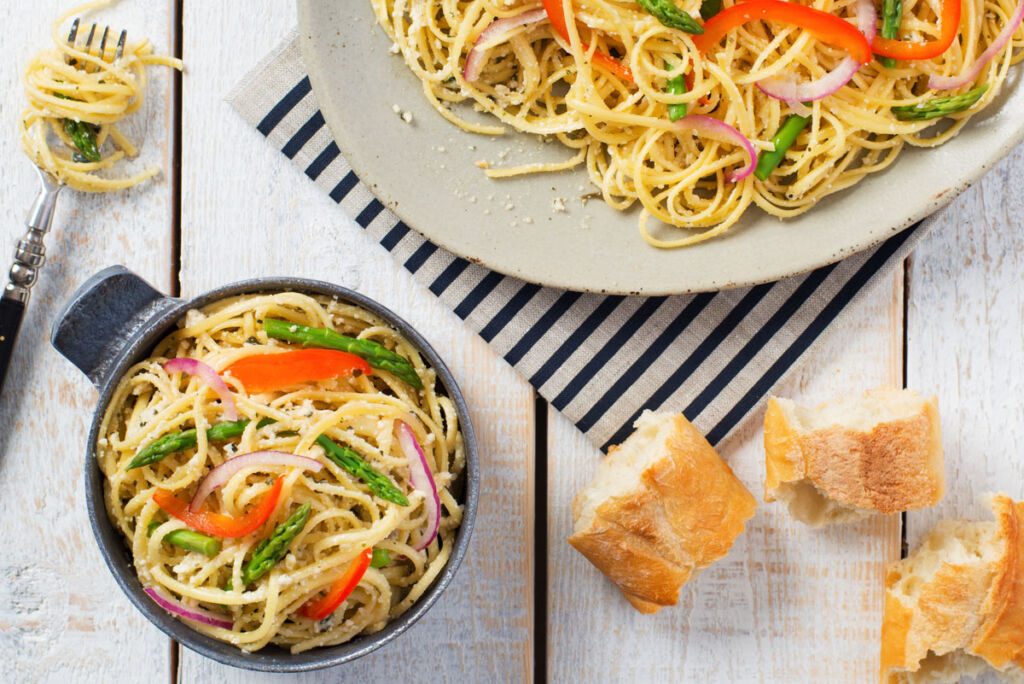 For a Gluten Free alternative to pasta, simply substitute zucchini noodles in your favourite dishes. When you're in the mood for our creamy Classic Alfredo Sauce, this Linguine Italiano will satisfy your craving. As zucchini noodles only take a few minutes to sauté, altering the recipe is not even necessary!
Satisfying Zucchini Sides
For meals like Parmesan and Garlic Skillet Gnocchi, it's easy to get into a recipe rut by always serving the same vegetables alongside your meat and skillet Gnocchi. Luckily, it's easy to level up those veggies by simply stirring in Olivieri® Basil & Cheese Pesto!
Raw: For a crispy complement, just coat zucchini noodles in sauce. Voila!
Sautéed: Julienne zucchini and toss them right into the skillet to pack even more veggies into this Pepper and Onion Pesto Medley.
Baked: For golden, tender zucchini slices, head to the oven. Slice zucchini, brush with Olivieri® Pesto, and arrange in a single layer on large parchment paper–lined baking sheet. Bake for 6 to 8 minutes at 425°F and enjoy!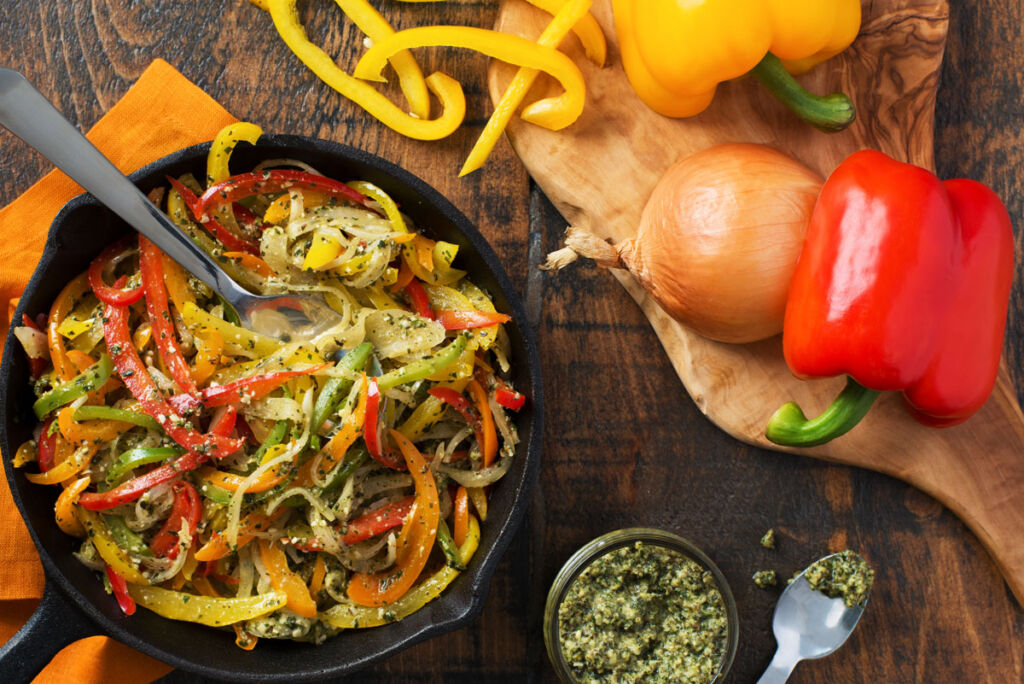 No matter how you slice it, zucchini is a great addition to your favorite Olivieri® meals! 
Get creative in the kitchen with Olivieri®. From sauces to gnocchi to pasta, we offer a wide range of fresh products, so you've got plenty of options when you want to make flavourful meals that are packed with veggies!