Every lasagna is different. While the good ones are delicious, plenty of others fail to impress. Here at Olivieri®, we believe we know the best tips and tricks for making the perfect lasagna and helping you avoid pitfalls. By following our expert advice, you'll be able to cook up a lasagna that will satisfy the whole family's taste buds.
Choose Quality Ingredients
The first secret to making any delicious dish lies in using quality ingredients. In the case of lasagna, you'll need three main things: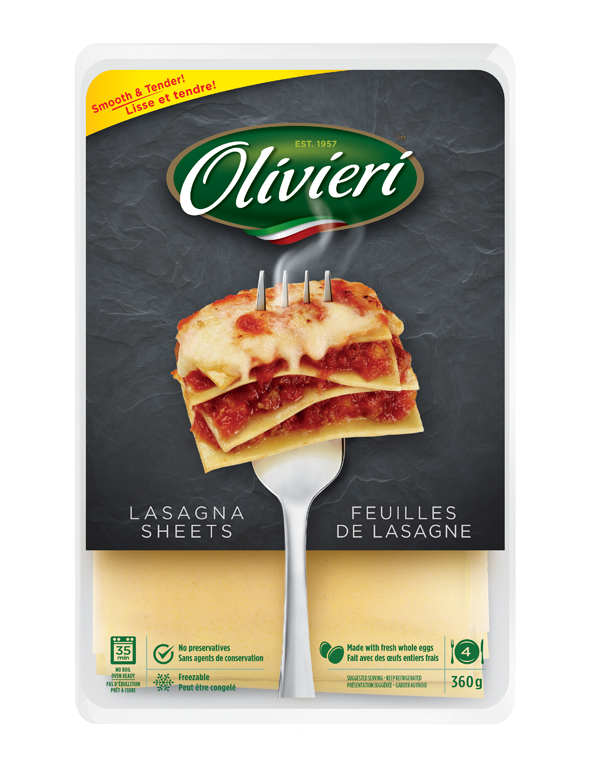 Lasagna Sheets
For thin, soft sheets of fresh pasta that bake up beautifully with your preferred sauces and additions, try Olivieri® Lasagna Sheets. This pasta is created with high-quality ingredients, such as durum wheat semolina, eggs, and no artificial colours, flavours, or preservatives.
These lasagna sheets are oven-ready, so there is no need to boil them beforehand before layering or rolling them with sauce and toppings. With half the effort and in less time, serve up delectable oven-baked fresh pasta dishes.
Pesto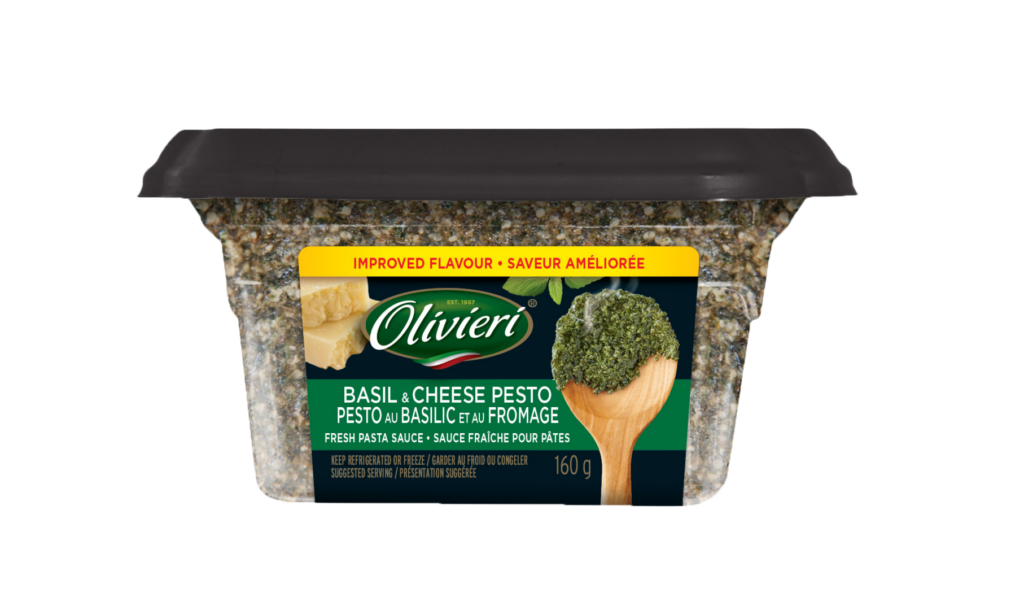 There's a reason why pesto sauce is one of the most popular sauces in the world: its flavour brings joy to the meals of millions. Made from fresh basil leaves, among other ingredients, Pesto Alla Genovese has its origins in Genoa and is used for a range of different dishes aside from just pasta. 
Olivieri® Basil & Cheese Pesto works well as a pizza topping, salad dressing, appetizer and dip sauce, sandwich spread, and pizza garnish. But have you ever tried it with lasagna? If not, brace yourself for a real treat.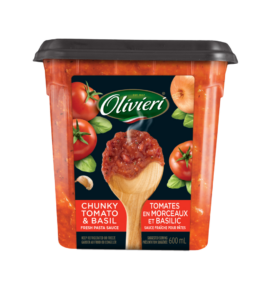 Tomato Sauce
Not only does it have all the flavours of a traditional marinara sauce, but also Olivieri® Chunky Tomato & Basil Sauce contains luscious tomatoes, making each meal even heartier.
When cooking family-friendly dishes with an authentic Italian flavour, that fresh-tasting pasta sauce is also ideal alongside a serving of spinach ravioli with sausage and mushrooms.
Start With a Flavorful Foundation
What is Soffritto?
Soffritto is a base for many dishes in the Mediterranean, Latin America, Spain, Italy, and Portugal. Usually, it consists of fragrant ingredients that are finely chopped, sautéed or simmered in oil. Soffritto adds depth and extra flavour to braises and soups, like minestrone.
Mirepoix vs. Soffrito
Like soffrito, mirepoix also serves as the base for many traditional dishes and often consists of finely chopped onions, carrots, and celery. This mix of ingredients is simmered slowly on low heat until the veggies are soft. Mirepoix is 2 parts onion, 1 part carrot, and 1 part celery sautéed in butter. Italian soffritto contains the same trio of veggies — the ratio isn't relatively as rigid as the recipe from France.
How to Make Soffrito
There is no precise way to prepare this base. It comes in varied forms. However, we suggest finely chopping your veggies into small cubes before letting them simmer. This, in turn, gives you a softer and more subtle foundation for your meal. In addition, spices and garlic are usually stirred in a soffrito to further enrich the base.
Now that you have all the ingredients, it's time to roll up your sleeves and begin making your own lasagna!
Practice Makes Perfect
The more you make lasagna, the better results. But where to begin? This guide will take you through our tried and true methods.
Classic Cuisine
Lasagna is an Italian favourite that is loved around the world. For a delicious dinner to celebrate the holidays or even simply to enjoy a midweek family meal around the table, this Old-Fashioned Lasagna recipe uses just a few quality ingredients: extra lean ground beef, vegetables, and cheese when using our Olivieri® Lasagna Sheets. In fact, this recipe requires just 20 minutes of preparation because our lasagna sheets are oven-ready, allowing you to spend some extra minutes with the family while the oven takes care of the rest.
Though it may come to mind as a rich and heavy dish, it doesn't have to be. Lasagna can also be a lighter dish, especially when choosing a meat-free option. This Roasted Zucchini Lasagna is the perfect meal for that effect. It's a dish that all can enjoy, especially the vegetarian members of your family.
A Twist on Tradition
With our straightforward recipe, you don't need to wait for a special occasion to prepare these splendid lasagna roll-ups. Prep time is less than 30 minutes with premium ingredients and a few of our time-saving techniques: once it's in the oven, you can relax!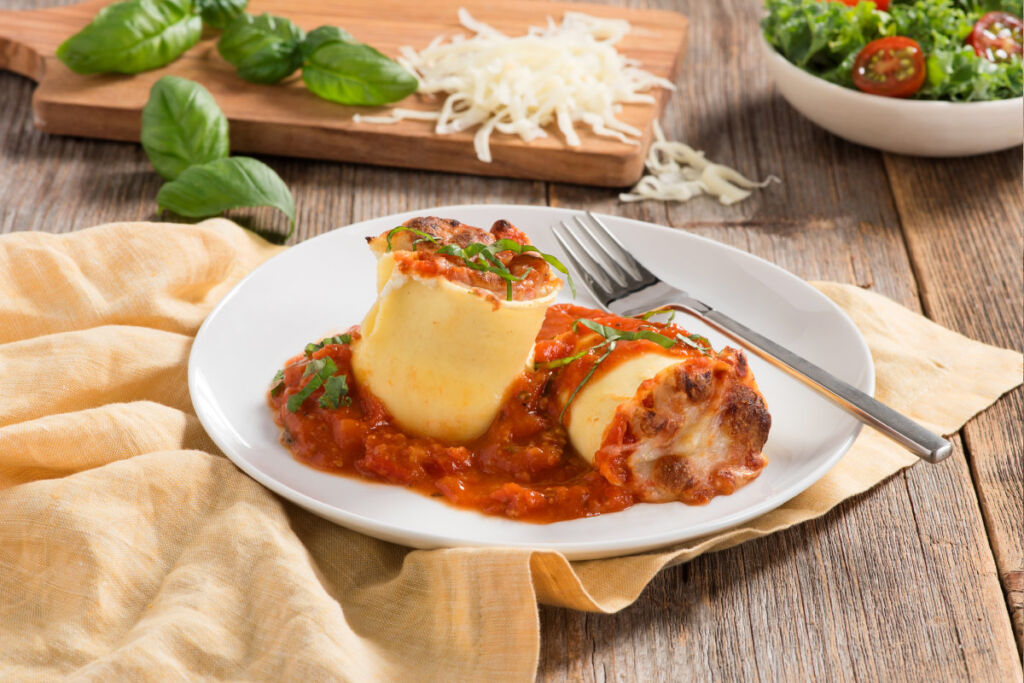 Unlike traditional methods of cooking lasagna, roll-ups have the benefit of being ready to eat immediately after baking. Instead of piling the ingredients on top of one another, the contents of the roll-ups are spread out on the lasagna sheet before being wrapped up inside.
When you want to create dishes with genuinely authentic Italian flavours, enlist the help of Olivieri®! From traditional dishes to creative meals, our fresh pasta, sauces, and gnocchi get it right every time!
Follow @Olivieri on social media to stay up-to-date on the most delicious kitchen tips and trends!