It's that time of year again. Your family members arrive at your front door, where a festive wreath greets them before they ring the bell. You welcome them into your warm and cozy home. There are smiles all around. Their eyes scan the room, taking in your Christmas decorations, the tree, and the star on top. But once the small talk has settled, it's time to eat. So, what's on the menu?
There's no need to stress; Olivieri® is here to help. Follow this easy guide to bring some Italian flavour to your table this year!
Quick Holiday Tips
Share the Love… and the Kitchen Tasks!
When you're so determined to get everything right and please the whole family, it's normal to get overwhelmed. But don't! There's no need when you can share kitchen tasks with your loved ones. By doing so, you take some weight off your shoulders, and it's also a great way to spend time with family members.
Involve the Kids
Give the little ones a task! Getting your family to participate in the kitchen is not limited to the adults around the house. Aside from learning valuable cooking skills and giving them a feeling of responsibility, it's also great for family bonding. Not sure where to start? Try one of these recipes to make with your kids.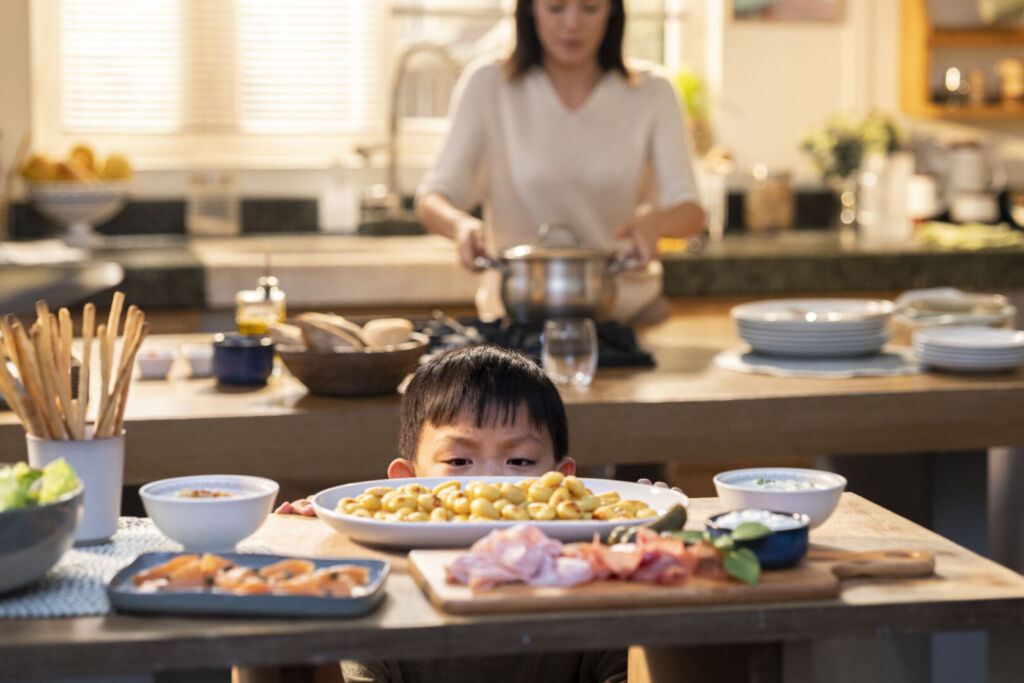 Remember to Relax
Take it easy! You want everything to be perfect, but the most important thing about the festive season is having a good time with those we hold dear. No matter how long your to-do list is, remember to stay in good spirits! Just as long as you get the ingredients right, you can count on a great meal.
Preparing a Holiday Feast
As an appetizer or side dish at Thanksgiving or Christmas, we suggest loading up on veggies!  
First, there are several ways you can prepare a side salad.
Going Green
For an appetizer or side dish that's fresh and crisp, we recommend our Lemon Maple Skillet Gnocchi Salad. All you need is a simple pack of Olivieri® Cauliflower Emmental Skillet Gnocchi, a mix of baby greens, sliced pear, onion, lemon juice, maple syrup, and dijon mustard. 
For another dish that's rich in greens but still satisfies your appetite, try our Skillet Gnocchi Salad With Walnuts. Olivieri® Cheese-filled Skillet Gnocchi, together with arugula, cherry tomatoes, cured ham, mozzarella, and walnuts, is easy to make yet difficult to resist.
Party Perfect Pasta Salads
For those who want something a little more hearty, some delicious pasta salad options exist. 
Infused with a straightforward dressing of olive oil, lemon juice, and oregano, this Greek Salad Tortellini is light and refreshing. You can make this flavourful pasta salad with Olivieri® 3 Formaggi Rainbow Tortellini and tomatoes and spinach. You'll experience a pleasurable abundance of flavours from the three-cheese filling of ricotta, Romano, and Parmesan, with a Greek flair.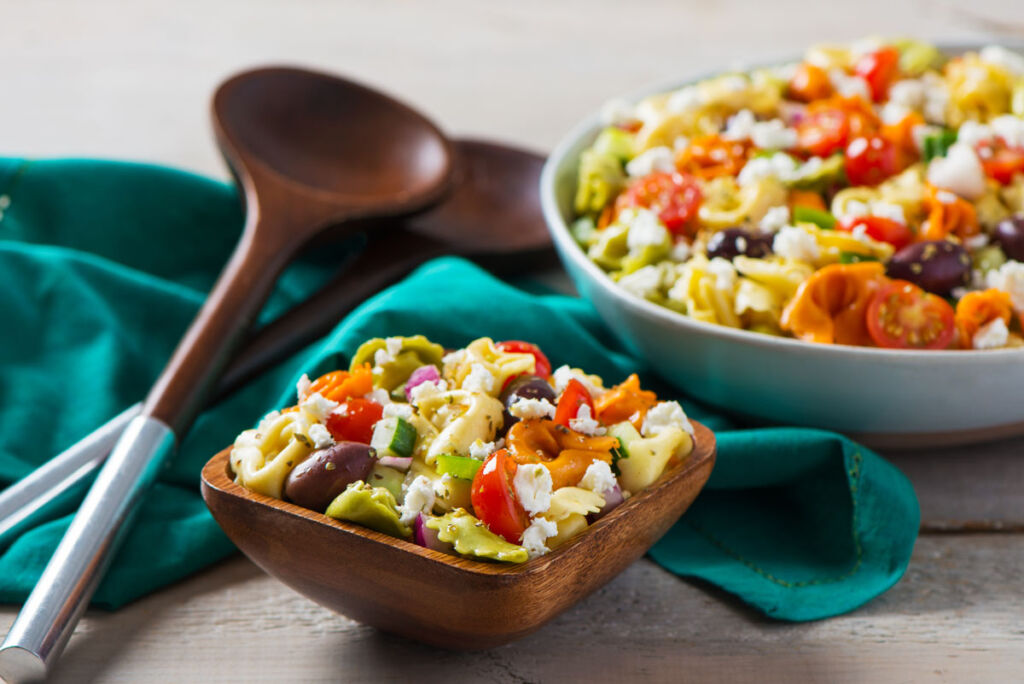 For a side dish or a compliment to a BBQ or potluck buffet, let this Gnocchi Pasta Salad steal the show. This dish will impress with its attractive colours and beautiful flavours. Use the light and pillowy Olivieri® Potato Gnocchi, produced with premium ingredients, to elevate your standard pasta side salad. 
With cheesy rainbow tortellini, you'll have an excellent foundation for this outstanding Confetti Pasta Salad. Great taste is one thing, but there's an added bonus: this pasta salad dish even looks arty once on the plate. Olivieri® 3 Formaggi Rainbow Tortellini cooks in only 6 to 8 minutes. Then you can drain it before adding our fresh pesto sauce. 
Festive Vegetables
Three ingredients and fifteen minutes are all you need to cook up this Pepper and Onion Pesto Medley! You're now ready to prepare these sliced and sautéed peppers and onions, which are then tossed with a garlicky and herbaceous Basil & Cheese Pesto. With so many different meal alternatives, this combo is incredibly versatile.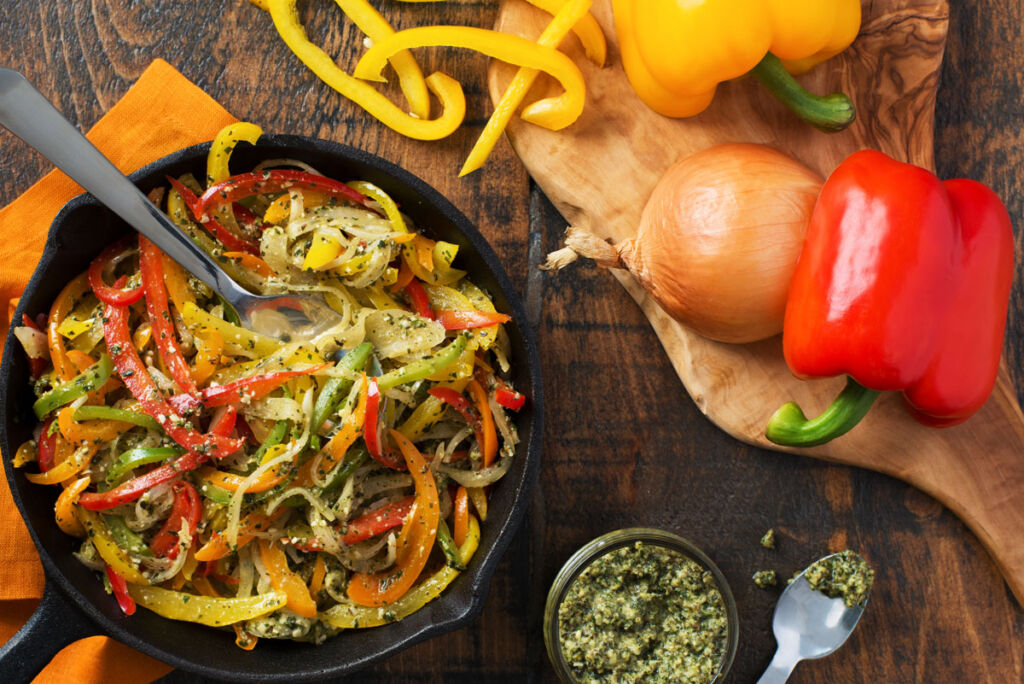 Inspiring the family to eat more vegetables couldn't be easier with this Olivieri® Cauliflower and French Emmental Cheese Skillet Gnocchi. Each mouthful is delightful, with a crispy exterior and a delicate inside of cheese and veggies. This is a dish the kids can enjoy if you don't finish everything first!
Main Course
For a delicious dinner to celebrate the holidays with the family all together around the table, this Old Fashioned Lasagna uses just a few high-quality ingredients. With Olivieri® fresh pasta, sauces, and gnocchi, you'll create a dish with genuinely authentic Italian flavours.
Looking for a vegetarian-friendly dish? This baked Roasted Zucchini Lasagna with roasted pesto zucchini is a filling and quick-to-make dinner, made using fresh oven-baked Olivieri® Lasagna Sheets. We're all familiar with lasagna, but not in this style. This unique twist will wow the family. 
Dessert
Who said skillet gnocchi is only used in savoury lunch and dinner meals? These delicious Churro-Style Gnocchi Bites will soon be a family favourite. Just imagine Olivieri® Skillet Classic Gnocchi coated in a delicious cinnamon and sugar concoction and topped with a sweet sauce of your choice: it's the ideal way to end a holiday meal.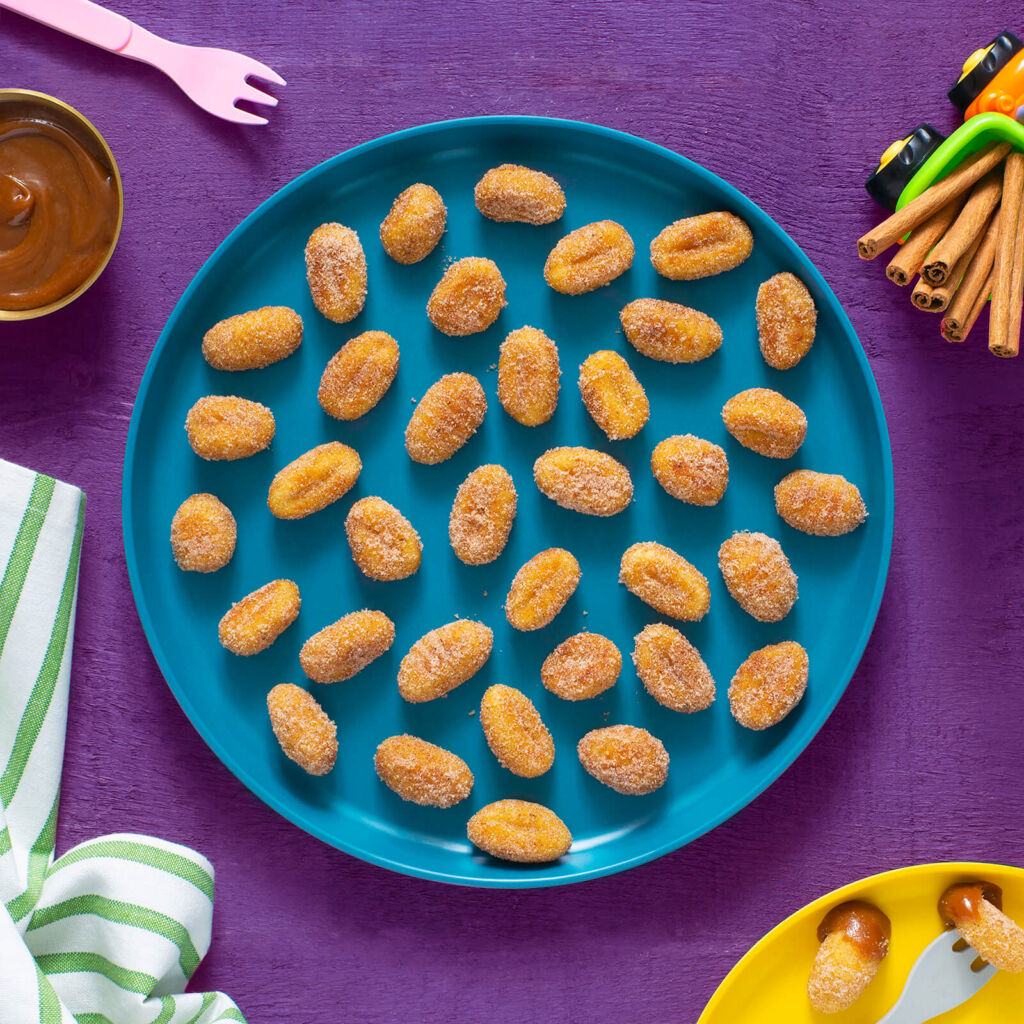 New Years Mixers
At Olivieri®, we have a range of sauces that can be used for dipping to accompany your favourite snacks. Have a look and decide which Olivieri® Fresh Sauce appeals to your taste buds most.
Another great way to start the New Year is by getting stuck into a Cheese-Filled Skillet Gnocchi With a Creamy Pesto Dip. Olivieri® Cheese-filled Skillet Gnocchi goes down a treat with white cheese, Olivieri® Basil and Cheese Pesto, and a few squeezes of lemon juice. 
Let Olivieri® help you out while you prepare each and every holiday dinner so you can focus on what's most important: spending time surrounded by family. Find more inspiration for your events by connecting with us @Olivieri on social media.