Looking for fun ways to spend time with the family? There are plenty of opportunities for kids to get involved in the cooking process! While teaching kids how to cook requires plenty of patience, it's gratifying: the skills learnt will be invaluable, and the memories made along the way will be well worth it.
Leave it to Olivieri® to make mealtime – and prep time – memorable! Let's take a look at how to get even the youngest family members involved in the kitchen: this guide contains some simple ways you can show your kids the way around the kitchen.
Basic Cooking Principles for Kids
In addition to preparing meals, there are plenty of other ways that kids can get involved in the kitchen:
Make Good Choices: Empower your little ones by giving them options! Have them pick a new vegetable or fruit when they tag along at the market, or let them select the veggies that will get mixed into a pasta salad. After all, if they can choose the vegetables, there's a greater chance they'll clean their plates.
Stay Organised: Have your kids help put groceries away, so they know how to store different products. Knowing their way around the kitchen will give them a sense of pride while, at the same time, alleviating some of the workloads. Plus, once they know where different foods can be found, you won't have to lay out all the ingredients for them.
Clean as You Go: Instill basic sanitation measures at a young age. Remind your mini chefs that the first thing professional chefs do after entering the kitchen is washing their hands! Emphasize the importance of keeping a clean workspace, wiping down surfaces, and cleaning as you go (even if it's just immediately placing dirty dishes in the sink). Apart from speeding up cleanup, it's easier for you and your kids to find ingredients, utensils, and containers while cooking!
Your kids can also participate in the kitchen by helping you make one of these easy gnocchi recipes.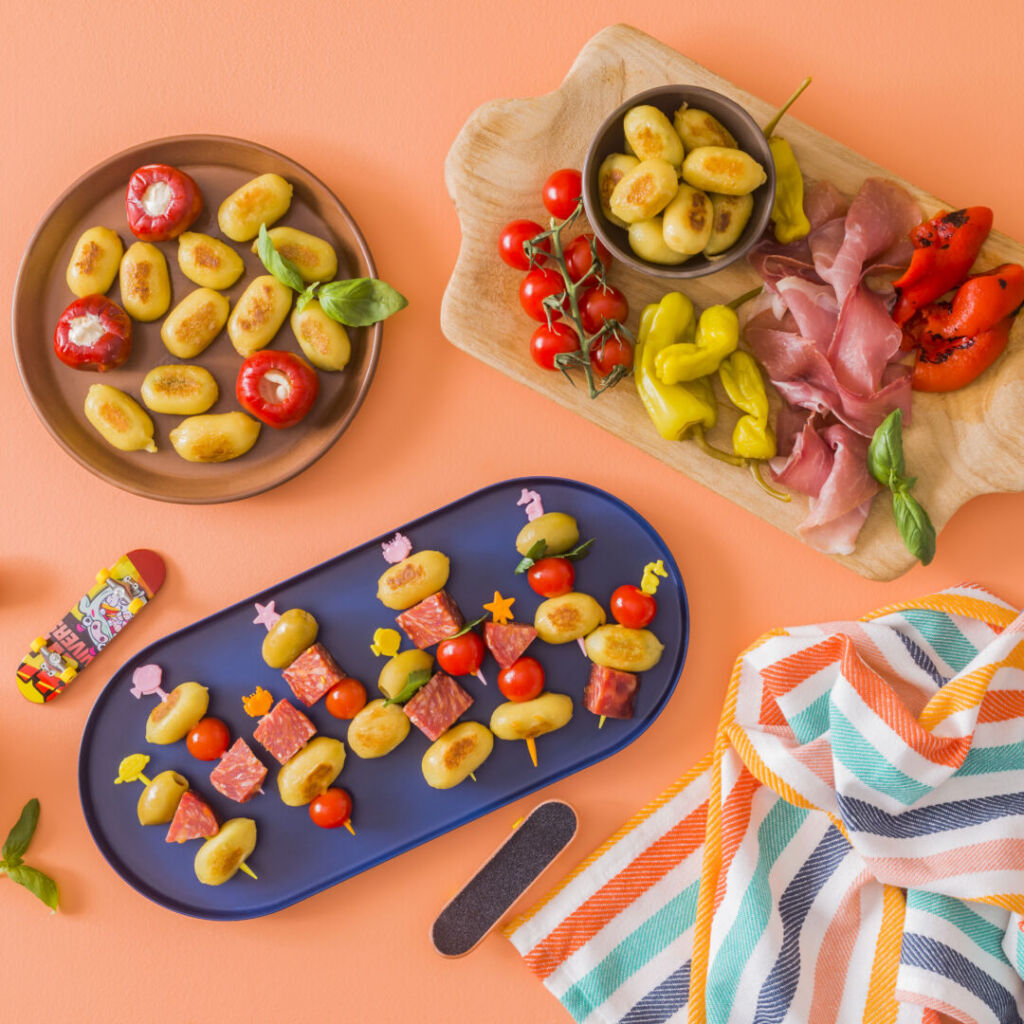 How Can Kids Help in the Kitchen?
We've compiled a quick list that will inspire you to enlist the little ones to help out in the kitchen. We've got you covered if you're unsure where to start! We'll begin with basic tasks that even toddlers can tackle.
Kitchen Note: These projects and age ranges are simply guidelines. When it comes to sharp, hot, or heavy items, it's best to use your best judgment with your loved ones.
What Can Toddlers Do in the Kitchen?
Divvy out responsibilities that don't require any utensils. Once hands are clean, kids are ready to get started!
Tear: From picking off stems to ripping leaves, they can help with the herbs! Lay out a few branches of dwarf basil so they can prep the garnish for this Skillet Gnocchi With Bacon and Sun-Dried Tomatoes.
Rinse: Review the importance of rinsing off fruits, vegetables, and greens.
Crumble: As kids love exploring different textures, they will enjoy crumbling the cheese of their choice on dishes like this creamy Alfredo Gnocchi.
Teaching Tip: Be sure to explain the importance of washing hands before beginning any task, between tasks, and after taste-tasting.
When they gain more skill, you can give them blunt utensils that require simple movements.
Stir: Give a spoon and a bowl containing batters, dry mixes or pasta salads to younger children and let them stir away! Explain the importance of stirring a creation well; after all, everyone wants every Churro-Style Gnocchi Bite to be evenly coated with cinnamon and sugar!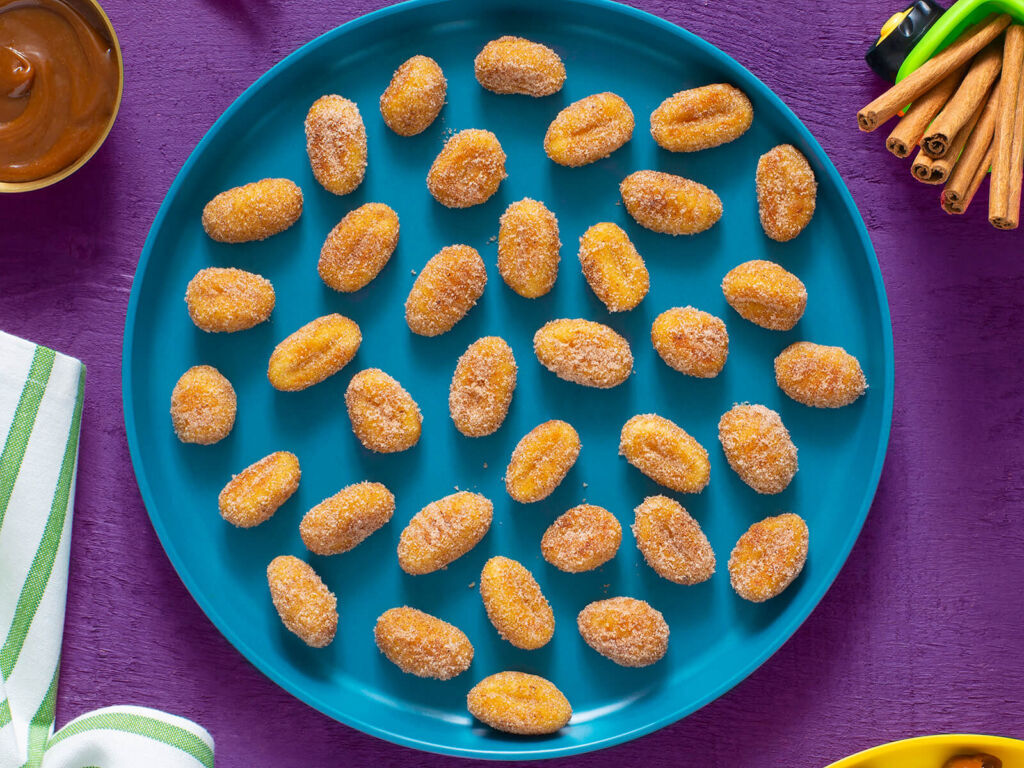 Kitchen Tip: Kids are still quite clumsy at this age, so you may want to choose a bigger bowl than necessary.
Another excellent way for kids to dip their toes into the culinary world is by calling them in to help with the finishing touches. By just spending a minute or two helping out, they'll be able to visually see their contribution to the meal and get the instant gratification of praise and appreciation from other family members – all while enjoying their work!
Sprinkle: There are plenty of topping options – such as salt, herbs, cinnamon sugar, nuts, or cheese – for kids to shake or sprinkle on top of a dish.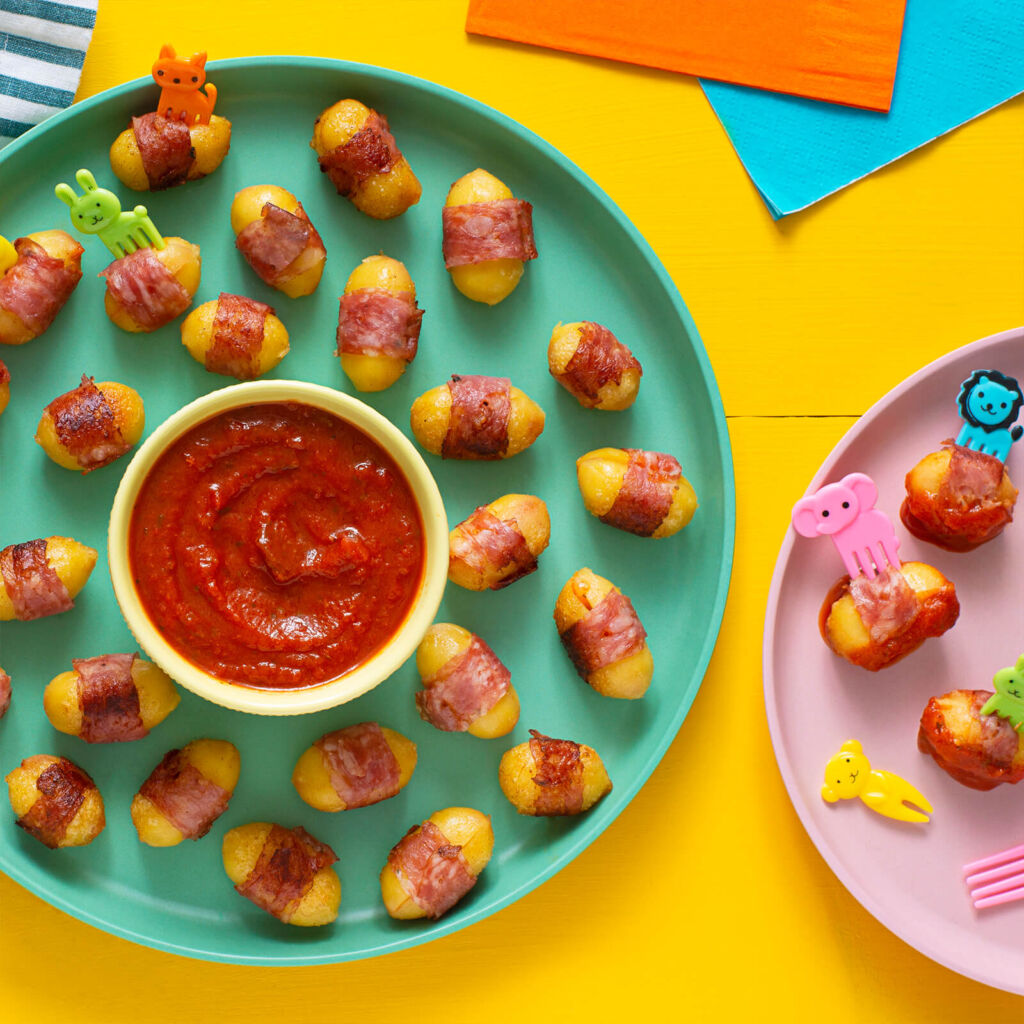 How Can Preschoolers Help in the Kitchen?
By 4 or 5, children are developing fine motor skills, so they'll probably eagerly accept the challenge of more detailed work. Just keep in mind that they will be slow and still need lots of help, so be patient – and take any cooking times with a grain of salt! They can:
Cut: While you may not want to arm your preschooler with anything sharper than a plastic knife, they can cut through soft foods like bananas or fresh mozzarella for an appetizer like this zesty Fresh Mozzarella & Tomato Crostini .
Juice: Let the little ones have a go turning a lemon half with a handheld juicer. Note: To avoid any possible stings, check for small cuts on their hands and warn me against rubbing their eyes!
Wrap: As kids get more nimble, they'll be able to help wrap some deli meat around gnocchi for these fun Gnocchi Pizza Bites! Alternatively, kids can wrap fresh basil around cooked gnocchi for a meat-free option.
Measure: At this age, kids have more precision when pouring liquids and can use a straight edge to level dry ingredients. Lay out the measuring cups and spoons along with all the ingredients. Note: You may want to choose a recipe with plenty of things to measure, like in this Skillet Gnocchi with Rapini and Pancetta. Give them a list to keep them busy while you are sautéing away.
Set the timer: Whether it's winding a mechanical timer or pushing buttons, children can help out by setting the timer. As a bonus, they won't repeatedly be asking when it's going to be ready!
Plate: Many artistic kids may love adding colourful garnishes, setting the table with fun napkins, or arranging the bowls and piling ingredients on a Tasty Gnocchi Board. This is the perfect opportunity to let their creativity run wild!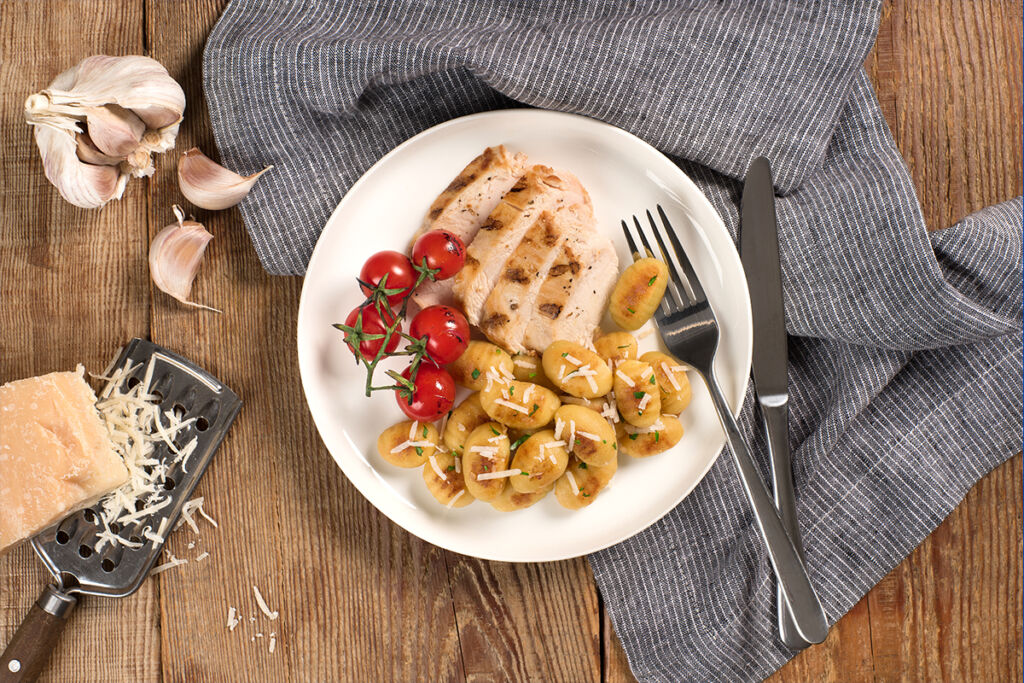 Easy Ways that 6-9-year-olds Can Help in the kitchen
When kids are in elementary school, they are ready for more complicated projects. This is also an excellent opportunity for your children to practice reading aloud and maybe even giving instructions. In general, they should be able to:
Peel: Children can peel fruits, vegetables and even potatoes.
Grate: Go over some grating basics, such as the direction of the blade and how to avoid harsh fingers, before delegating the responsibility of shredding a block of cheese for recipes like this 5-minute Parmesan and Garlic Skillet Gnocchi meal.
Thread: Put out some flat skewers and an assortment of bite-sized snacks – skillet gnocchi, olives, roasted red peppers, cherry tomatoes, deli meat, or cubed cheese – and watch those little fingers thread away to make Skillet Gnocchi Antipasto Bites!
Spray: When baking something, enlist the youngsters to grease the baking pan.
Thanks to quick cook times and effortless recipes, Olivieri® meals are perfect for the little chefs in your family! As with any culinary venture, practice makes perfect. To reduce frustration while learning new skills and parents running out of patience, keep it simple and adjust tasks when necessary.