With the rising temperatures, it's easy to keep your cool just as long as you have some tasty recipes in your repertoire. Make a splash – and Nonna proud – with some refreshing dishes at your next summer get-together: prepare some pool party plates that will please everyone in the family!
Creating a pool party menu is a breeze by using ingredients that can handle the heat, selecting light yet satisfying sides, and opting for seasonal produce. Olivieri® takes the guesswork out of planning and preparing, so all you have to worry about is rain! From prep to plating, we'll show you how to prepare tasty pool party snacks in this guide.
So let's dive right in with some irresistible summer party favourites:
Appetizers
From grab-and-go bites to delicious dips, whipping up amazing appetizers is easier than ever, thanks to Olivieri® Fresh Sauces and Fresh Gnocchi. What's more is we have plenty of options if you're looking for a gnochhi potato recipe.
Set up a table under the shade with snacks for guests to munch on throughout the event.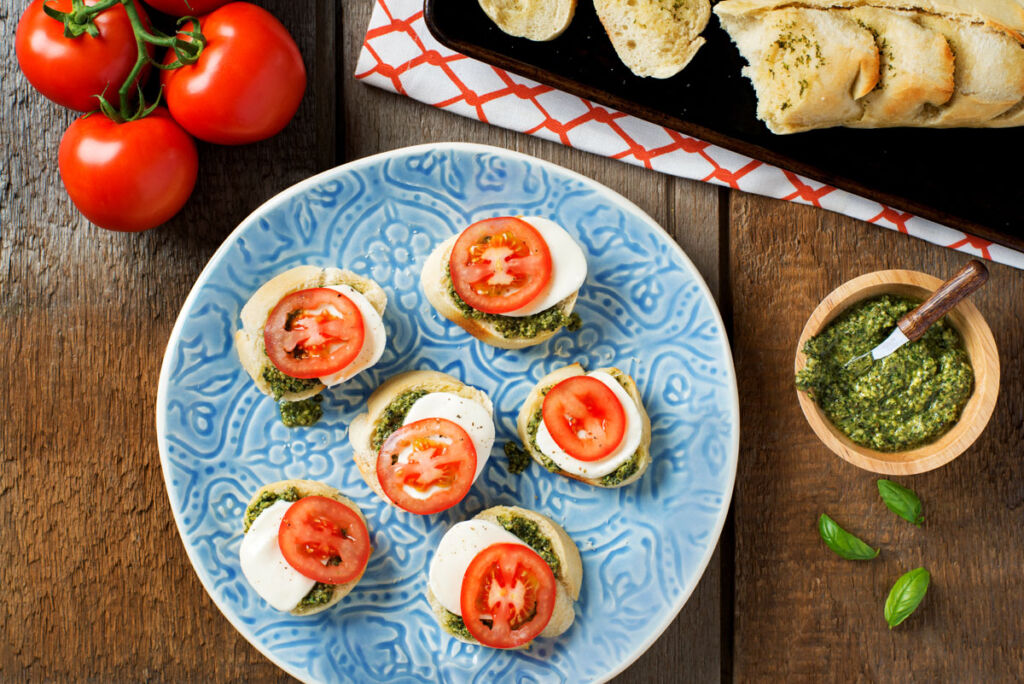 Classic Canapés
You can't go wrong when you serve tried and true starters! Everyone in the family will love our zesty take on a classic Caprese. These grab-and-go Fresh Mozzarella & Tomato Crostini bites are a cinch to put together. Spread some Basil & Cheese Pesto on garlic bread and pile on fresh mozzarella and juicy tomatoes. Buon appetito!
Creamy Dips
Whether guests jump in the water or stay poolside to socialize, all of your guests come over for a dip – chips and dip is a party essential. Consider serving a couple of different dips and dippable so guests can mix and match.
Tomato & Basil Sauce: Whether it's a zesty dip mixed with pasta, a few sauces are quite as versatile as a tomato and basil sauce. It's essential for any gnocchi board! Try our elevated twist on mozzarella sticks by putting together a plate of Skillet Cheese Gnocchi with Tomato Basil Sauce.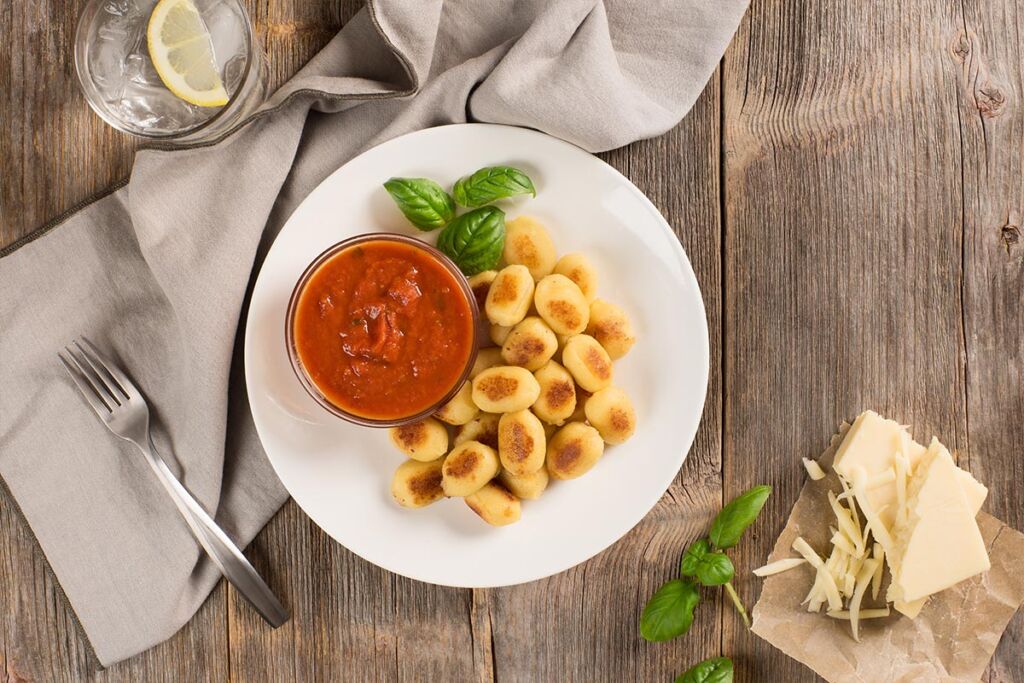 Black Bean Salsa: For a dip that has a bit of a kick, take our Chunky Tomato & Herb Sauce and fold in black beans, jalapeños, and corn – it's as simple as that! For an even spicier dip, swap in a hotter variety such as habanero or ​​Serrano peppers. If you want to tone it down, mix in some poblano peppers or splash in some lime juice.
Creamy Pesto Dip: If you're craving something with tangy herb notes and a fresh taste, this Cheese-Filled Skillet Gnocchi With a Creamy Pesto Dip recipe is calling your name. Whip up a gourmet dip by just mixing pesto and lemon juice with your favourite white cheese – such as Mozzarella, Feta or Ricotta.
Pasta Salads
Pasta salad is a perfect summer side as it can withstand the summer weather! What's more, you can prepare the dish in advance – one less thing to worry about on the day of your party. Toss together all the ingredients together, only reserving ⅓ of the allotted dressing. Right before serving, fold in the remaining dressing. Your dish will not only have the complex flavours from marinating overnight but also the zesty flavours from the fresh coating.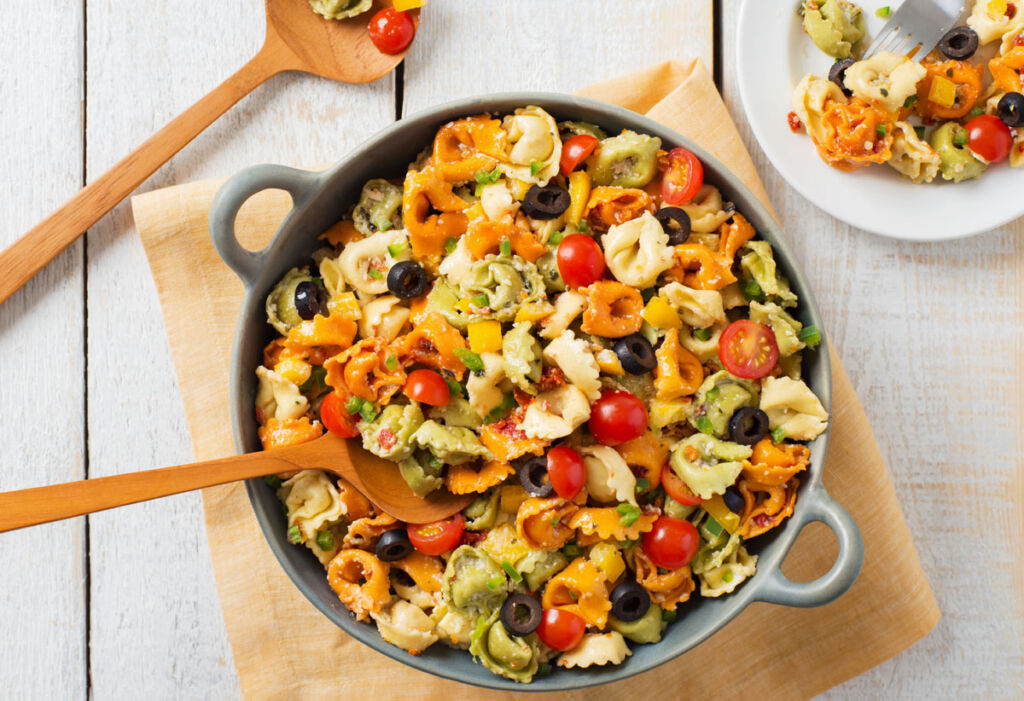 Light yet satisfying, this 10-minute Confetti Pasta Salad will add a splash of colour to your spread. If you're craving something cheesy, choose a variety that won't melt; cheeses like feta or ricotta soften but won't melt in the summer sun. After all, no matter if you're in Montreal or the Mediterranean, this Greek Salad Tortellini can handle the heat!
Serving Tip: Keep your salad on ice by stacking it on top of an identical dish that has been packed with a layer of ice.
Whether you want to make the most out of those recipes or want to get creative by mixing and matching your favourite ingredients, perfecting the art of Pasta Salads is just one click away!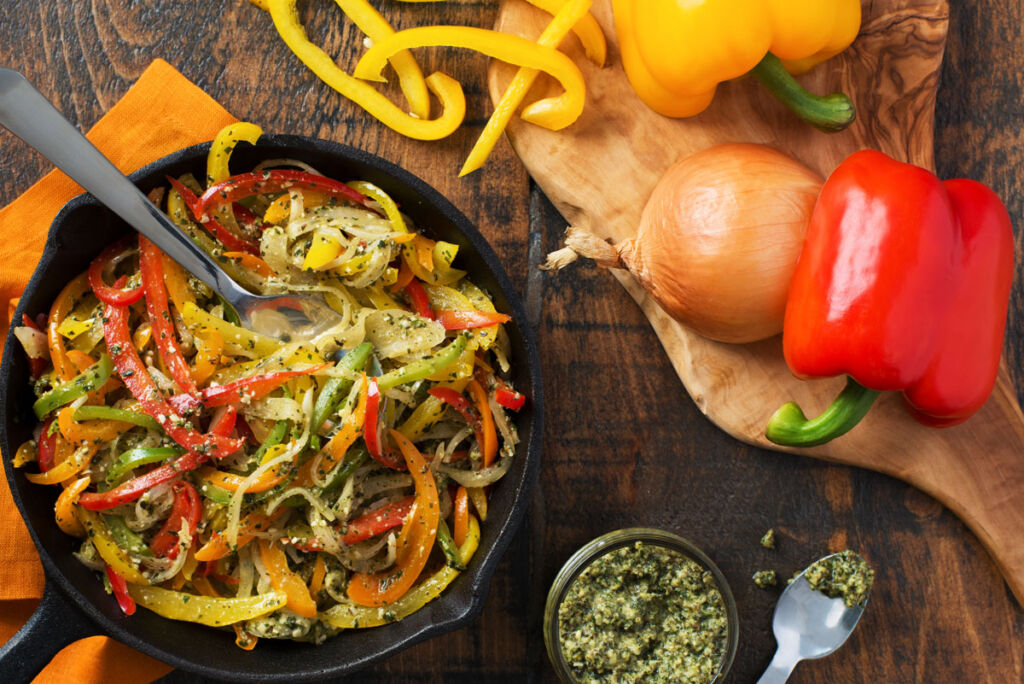 Veggie Sides
Whether you've collected more veggies than you know what to do with or found too good of a deal to pass up at the farmers market, reaping a good harvest is a great excuse to prepare a feast for family and friends! Festively coloured and full of flavour, this Pepper and Onion Pesto Medley is a delicious way to sneak some veggies into a party menu.
No matter the occasion, you can always count on Olivieri® to simplify party planning so you can focus on your family! From quality fresh ingredients to simple yet satisfying recipes, our ingredients are party essentials!