Quick and customizable, charcuterie boards are a great way to feed everyone in the family – from nonna to grandkids. Whether everyone stays to dip or discusses how to assemble the perfect skewer before mingling, a gnocchi board brings everyone – quite literally – together!
Boards aren't limited to only meats or even cheeses. These platters can be sweet and savoury, and Olivieri® can help you prepare either –or both! With Olivieri® Fresh Sauces and Gnocchi, building a beautiful board is a breeze!
Impress your guests with a colourful spread by following a few simple steps in this guide. Ready to wow everyone at your event? Let's begin!
How to Make an Appetizer Board
Appetizers – charcuterie arrangements, cheese plates, and gnocchi boards – are pretty simple to build, just as long you follow a few basic principles. We'll take you through how to mix and match sauces and which contrasting ingredients – creamy and crunchy along with salty and sweet – to serve alongside crispy gnocchi!
The platter possibilities are endless, so let's get started!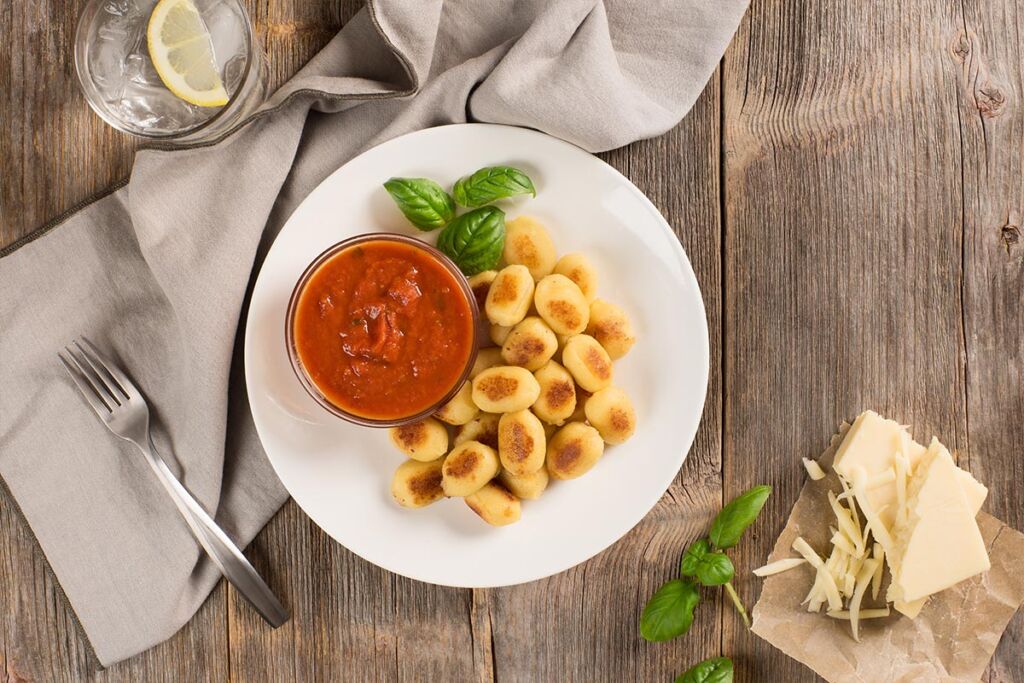 Select a Platter
First, choose a board that will showcase your masterpiece according to the number of guests you'll have. You may want more than one: consider having a kid-friendly platter that will be accessible to the little ones or maybe a separate dessert board.
Arrange the Bowls
Place bowls down first as they give your board structure. You want to feature these small dishes, ramekins, or glass jars that will hold dips and other ingredients – like black olives or blue cheese-stuffed olives.
Dips
Pour Olivieri® Fresh Sauces directly into bowls for a simple way to stock your tray. Taste for yourself with this elevated take on mozzarella sticks and marinara sauce: this Skillet Cheese Gnocchi with Marinara Sauce is perfect for kids and adults alike. After all, our Chunky Tomato & Herb Sauce is a tasty twist on marinara and a must-have for many of our skillet gnocchi varieties.
For a more dippable version of Olivieri® Basil & Cheese Pesto, mix the sauce with white cheese and lemon juice in this crowd-pleasing: Cheese-Filled Skillet Gnocchi With a Creamy Pesto Dip recipe.
Stock up on Gnocchi
You'll want to have plenty of Olivieri® Gnocchi on hand. While you may not imagine tender gnocchi on your appetizer board, our crispy skillet gnocchi is perfect. It's a delicious and hearty alternative to crackers, and the best part ⁠is that your kids and guests will love them!
Each batch is ready in 5 minutes in the frypan, and since there is no boiling or draining required, you can churn out multiple batches one right after the other for larger parties. We recommend including at least three of our seven varieties.
To please everyone's palate and cater to a broader range of diets, pile plenty of Olivieri® Fresh Classic Potato Skillet Gnocchi on your platter. Of course, we recommend including at least 3 of our seven varieties to mix things up!
Olivieri® Basil Pesto and Italian Mozzarella Skillet Gnocchi contain some ricotta and cream for an extra indulgent treat!
Sneak some vegetables on the platter with our Cauliflower and French Emmental Cheese Skillet Gnocchi!
Want to take things up a notch? Take our Cauliflower and French Emmental Cheese variety to the next level by sautéing gnocchi in a tasty sauce. For example, toss butter-coated gnocchi in Buffalo sauce – 2 parts hot sauce to 1 part butter. If you want to get even more creative, consider adding garlic powder, Worcestershire sauce, white vinegar, cayenne pepper, or paprika. Try adding a little honey or maple syrup for a sweeter wing sauce.
Serving Tip: Remember that all our skillet gnocchi varieties look the same on the outside, so make sure to label each variety on the board. Or divide them up into individual sections.
Choose the Cheeses
When building a board, the general rule is to include 3 to 5 kinds of cheese featuring at least one hard cheese, a soft cheese, and a piece of blue cheese. Our Real Cheese Filled Skillet Gnocchi is stuffed with a generous portion of gooey Emmental, mozzarella and Comté cheeses – hard, soft, and semi-hard cheese, respectively – so you're well on your way to perfecting your board.
Slice the Meats
There are a couple of ways you can feature meat on your platter:
Filled Gnocchi: Why not keep your shopping list to a minimum by opting for a couple of bags of indulgent Cheddar Bacon Skillet Gnocchi?
Wrapped Gnocchi: To ensure that each bite is packed with meat, cheese, and potato goodness, take a few minutes to cover a favourite cured meat around crispy Gnocchi Pizza Bites. Wrapped gnocchi is particularly great for a kid's gnocchi board!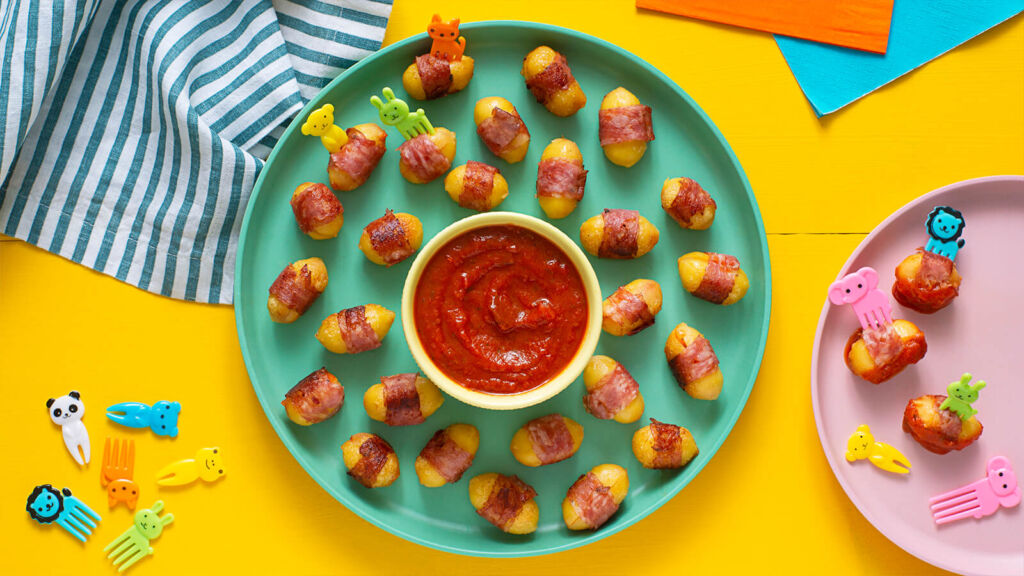 Sliced meats: Charcuterie, translated from French as from the pork butcher's shop, is the art of preparing and assembling cured meats. Rather than prepare these Skillet Gnocchi Antipasto Bites in advance, why not have guests customize their skewers? Lay out some cured meats like salami, pancetta, hard salami, prosciutto, and mortadella: fan them out or loosely roll them, so they are easy to grab or skewer.
Build a Kids' Gnocchi Board
Make a small board with kid-friendly ingredients. Children will love making their snacks – just like the grown-ups! Plus, you can customize the tray to ensure that they get balanced bites while you are catching up with the adults.
Skip the Skewers: Double down on dippable! While things may get a little messy, you can relax knowing that kids don't have access to any sharp utensils.
Keep it Simple: Assembling appetizers may be tricky for kids. As their fingers are not quite nimble, it's best to keep the board stocked with filled and wrapped gnocchi – these Olivieri® Tomato Mozzarella Skillet Gnocchi are always a hit!
Get Creative: Whether you want to assemble bowls like a mouse, opt for colourful napkins, or use animal-themed plastic toothpicks for the older children, a little goes a long way when it comes to impressing the little ones!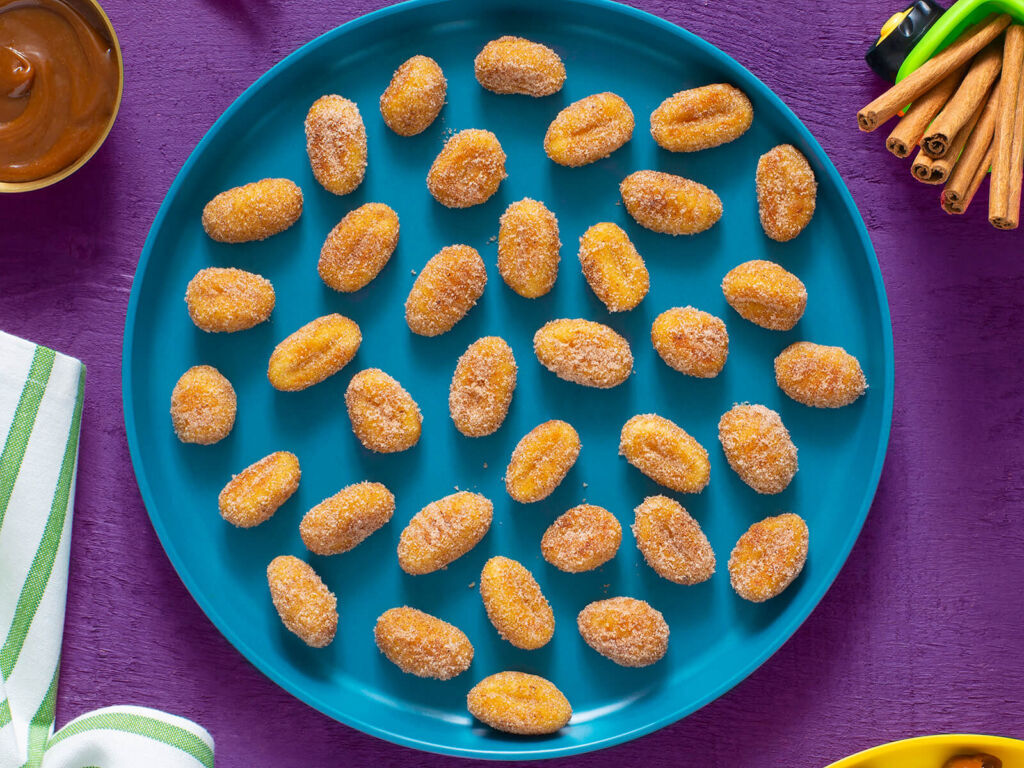 Dessert Board
Don't forget about dessert! For a sweet treat, coat Skillet Classic Gnocchi in sugar and cinnamon for tasty Churro-Style Gnocchi Bites! Plate with an array of sweet dipping sauces:
Dulce de leche or caramel syrup
chocolate sauce
strawberry or raspberry jam
honey
Build your board by adding fresh fruit, marshmallows, and pretzels. If you don't serve both the sweet and savoury trays simultaneously, make sure your guests know to save room!
When you stock up on Olivieri® Gnocchi and Fresh Sauces, preparing a picture-perfect platter for family gatherings is a breeze!
With Olivieri®, you'll never be short of ideas for another gnocchi recipe.