Going back to school is always busy, but it doesn't have to be stressful. Make the transition as smooth as possible by following a few hacks for school lunches that both parents and kids will love.
From selecting snacks and sides to packing up, there are plenty of ways kids can help out in the kitchen.Packing lunches can be a great way to spend quality time with the family. Besides, when children choose which proteins, vegetables, and fruits to pack, they'll be more likely to finish their meals.
Before sharing simple yet satisfying lunch box ideas that would make Nonna proud, let's start with some packing tips that will simplify weekday mornings for you and make mealtime even better for them:
Lunch Box Packing Tips
Pack the Night Before: Mornings tend to run smoother when there are less tasks on the to-do list. Packing lunches the night before will ensure that nothing is forgotten and keep your kitchen clutter free in the mornings.
Let Ingredients Cool: Ensure all ingredients are completely cool before packing them up, as you don't want your container to steam up. After all, although packed Skillet Gnocchi won't be as crispy as it is hot off the stove, nobody wants a soggy lunch. 
Use Fun Shapes: Fruits and veggies are more appealing when they're cut into fun shapes with cookie cutters. With a bit of meal prep on Sunday, you could have shaped snacks throughout the week! Make this a family activity – older kids might enjoy choosing the shapes themselves – or pack a fun midday surprise. Imagine how excited your child will be to show a customized Skillet Gnocchi Antipasto Bites complete with star-shaped meats and heart-shaped cheeses. Also, check out these recipes if you're wondering how to make gnocchi.
Keep it Cool: If foods taste better chilled, strategically pack an ice pack. Better yet, if little ones are likely to lose or forget an ice pack in their lockers, freeze a water bottle and stick it into the lunch bag instead. 
Now onto the kid-friendly recipes that little ones will be looking forward to all morning.
Stress-free School Lunches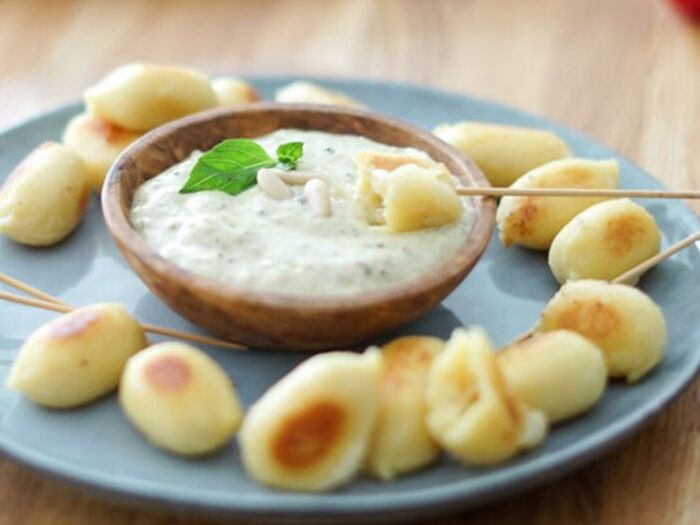 Delicious Dips
Dunking gnocchi makes mealtime fun: it's a time when playing with food is not only acceptable but encouraged! Consider getting bento boxes or divided containers that prevent foods from getting soggy or – for those picky eaters – from "touching each other"– whenever you include dips or dressings.
Packing Tip: If you don't have a divided container, place a silicone baking cup inside the container and fill with sauces and dips.
Creamy Pesto Dip: If your kids are cheese lovers, double down by pairing Cheese Filled Skillet Gnocchi with a rich aromatic dip!
Black Bean Salsa: Legumes not only satisfy your little ones but also energize them enough to take on the afternoon! Let them choose between tortilla chips, crackers, or carrot sticks to accompany this hearty dip. You may want to consider swapping out the jalapeños for something less spicy – bell peppers will add a bit of a crunch without the heat.
Tomato & Basil Sauce: It's no wonder that no one can resist Gnocchi Pizza Bites. Savoury deli meat wrapped around Tomato Mozzarella Skillet Gnocchi served alongside a chunky marinara-like sauce is packed with flavour, pleases every palate, and is perfect for a packed lunch!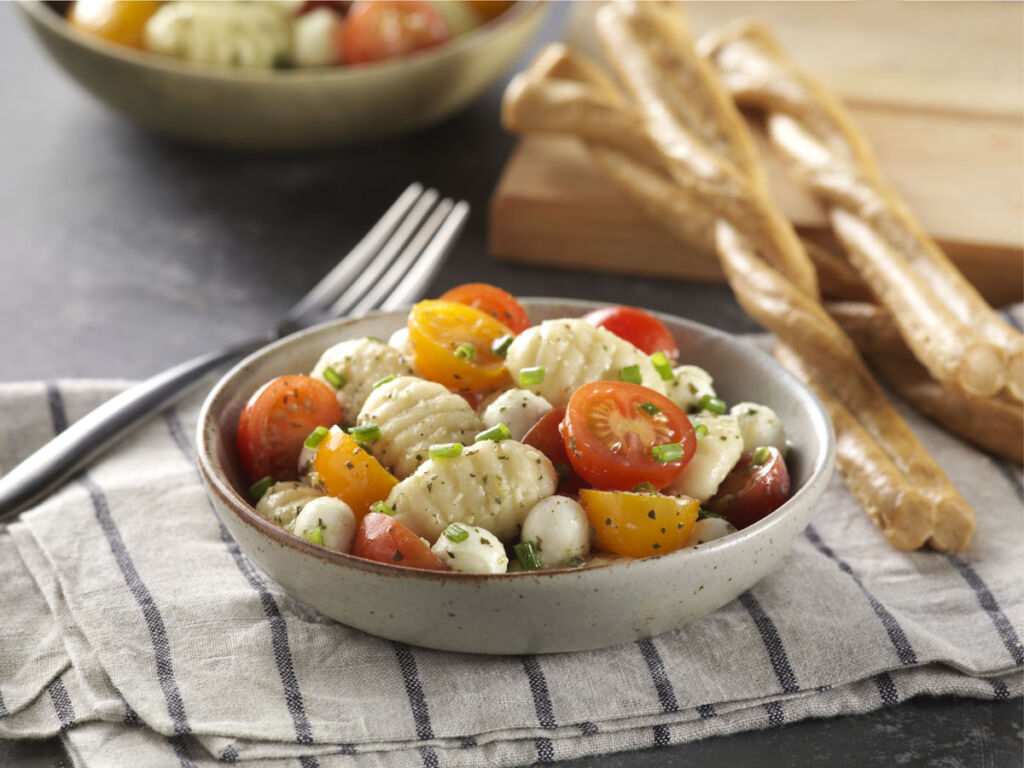 Packed Pasta Salad
The best thing about pasta salad is that it can be served at room temperature, making it an ideal lunchbox item. As there are plenty of ways to customize this dish, they are great options for picky eaters. When preparing dinner, double the recipe for quick and easy leftover lunches: use Olivieri® 3 Formaggi Rainbow Tortellini for savoury salads like this Confetti Pasta Salad, which will add a splash of color to the school day.
If your kids object to leftovers, assure them that pasta salad has even more flavour the following day. Plus, when you include a little extra dressing, it'll taste as good as new. Show them that they can drizzle it over their pasta salad, reseal the container well, and shake shake shake! They'll enjoy shaking their meal as much as they'll enjoy eating it.
Or, mix things up by reinventing leftovers. If you find yourself with any extra gnocchi after dinner, toss together a tasty Gnocchi Pasta Salad in a matter of minutes for lunch. With only 4 kid-friendly ingredients none will be the wiser that these are leftovers!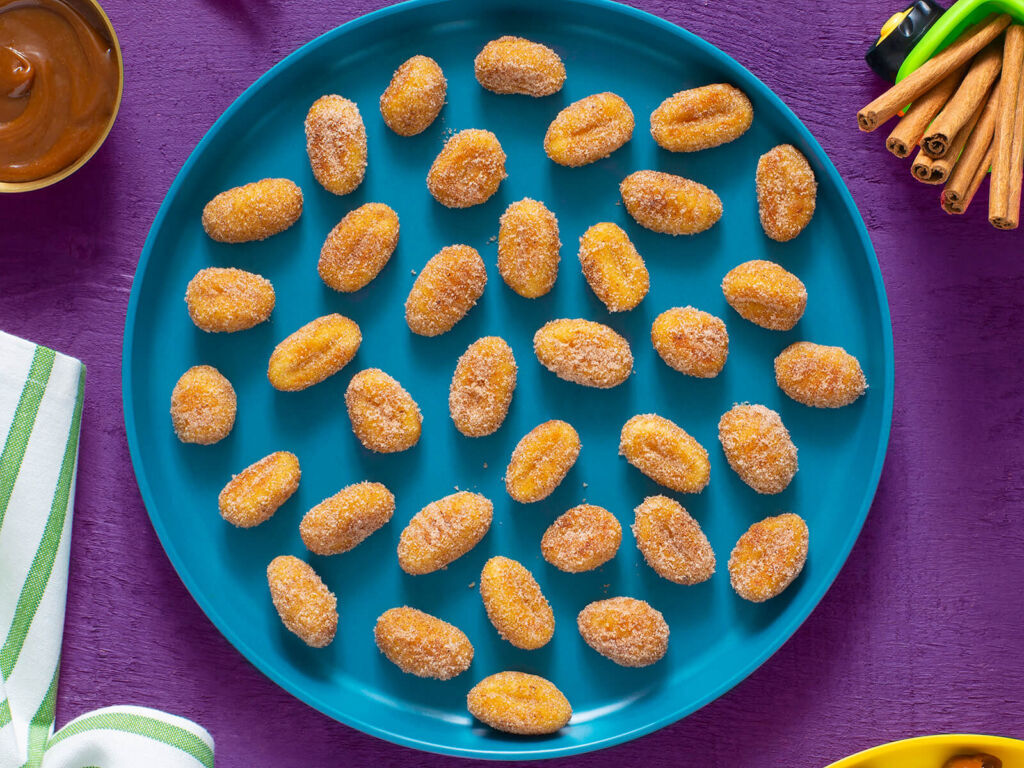 Sweet Snacks
Don't forget to pack dessert so lunch can end on a sweet note. Spend an evening with the kids making Churro-Style Gnocchi Bites. Then, portion out the snacks for the week. Keep things interesting by including different dips each day: the sauce possibilities are endless, from Marmalade Monday to Fudge Friday.
Back to school brings extra responsibility for everyone in the family, so let Olivieri® help lighten the load by simplifying mealtime – breakfast, lunch, dinner, and everything in between!