What is special about gnocchi? This soft, tender and delicious pasta is an Italian delicacy. Luckily, Fresh Gnocchi are not exclusive to Italy. Plus, apart from being incredibly versatile, they can be served all day, everyday! With a light, airy interior and a crispy exterior, Olivieri®'s bite-sized skillet gnocchi are in a class all their own.
We've decided to kick off the New Year with new skillet gnocchi recipes that offer something for everyone!
Comfort Food Favourites
Sometimes certain foods just make you feel better. Whether you are craving a Canadian classic or Italian Comfort Food, making a family favourite is easier than ever thanks to Olivieri®. Our recipe catalog has something for everyone to enjoy.
Let's start with a classic mac and cheese dish. Who doesn't love this timeless classic? It has the magical power of brightening up any gloomy day. We took this classic dish up a notch with Olivieri® Fresh Cheddar Bacon Skillet Gnocchi and a generous portion of veggies to turn this O.K. dish into a masterpiece! Need some more veggies in your life? This gooey Skillet Mac and Cheese Bacon Gnocchi with Broccoli is rich with hot and cheesy flavours (but it has broccoli!) and can be cooked in a matter of minutes.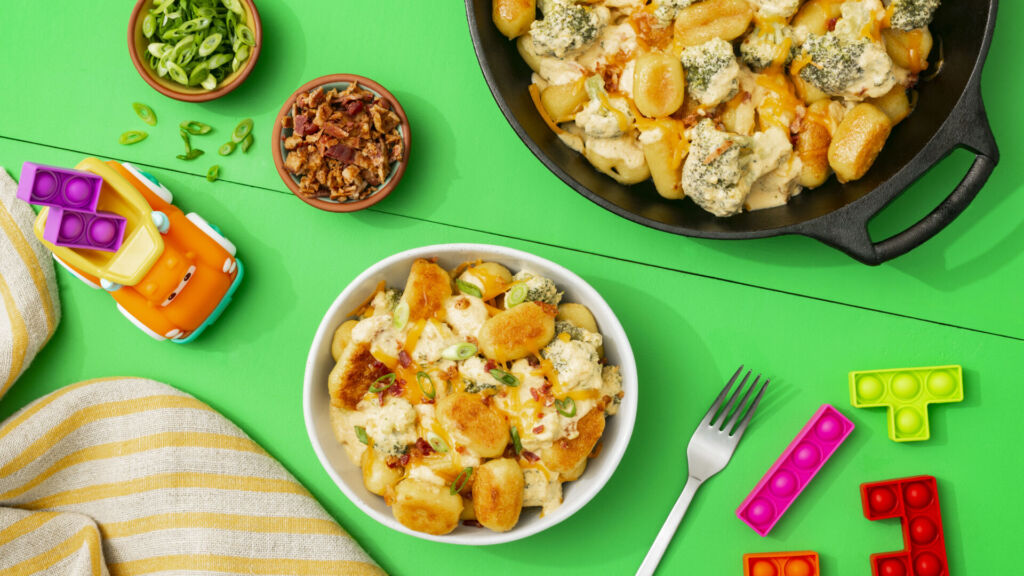 We all have those special foods that make us happier for any meal throughout the day. There are certain things we eat that lift our mood and put a smile on our face. Olivieri® has delicious recipes to offer for any meal and they are sure to please the whole family and put a smile on everyone's face.
Breakfast: Breakfast may be the most important meal of the day, but who says it can't be the most delicious too? Everyone wants to start the day off on the right foot. You can do exactly that with this Loaded Bacon and Egg Breakfast Skillet Gnocchi. Bacon, eggs, sausage, cheese and gnocchi? Yes, please! You will leave the table feeling full and satisfied.
Lunch: For a light yet filling lunch, look no further than this Skillet Gnocchi with Bacon and Sun-Dried Tomatoes. With bacon strips, fresh basil and cherry tomatoes drizzled in olive oil, this dish is packed with all those Italian flavors you love. This traditional Mediterranean meal will become a new family favourite.
Dinner: If you're looking for an evening meal, this Bacon Rosé Gnocchi will not let you down. The blend of tender gnocchi and savoury bacon in a creamy rosé sauce is a fantastic comfort food and ideal to have on hand while you're unwinding down on the sofa after a long day.
Also, if you are a cheese lover you are in luck! Check out Olivieri® extra cheese recipes for some fantastic meal ideas.
Recipes for Seafood Lovers
Pescatarian plates never cease to please. From fresh filets to juicy shellfish, seafood is not only protein-packed, but also a great canvas for culinary creativity. Bring some pleasure to your weeknights with a simple yet satisfying salmon dish. Whip up this Baked Salmon and Skillet Gnocchi in less than 20 minutes. It is warm and pleasing and fused with Italian flavours! If your seafood craving isn't yet satisfied, try one of our irresistible shrimp recipes: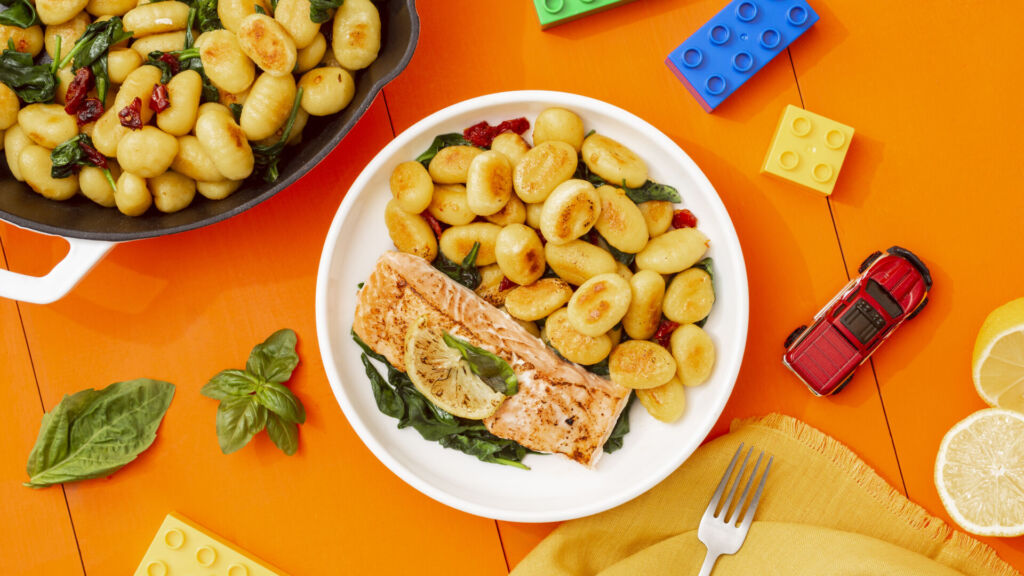 Hearty Italian Dishes
Whether you're hosting a big family get-together or you're having a quiet night at home, Olivieri® Classic Italian Pasta Recipes will show you how to prepare traditional dishes with a twist. After all, chefs around the world know that Italian Comfort Food is a go-to for when you need to feed a crowd.
Even if you know how to make the perfect lasagna, we bet you haven't had anything quite like this Skillet Gnocchi Meatball Lasagna Extravaganza! It's a simple way to make a delicious family-style meal out of meatballs and gnocchi; – a wonderful way to satisfy the appetites of your family and friends, especially if they're lasagna lovers.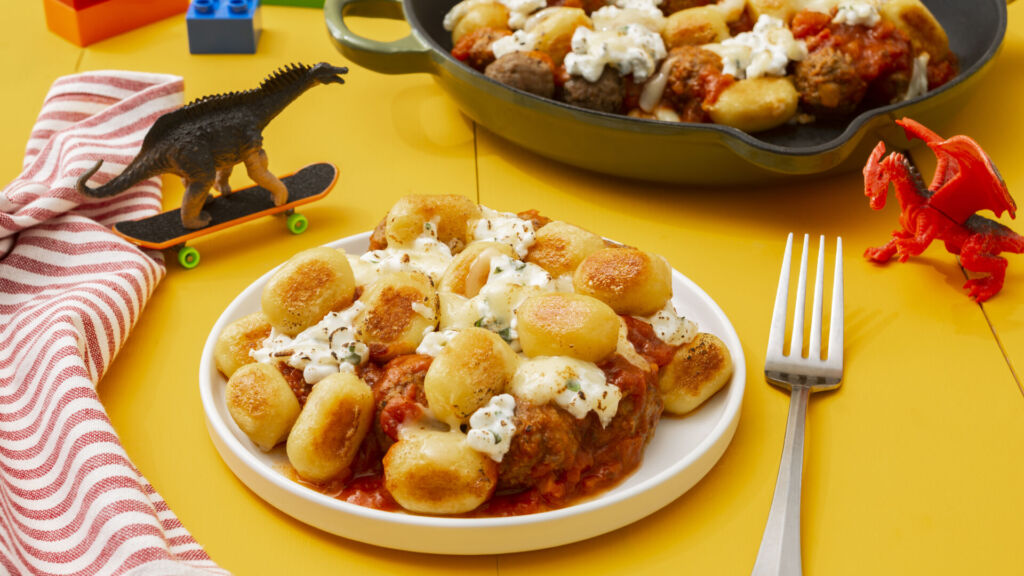 Meatless Meals
No meat, no problem! We were never going to leave vegetarians out of your New Year Gnocchi-fest. Of course, meat free options can be enjoyed by anyone, especially when it comes to this Skillet Gnocchi Vegan Buddha Bowl! This tasty meal is packed with roasted sweet potatoes or butternut squash, baby spinach, grape tomatoes, red cabbage, and hearty chickpeas. Cleaning those empty plates after dinner will be a breeze.
Try some more vegetarian recipes to build to your repertoire, along with some useful cooking tips you can utilise in your own original meals at home. In fact, why not improve your home chef skills by preparing a delicious dinner with zucchini.
Now that you've got enough ideas to start the new year in style, it's time to gather your ingredients, make the magic happen, and enjoy a tasty meal together with your family!