Nostalgic foods are about more than just the taste; they inspire sentimental memories. They're foods that remind you of a specific time, place, or even person. It could be a moment from childhood, a vacation somewhere far away, or a time shared with family members you haven't seen for years.
Though foods classified as nostalgic will vary from culture to culture and from person to person, people will often mention traditional dishes that inspire such sentiment – meals that families have enjoyed for generations.
Whether you want to channel your inner child or create mealtime memories with your family, Olivieri® has some recipes that will satisfy your craving! Come along as we go through some tasty, timeless meals.
Italian Classics for the Family to Enjoy
Some of Italy's most popular dishes have been around for centuries and are often enjoyed by families spending quality time together. That's why many consider Italian food nostalgic. Among such dishes are these Italian Comfort Foods, including lasagna, pasta, and gnocchi recipes.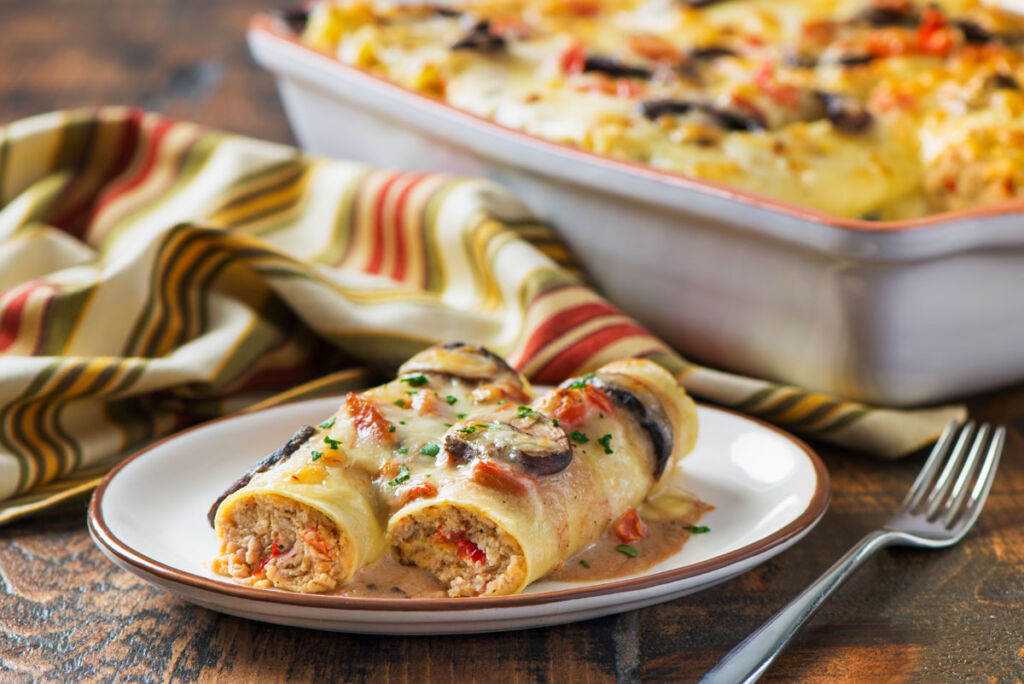 Perfecting Stuffed Pastas
Many classic stuffed dishes in Italian cuisine provoke feelings of nostalgia.
Cannelloni: An enticing recipe you can make from cannelloni is this Chicken and Prosciutto Cannelloni with Mushroom Alfredo Sauce. You have a hearty main course ready to eat with creamy sauce added and topped with parmesan cheese. It requires only 10 minutes of prep and half an hour in the oven.
Ravioli: Fresh Ricotta & Spinach Ravioli "Puttanesca" is a tasty meal that can be made using Olivieri® Fresh Ricotta & Spinach Ravioli. Combine that with Olivieri® Chunky Tomato & Basil Sauce or homemade Marinara sauce flavoured with sautéed onion, garlic, and black olives to create restaurant-quality flavour at home.
Sacchettini: With sacchettini pasta, you can add a fun and sophisticated touch to your midweek family meal. This Chicken, Bacon & Cheese Sacchettini in Basil & Cheese Pesto is a dinner of only three essential ingredients but tons of flavour!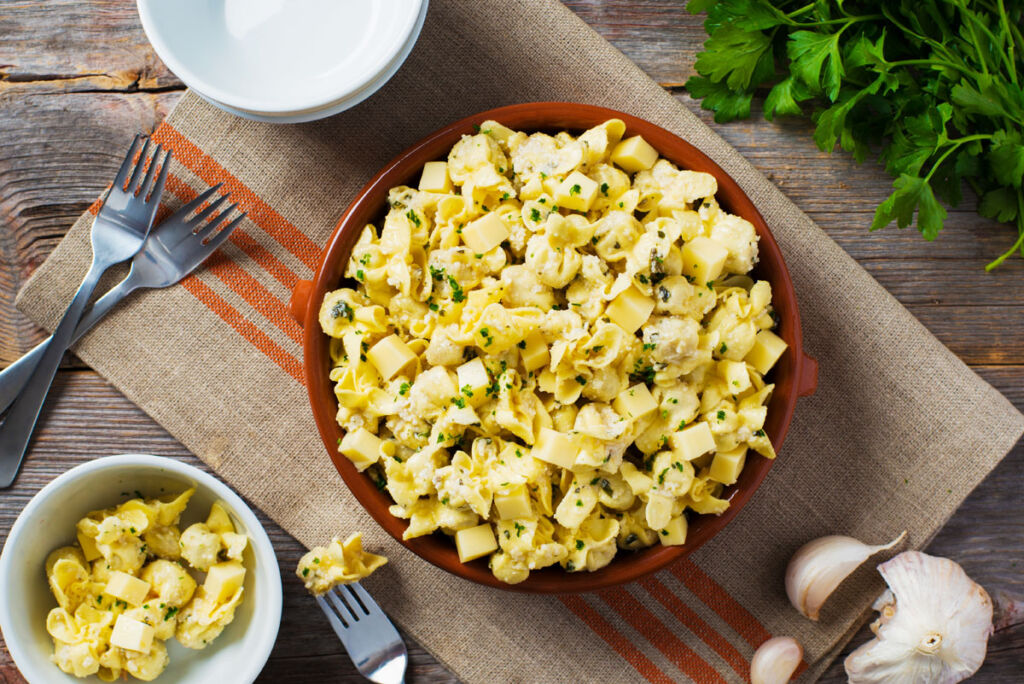 Tortellini: With its long history and cultural significance in Italian cuisine, tortellini is a nostalgic dish that comes in many forms. The pasta can either be cooked in broth or added to the hot liquid at the end; it's a comforting way to enjoy the flavour and texture of tortellini in a meal that warms the body and soul. For something warm and comforting, nothing beats a steaming bowl of soup. This hearty Mama's Tortellini Soup is an ideal option.
Lasagna Options for Everyone
As a classic comfort food that reminds many people of past family meals or special events, lasagna is as nostalgic as it gets. It's common in home cooking and traditional family recipes, evoking sentiments of long-lost times and feelings of familiarity. Plus, the layers of pasta, meat, and cheese in lasagna give it a satisfying texture.
This Old Fashioned Lasagna is the traditional version of the popular dish. It's rich in authentic Italian flavour, takes only 20 minutes of prep time, and can easily be adapted to suit vegetarians.
The Roasted Zucchini Lasagna is the most delicious vegetarian alternative to this typically meaty dish. It is an excellent way of putting more vegetables into your diet while enjoying a tasty meal.
A more modern take on the lasagna, which is abundant in comforting ingredients, is this Skillet Gnocchi Meatball Lasagna Extravaganza. While this is not a typical lasagna, it is rich in meat and cheese flavours, with the gnocchi only adding extra thickness and taste to the dish.
Canadian Classics
There are various dishes considered nostalgic among Canadians. Many of them are made up of traditional ingredients and, likewise, have been passed down through generations. These recipes featuring Canadian ingredients are just some of the dishes with origins that reflect Canada's diverse culture and history.
We'd be remiss to exclude one of the most classically Canadian snacks: poutine. Olivieri®'s tasty twist on this traditional treat – Skillet Gnocchi Poutine – contains savoury gravy, squeaky cheese curds, and crispy Classic Potato Skillet Gnocchi.
Say Cheese
Cheese and pasta is the dynamic duo that you can never grow out of. There's no need to fall into a recipe rut when there are so many cheesy meal options! In fact, why not take this perfect pairing to the next level? Loaded with meat, potatoes, and veggies, this 10-minute Skillet Mac and Cheese Bacon Gnocchi with Broccoli makes for a great weeknight dinner. Make sure to prepare enough for seconds; even the little ones will be asking for another heap of this gooey meal packed with greens! For an elegant plate on date night, give this Alfredo Gnocchi with Crumbled Blue Cheese a go!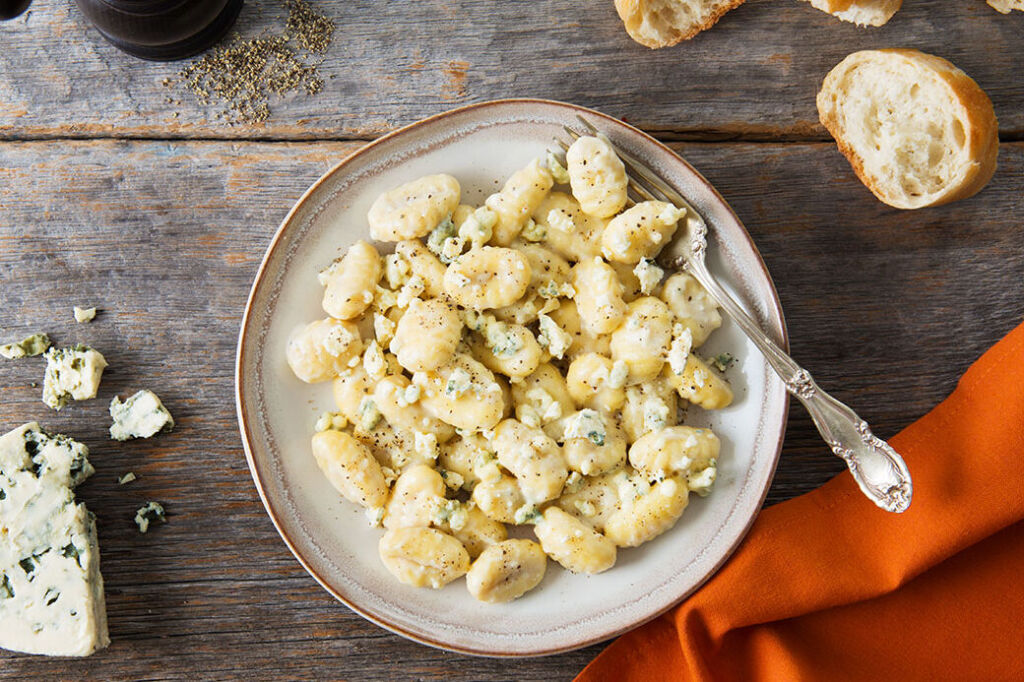 Unforgettable Finger Foods
For little fingers, finger foods are not only an easy but also a fun way to eat! The nostalgic element to finger foods is that we've eaten them at family gatherings and childhood birthday parties. The trick for serving finger foods during any get-together is ensuring that they can be enjoyed by children and adults alike. For example, these festive Skillet Gnocchi Antipasto Bites will complete any menu!
Dips
The taste and smell of food can bring back memories from deep in the past, which is why flavorful dips are necessary for nostalgic meals. Furthermore, dips can be served alongside foods with particular memories and associations. Why not make a Tasty Gnocchi Board with some of your favourite dips?
You can make the most of this Cheese-Filled Skillet Gnocchi With a Creamy Pesto Dip by serving it at a family gathering. This flavourful gnocchi goes down a treat when dipped into the delicious dipping sauce on the side.
This Parmesan and Garlic Skillet Gnocchi is tossed in a simple and authentic Italian aglio e olio, or garlic and olive oil sauce, and includes a dash of additional Parmesan cheese for a creamy touch. These bites pair perfectly with a creamy Donair sauce: the traditional Nova Scotian sauce containing sweetened condensed milk, vinegar, and garlic powder. Of course, the ever-versatile Parmesan and Garlic Skillet Gnocchi also make for a hearty side dish alongside your favourite cut of meat, seasoned tofu, or steamed or roasted veggies.
You can also try Gnocchi Pizza Bites – the perfect form and size for an exciting finger food meal that kids love. Serve them in a wide serving tray and arrange them around a bowl of marinara or Alfredo sauce for dipping.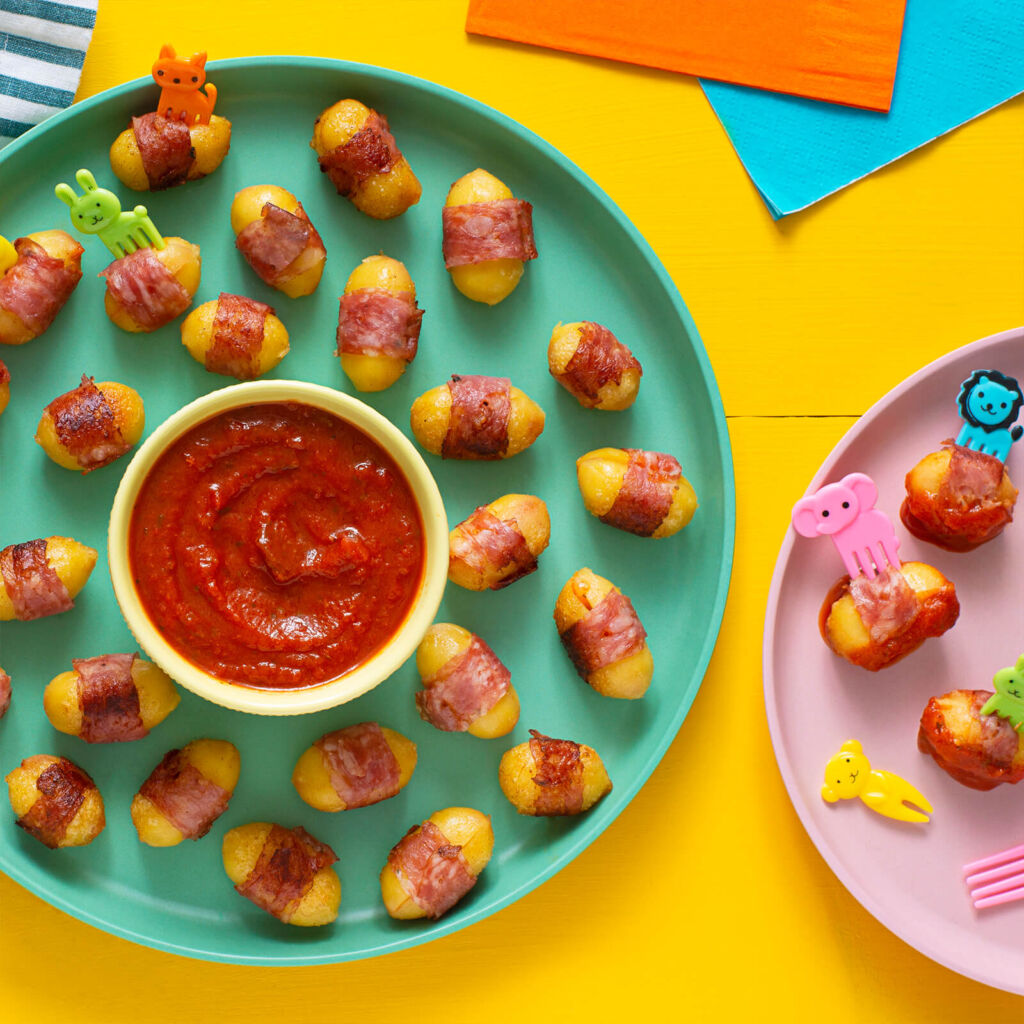 No matter what you consider nostalgic or what you decide to prepare, there's no need to keep your children impatiently waiting. Cooking with the kids can be a great way to make memories together while also teaching essential life skills such as following instructions, measuring ingredients, and the importance of helping others.
With these nostalgic food suggestions, you'll be able to link the past and present, all while creating a relaxed atmosphere for the family. Whether you go for traditional Italian meals, Canadian classics, or kids' menu favourites, Olivieri® will make your meal times memorable.