What's better than a romantic evening out for Valentine's day? A date night in the comfort of your own home! This allows you to cook something special with the quality ingredients of your choice. There's no need to think about booking a babysitter. Make sure the kids are ready for bed so you can enjoy a relaxing evening for two.
With a bit of help from Olivieri®, making a memorable meal is a breeze. Remember that whatever dish you prepare, do it with care. This means paying attention to how you make it, how it looks on the plate, and how you create the perfect atmosphere in your home.
Read on as we share some of our most delicious date night dishes.
Quick Tips for Romantic Meals
Firstly, it's crucial to get the setting right when preparing a romantic meal. Here's how:
Lighting: Dim lights help create a cozy and quaint atmosphere. The calming environment is said to make people feel more comfortable and relaxed.
Music: Music playing in the background transforms the mood of any room. The style of music depends on whatever you and your date like, but it's best to keep the volume relatively low.
Decor: With candles, you can have romantic decor and dim lighting in one. Candles have a mellowing effect on the room, especially if they're scented candles that leave a charming aroma.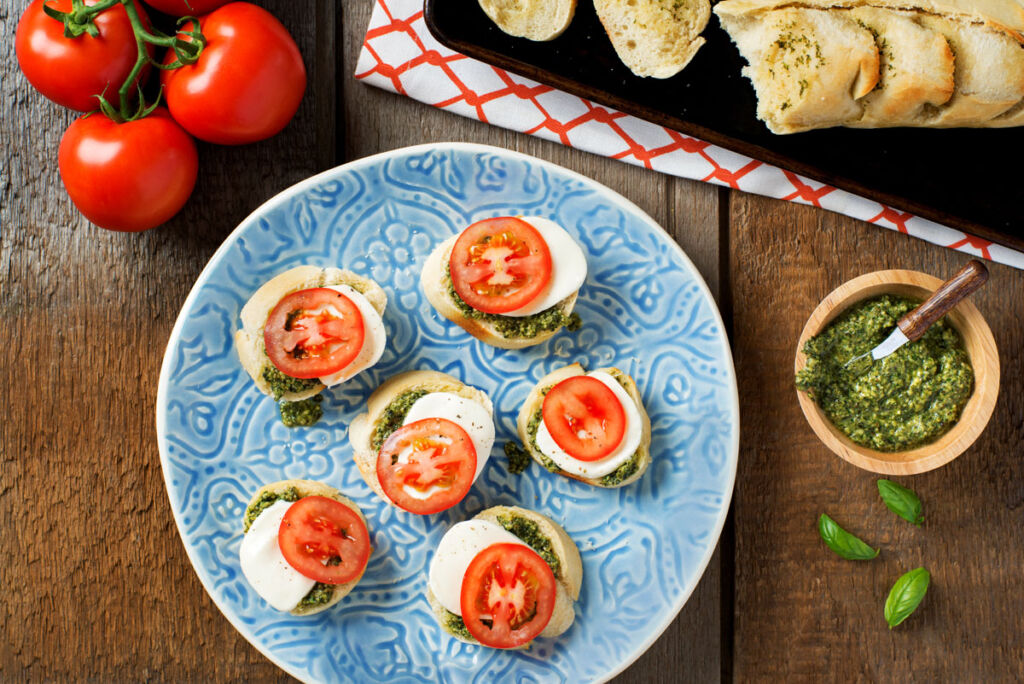 Start in Style: No need to make that special someone wait for the main course. Why not get the evening started in style? For a starter that sets the mood and can be made in no time, these easy-to-prepare Fresh Mozzarella & Tomato Crostini bites are as tasty as they are elegant.
Romantic Meaty Meals
There are plenty of meat options for a hearty Valentine's dish. Let's start with Skillet Gnocchi With Bacon and Sun-Dried Tomatoes. These are bacon strips with cherry tomatoes and gnocchi – a comfort food of small bites that are ideal for eating when chatting away. For another tasty bacon meal, try this Bacon Rosé Gnocchi!
Using Olivieri® fresh pasta, sauces, and gnocchi is the best way to bring authentic Italian flavours to your table. You can also cook up this Old-Fashioned Lasagna recipe – which calls for only a few fine ingredients – to create a delicious dish for a quiet night in.
Braised Beef au jus Ravioli, mushrooms, Maple Syrup and Québec Cheese Curds come together in another meaty dish that will warm the soul. This dish revolves around fresh ravioli with simple ingredients such as durum wheat semolina, water, and eggs.
This Beef Ravioli with Chunky Tomato Basil Sauce gives you what you need to decorate your romantic evening. This traditional pasta sauce has a deep flavour full of juicy tomatoes, garlic, herbs, and spices.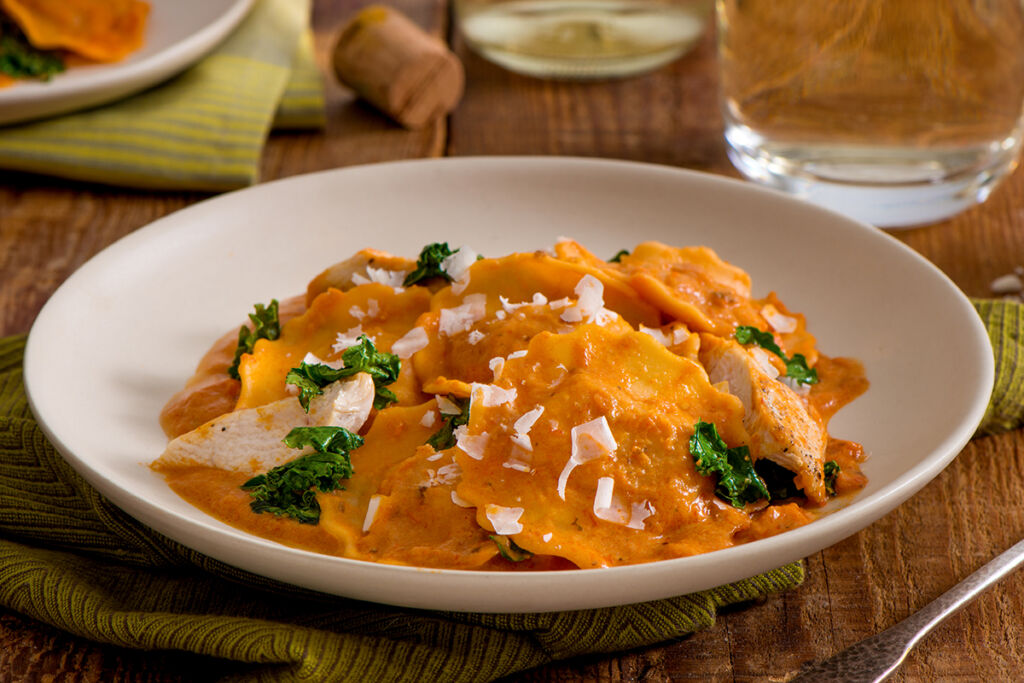 Or our Butternut Squash Ravioli with Chicken and Kale is just what you're looking for. Here you can prepare the flavour of handmade pasta without all the work. This fresh pasta cooks in 3-4 minutes and is perfect for a Valentine's treat.
Vegetarian Valentines
You don't need meat for a warm and hearty dish. Whether you're a vegetarian or not, here are some reasons you should consider cooking a meat-free dish on date night.
If your partner is vegetarian, go meat free for the evening, just for them: it's a thoughtful gesture.
Some of the colours and flavours in veggie-packed meals create a visually appealing dish.
Moving away from meat can be a fun challenge in the kitchen – an opportunity to build upon and diversify your cooking skills.
Are you looking for a traditional Italian plate? Prepare this Roasted Zucchini Lasagna – this vegetarian baked pasta with roasted pesto zucchini is a tasty and simple recipe made using fresh oven-bake Olivieri® Lasagna Sheets.
Another ingredient you can mix with fresh veggies is skillet gnocchi, especially if you're making this Skillet Gnocchi Vegan Buddha Bowl. It is a satisfying mix of crispy gnocchi and fresh vegetables in a bowl loaded with bright colours and various nutrients.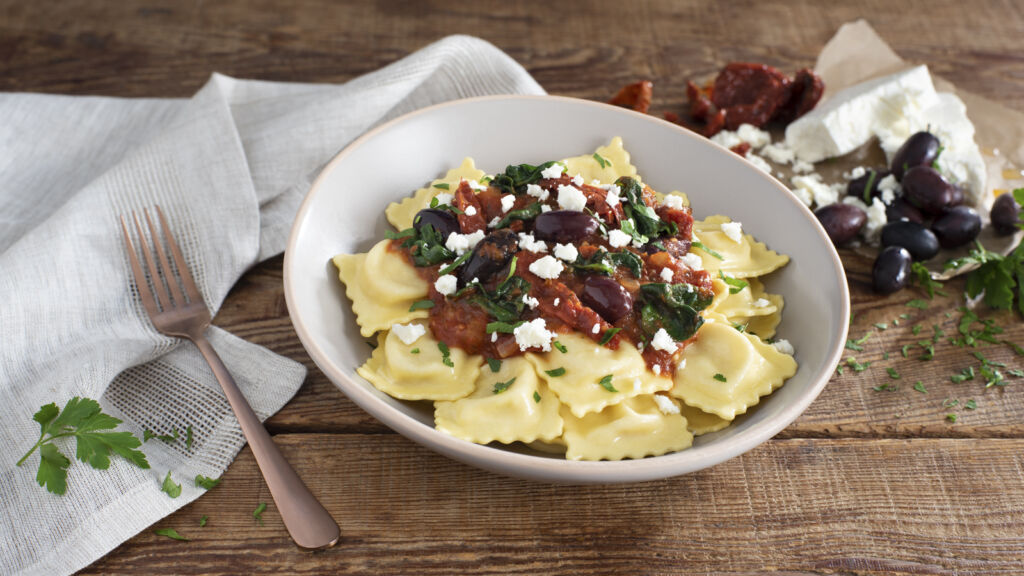 Or how about something sweet, creamy, and rich in butternut? Add those flavours to a delicious brown butter sauce with fragrant sage and pasta for this Butternut Squash Ravioli with Brown Butter and Sage.
Although Mediterranean dishes are often packed with meat or fish, plenty of other regional ingredients can be used to make meals with a vegetarian twist. This Mediterranean Mushroom Lovers Ravioli looks as romantic as it tastes, enriched by the colours of feta cheese, tomato sauce, and spinach.
Shrimp Lovers' Specials
Shrimp is considered a romantic food for many reasons. It's a delicacy, tastes excellent, and is often reserved for special occasions. It can be used in many recipes, making it a great accompaniment to date-night dishes.
Try this Tortellini with Asparagus Shrimp for pasta, vegetables and seafood. With luxurious and creamy rosé sauce, the texture and flavours of this meal will go down well with a glass of wine.
Shrimp is nearly as versatile as gnocchi. But what happens when you mix these two ingredients? When you throw in some garlic, you get this Quick Garlic Shrimp with Skillet Gnocchi dish, which is surprisingly simple to prepare.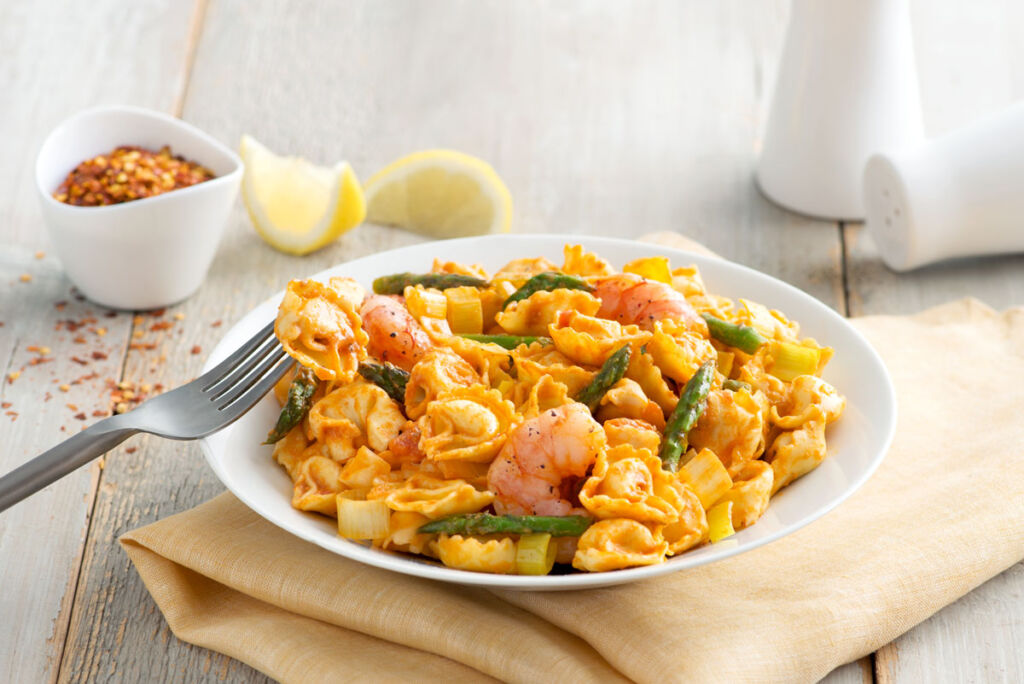 Special occasions call for special presentations, which is why this Tortelloni with Matane Shrimp and Québec Asparagus is great for date night. Once grated cheese is spread over the top of hot pasta, the result is as simple as it is satisfying.
With Olivieri®, making a memorable dinner for date night is easier than ever.