It's that time of year again. Yes, you guessed it, the day Canadians celebrate their love of bacon. So how can you celebrate Canadian Bacon Day? By cooking up some of the best bacon recipes for your family. At Olivieri®, we can help you know exactly what those recipes are.
Read on to find out how to get the best out of bacon for a crowd-pleasing dish.
How to Make Perfect Bacon
The saying "Whatever is worth doing at all, is worth doing well."? Nothing could be truer when it comes to making bacon. There are two main ways to perfect the art of making bacon:
Bake it in the oven – preheat the oven to 400°F (200°C), with the bacon arranged in a single layer on a lined baking sheet, and bake for 15-20 minutes.
Fry it on the stovetop – Cook the bacon in a heavy-bottomed pan, fry it over medium heat, and flip the slices every 5 minutes until crispy.
So which method is best? Both have their advantages and it depends on your preference.Here are the main differences.
Baked bacon is more evenly cooked, smoother and less greasy, as the excess fat drips onto the baking sheet. It's also more convenient as you can cook more slices at once.
Fried bacon has a crispy texture and a stronger, smoky flavour as the bacon is cooked directly.
Baked works better with some recipes and fried with others. There is plenty of room for trying both ways to get your dish the way you want it.
Bacon vs. Canadian Bacon
Canadian bacon and regular bacon are from different parts of the pig:
Canadian bacon is a type of back bacon. It's made from pork loin and is normally cured, smoked and cooked well. It has a mild flavour and ham-like texture.
Regular bacon comes from the belly of a pig. Normally, it isn't smoked, and has a saltier flavour than Canadian bacon. While Canadian bacon is a lean cut, regular bacon is fattier.
Now it's time to explore the best bacon recipes.
Best Bacon Recipes
Bacon for Breakfast
For a mouth-watering start to the day, get going on this Breakfast Skillet Gnocchi with Mushrooms and Pesto. This is a heart breakfast that combines the flavours of cheese, bacon, and gnocchi with pesto. This breakfast is packed with Fresh Cheddar Bacon Skillet Gnocchi: Made from high quality ingredients, they're stuffed to perfection with Cheddar cheese and bacon, a combo that your family will love. These fresh gnocchi are sautéed for a crisp surface and are tender and soft within.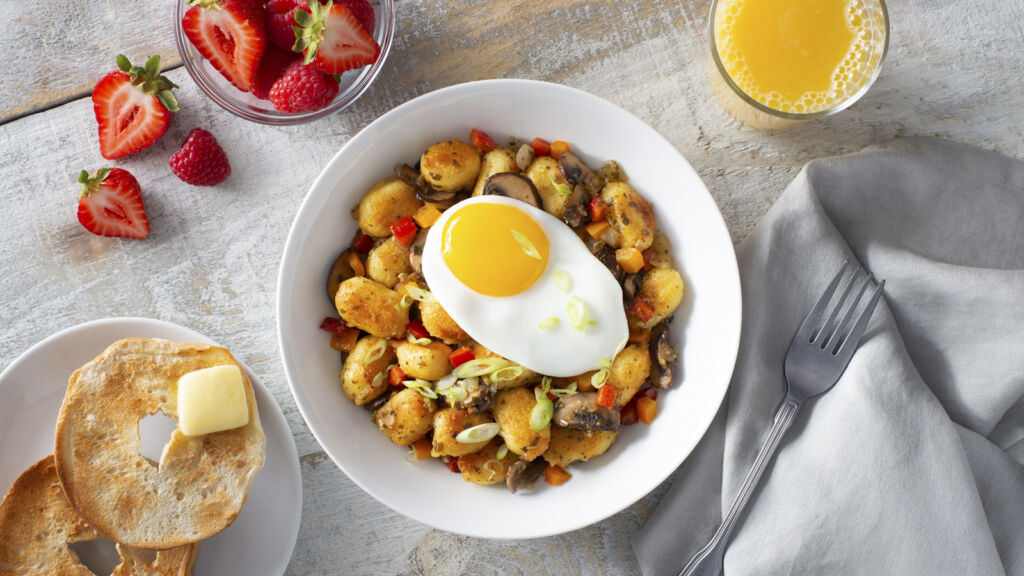 Another great way to start the day is with this Loaded Bacon and Egg Breakfast Skillet Gnocchi. It's simple to make and also full of your favourite breakfast staples – flavours for everyone around the table to enjoy.
Bacon for Lunch
With just a small handful of ingredients, you can prepare a delicious bacon-loaded lunch. This Skillet Gnocchi With Bacon and Sun-Dried Tomatoes is a prime example, combining gnocchi and bacon with cherry tomatoes, basil and olive oil.
For an extra flavourful blend that includes an irresistible combo of cheese and greens, try this Cheese Gnocchi with Bacon and Brussels Sprouts, which is a simple but elegant way of tossing together crispy skillet gnocchi, savoury bacon, and fresh vegetables.
Get creative with our skillet gnocchi by making a tasty salad topping! These crispy croutons give this Lemon Maple Skillet Gnocchi Salad a distinct texture and flavour, making it something extra special, helping you to create a memorable mealtime. Although this is a vegetarian recipe, we recommend getting even more crunch by baconizing: simply sprinkle some fried bacon crumbles on top!
Bacon as a Snack
Bacon with Gnocchi
These tasty Gnocchi Pizza Bites are created with Tomato Mozzarella Skillet Gnocchi and paired with Marinara sauce. They're then wrapped in bacon strips and dipped into a delicious sauce to make a fine finger food. Similarly, you can prepare these Skillet Gnocchi Antipasto Bites, adding bacon to each stick.
Bacon for Dinner
Bacon in Comfort Foods
Speaking of warm and creamy dishes, you cannot go wrong with this Mushroom Ravioli with Bacon & Butter Sauce. The flavour of this dish comes from Olivieri® Mushroom Lovers Ravioli wrapped in a luscious buttery cream sauce,, and topped with crispy bacon, peas, and a splash of lemon juice as the final kick.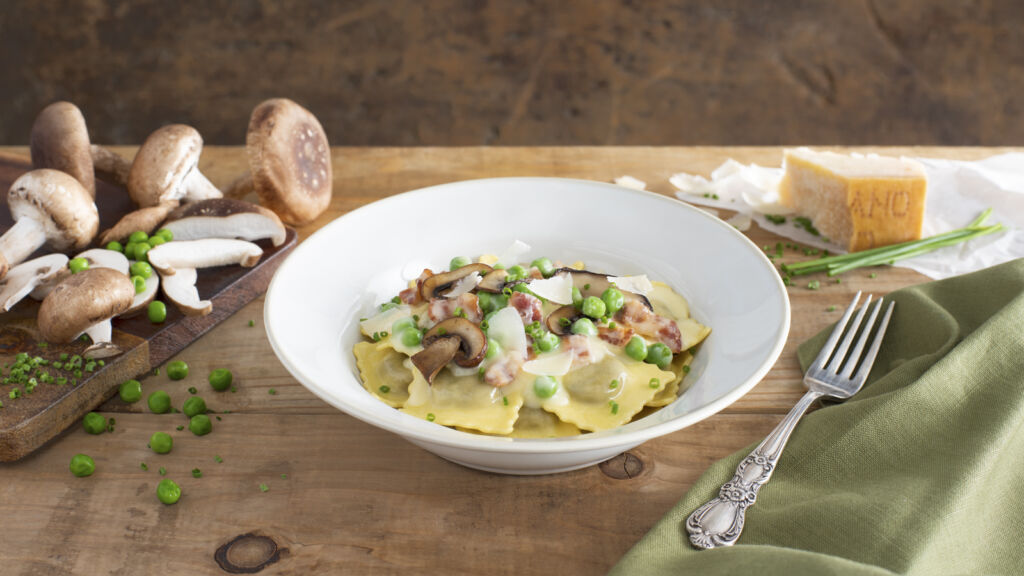 A simple cheesy dish that's full of deliciousness, see this Chicken, Bacon & Cheese Sacchettini in Basil & Cheese Pesto, a hearty meal for your Canadian Bacon Day celebrations. To prepare it, you'll need our Olivieri® Chicken & Bacon Sacchettini, a little pocket of cheese, bacon, and chicken.
Bacon Substitutes
For a bacon alternative, we suggest these three options.
Pancetta
Pancetta is a salt-cured kind of meat from the belly of a pig, also known as a salume product. In Italian cuisine, it is often used to give extra depth and taste to soups and pastas. You can find it in recipes such as this Skillet Gnocchi with Rapini and Pancetta or this Mushroom Ravioli with Pancetta and Cherry Tomatoes.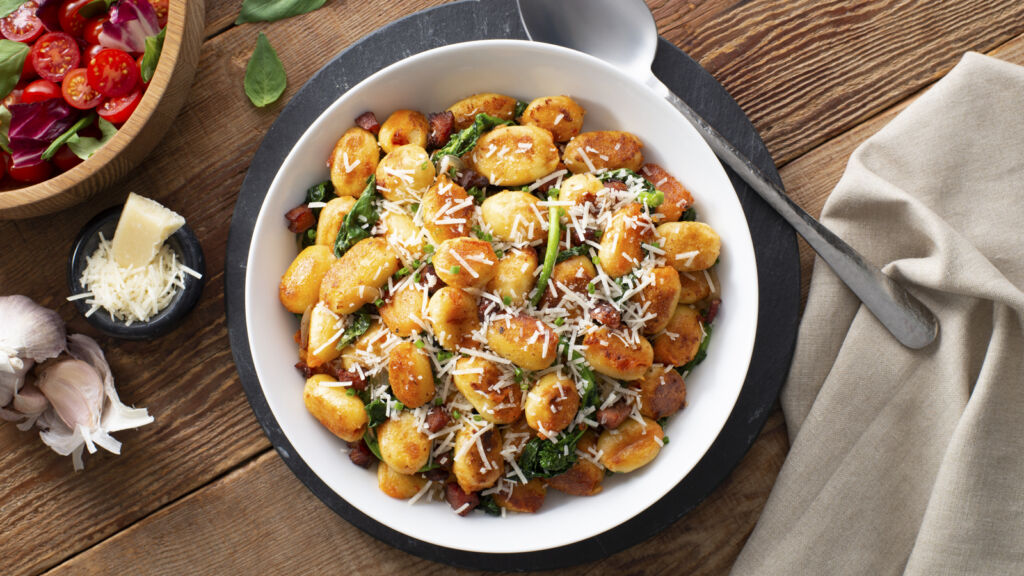 Prosciutto
Prosciutto is an uncooked, unsmoked, dry-cured Italian ham, usually served in thin slices. Like Spanish jamon, it is raw, but preserved by salt which also adds to its flavour. It makes a perfect addition to dishes such as this Linguine alla Chitarra with Leeks and Crispy Prosciutto.
Cured Ham
Cured ham is also preserved in salt and, for that reason, has a different flavour to regular ham. Cured ham is said to have an extra, but subtle, underlying sweetness. You can use it in recipes like this Skillet Gnocchi Salad with Walnuts.
There you have it, all you need to know to make the perfect bacon dish for Canadian Bacon Day! With options for breakfast, lunch, and dinner, there probably won't be any bacon left in the fridge when the week is done! For more great recipes with Olivieri®, see our recipes page.