Those who repurpose food will already know it saves money, time, and effort in the kitchen! Who wouldn't want to work less hard, have more cash to spend, and be able to put their feet up more often, all while still preparing delicious meals for the family? Sadly, only some have caught on to the secrets. But here at Oliveri®, to mark this year's Stop Food Waste Day, we will show you how to get the best out of your leftovers. With our tips and tricks, you'll be looking forward to putting that extra food into new meals, knowing the treats that await!
Read on to find out how to reduce waste, what kinds of food to repurpose, what meals you can conjure up, and how to pack those leftovers!
Ways to Reduce Waste
Plan Ahead – When making a meal, think about what you can do with the leftovers and how you can put them into another meal on another day. Last night's dinner can be a tasty treat to pack into kids' lunch boxes! The more you do this, the easier it gets, and the less you have to cook or shop throughout the week.
Clean Out Your Fridge – It's surprising how many things we leave in the fridge until it's no longer good enough for cooking. Reducing waste isn't only about storing leftovers; it's also about using those things you bought, put on a shelf in the fridge and forgot about. With a bit of creativity, that could be a delicious meal!
Store the Right Way – Make sure you have the proper containers, that they're a good size, and that you store them in the fridge if you plan on cooking those leftovers soon. Otherwise, the freezer is a better option for cooking later.
Meal Prep – Instead of worrying about cooking too much food for one meal, you can incorporate repurposing into your meal prep. Have your Tupperware ready, and consider storing the excess food as part of the process. When this becomes a habit, life in the kitchen gets easier.
Leftover Vegetables
Leftover vegetables can be repurposed to make hearty dishes like these Lasagna Roll-Ups with Sausage Sauce. Enjoy these with the family any day of the week; no need to wait for a special occasion! With Olivieri® Fresh Lasagna Sheets, most of the work is done so you can sit back and let the oven do the rest,
Zucchini is one of the best veggies to be layered into a lasagna. This Roasted Zucchini Lasagna is a testament to that! Zucchini makes its way into many of today's famous recipes, so if you've got any leftovers, why not turn it into a distinct twist on one of the world's most popular dishes? Veggie Tip: If you ever wonder what's the difference between zucchini and courgette? Here's your answer, they're the same thing! Zucchini is the Italian term, while courgette is the French equivalent.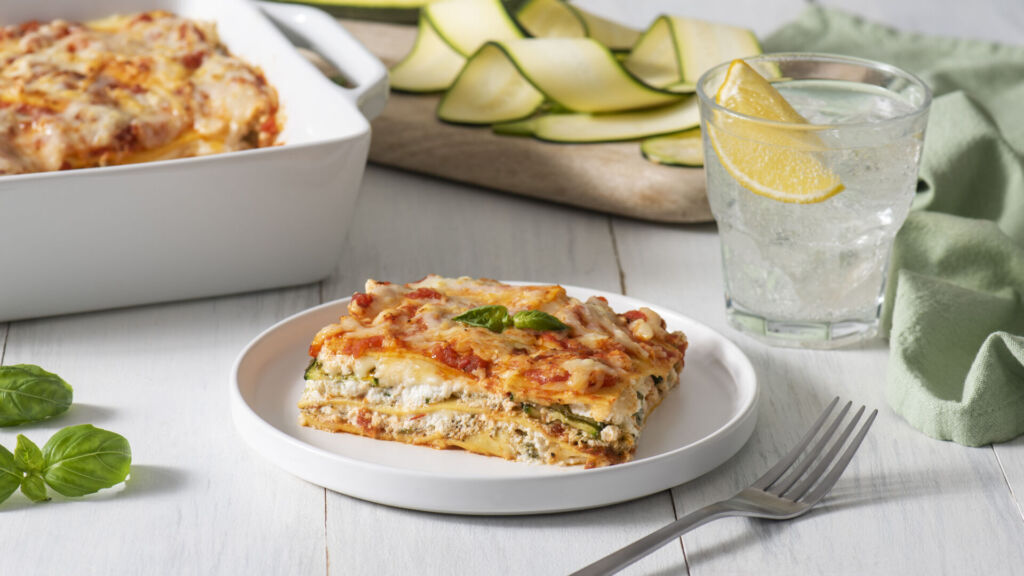 Leftover Pasta
Everybody's been there, trying to work out how much pasta to cook, only to realize there's too much leftover! But pasta is one of the most convenient foods to repurpose as it's easy to store and mixes well with various ingredients.
One of the best examples of how you can repurpose pasta is with a Pasta Salad. There's a lot of mixing and matching in these dishes. Still, the best part is that if the pasta's already cooked, all left to do is add some ingredients – why not clean out your vegetable drawer? – and mix!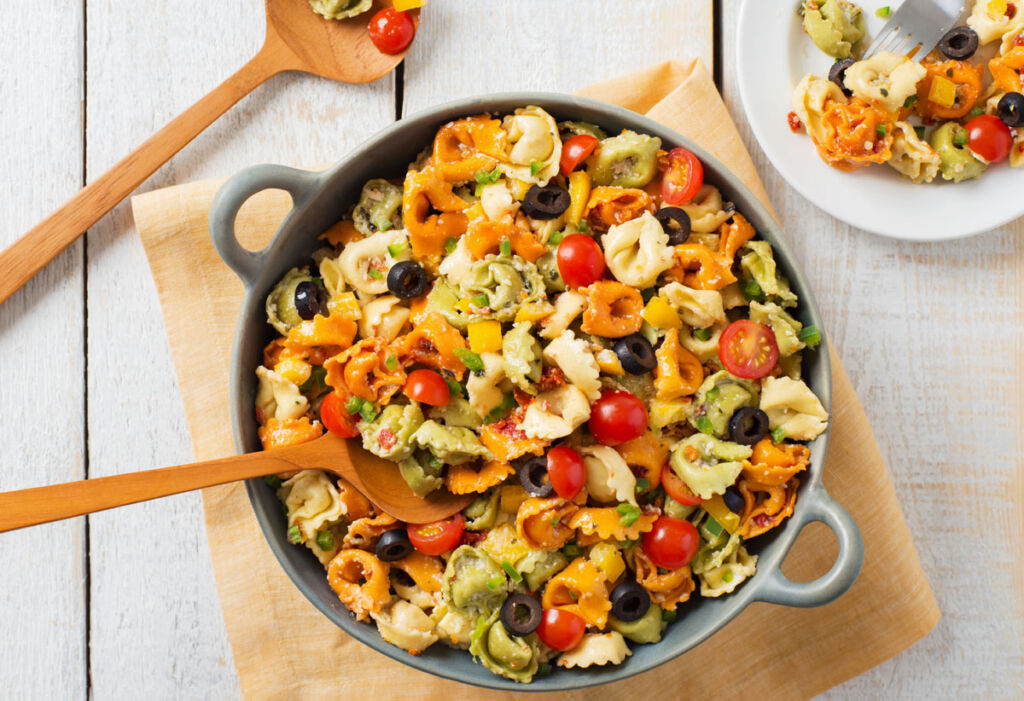 Another pasta salad option is this Gnocchi Pasta Salad, in which fresh salad ingredients can be combined with the soft and pillowy texture of gnocchi, one of the most versatile yet hearty foods Italian cuisine has to offer.
Here's another option that, apart from being delicious, also looks great on the plate with its multitude of colours. Boasting vibrant colours, this Confetti Pasta Salad will please even the pickiest eaters at the table! A simple way to turn leftovers into something that looks and tastes great!
Leftover Beef
Loaded nachos are always a hit amongst both adults and children alike! They're simple, hearty, and can be customized to meet different dietary preferences. You can cook up these Gnocchi Skillet Nachos with some leftover beef in just a few basic steps. Remember those cherry tomatoes, sliced mushrooms, and cheese are just some ingredients you can mix in or take out.
With the same meaty leftovers, you could also choose an elegant option such as this Beef Ravioli with Portobello Rosé Sauce. Here the flavour of fresh ravioli filled with tender braised beef au jus combines with portobello mushrooms, onion, and garlic. With grated cheese on top, this dish has it all.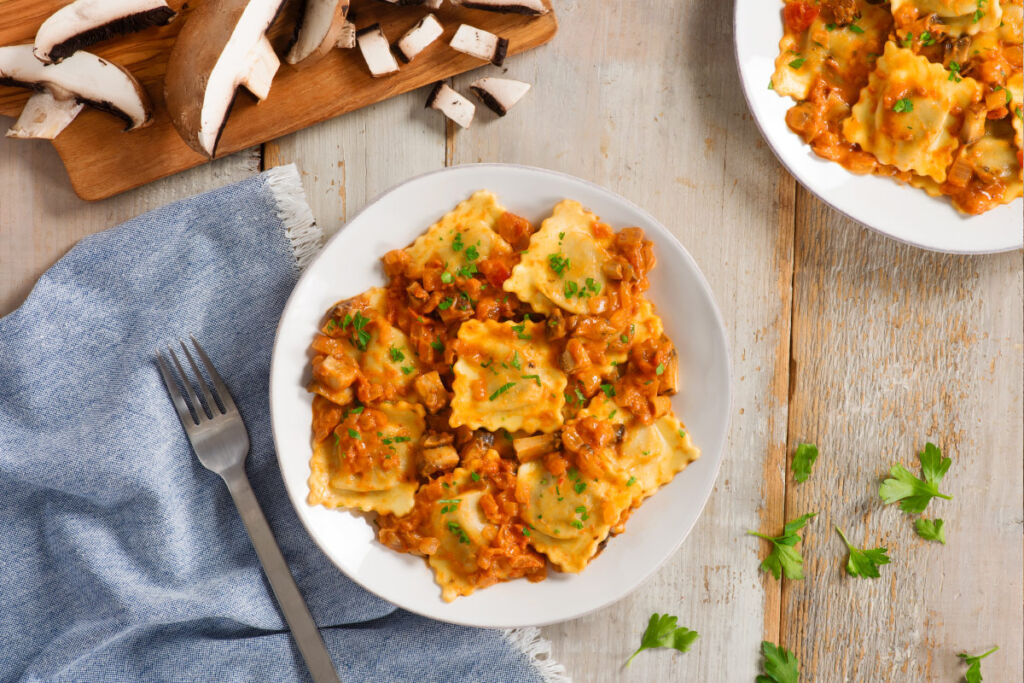 Leftover Chicken
With Olivieri® fresh pasta and specialty sauces, you can turn leftover chicken into something special, such as this Chicken, Bacon & Cheese Sacchettini in Basil & Cheese Pesto. This makes a great midweek family meal and uses that extra chicken!
You can also take those weeknight dinners up a notch with this Chicken Pesto Tortellini with Cherry Tomatoes. Olivieri® 3 Formaggi Tortellini tastes even better when coated in our specialty Basil & Cheese Pesto infused with garlic and herbs with extra chicken.
Apart from already making a great meal, Chicken and Prosciutto Cannelloni with Mushroom Alfredo Sauce can also make a great side to repurposed leftovers. You can arrange the cannelloni neatly on the plate and sprinkle some cheese for extra flavour and presentation. The same can be done with this Chicken & Prosciutto Cannelloni in Rosé Sauce, another crowd-pleasing option!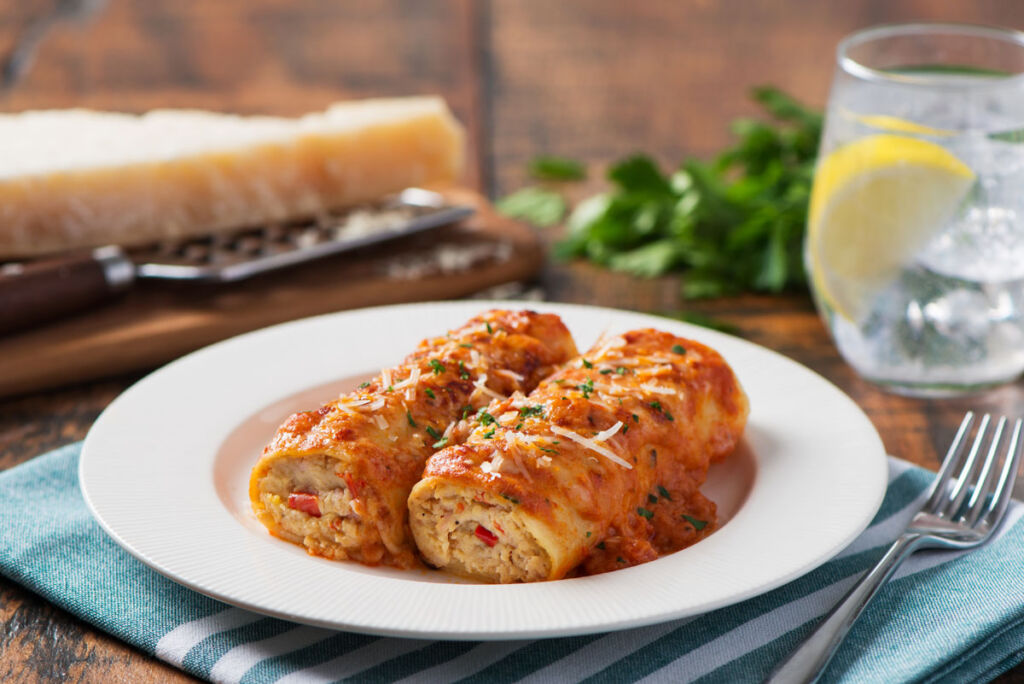 Packing Up Leftovers
Much of the time, leftover food that's stored in containers can be turned into delicious packed lunches. These portioned meals are effortless to take to the office or when working around the house. Also, there could be a great kid-friendly meal waiting to be made!
There's no need to make these dishes alone when you can get the kids involved! See our blog on Recipes to Make with Your Kids for meal inspiration that's fun, family-friendly and gets the little ones learning a few skills!
Repurposing leftovers is always worth a try! You may find it becomes a new habit, and you'll never return to wasting food again. For more ways to get the best out of your cooking, come and visit our kitchen, where we'll keep you posted on the latest meal inspiration and tips.