As spring arrives, days get longer, and the flowers blossom again. Easter is always a time to look forward to. It's a time of year worth celebrating. What better way to do so than to gather around the table for a meal with the whole family?
Deciding what meal to make may seem challenging when cooking for a special occasion. But for Easter, there are more than enough options for family meals.
Considering seasonal ingredients, changing temperatures and shifting moods, our meal suggestions may be just what you need to please the family this Easter. Read on to find out our Top 10 favourite Easter Eats, and decide which meal your family will love most!
1. Asparagus and Red Pepper Linguine
Easter time is the peak season for asparagus. During this time of year, you're most likely to find the freshest ones around! This Asparagus and Red Pepper Linguine recipe makes perfect sense for the here and now.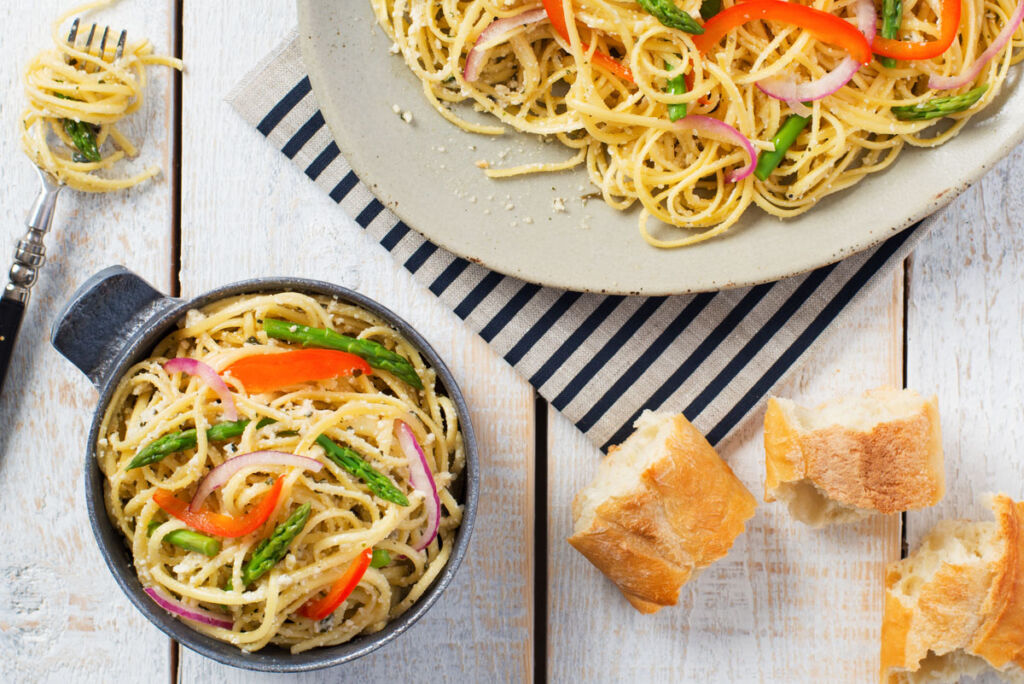 Fresh pasta with a homemade taste is the first thing you need to make this dish stand out. You can start with Olivieri® Linguine, add some vegetables, and mix it all with one of our pesto sauces.
The sautéed spring veggies like asparagus, pepper and onion give this dish its freshness, but you can also sprinkle some lemon zest on top and toss in a few chopped pine nuts.
2. Fresh Ricotta & Spinach Ravioli "Puttanesca"
This is a classic Italian dish that's surprisingly simple to prepare. First, you'll need Olivieri® Fresh Ricotta & Spinach Ravioli. Once combined with a delicious marinara sauce that's flavoured with garlic, black olives, and onion, you'll have a restaurant-quality meal to serve.
The black olives can be swapped for a substitute: Spanish, Italian, and Greek Kalamata olives are alternatives that bring with them their kind of flavour. Serve with a slice of garlic bread and a light salad –  this Fresh Ricotta & Spinach Ravioli "Puttanesca" is one for the whole family to enjoy!
3. Rainbow Tortellini with Basil and Cheese Pesto
As gardens brighten again with budding flowers, now is the perfect time to bring some bright colours to your mealtime! You can do so with Olivieri® 3 Formaggi Rainbow Tortellini, and even more when you have some Basil and Cheese Pesto. The little ones won't be able to resist the vibrant meal! 
The three-cheese filling in this dish is simply mouthwatering! There's also plenty of room to play around with flavours by adding roasted vegetables such as zucchini, tomatoes, eggplant mushrooms, onion, pepper, and other seasonal delights.
Add some cooked chicken or beef to the dish and mix it with pasta and sauces. Whichever way you decide to make it, one thing for sure is that with this Rainbow Tortellini with Basil and Cheese Pesto, you'll have a rich, hearty and tasty meal.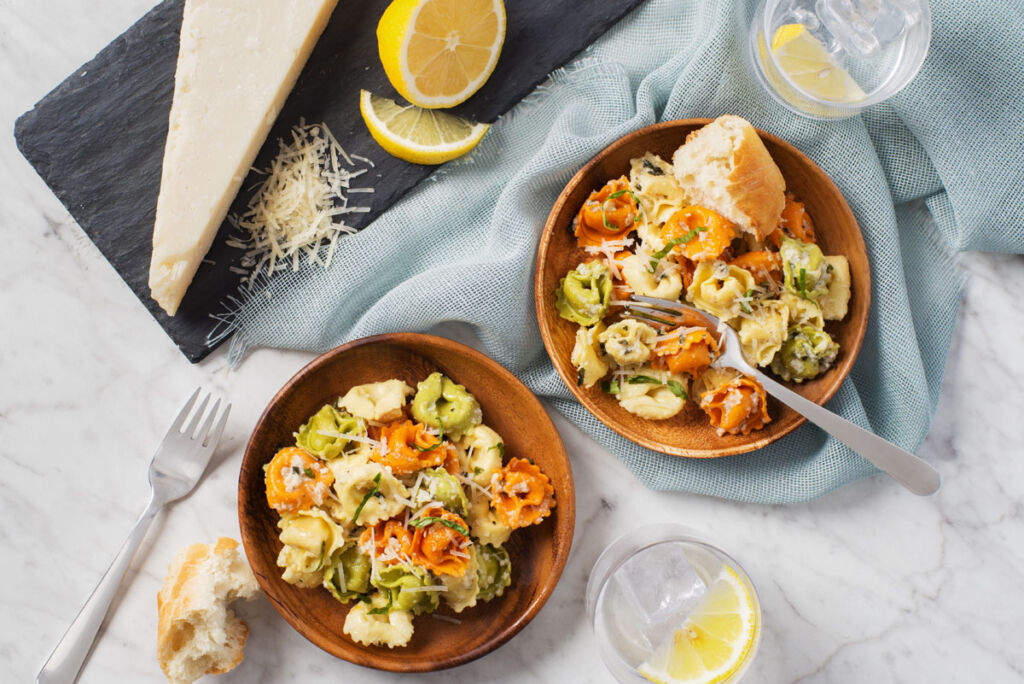 4. Tortellini with Asparagus Shrimp
It's worth making the most of those fresh asparagus in spring! That's why this pasta dish that also includes shrimp is such a great way to enjoy an easter meal, especially if you're a seafood lover.
Olivieri® 3 Formaggi Tortellini is even tastier when paired with a rich and creamy sauce that only enhances the flavours of ricotta, Romano, and Parmesan. For an extra touch of elegance, you can also add some freshly squeezed lemon juice.
Olivieri® Creamy Rosé Sauce and succulent shrimp make a truly satisfying and comforting texture. There you have it – this Tortellini with Asparagus Shrimp recipe will make your family's easter meal one to remember!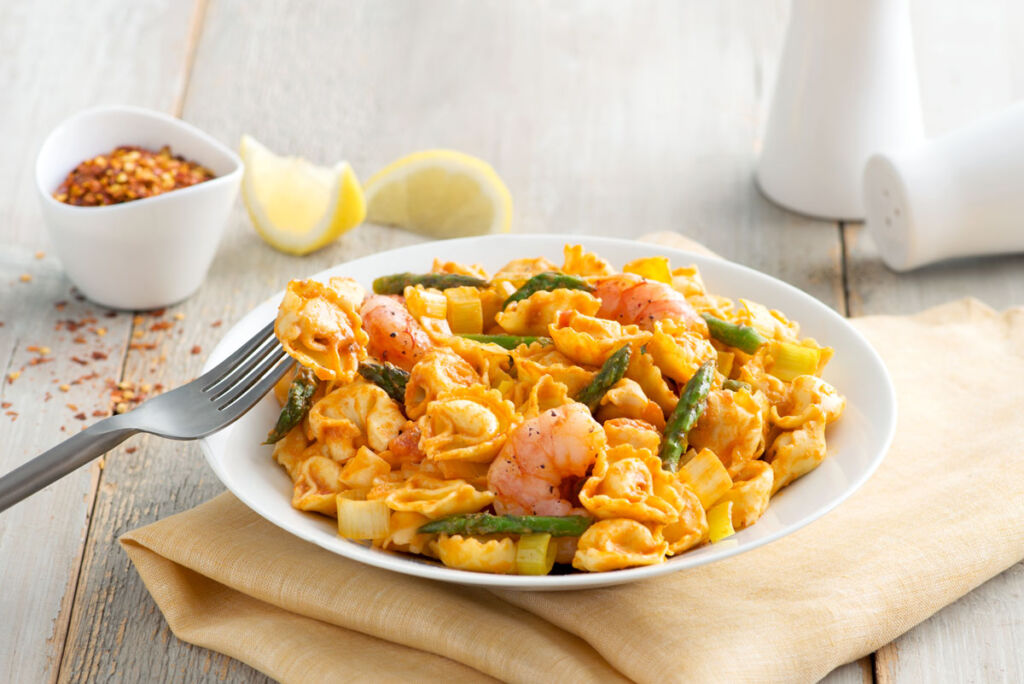 5. Tortelloni with Matane Shrimp and Québec Asparagus
This is not Tortellini with Shrimp. It's Tortelloni! They may sound similar enough, but there is a difference. Tortelloni is larger and holds more filling inside, making it a heartier addition to your Easter menu.
This pasta dish comes with a Canadian twist! With sautéed Québec asparagus flavoured with garlic, thyme and balsamic vinegar, the creamy tortellini comes with extra crispness added to its texture.
Matane shrimp, also known as Nordic shrimp, makes a great addition to pasta dishes as they're small and salty, bringing just the right amount of taste and texture. So go ahead and try this Tortelloni with Matane Shrimp and Québec Asparagus!
6. Chicken and Prosciutto Cannelloni with Mushroom Alfredo Sauce
Elegance, simplicity, and creaminess all come together for this delicious dish. With our chicken and prosciutto-filled cannelloni, you can prepare an enjoyable family meal with high-quality fresh ingredients. Topped with chopped parsley and grated cheese, it gets even better!
Sautéed cremini mushrooms and diced tomatoes add more flavour to the dish. As a substitute for cremini, you can easily add some portobello instead.
Aside from being a great way to bring the family around the table together at Easter, this Chicken and Prosciutto Cannelloni with Mushroom Alfredo Sauce also makes a great dish for two.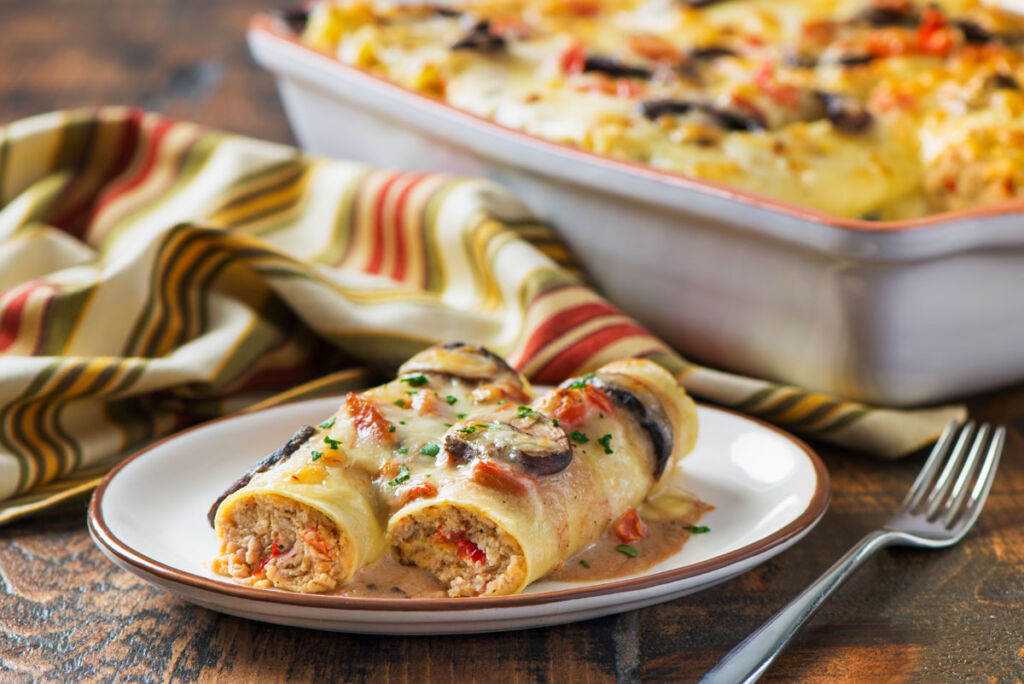 7. Skillet Gnocchi Carbonara
Gnocchi works well on so many occasions. It's simple to prepare, has a soft and pillowy texture, and works well with many ingredients. With Alfredo sauce, Parmesan cheese and pepper, this blend of flavours will please all!
This Skillet Gnocchi Carbonara is one of our favourite bacon recipes, but feel free to get creative. Swap out the bacon for a savoury alternative: why not try pancetta or the lesser-known cured meat of guanciale? For a vegetarian option, you can use eggs instead, whether poached, fried, or boiled.
8. Chicken Pesto Tortellini with Cherry Tomatoes
This springtime, the whole family can indulge in a dish of fresh tortellini filled with creamy ricotta, Romano and Parmesan cheese. As spring is the season of cherry tomatoes, this is the best time of year to find them in their most flavourful moment and add them to your meals.
In this Chicken Pesto Tortellini with Cherry Tomatoes recipe, you can include asparagus at its best! With seasoned chicken, the dish has all the flavours you need for a memorable meal time. One way to give the tomatoes some extra kick is to sautée them first in olive oil.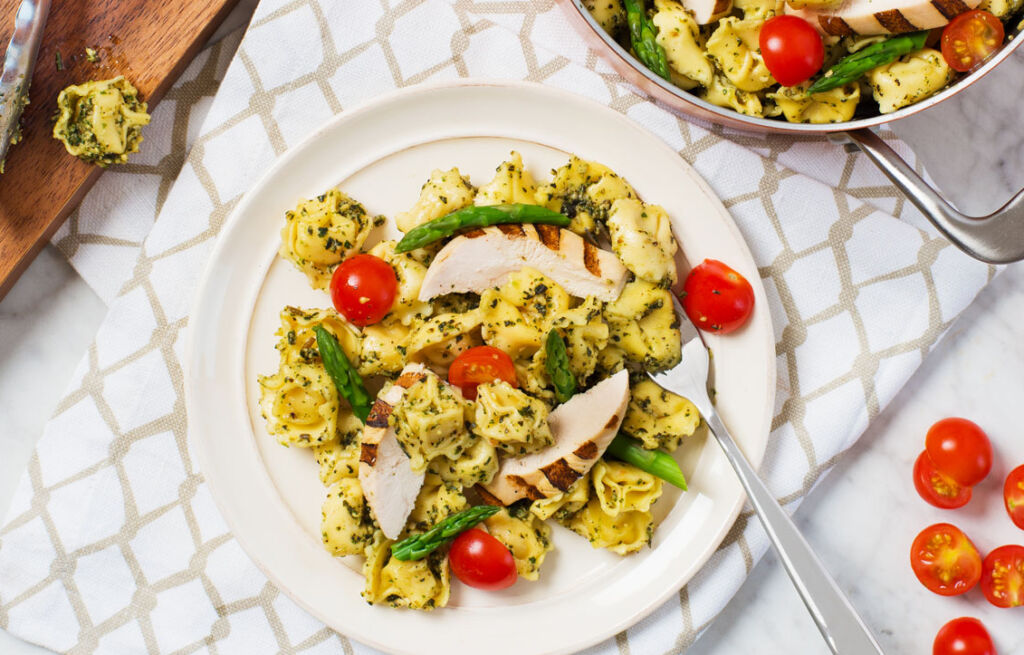 9. Cheese Filled Skillet Gnocchi with Lemon, Ricotta and Asparagus
Put the convenience and versatility of skillet gnocchi together with the spring flavours of lemon, ricotta and asparagus. This Cheese-Filled Skillet Gnocchi with Lemon, Ricotta and Asparagus is an Easter dish to please everyone around the table!
This dish doesn't have to be served on its own. It also works well on the side of a good meat cut or some roasted vegetables. Salmon and crumbled bacon are other options to throw in with the gnocchi. These are just some ways you can adapt your Easter meal when gnocchi is involved!
10. Roasted Portobello Mushrooms Ravioli with Spinach and Goat Cheese
Finally, here's a spring dish with an extra elegant twist: Roasted Portobello Mushrooms Ravioli with Spinach and Goat Cheese, made even more delicious with the addition of fresh herb marinara sauce and goat cheese. This creamy pasta dish takes only 10 minutes, so it's a great option whether making a feast or an intimate meal for two.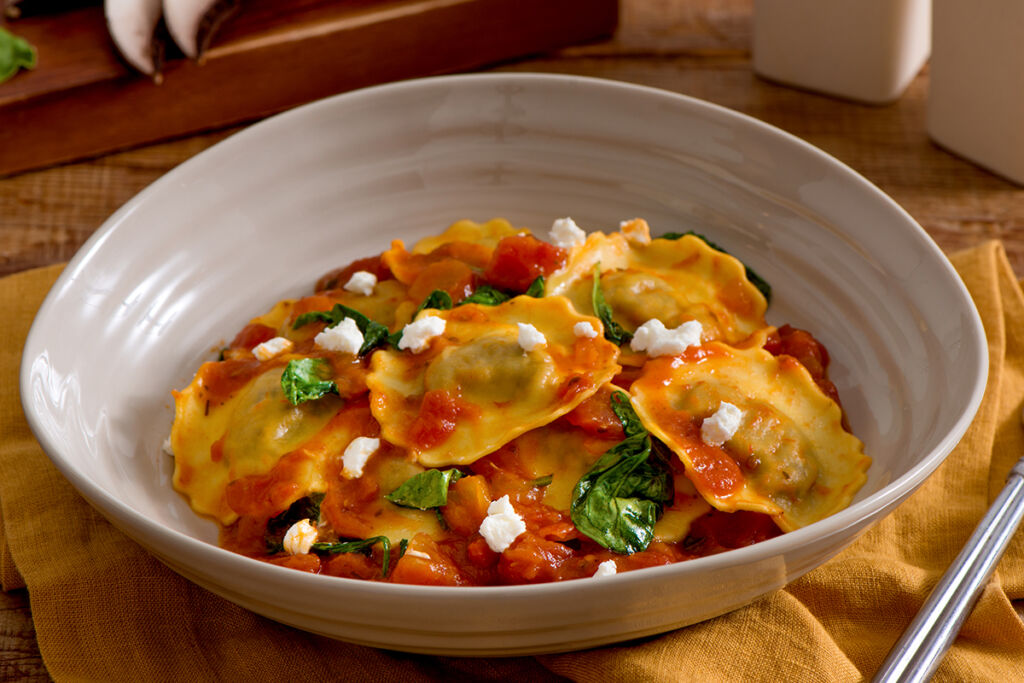 Despite being a vegetarian dish, you can add some ground beef, chicken, bacon or any good bacon substitute such as pancetta. You can include some garlic bread or a side salad for variety and extra options to complete the occasion.
Seasonal ingredients at Easter time make more than just outstanding meals. Get acquainted with some tasty Easter Side Dishes to complete your menu!!
You can count on Olivieri® fresh pasta, sauce, and gnocchi for high-quality meals. With us, you'll find what you need to cook delicious dishes that will impress the family and give everyone the best dining experience.