Although lamb and ham may get the most attention during your big Easter meal, there is a lot to be said for a delicious side dish! After all, they can elevate your meal.
If you're looking for something to switch things up this year to serve alongside those family-favourite honey glazed carrots or asparagus, why not try using Olivieri® Fresh Pasta, Gnocchi and Sauces! Make Nonna proud by having some tasty pasta sides alongside other traditional dishes.
Plan Ahead Your Easter Side Dishes
During holiday seasons, it's easy to go into panic mode with the amount of preparation necessary. This Easter, avoid overloading yourself with stress and plan ahead.
Dishes like this Chicken and Prosciutto Cannelloni in Rosé Sauce can easily be meal prepped and then popped into an oven for just 20 – 25 minutes.
Spring Vegetables
Spring vegetables are Easter side staples that can go with various pasta and gnocchi varieties.
Asparagus: Our versatile Asparagus and Red Pepper Linguine pairs well with any meat. For a light yet satisfying sauce, sauté asparagus, red onions and peppers together before mixing Olivieri® Basil and Cheese Pesto and broth. If you prefer gnocchi over pasta, replace the linguine with our Fresh Classic Skillet Potato Gnocchi. If you enjoy gnocchi recipes click this link for even more ideas: gnocchi.
Lemon: A perfect complement to salty ham roast, lemon and ricotta work together to deliver a tangy flavour with creamy texture in this great tasting Cheese Filled Skillet Gnocchi with Lemon, Ricotta and Asparagus.
Peas: Nothing says spring like peas! Allow yourself to be indulgent alongside your spring vegetables with the butter sauce in this decadent Mushroom Ravioli with Bacon & Butter Sauce – it makes a great companion to an Easter Sunday meal.
Cheesy Treats
Cheesy meals are always a crowd-pleaser. You and your family won't just "say cheese" for the family photo. Serve an elevated Mac and Cheese for Easter Sunday meal with this Alfredo Gnocchi with Crumbled Blue Cheese – made with Olivieri® Herb Alfredo Sauce; this dish is irresistibly creamy! Or this elegant Butternut Squash Ravioli with Brown Butter and Sage is another rich and creamy plate. Ready in 15 minutes, this side is made with mascarpone and grated Parmesan.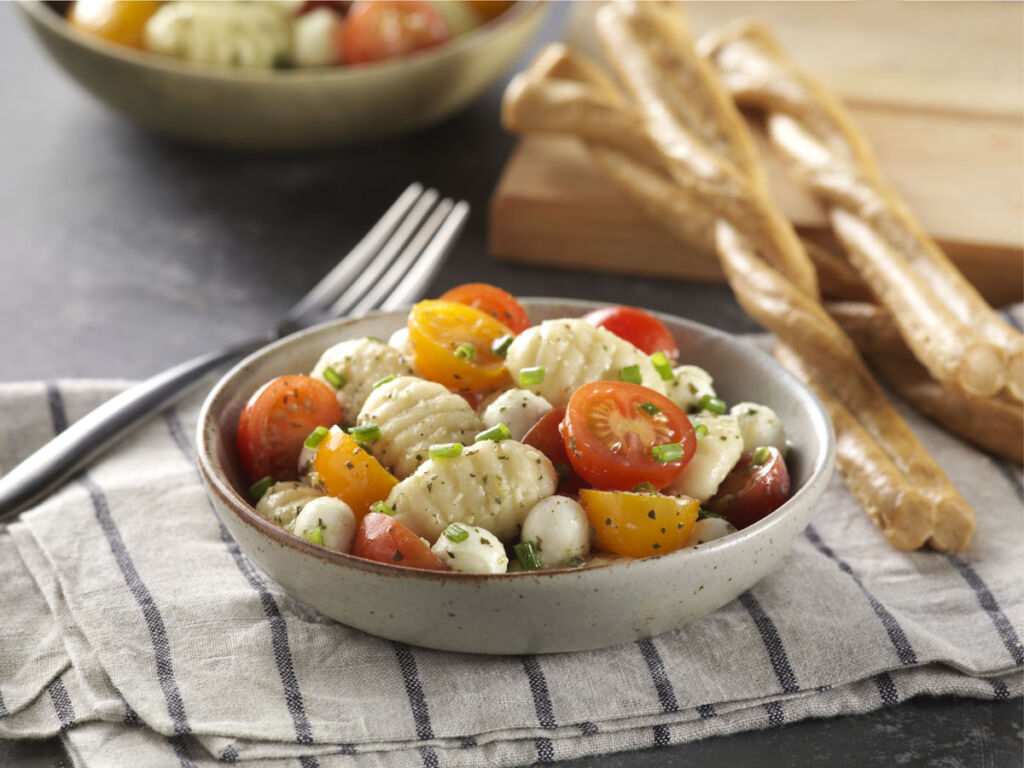 Pasta Salads
If you are looking for an Easter side salad or inspiration for vegetarian Easter side dishes, this Gnocchi Pasta Salad makes a great alternative to a typical potato salad. Coated in Olivieri® Basil and Cheese Pesto, Potato Gnocchi is great for tossing in a side salad and might steal the show!
For another tasty gnocchi side, try making this Gnocchi Salad with Walnuts, which mixes our Olivieri® Cheese-Filled Skillet Gnocchi and arugula and tomatoes. Although this recipe isn't strictly vegetarian, you can easily remove or replace the ham with a plant-based alternative to please everyone around the table!
Desserts
Why not try some tasty Churro-Style Gnocchi Bites if you aren't already full from all the Easter eggs and delicious side dishes? Traditionally savoury, gnocchi can transform into a delightful dessert simply by sprinkling cinnamon and sugar on top. With a drizzle of a sweet sauce – such as dulce de leche, caramel, or chocolate – these bite-sized sweets will be irresistible to kids and adults alike!
Kid-Friendly Easter Side Dishes
Cooking for picky eaters doesn't have to be a chore – even for big holiday meals like Easter supper. It's a good idea to have a few go-to's; feature some mealtime favourites alongside those holiday dishes.
Meat: If your kids aren't fans of thick easter ham, try serving them something you know they like. Stir some chopped-up beef or pork into this Skillet Gnocchi Poutine for a foolproof protein substitute.
Seafood: If your kids are shrimp fans, tweak this Tortellini with Asparagus Shrimp to their liking! You may want to hold off on the red pepper flakes, but the creamy rosé sauce and bright colours will have young guests cleaning their plates!
Recipe Tip: Picky eaters have to eat sometime! If your kids refuse to eat asparagus, try swapping in snap peas, rapini, leeks, broccolini, kale or green beans.
Remember to always count on Olivieri® fresh pasta, sauce and gnocchi for quality and elevated meals for any event, from a weeknight dinner to a holiday with family.