Though historically reserved for the Italian elite, filled pasta such as tortellini and ravioli are now enjoyed by people worldwide as a delicious delicacy that you can serve on your table for dinner anytime!
There are infinite possibilities at mealtime with so many delicious stuffed pasta varieties! With Olivieri®, it's easier than ever to enjoy an Italian dinner – complete with fresh-filled pasta – and please everyone in the family any night of the week!
What are Stuffed or Filled Pastas?
Before we begin, what exactly is stuffed pasta? Simply put, stuffed pasta generally consists of fresh pasta sheets that are stuffed with a filling. Of course, stuffed pasta comes in different shapes and sizes with a variety of fillings: meats, cheeses, herbs and vegetables.
If your fridge is stocked with Olivieri®, you and your family can enjoy balanced meals even on the busiest of days! This guide looks at just a few of the most common stuffed pastas and how we can use them to make simple yet satisfying recipes.
Ravioli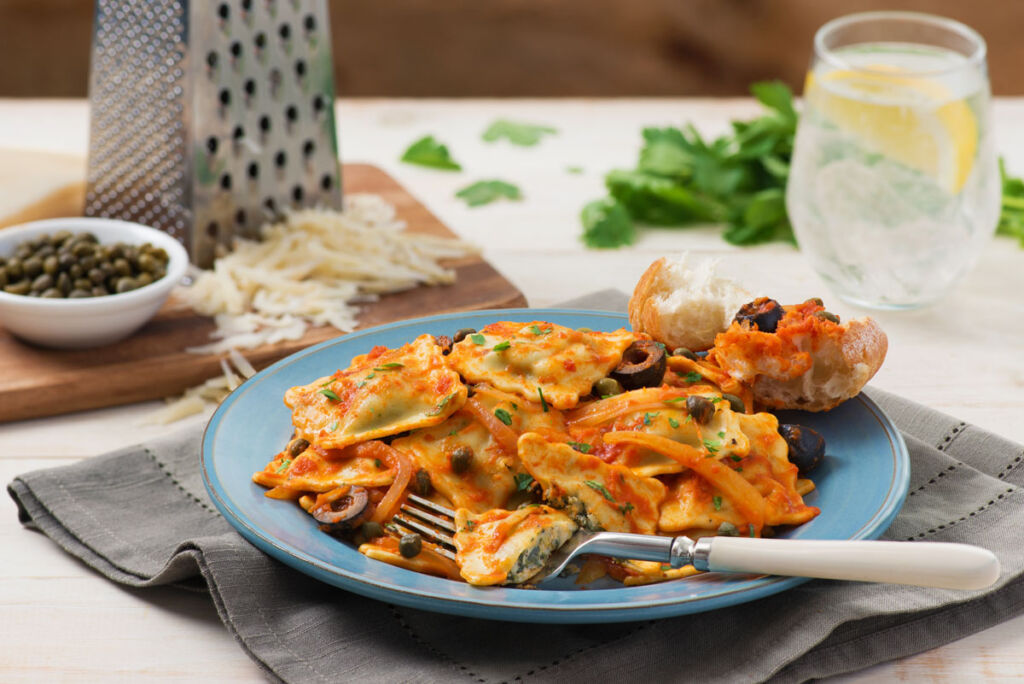 Probably the most famous form of stuffed pasta, ravioli gets its name from riavvolgere, or to wrap. It's similar to an Asian dumpling; the filling is wrapped with either a square or circle shaped pasta sheet, depending on the region.
Ravioli can be made by hand; however, it can be tricky to get it right. Not to worry, Olivieri® offers many varieties – from Beef to Mushrooms – that can be ready in just a few minutes! And, the filling possibilities are endless! For a classic ravioli recipe, learn how to make Beef Ravioli with Marinara sauce. Of course, this versatile pasta can be served with various sauces like Puttanesca or in a Broth.
What's the Difference Between Ravioli and Ravioli Gigante?
Ravioli Gigante is essentially a larger version of traditional Ravioli. A typical portion of Ravioli Gigante consists of just 2 or 3 ravioliper person.
Tortellini and Tortelloni
Originally from the Bologna region, Tortellini are most commonly filled with Cheese or Meat. They also taste great when served in a nice beef broth or meat-based sauce. Not to be confused with its smaller counterpart – tortellini – tortelloni pasta usually is larger. It can be used for a wide variety of recipes, like this Italian Sausage Tortelloni Served Alfredo with Mushrooms.
Find out more about these two varieties in our guide on how to cook tortellini with hacks.
Manicotti
Fans of filled pasta shells will love manicotti. Translated to little sleeves in Italian, Manicotti is a tube-based pasta typically stuffed with cheese. Unlike other filled pasta such as ravioli or tortellini, manicotti is a baked dish. For an easy recipe, try baking your manicotti with tomato sauce.
Fun Fact: Although manicotti is traditionally associated with Italian cuisine, it was actually developed in the USA.
Cannelloni
Cannelloni and manicotti are similar types of stuffed pasta. The difference is that cannelloni is stuffed with meat or vegetable while Manicorri is filled with cheese. Try them with an Alfredo Mushroom Sauce for a truly winning combination your friends and family will love.
What to Serve With Filled Pasta
You may want to serve something alongside your filled pasta dish to complete the meal when entertaining guests.
Rapini: Commonly known as broccoli rabe, rapini has a savoury taste with a similar, albeit more robust, broccoli flavour. This nutty Skillet Gnocchi with Rapini and Pancetta may become the next family favourite! Rapino also pairs well with sweeter recipes like this Butternut Squash Ravioli.
Italian bread: Focaccia or ciabatta make great additions to a meal as they can soak up any leftover sauce.
Roasted Cipollini: These sweet onions taste fantastic when caramelized with balsamic vinegar or butter – a great option to top pasta!
Asparagus Wrapped in Prosciutto: Aclassic savoury side dish, this dynamic duo tastes very satisfying alongside a stuffed pasta meal. Both asparagus and prosciutto can also be found in stuffed pasta recipes. Leave the wrapping to us and prepare some Chicken & Prosciutto Cannelloni in Rosé Sauce. Or, enjoy the crunch in this Tortellini with Asparagus Shrimp.
Skillet Gnocchi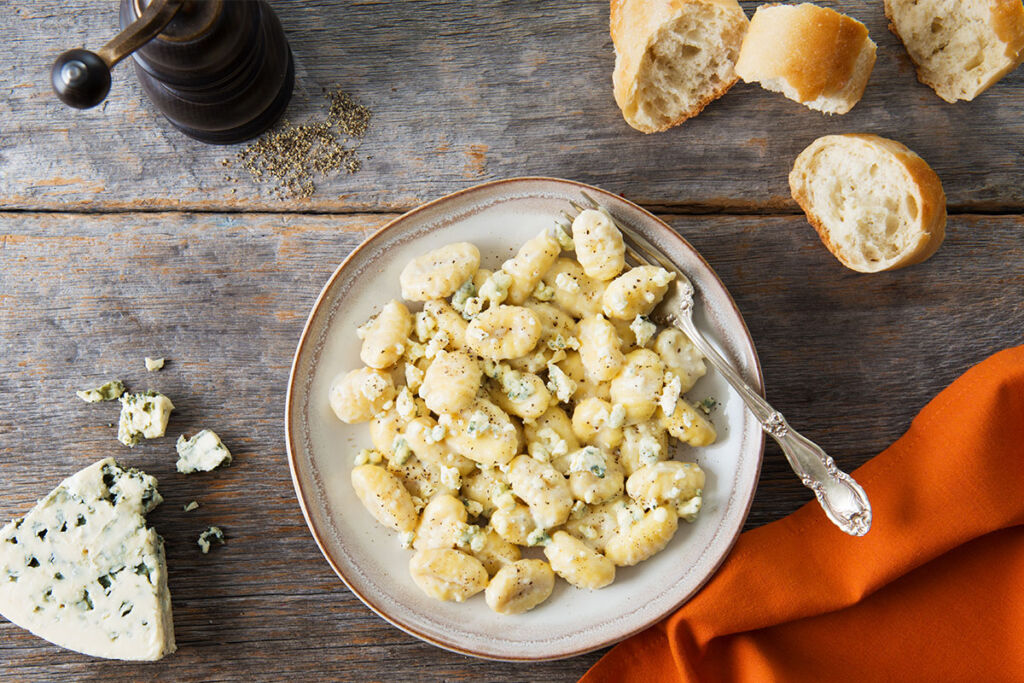 If your family enjoys our filled pasta recipes, you may want to check out one of our tasty Skillet Gnocchi Recipes. Although not technically pasta, our Olivieri® Cheese-Filled Skillet Gnocchi is delicious and easy to prepare. If you enjoy gnocchi recipes check out this link: gnocchi.
Little ones will love dipping Skillet Cheese Gnocchi with Marinara sauce or a Creamy Pesto Dip.
A little Olivieri® can help you create delicious meals that the whole family will love! Stay tuned for more exciting recipes and cooking tips.