Mother's day is a celebration of family and can be a great time to do something special for the mothers in your life. At Olivieri®‌, we believe everyone can experience the joy of an Italian meal, and that's why we're going to set you up for success with simple yet delicious starter options you can add to your spread.
Planning the menu for this multigenerational meal should reflect the nature of Mother's day: a blend of old and new. For Mother's Day this year, mix it up by adding some unique appetizers to complement a few traditional favourite dishes.
How to Plan a Mother's Day Menu
When planning a big meal, timing is everything! Things can get a little hectic with a full house, but instead of spending time in the kitchen, you should be enjoying the afternoon with your family and friends! Follow these simple steps to keep your event stress-free and keep the celebration running smoothly:
Prep Ahead: Dips and pasta salad can be prepared and stored in the fridge overnight. As a bonus, the flavours deepen overnight.
Pander to Picky Eaters: This may be mom's special day, but you still have to feed the whole family. The good news is that you don't need an extra-long grocery list to satisfy everyone around the table if you stock up on Olivieri® products. Gnocchi can be sweet and savoury, and our fresh sauces can be used as dressings, spreads, and dips.
Let's look at some of our Mother's Day menu favourites. We bet the most challenging part will be narrowing down your appetizer options!
Classic Party Appetizers
Catering to your guests' palate preferences is a cinch with delicious dishes like these:
Vegetarian: A plate full of Fresh Mozzarella & Tomato Crostini will not stay full very long – make sure you make enough classic canapés to go around!
Surf: Don't forget to prepare a pescatarian platter for seafood lovers. Mix it up this year by serving a twist on shrimp cocktail: our Quick Garlic Shrimp with Skillet Gnocchi is a zesty crowd pleaser!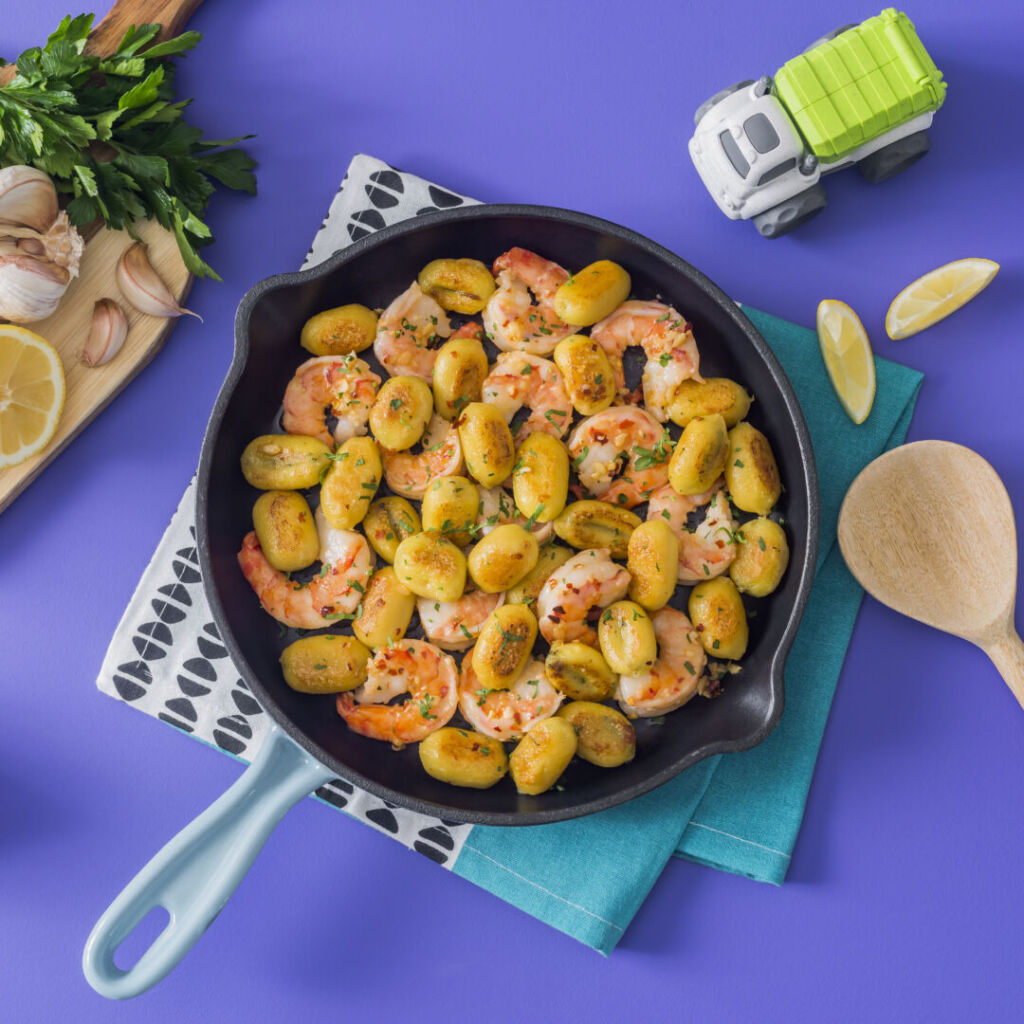 Turf: Make a little bit of everything and serve some antipasto alongside your pasta salad of choice. Though Italian cuisine is known for its pasta dishes, antipasto is a typical party option. Grab-and-go skewers, like Skillet Gnocchi Antipasto Bites, are not only easy to prepare but require minimal cleanup. A tower of skewers and a stack of napkins is the simple yet satisfying presentation that will keep your guests coming back for more!  Check out this link: gnocchi for even more recipe ideas.
Pasta Salad
Pasta salad never fails to add a pop of colour and delicious taste to your table, and, with a bit of help from Olivieri®, it's easier than ever to prepare! Plus, every party needs some Confetti Pasta Salad!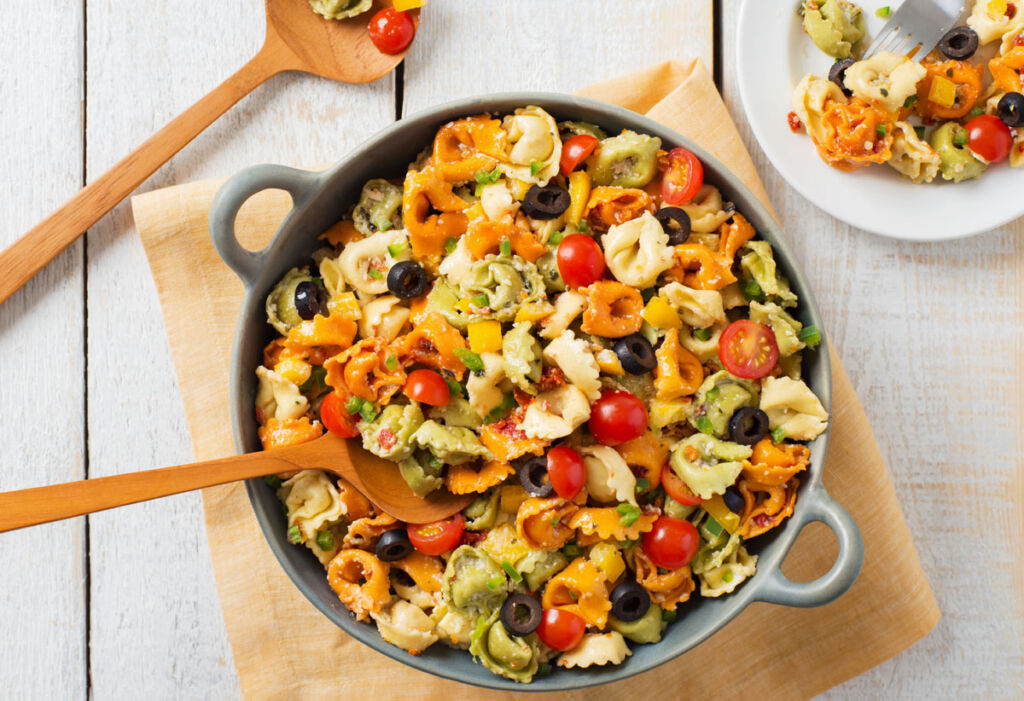 Take your tastebuds on a tour of the Greek Isles with our Greek Salad Tortellini, loaded with mouthwatering Mediterranean ingredients: crisp veggies, salty black olives, and tangy feta cheese.
Gnocchi Salad
Gnocchi may be more diverse than you think, and no matter what ratio of greens to gnocchi you toss together, it is always delicious!
To make your gnocchi salad, you'll need these three essential components:
Base: Though it's not technically pasta, our Fresh Potato Gnocchi serves as the perfect base in this Gnocchi Pasta Salad.
Blend: A balanced mix of baby arugula, juicy vegetables, sliced ham, and pillowy gnocchi make our Skillet Gnocchi Salad With Walnuts genuinely unforgettable!
Topping: Craving something crunchy? Skip the croutons and sprinkle crispy gnocchi on top of your greens instead! Whip up a sweet and tangy Lemon Maple Skillet Gnocchi Salad for your spread; our Cauliflower and French Emmental Cheese Skillet Gnocchi adds a unique texture; but it also sneaks some vegetables and protein into your salad.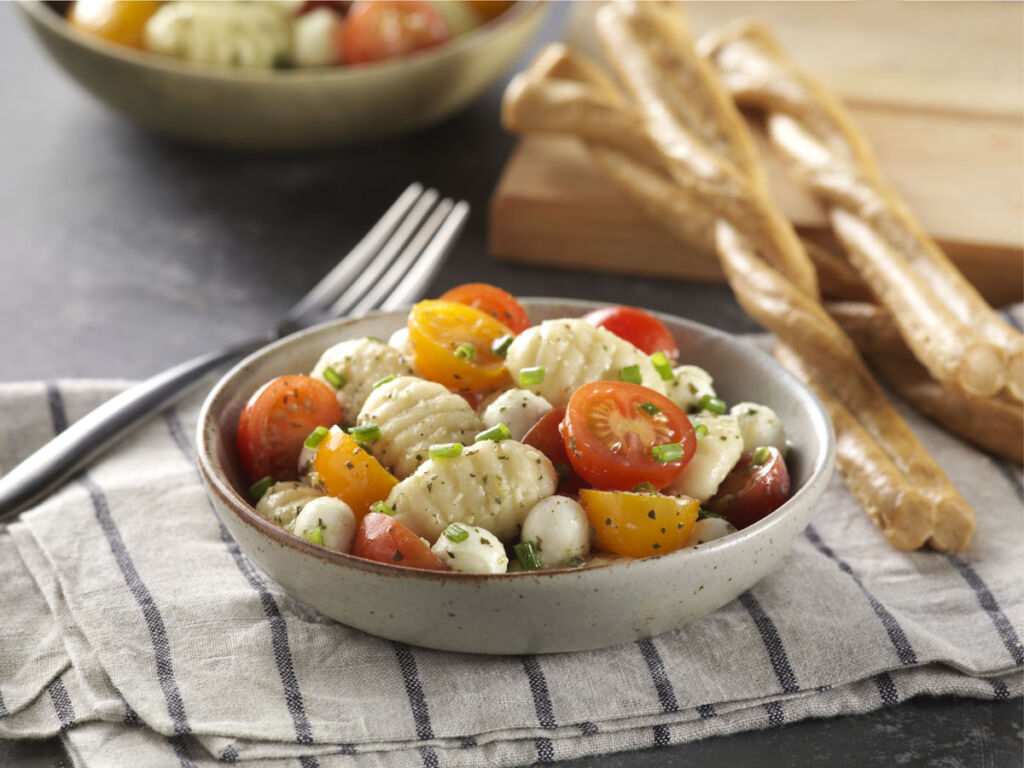 Finger Food
Dips are appetizer staples! Plus, gnocchi is easy to grip and easy to dip for kids; keep those little fingers busy while you catch up with the grown-ups.
Dippable
Whether you want to upgrade your mozzarella sticks or want something to serve alongside them, our Skillet Cheese Gnocchi with Marinara Sauce that both kids and moms love! When you have picky eaters on your hand, rest assured that they can fill up on these protein-wrapped Gnocchi Pizza Bites!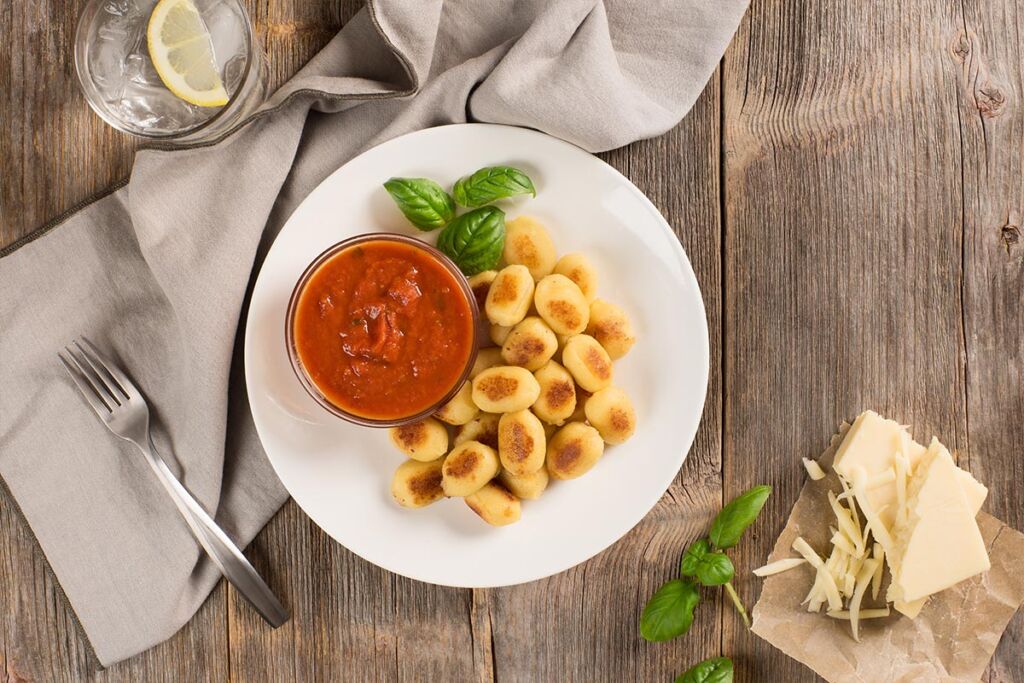 For the ultimate cheese craving satisfaction, double down with Cheese-Filled Skillet Gnocchi With a Creamy Pesto Dip.
If you want to save the gnocchi for the main course, grab a tub of Olivieri® Chunky Tomato & Herb Sauce and whip up some Black Bean Salsa for the masses!
Sweet Hors d'oeuvres
Appetizers don't just have to be savoury! These dippable cinnamon sugar bites can be served on a dessert board alongside caramel, hot fudge, and fruit sauces! Satisfy your sweet tooth with some Churro-Style Gnocchi Bites.
With a bit of help from Olivieri®, it's a breeze to keep everyone in the family happy without breaking a sweat! We offer a wide range of fresh pasta, gnocchi, and sauces, so you have plenty of options for preparing an unforgettable family celebration.