Gnocchi are traditional Italian dumplings made with potatoes and flour. At Olivieri®, we didn't just stop there. In addition to traditional tender gnocchi, we also offer skillet gnocchi with a crispy outer texture and a tender inside. And we've also got plenty of options for those that can't resist a delicious filling like cheese, bacon, pesto, cauliflower or tomato.
Whether you mix and match your favourite ingredients with Olivieri® classic potato gnocchi or want to enjoy one of our stuffed varieties, gnocchi dishes have endless possibilities!
A large part of Italian cuisine revolves around simplicity: a couple of well-paired quality ingredients is all you need. And that's where we come in. Since you can count on us for quality ingredients, it's up to you when it comes to pairing.
Cooking that gnocchi right can make all the difference. 
Besides, we're happy to show you a number of ways to cook up an easy gnocchi recipe.
How To Cook Gnocchi
With Olivieri®, making gnocchi is foolproof. Choose between two easy options:
Classic Gnocchi
Classic Potato Gnocchi is cooked in salted water for 2 minutes at a gentle boil. After draining, you need to coat your tender gnocchi.
Cooking Tip: When they float, use a slotted spoon to scoop them out; you don't want to overcook them!
Skillet Gnocchi
We think gnocchi is better with a bit of crunch, to be honest. Skip the saucepan and go straight for the skillet.
With Olivieri® Fresh Classic Potato Skillet Gnocchi, no boiling is required, and it's a cinch! Sauté the gnocchi in oil or butter until golden brown. That's all it takes to get your gnocchi perfectly crispy on the outside and tender on the inside. Kids love Skillet Gnocchi! You will extend family time at the dinner table and cut down on cleanup by making your whole meal in one pan.
It's quick and easy no matter which way you choose to prepare your gnocchi. To perfect your gnocchi game, read through our handy Gnocchi Guide – trust us, your family, and your taste buds will thank you for it. But for now, let's dive into tasty gnocchi pairings.
What Sauces Pair with Gnocchi
Luckily, the ever-versatile gnocchi has plenty of mouthwatering matches!
Pesto
Yes, that zesty fresh purée of basil, olive oil, pine nuts, Parmesan, and garlic. Heat this herbal sauce a touch before coating your cooked gnocchi – voilá! – dinner is ready! Whether you use Olivieri® Basil & Cheese Pesto sauce or keep it simple by reaching for Basil Pesto and Italian Mozzarella Skillet Gnocchi bag, the chemistry is undeniable – the whole family will agree.
Lemon
A little citrus brightens up any dish; gnocchi recipes are no exception. Don't believe us? Try this zesty Cheese Filled Skillet Gnocchi with Lemon, Ricotta and Asparagus for yourself (the creamy ricotta and crispy asparagus don't hurt either!).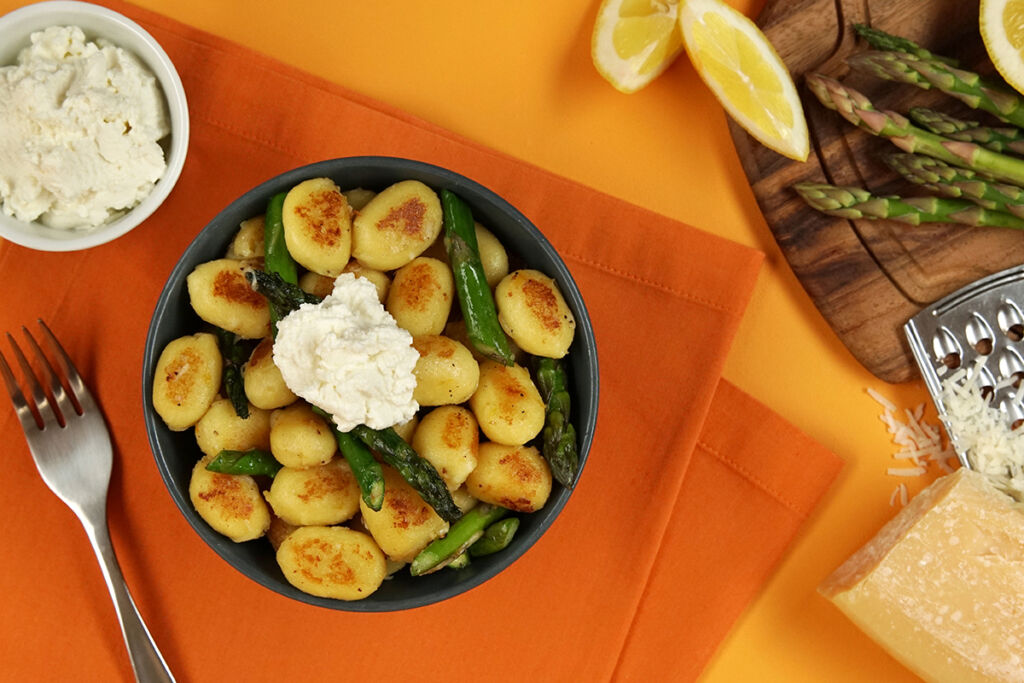 Tomato Sauce
Like our Chunky Tomato & Herb Sauce, a thick marinara-like sauce pairs well with cheese. Inspired by the internationally loved meal, our Gnocchi Pizza Bites are not only satisfying and straightforward; they are kid-friendly!
As you can see, this vibrant red sauce is not only for pizza and pasta; it's also great for dipping! Try these unbelievably easy Skillet Cheese Gnocchi with Marinara Sauce; both kids and moms will approve – they're elevated mozzarella sticks that don't require any deep frying.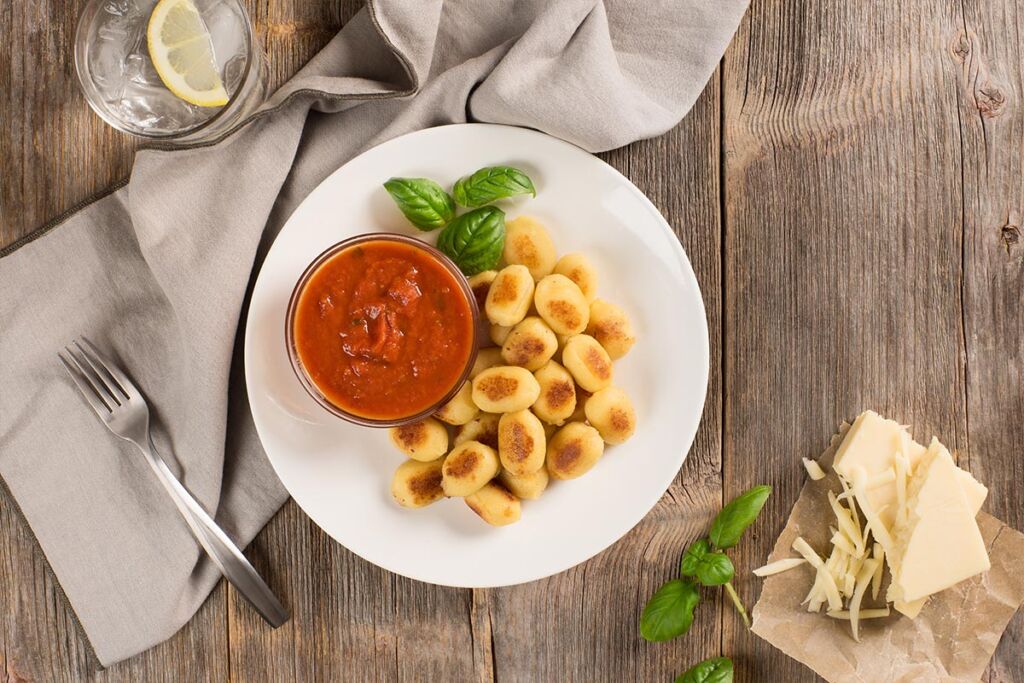 Alfredo Sauce
Is there anything that doesn't go well with Classic Alfredo? For example, this Skillet Gnocchi Carbonara is a twist on the traditional Italian dish and will be a fast favourite! Keep it stocked in your fridge for endless mealtime possibilities.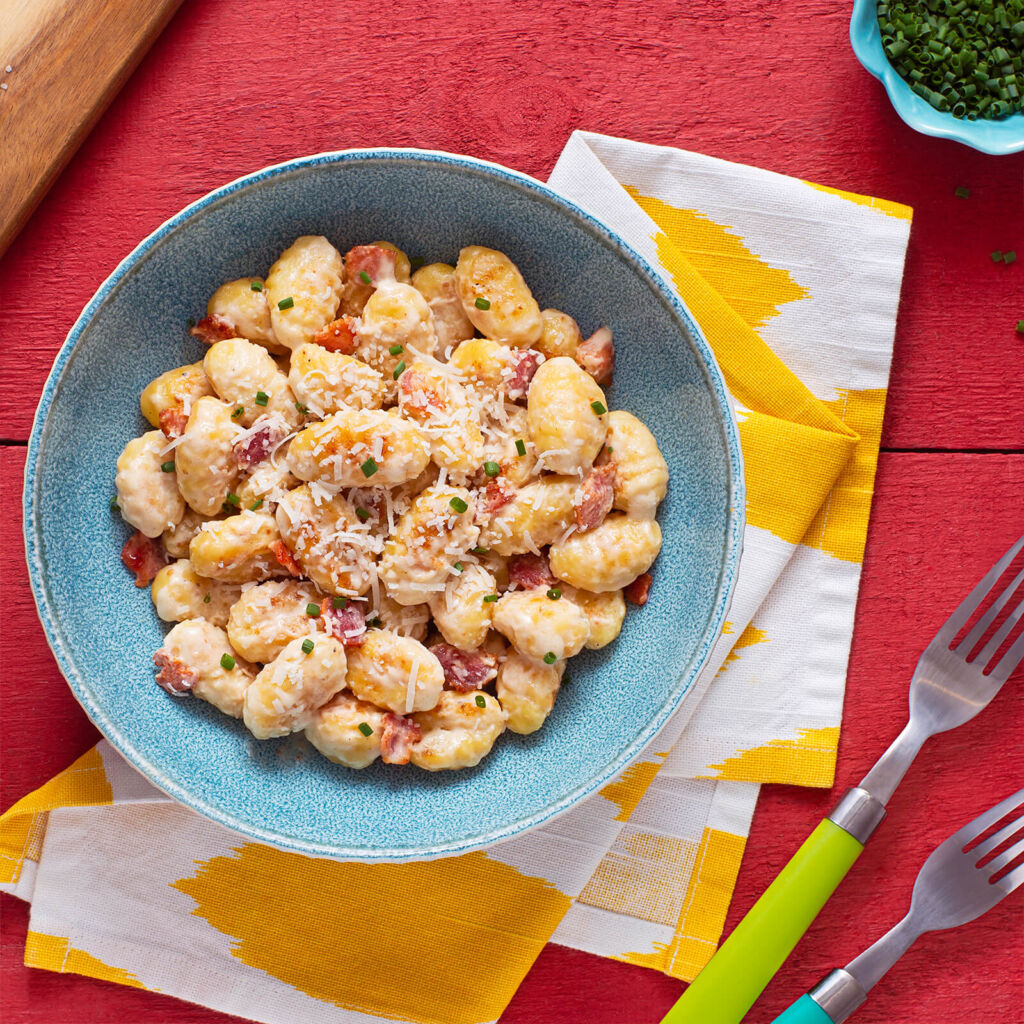 Blue Cheese
The sharp, tangy taste of blue cheese (or its French cousin, Roquefort) complements the ever-versatile potato. Whether you choose classic or skillet, the tender gnocchi goes well with the texture of blue cheese.
Creamy: A creamy Gorgonzola sauce complements pillowy gnocchi. It's surprisingly simple to make this tangy sauce. First, reduce heavy cream and white wine to about 2/3 the original volume in a pan. (Note: you'll be able to taste the wine, so choose a nice and crisp bottle). Sprinkle in some crumbly, aged Gorgonzola. When it melts, season with salt, pepper, and a pinch of nutmeg.
Substitution Tip: While you can swap in another dairy, heavy cream will be much creamier and doesn't curdle when you heat it.
Crumbly: Get all the flavour with crumbled blue cheese. It adds an equally pleasing texture without having to make a sauce! For this decadent Alfredo Gnocchi with Crumbled Blue Cheese, fold in some Herb Alfredo Sauce and sprinkle crumbles on top.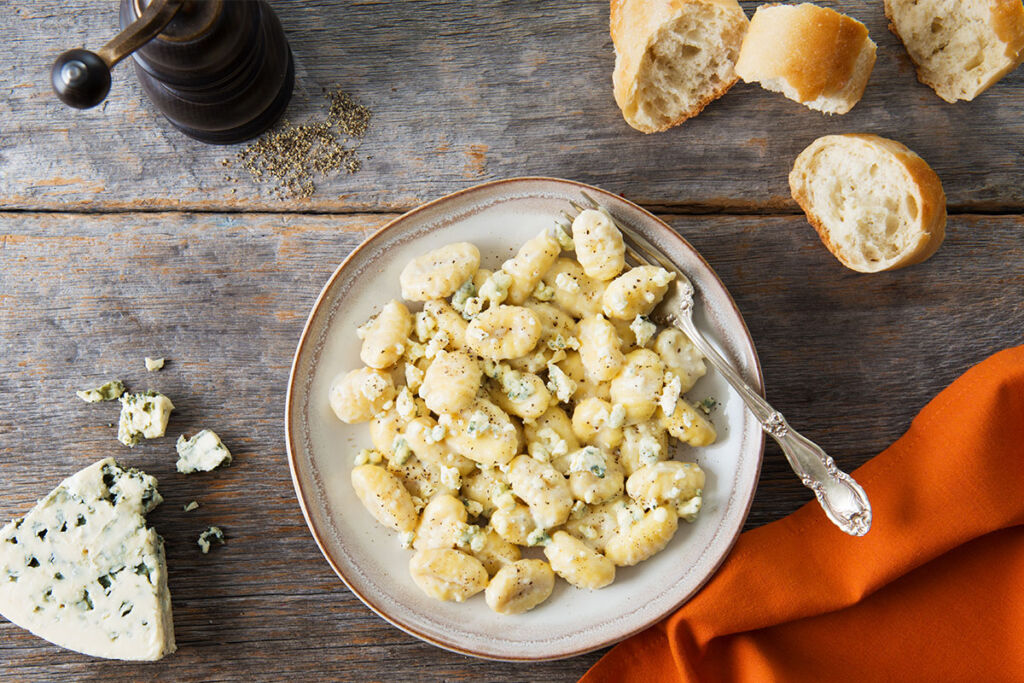 What Else Pairs with Gnocchi
When gnocchi is as tasty as ours, you don't necessarily need a sauce!
Butter
It doesn't get any easier than just adding butter or olive oil. If you want to highlight the other ingredients of your dish, butter or an oil-based sauce is a simple solution. Heat the butter and sage until the butter is browned for a nuttier flavour. It's impossible not to love our Parmesan and Garlic Skillet Gnocchi – even the pickiest eaters will clean their plates.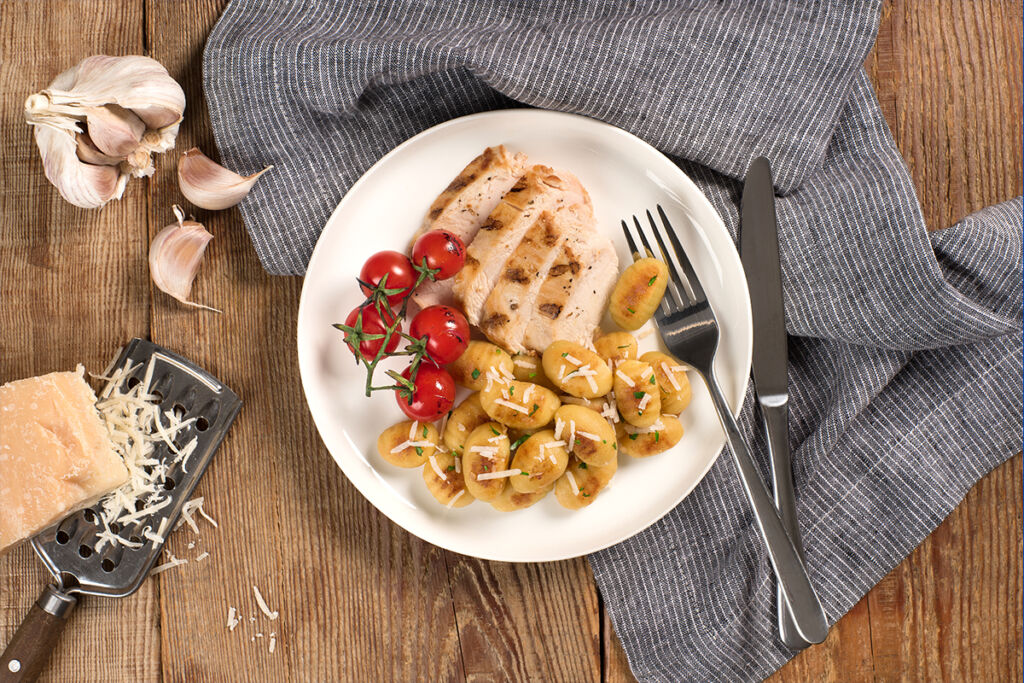 Gnocchi and Herbs
While the mild flavour of potatoes takes to nearly any herb, parsley, rosemary, thyme, and dill are classics. When it comes to gnocchi, sage is a perfect pairing; gnocchi alla salvia is a traditional dish!
Gnocchi and Mushrooms
Earthy mushrooms also pair well with potatoes. Sauté the mushrooms in oil or butter long enough, so they get a meaty texture; in other words, you want all the moisture to evaporate out. This zesty Skillet Gnocchi with Mushroom and Goat Cheese sneaks some greens into your family's mealtime routine.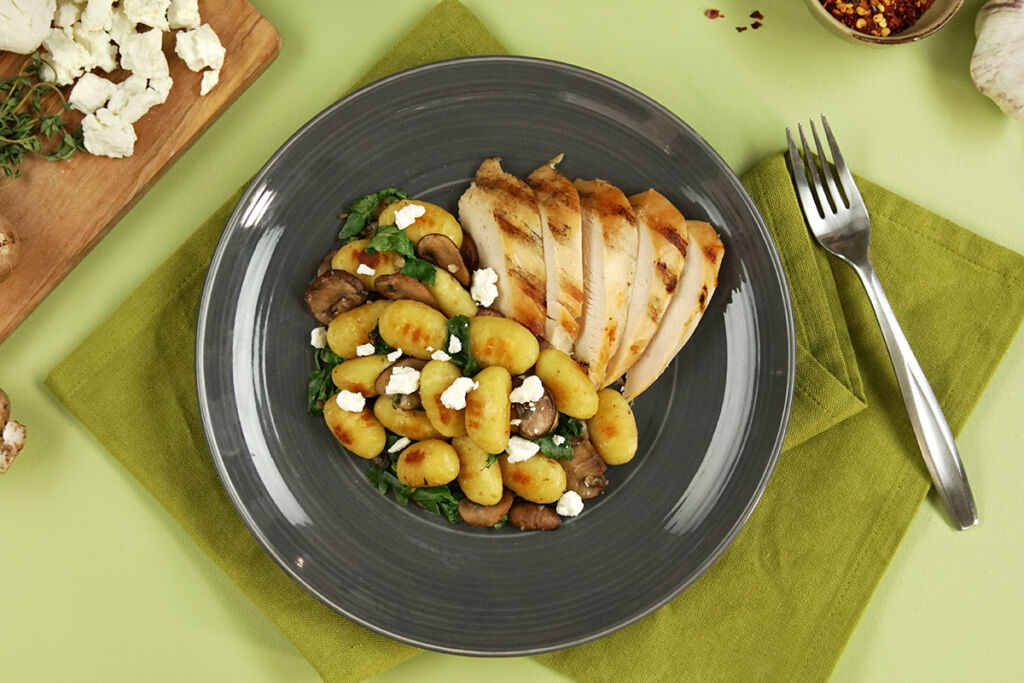 Fun Fact: Ever wonder why mushrooms are much more flavourful when cooked? Many compounds in mushrooms need to be heated in fat to draw out the flavours
Olivieri® gives you all the tools you need to make simple and satisfying dishes to get back to what is important: spending time with your loved ones! Buon appetito!