It is no secret meat and pasta are a match made in heaven, and there is no shortage of ways to marry the two food staples. Many traditional meals, especially in Italian cuisine, feature that classic combination – resulting in mouthwatering savoury dishes that have been passed down for generations. With Olivieri®'s selection of classic meat-filled pasta like Beef Ravioli and Chicken Cannelloni, there are plenty of dishes that you can add to your home menu! 
Read through to discover different kinds of meat-filled pasta and gnocchis. From traditional favourites to unique creations, Olivieri® can help you create exciting meals at home that even your kids will love! 
Cannelloni
A traditional Italian dish, cannelloni are cylindrical noodles stuffed with meats, sauces, vegetables, and cheeses. You will most likely find cannelloni filled with ground meat, tomato sauce, and bechamel in Italy. However, it is common to see spinach and ricotta options on the menu, equally as delicious and meat-free! 
Discover the authentic flavours of our Olivieri® Chicken & Prosciutto Cannelloni filled with savoury chicken, salty prosciutto, and creamy ricotta, all rolled together in fresh cannelloni pasta sheets. Just prepare in a skillet or bake in the oven with any of our Olivieri® fresh sauces, like in this Chicken and Prosciutto Cannelloni with Mushroom Alfredo Sauce, add your favourite toppings, and you have a delicious meaty meal ready to share. 
Make this simple but tasty Chicken & Prosciutto Cannelloni in Rosé Sauce, complete with a splash of white wine and topped with fresh Parmesan and chopped parsley for that finishing home chef touch.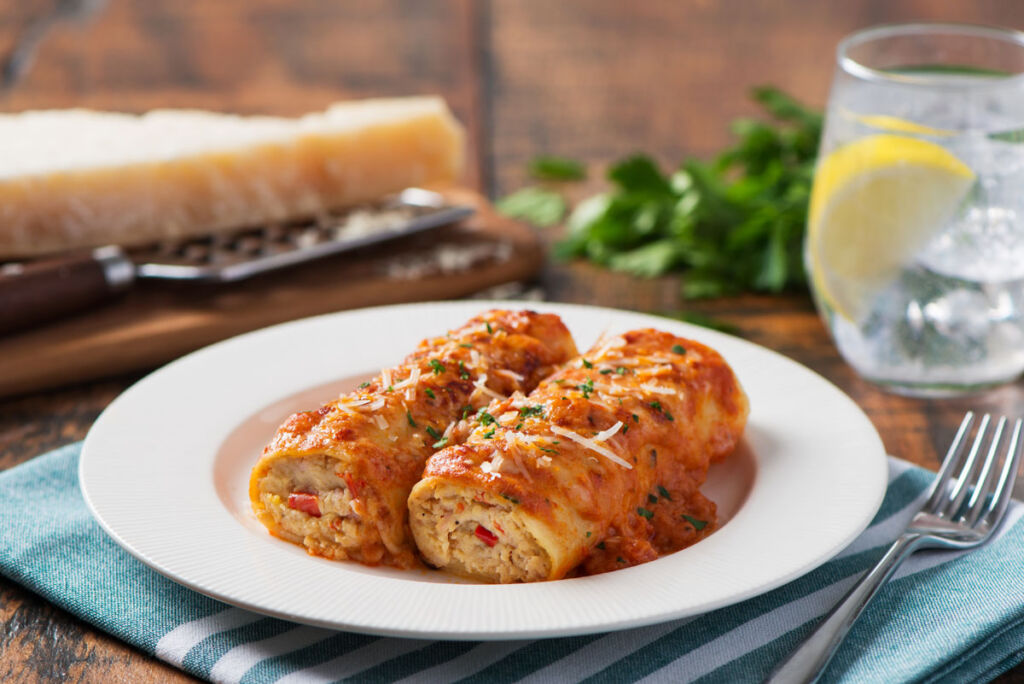 In need of a vegetarian option? Try our traditional Olivieri® Fresh Ricotta & Spinach Cannelloni to satisfy everyone at your dinner table.
Beef Ravioli
Among the stuffed pasta, Ravioli consistently stay a fan favourite. Something is comforting about traditional beef-filled Ravioli, whether they bring you nostalgia from childhood or reminds you of a trip to Italy. Impress your dinner guests with an elevated Olivieri® beef ravioli recipe: our Braised Beef au just Ravioli is perfectly seasoned and made with 100% Canadian beef! 
Keep with the classics and make this Beef Ravioli with Chunky Tomato Basil Sauce that the whole family will love! This recipe is quick and easy, pair the Ravioli with our Chunky Tomato & Basil Sauce, and your meal is complete.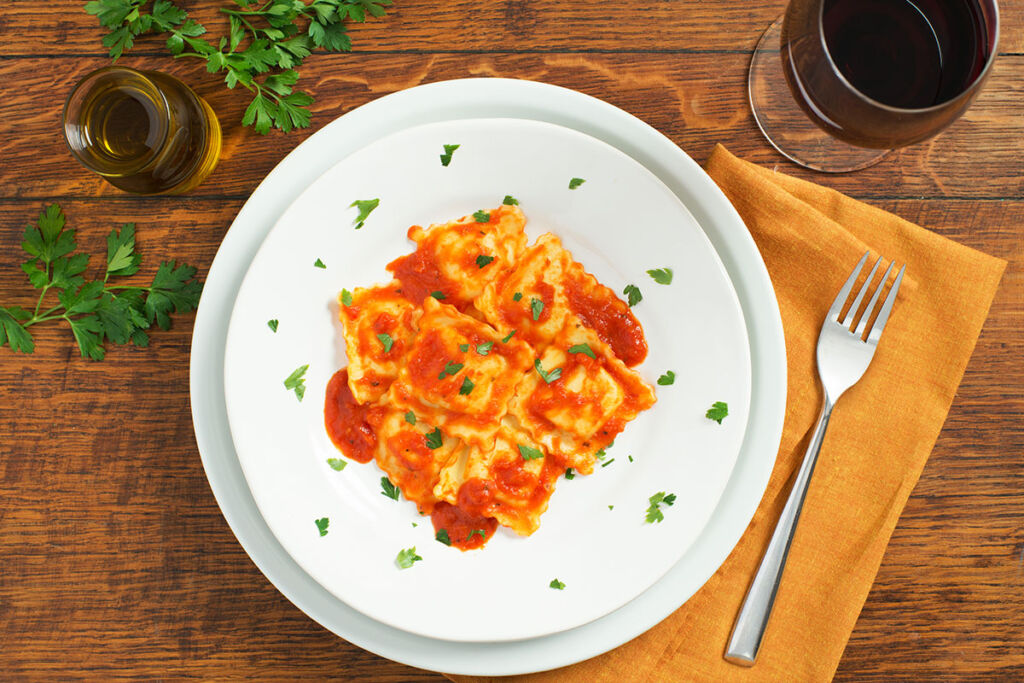 Change up the flavours with our Beef Ravioli with Portobello Rosé Sauce, complete with Portobello mushrooms, and our delicious Creamy Rosé Sauce that will not only taste delicious but look beautiful on the plate too!
Want to impress your partner for date night? This Braised Beef au jus Ravioli, Mushrooms, Maple Syrup and Québec Cheese Curds recipe perfectly brings all those local Canadian ingredients into your kitchen for a uniquely delicious meal worth sharing.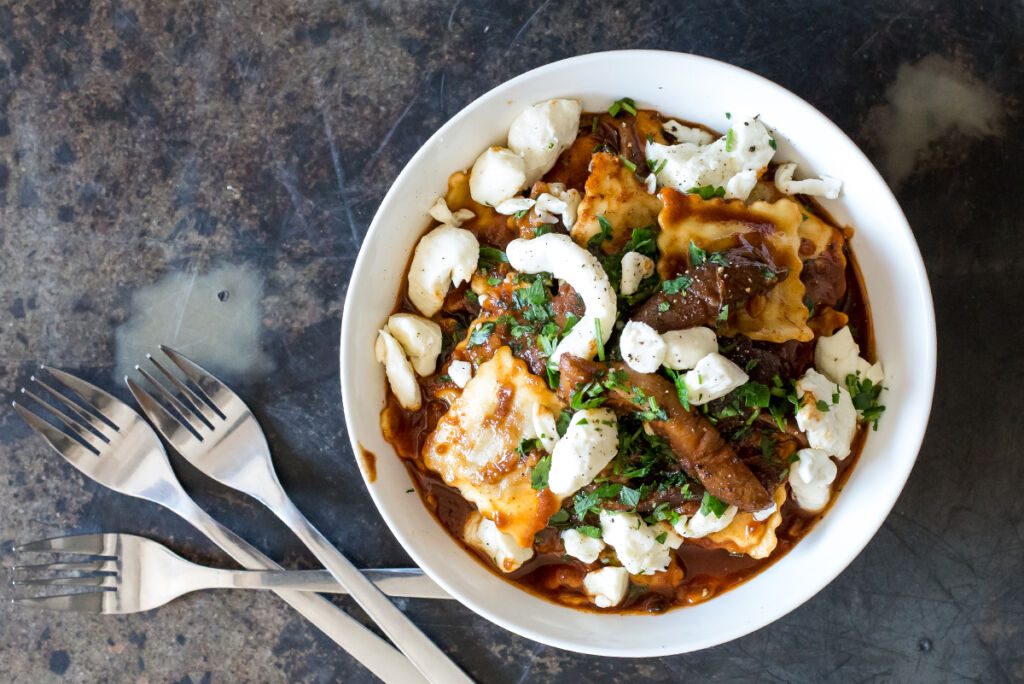 Other Popular Pasta Options for Meatlovers
There is a wide selection of stuffed pasta, so many that it can be hard to understand which is which! Though some may seem similar, each style of filled pasta serves its purpose and delivers a unique texture and taste that will satisfy different needs. Explore the world of stuffed pasta with some tasty Olivieri® picks.
Sausage Tortelloni
You're most likely familiar with Tortellini, but have you gotten to know its close relative- tortelloni? Both are stuffed pasta, but tortelloni is shaped into a circle and is typically larger than Tortellini. Don't be a stranger to this filled pasta any longer. Try this Italian Sausage Tortelloni Alfredo with Mushrooms recipe made with our flavourful Olivieri® Italian Sausage Tortelloni that will pair well with any sauce!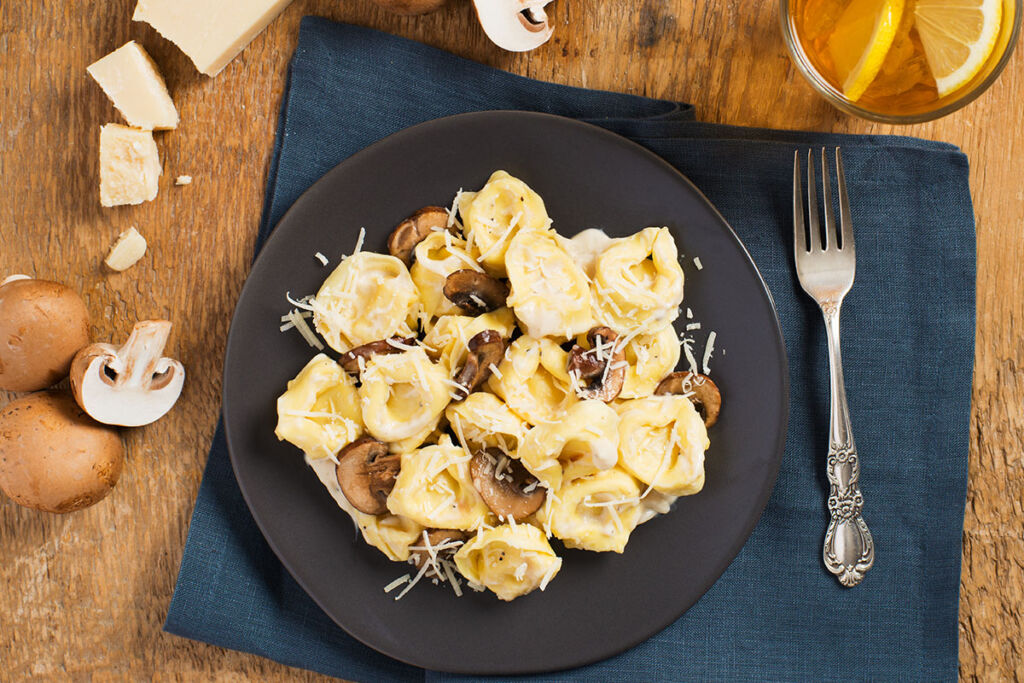 Chicken & Bacon Sacchetini
These stuffed kinds of pasta are called "Beggar's Purse" as they look like little coin bags. You can find them stuffed with a selection of cheeses and spices or Chicken & Bacon! These bites are full of flavour and will look beautiful on the plate as well.
Make this Chicken, Bacon & Cheese Sacchettini in Basil & Cheese Pesto for a simple, mouthwatering meal that will impress those you share it with.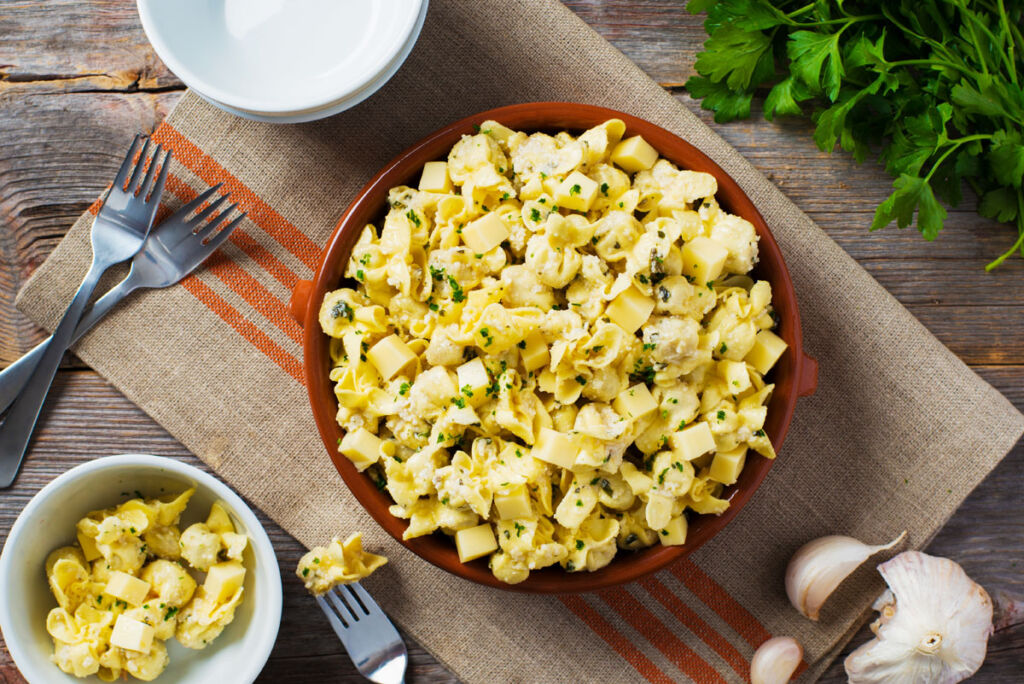 Recipe the Kids Will Love
All you need is one skillet and a bag of our Skillet Gnocchi that can be cooked perfectly in the pan, and you have a delicious meal ready in no time. Plus, skillet dinners have a minimal cleanup, allowing you to spend more time with the family after dinner! 
Go Seasoned:
Your kids won't get enough of these Cheddar cheese-smothered Gnocchi Skillet Nachos packed with savoury ground beef, taco seasoning, and pinto beans. Let your kids choose their custom toppings like salsa, guacamole, sour cream, and jalepeños if they don't mind something a bit spicy.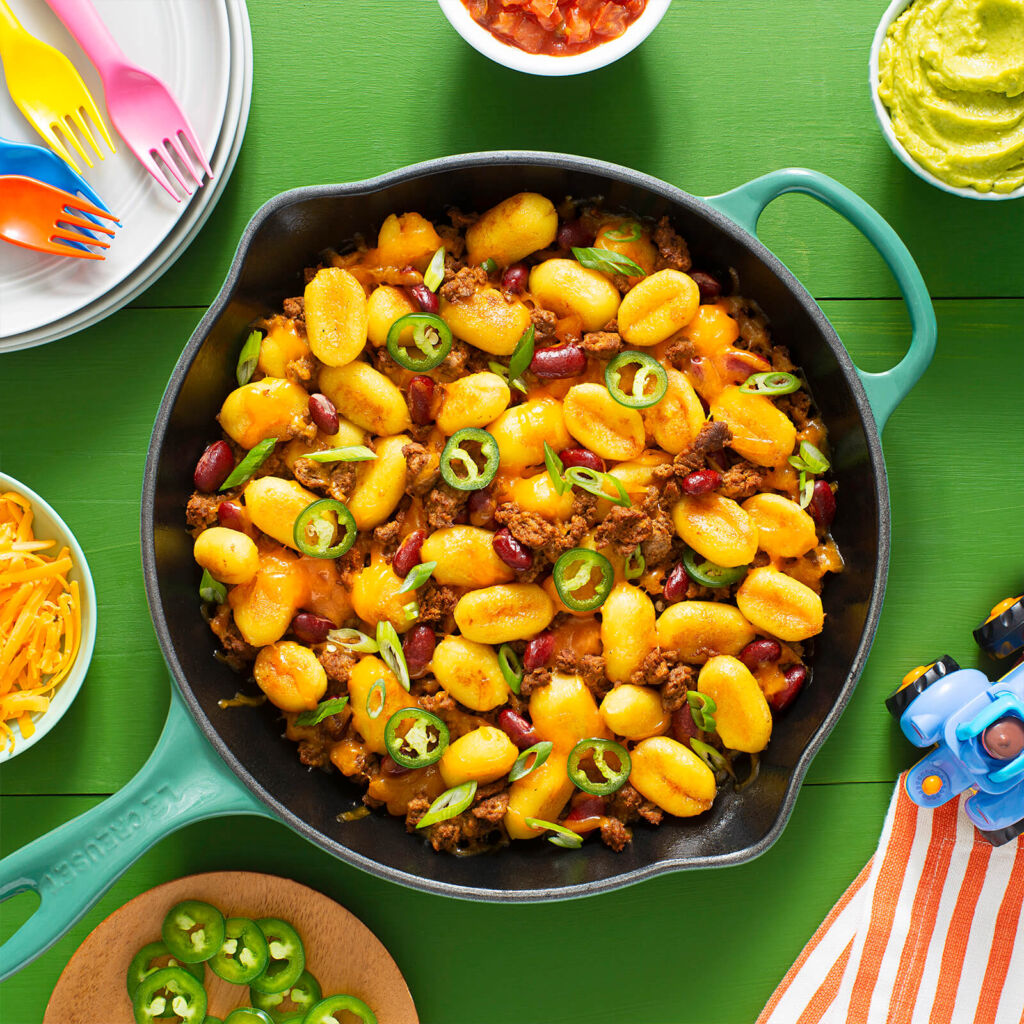 Go Cheesy:
For another delicious pick full of hearty veggies, make our Skillet Mac and Cheese Bacon Gnocchi with Broccoli. You can't go wrong with our Fresh Cheddar Bacon Skillet Gnocchi, which is full of cheesy and meaty flavours that will make any vegetable taste delicious.
Go Simple:
Looking for a quick lunch or dinner you can throw together for the kids? This One Skillet Gnocchi & Sausage Supper is an excellent option for even picky eaters. Made with our Cauliflower and French Emmental Cheese Skillet Gnocchi, carrots, and smoked sausage, they will get the plate full of veggies that parents hope for.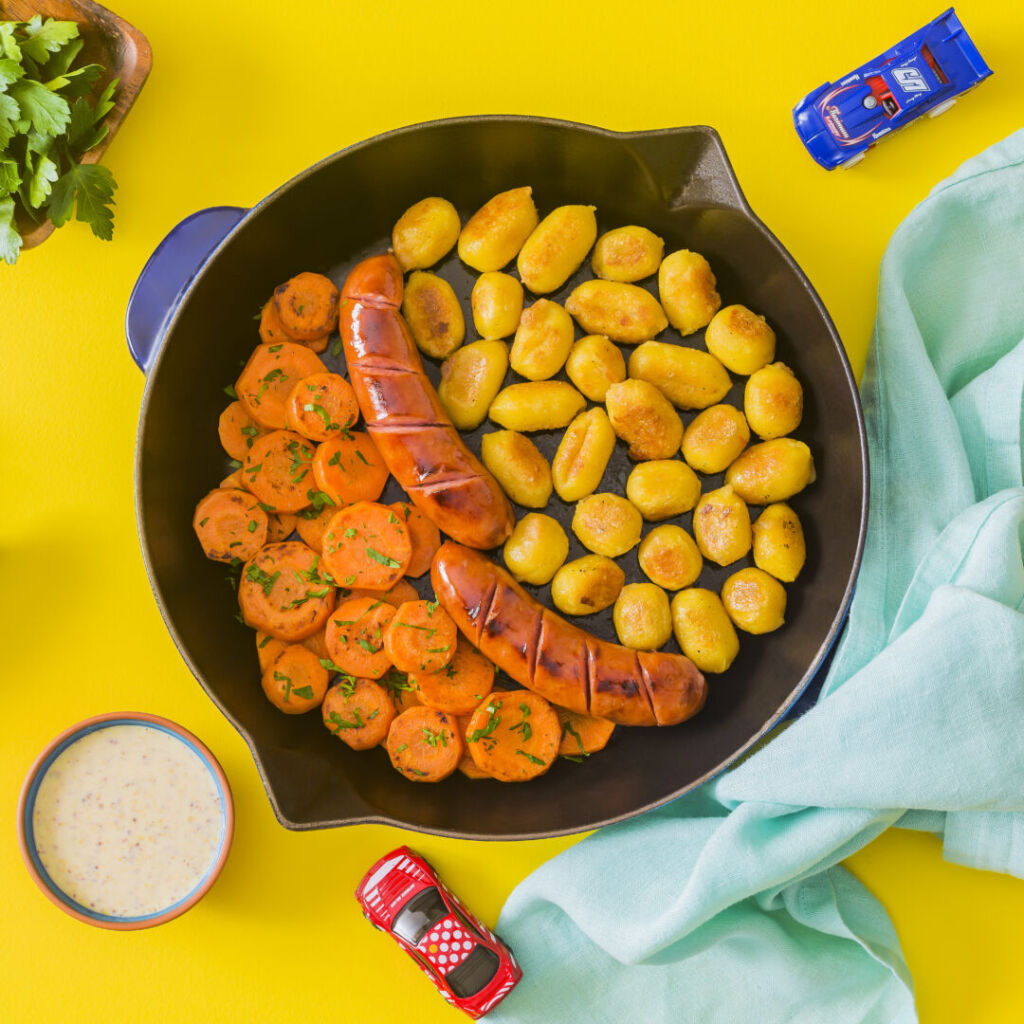 Now that you're inspired by our recipes to make some meals for your meat lovers, remember to check out the vast selection of tasty meat-filled pasta and gnocchi! There are endless opportunities to create mouthwatering meaty meals that will have your kids coming back for seconds.