The answer is simple for quick and easy meals that the whole family will love: start with skillet gnocchi. Crispy outside and soft and tender inside, skillet gnocchi is a delicious twist on potatoes that will please everyone around the table. Make mealtime simple and stress-free by letting Olivieri® help out in the kitchen.
We take the guesswork out of preparing dinner for the family by offering products that would make Nonna proud. Let's look at some reasons you'll want to keep your fridge stocked with skillet gnocchi.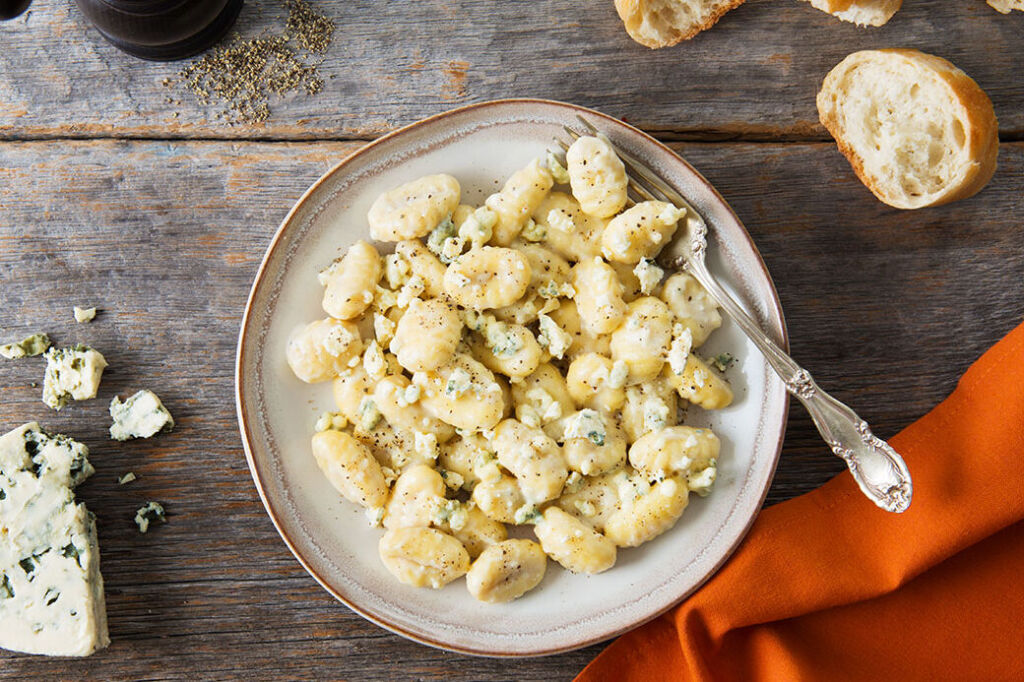 Advantages of Skillet Gnocchi
Versatile: From breakfast to dinner, from sweet to savoury, from the main course to a side dish, skillet gnocchi provides limitless options!
Quick: When hunger strikes, you can count on this potato delicacy; it's ready in less than 5 minutes and requires no boiling or draining.
Quality: Here at Olivieri®, we take pride in offering products that contain high-quality ingredients and use local Canadian goods when possible.
What is Gnocchi?
An Italian delicacy, gnocchi is a potato and flour dough that can be filled with sauces, cheese, or meat. 
There are plenty of roads to go down if you're looking for an easy gnocchi recipe.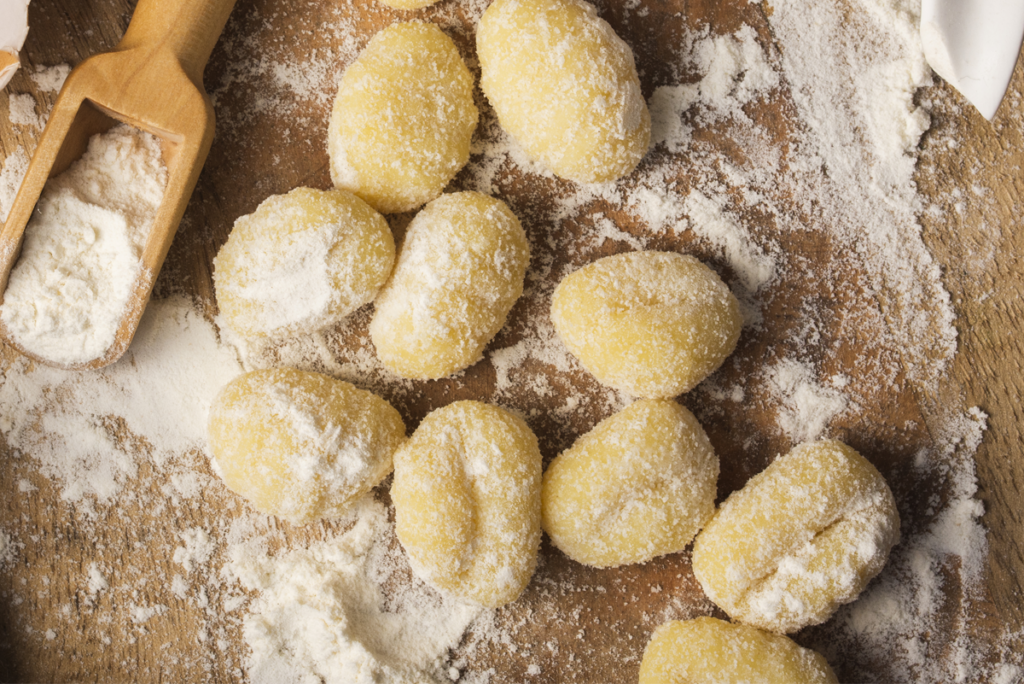 What is Skillet Gnocchi?
While our Potato Gnocchi is prepared in the traditional manner, our skillet gnocchi doesn't require any boiling. Preparing gnocchi this way gives you the best of both worlds – a tender pillowy center with a perfectly crispy exterior! Olivieri® offers not only Classic Potato Skillet Gnocchi but also plenty of stuffed varieties:
How to Cook Skillet Gnocchi
The beauty of skillet gnocchi is that it only takes a couple of minutes to cook. You want the gnocchi to brown on all sides. There is no boiling or draining required. Just follow these easy steps:
In a non-stick skillet, add a small amount of butter or olive oil and pre-heat to medium-high heat.
Add gnocchi and cook, frequently stirring, for 5 minutes or until gnocchi are golden brown.
Now that you see just how easy it is to cook up, let's look at how you can use gnocchi to its fullest!
How to Store Gnocchi
There's no such thing as too much gnocchi! If you find yourself with extra after a meal, save them for later. Consider it meal prep! Pack it up in bento boxes for the kids' school lunch boxes. Storage Tip: Refrigerate cooked gnocchi in an airtight container for about two days.
Plain: If you make extra croutons or prepped more than necessary for your party platter, lightly coat gnocchi with olive oil or layer gnocchi with wax or parchment paper — this will prevent any sticking.
Coated: Even if you've already mixed your gnocchi with sauce, you'll still be able to enjoy leftovers. However, you'll want to eat sauce-coated gnocchi as soon as possible to avoid excess sogginess.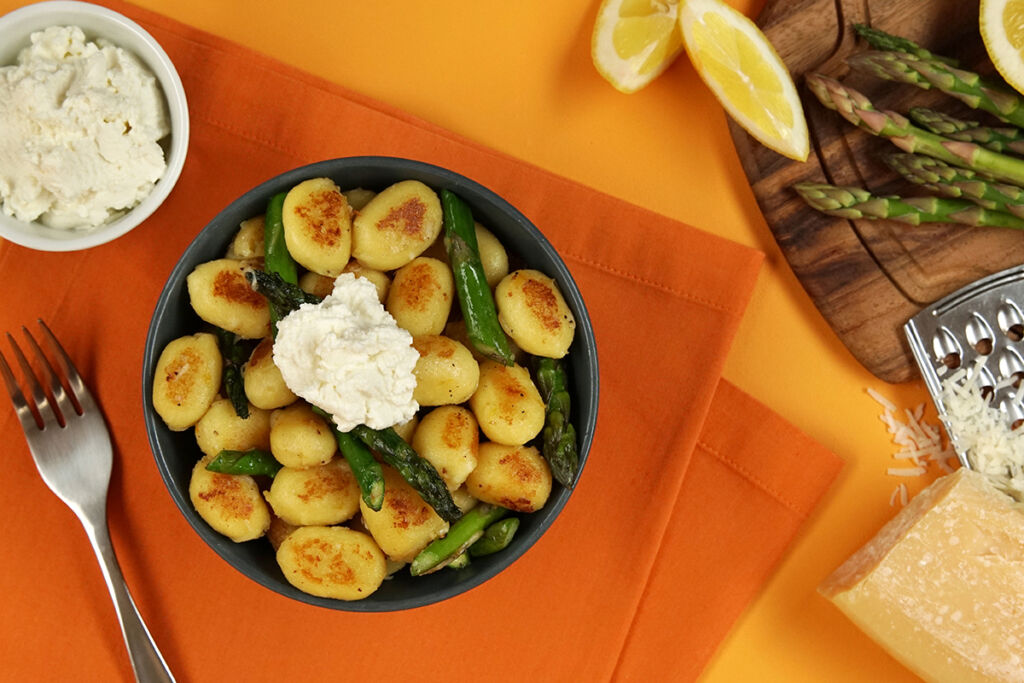 How to Reheat Gnocchi
In a non-stick skillet, add a small amount of butter or olive oil to medium heat. Once the butter bubbles or the oil glistens, reduce the heat to medium-low and add gnocchi until it's warmed through, about 2-4 minutes.
Reheating Tip: If the gnocchi is coated in sauce, add a spoonful or two of water and add a lid. This will re-moisturize both the sauce and gnocchi.
Recipes with Skillet Gnocchi
When you opt for skillet gnocchi, you can whip up a simple side or a filling family meal in no time. We have recipes for whatever you're craving:
Seafood: Quick Garlic Shrimp with Skillet Gnocchi
Meat: One Skillet Gnocchi & Sausage Supper
Cheesy: Alfredo Gnocchi with Crumbled Blue Cheese
Citrusy: Cheese Filled Skillet Gnocchi with Lemon, Ricotta and Asparagus
Spicy: Gnocchi Skillet Nachos
Saucy: Gnocchi Pizza Bites
Skillet gnocchi isn't limited to dinner. Just how versatile is it? Check out some of our favourite ways to use these potato bites!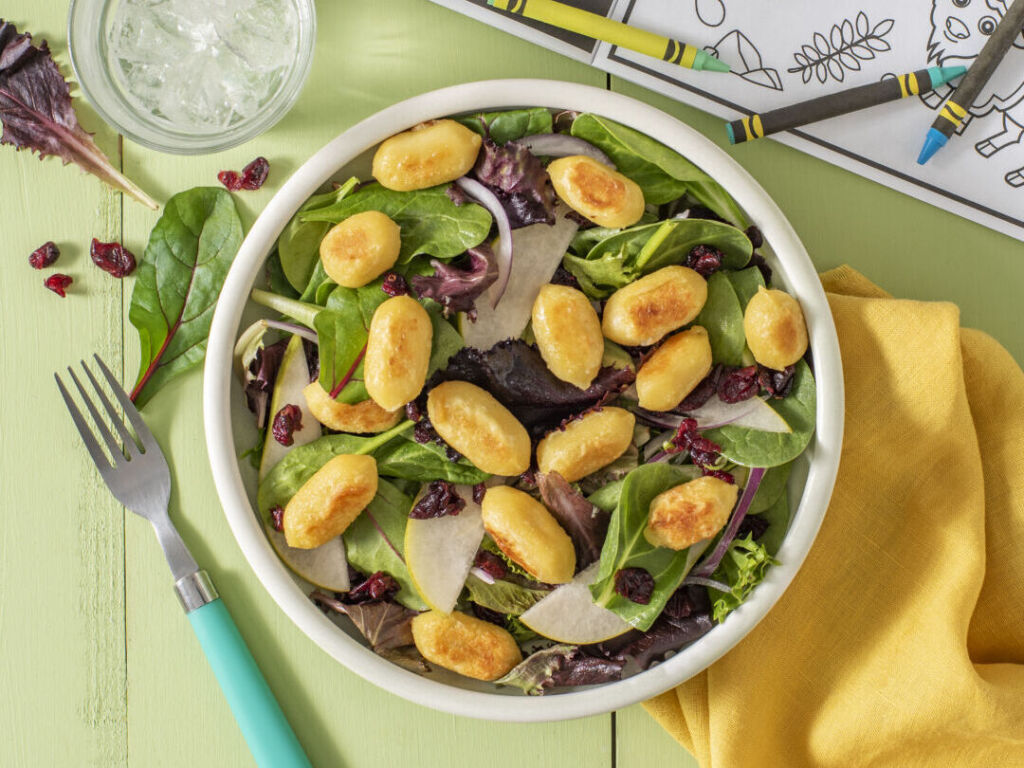 Breakfast: Loaded Bacon and Egg Breakfast Skillet
Green Salads: Lemon Maple Skillet Gnocchi Salad
Pasta Salads: Gnocchi Pasta Salad
Appetizers: Skillet Gnocchi Antipasto Bites
Desserts: Churro-Style Gnocchi Bites
Pantry Staple Plates with Skillet Gnocchi
In addition to the unlimited Recipes in Under 20 Minutes, skillet gnocchi is just as delicious when paired with a couple of ingredients. For effortless dishes, find the Best Sauces to Pair With Gnocchi. As long as you have some Fresh Sauces on hand, making a memorable meal in minutes is a cinch. Check out other ways to dress up skillet gnocchi using kitchen staples: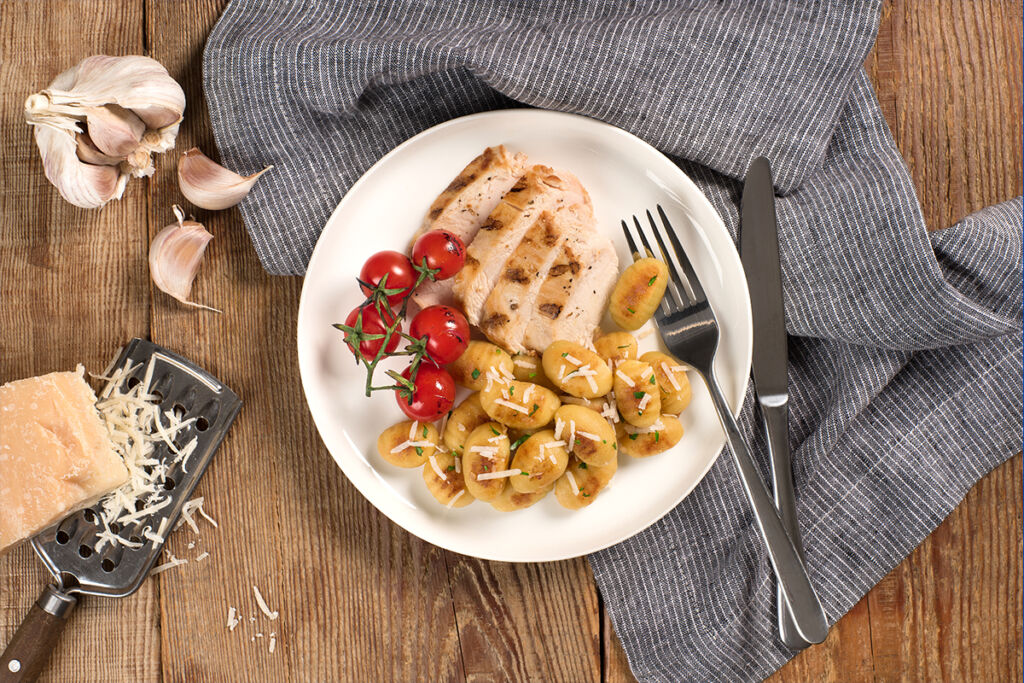 Top with freshly grated cheese and just a pinch of salt.
Sauté with garlic and add freshly shredded Parmesan like in this Parmesan and Garlic Skillet Gnocchi.
Brown butter and take your simple side to the next level by adding nutty notes by whipping up some brown butter. Add butter to a hot skillet and whisk until froth turns brown. Remove the pan from the burner before stirring in garlic and thyme. Next, fold in the gnocchi. Kitchen Tip: Opt for unsalted butter — it doesn't get quite as bubbly so that you can keep an eye on the desired colour
When you have plenty of Olivieri® skillet gnocchi waiting in the fridge, you have peace of mind at mealtime, knowing you and your family are just minutes away from a simple yet satisfying dinner!