You're not alone if you're thinking about escaping to the coast with your family. That's what summer is all about. But you needn't go anywhere to bring the flavours of the sea to your home for meal time. Whatever your plans may be, there are a great number of crowd-pleasing seafood dishes you can add to your culinary repertoire with a few simple tips and tricks.
From salmon to tuna to shrimp recipes and more, let Olivieri® guide you through these tasty and elegant seafood suppers, featuring authentic Italian ingredients, so that you can prepare the next family favourite in style.
Getting Creative with the Catch of the Day
Before we begin, you may be wondering what ingredients you can add to seafood dishes to liven them up. Did you know that you can often use Canadian ingredients? Sometimes, the best ingredients for a memorable family meal are the ones we find right here at home! [a]Now let's dive into the seafood!
Salmon Recipes
Aside from its well-known nutritious properties, salmon is probably so popular due to its rich and buttery flavour, its firm and moist texture, and its bold and vibrant colour. In this Baked Salmon and Skillet Gnocchi, which also features lemon juice and spinach, you can enjoy salmon as part of a hearty but elegant meal.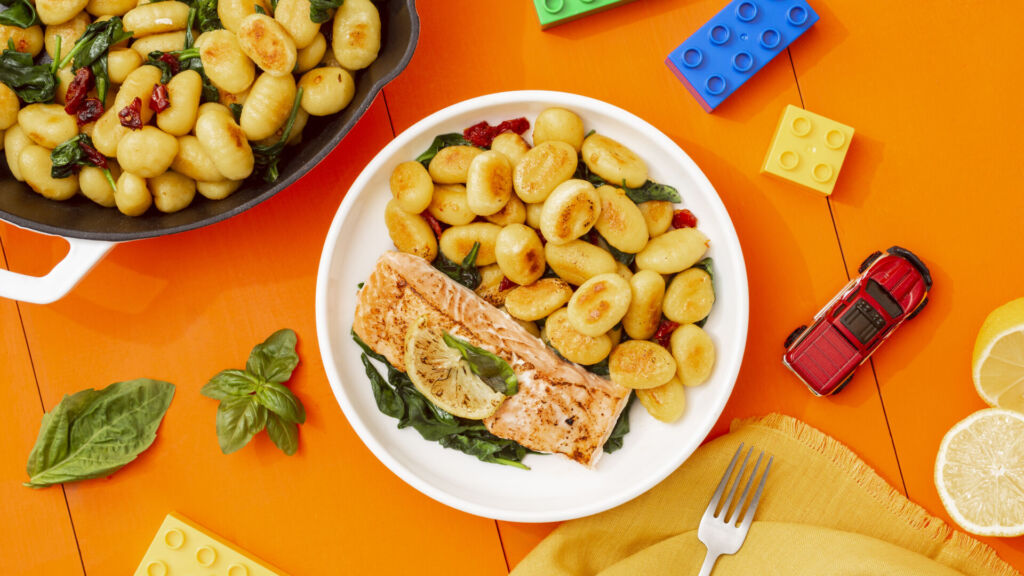 Salmon also makes a great addition to Asian-inspired mixtures such as this Skillet Gnocchi Vegan Buddha Bowl. When adding salmon to this recipe, be sure to cut it into small cube-like chunks so that you can easily mix it around among the other ingredients in the bowl.
Quick Salmon Tip: Use sushi-grade salmon for buddha bowls, sushi, or poke bowls. This is because it meets the standards to be consumed raw as it typically is in such dishes.
Alternatively, your salmon can be lightly cooked or seared, then diced and added to the dish.
In this Linguine Italiano recipe, go ahead and replace the chicken with salmon for an equally satisfying meal, or one that's even more delicious if you're a salmon lover. With onions, pepper, alfredo sauce and Olivieri® Linguine Nested pasta, your salmon will be joining an already tantalizing ingredient combo.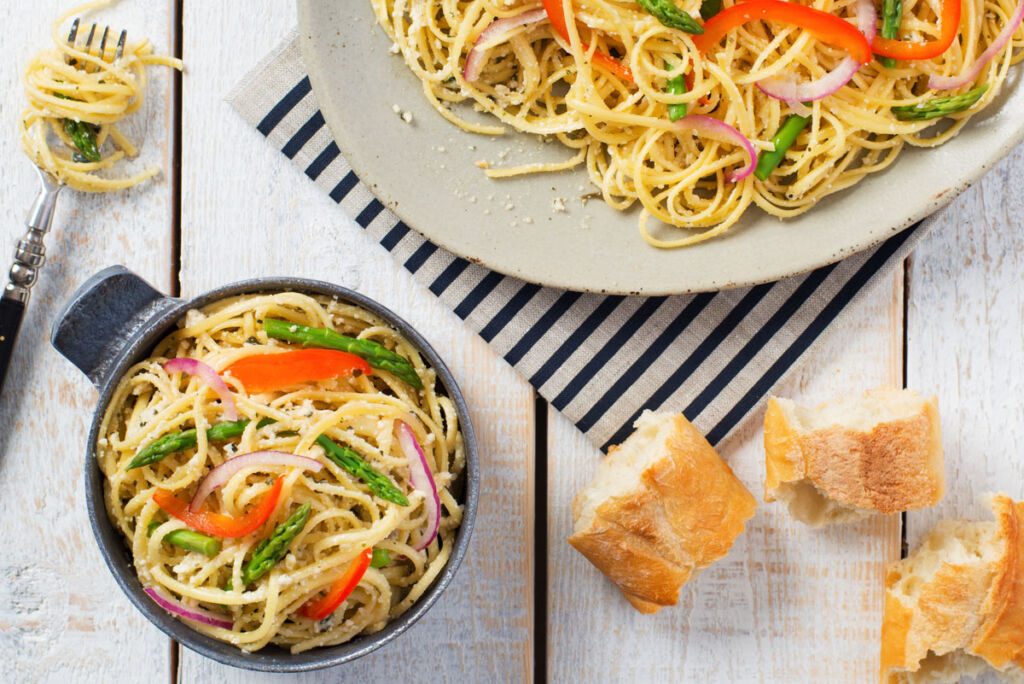 Tuna Recipes
Due to its taste, texture and the fact that it's easy to find in any store, tuna makes its way into all kinds of recipes spanning over a number of cuisines. By adding it to this Lemon Maple Skillet Gnocchi Salad, you'll have an elegant and elevated dish that looks great on the plate.
Tuna also works wonders in pasta salads, giving them an extra element that seafood lovers in particular are bound to enjoy. Another seafood option that can be easily added and mixed into pasta salads is crab. In this Gnocchi Pasta Salad, that can be done easily.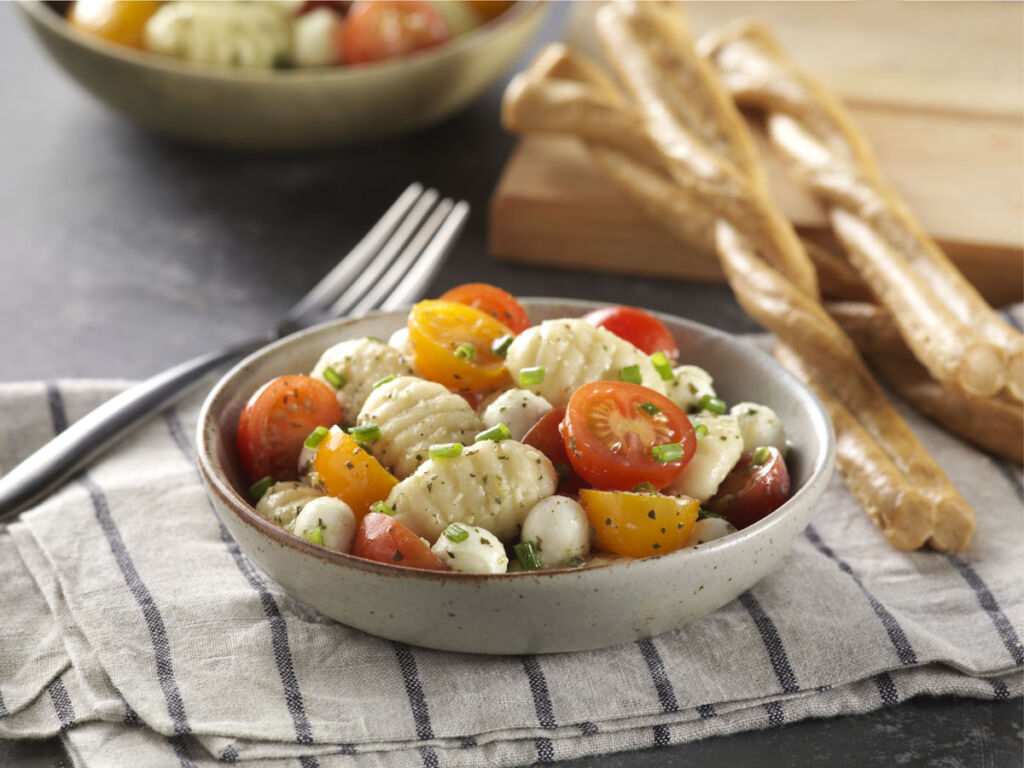 Whether it's tuna or crab you add, both bring a whole new layer of flavour and texture to this dish.
Shrimp Recipes
They're light, refreshing and flavourful, and that's just some of the reasons why we love cooking shrimp, especially during the summer months. For a shrimp dish with a double dose of Canadian flair, check out this Tortelloni with Matane Shrimp and Québec Asparagus, an extra cheesy pasta delight with veggie and seafood flavour combos.
Similarly, this Tortellini with Asparagus Shrimp makes use of shrimp, filled pasta and asparagus, but this time round, it blends the tantalizing tastes of lemon juice and Olivieri® Creamy Rosé Sauce.
Tip: For a colourful meal that kids can't resist, swap in Rainbow Tortellini.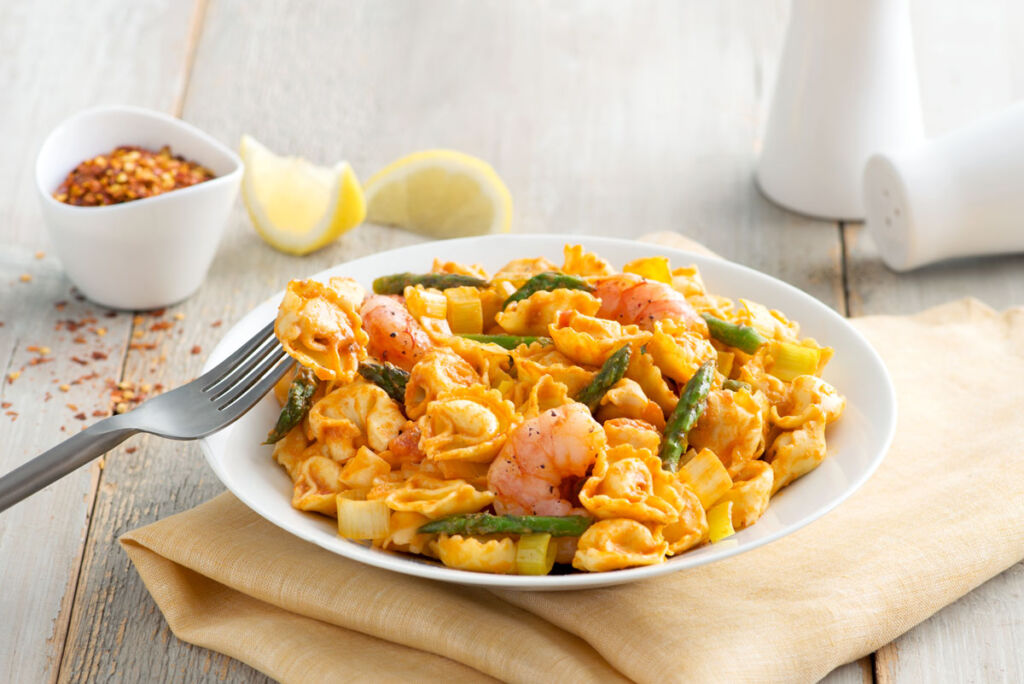 For the gnocchi lovers, here's somewhere you cook up some shrimp – this Quick Garlic Shrimp with Skillet Gnocchi recipe. With gnocchi being so quick and easy-to-make, you'll be able to enjoy that soft and chewy texture with a mix of garlic and seafood flavours.
Seafood with Vegetables
The great thing about combining seafood with vegetables is how they complement each other. First, there's the textural contrast they bring, then there's visual mix of colours. But also, seafood with veggies means a more diverse range of nutritious properties in your meal.
Perhaps, you're already a lover of Veggie-Packed Plates. If so, you'll know there are already plenty of opportunities to experiment and create tasty recipes by adding seafood to such dishes, especially the versatile types such as tuna, salmon and shrimp. That's why eating green is also an opportunity for you to bring in the flavours of the sea.
Shrimp works particularly well in many of these Delicious Dinners with Zucchini. What's more is that tuna and chopped crab sticks can also be used in such recipes for a delicious ocean-inspired touch. You can also experiment by adding some of the same ingredients to Italian Comfort Food dishes.
For a seafood snack that the kids will love, try adding some shrimp or anchovies onto these Skillet Gnocchi Antipasto Bites. The result is a deliciously refreshing extra component to an already tasty appetizer that the little ones can even help you to prepare.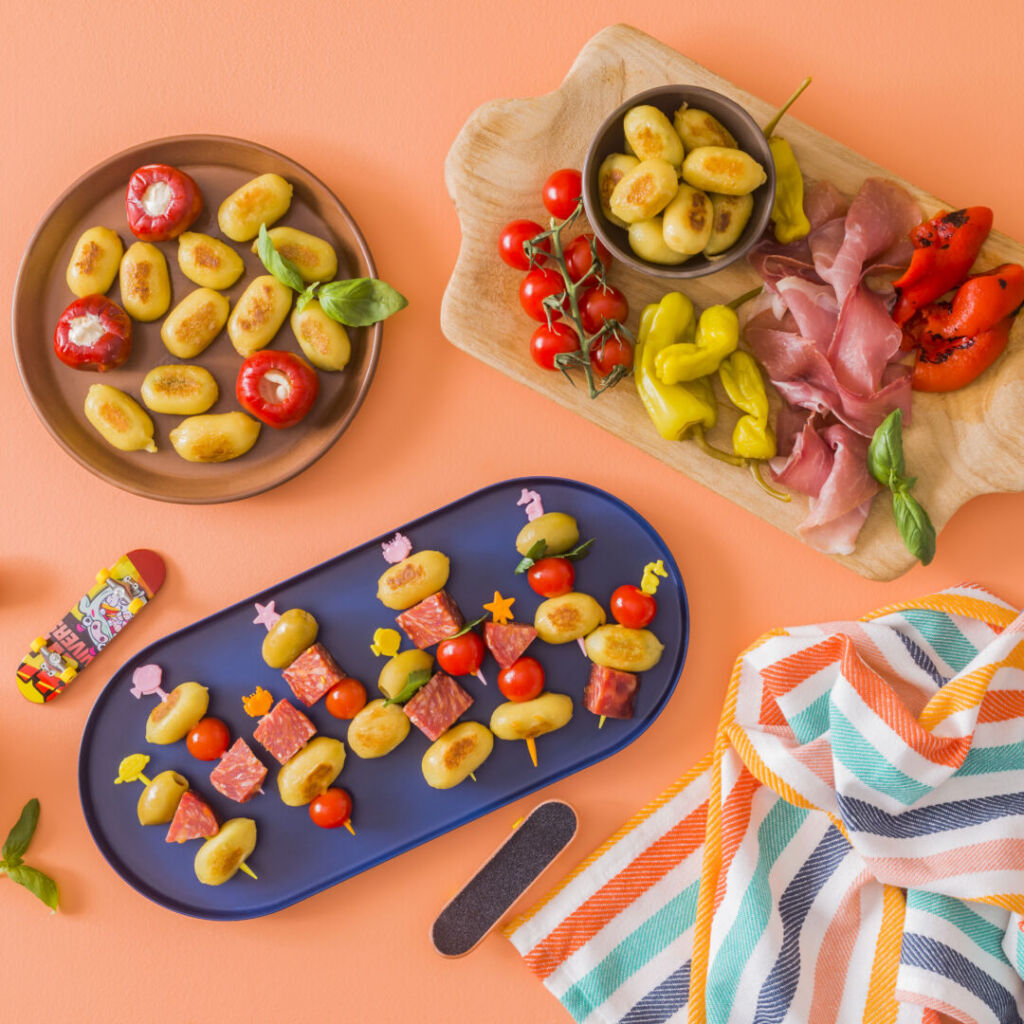 For more unique meal inspiration and crowd-pleasing dishes for friends and family, feel free to drop by our kitchen where we regularly share our latest culinary tips and tricks.