Summer nights are all about relaxing, spending time with family and making the most of warm weather and late sunsets while the season lasts. When it comes to meal time during those beautiful evenings, appetites change. We find ourselves craving flavourful bites and refreshing dishes rather than the heavy and hearty meals of winter. So what are your options? Read on as we guide you through these evening bites for summer nights that'll give you all the tips you need to make this year's summer nights memorable and satisfying!
Delicious Dips
A sure way to please everyone, whatever flavours they may prefer, is preparing snacks for dipping alongside ramekins of dipping sauces. Not only are these types of bites generally simple to make, but the range of sauce options mean that, in terms of taste, there's something for everyone!
Our Fresh Gnocchi varieties are incredibly easy to prepare. After just a few minutes of stirring in the skillet, they're good to go! All you need from there is a good recipe to use them in, or even simpler, a dipping sauce for them to go with as in this Skillet Cheese Gnocchi with Tomato Basil Sauce.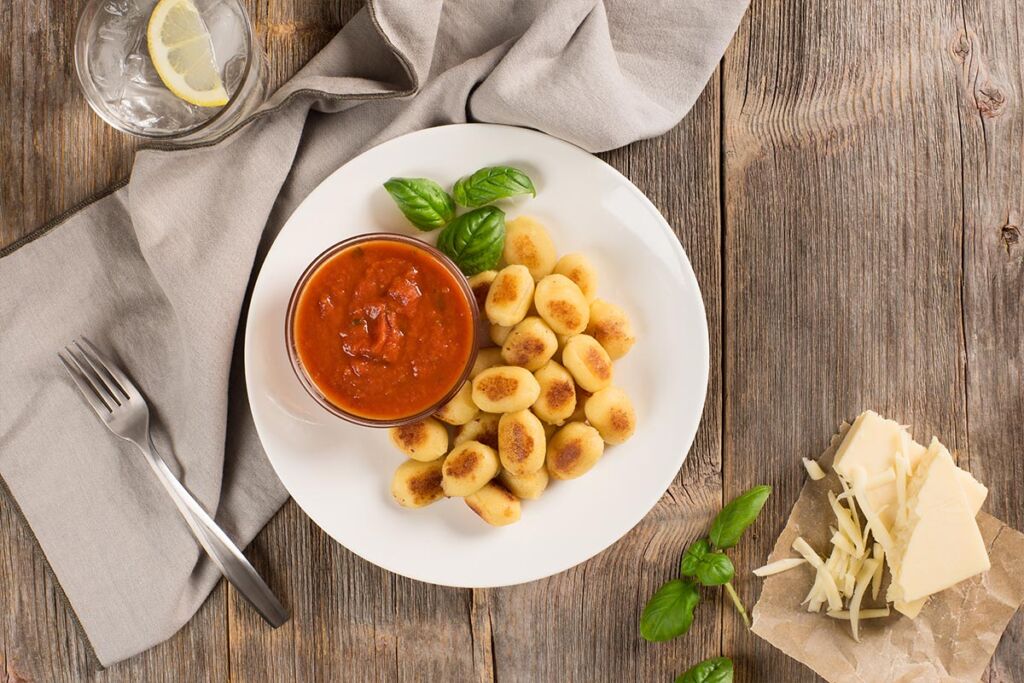 The flavour of tomato can be enjoyed in more than just a marinara sauce. For something with a little extra thickness in texture, you can prepare our Black Bean Salsa recipe which uses Olivieri® Chunky Tomato & Herb Sauce for a Tex-Mex inspired dish that is great with tortilla chips.
Or for something light and creamy with fresh herbaceous flair, try this Cheese-Filled Skillet Gnocchi With a Creamy Pesto Dip. In our delicious dip dishes, there's plenty of room for experimentation when combined with our fresh sauces!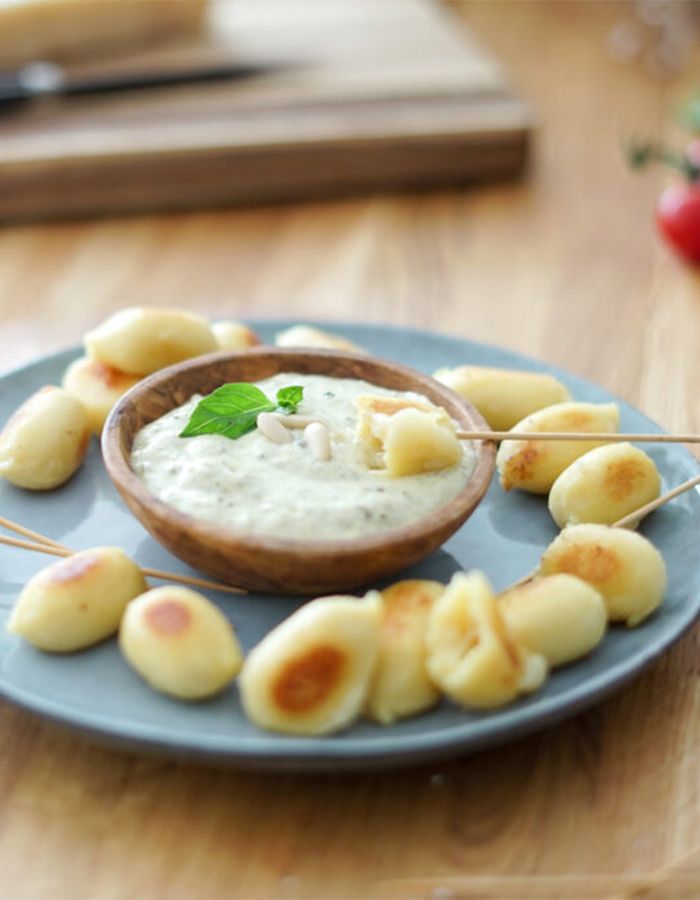 Unbeatable Bites
Not all bites have to go with a dipping sauce. Some things taste better on their own, and others can be consumed in either way. The sauce used in these Fresh Mozzarella & Tomato Crostini bites is pesto, but as the recipe suggests, that can be spread atop garlic bread before being adorned with delicious toppings.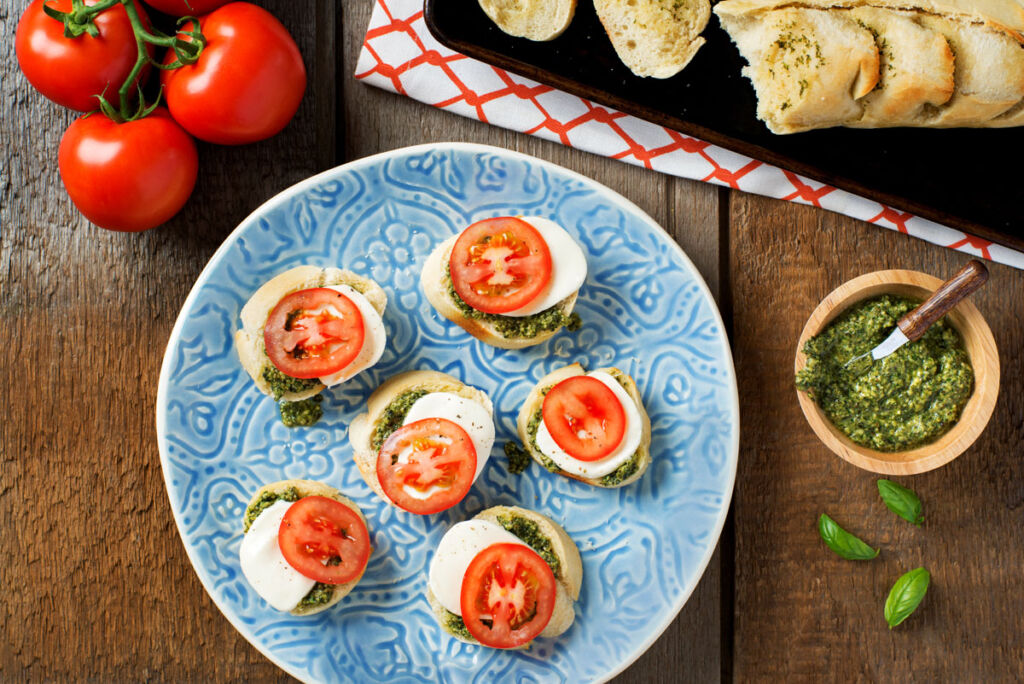 Our skillet gnocchi varieties can also bring their comforting flavours and chewy textures to dishes such as these Skillet Gnocchi Antipasto Bites, a light evening snack that can be eaten from small wooden skewers or cocktail sticks. With our gnocchi recipes, your options are endless.
Another way to ensure you're stacked up on unbeatable bites is by learning How to Make a Tasty Gnocchi Board. Simply put, this board gives you a perfect mix and match set of different appetizers, ideal for large crowds with different preferences.
Vegetarian Summer Sides
Time to bring in some fresh seasonal produce that adds colour and nutrients to any meal time, we're talking veggies! They're light, refreshing and pair well with plenty of mains. A summer evening get-together just wouldn't make sense without them!
Packed with a mix of light veggies, this delicious Pepper and Onion Pesto Medley can be cooked in large amounts and shared out around the table. With sliced Spanish onion, a rainbow of green, red, orange and yellow peppers, together with Olivieri® Basil & Cheese Pesto, you'll have an abundance of summery flavours to go round!
Getting together with friends and family on summer evenings, also gives us the opportunity to take inspiration from our own cuisine as in this simple yet satisfying Skillet Gnocchi Poutine. By preparing this dish, you can plead the crowd by giving them familiar flavours but with a gnocchi twist!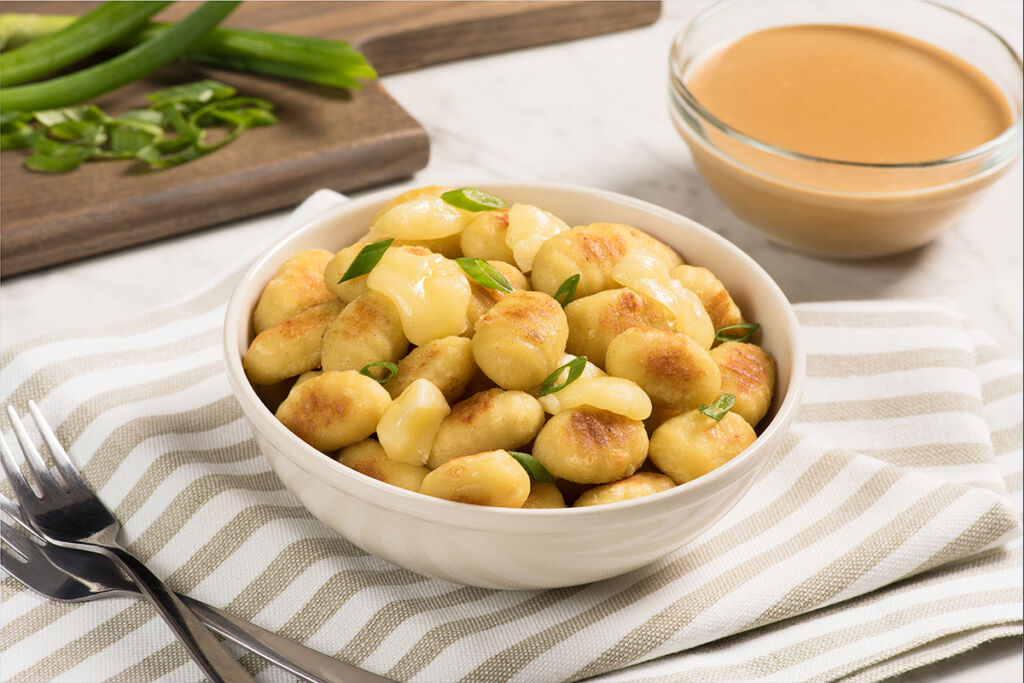 Pasta Salads
Of all the cool and refreshing options to enjoy on a warm summer night, pasta salads could be the most popular. Not only are they great for satisfying everyone's hunger, but they're also easily customizable. That means even the pickiest of eaters can be catered for by switching in and out a few ingredients.
Just by taking a look at this Confetti Pasta Salad, your guests will already be impressed! It's a beautiful dish, rich in colour and its appearance isn't the only thing it has to boast about. The flavour combo of black olives, cherry tomatoes, peppers, basil leaves and mayonnaise combined with Olivieri® 3 Formaggi Rainbow make it truly irresistible!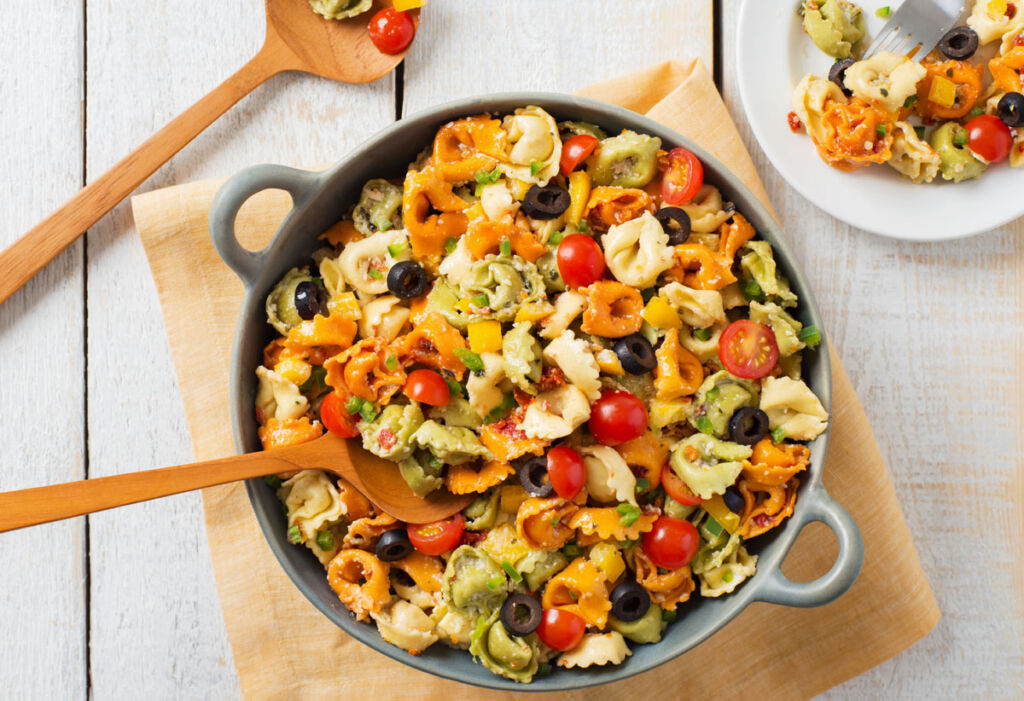 While it's true that here at Olivieri®, we like to delve into the ins and outs of Italian cuisine, when it comes to pasta salad, it's certainly worth mentioning this Greek-inspired dish. This Greek Salad Tortellini blends the fresh and satisfying ingredients of a regular Greek Salad with the mouthwatering creamy blend of cheeses found in our Olivieri® 3 Formaggi Rainbow Tortellini.
There are plenty more pasta salad options for you to explore if you're in need of further inspiration. For more meal ideas, as well as culinary tips and tricks to wow those around the table, stay tuned to our regularly updated kitchen.