If you enjoy classic Italian recipes, but want to give them a new and interesting dynamic, we have just what you're looking for! These classics with a gnocchi twist mean you can replace pasta with soft dough made from potatoes, bringing a whole new texture to your favourite flavours.
At Olivieri®, high quality ingredients with an authentic taste are essential to us, which is why our fresh gnocchi products make elegant additions to various recipes.
Read on to find out how you can use them to create memorable meal times for the family, mixing old world flavours with new ideas!
Popular Dishes with a Gnocchi Twist
Why do we all love lasagna so much? Perhaps because it's a hearty dish we're all familiar with that tastes delicious and makes us crave more!
Another great thing about it, is how the ingredients can be changed to make it vegetarian, such as in this Roasted Zucchini Lasagna, and the leftovers can always be saved and reheated later.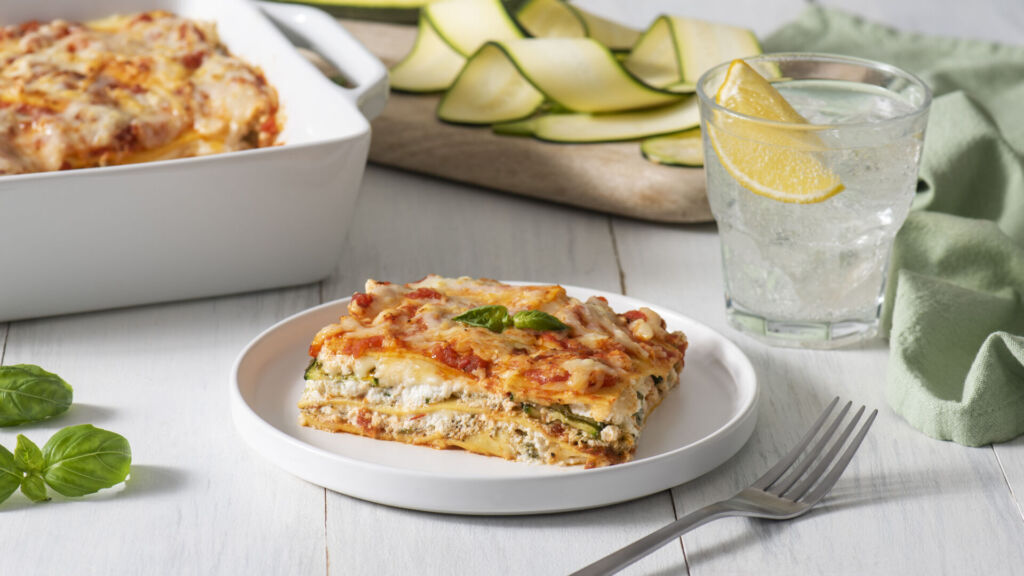 To add a gnocchi twist to that Italian classic, look no further than our Skillet Gnocchi Meatball Lasagna Extravaganza, which keeps all of a typical lasagna's deliciousness, only it comes in a whole new style!
Pizza is another family favourite. What could be better to eat when sitting together in front of the TV for movie night? Then there's all those tantalizing toppings, and the way you can add whatever ingredients you want to suit everyone. 
Besides, the kids love it! That's why they'll adore these Gnocchi Pizza Bites, a kid-friendly recipe that the little ones can eat by hand!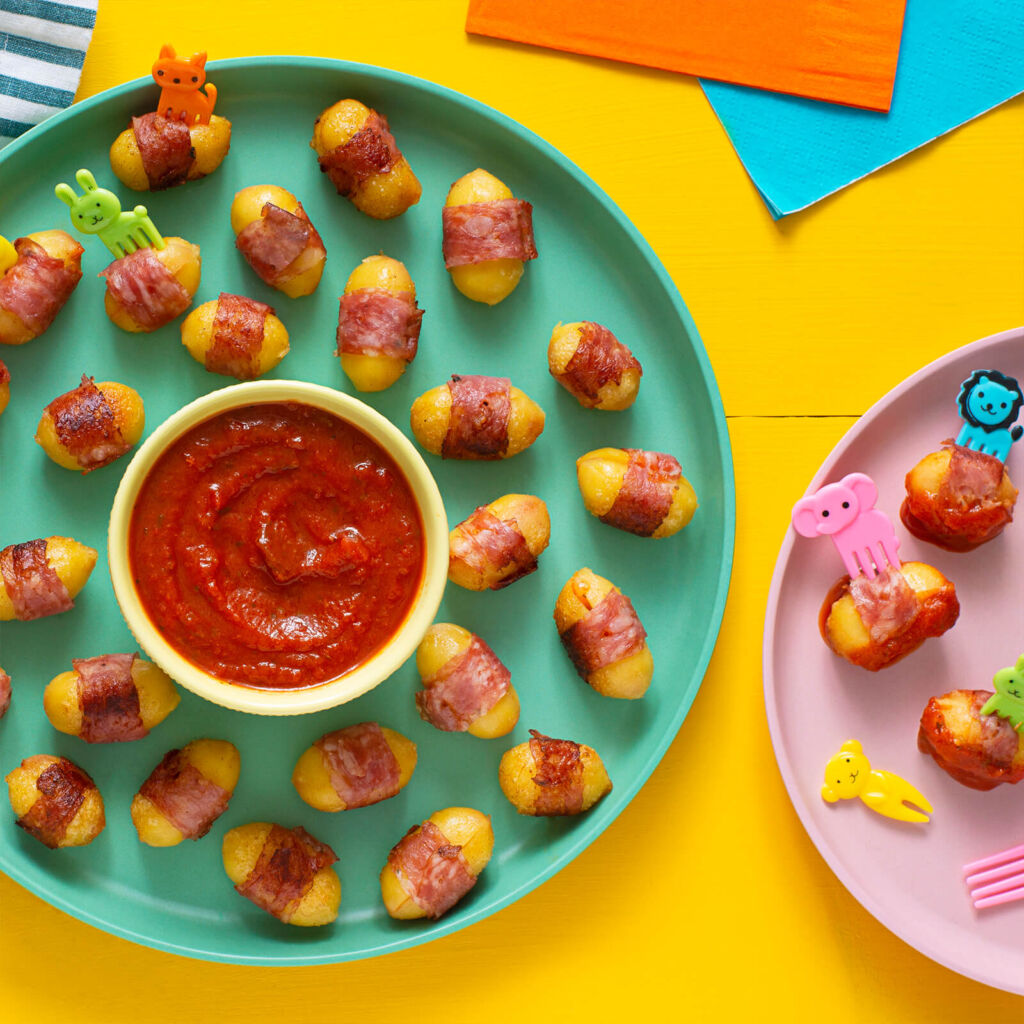 Similarly, nachos are a snack that we all love to enjoy together, especially while watching a sports game or whatever the evening entertainment may be. They're crispy, cheesy, often meaty, and even better when accompanied by some refreshing soft drinks.
You can also dip them into some guacamole, sour cream, cheese, salsa, or whatever the family prefers. That's why these Gnocchi Skillet Nachos are sure to be a family favourite in no time, having everything you'd want from nachos, but with gnocchi to add something new!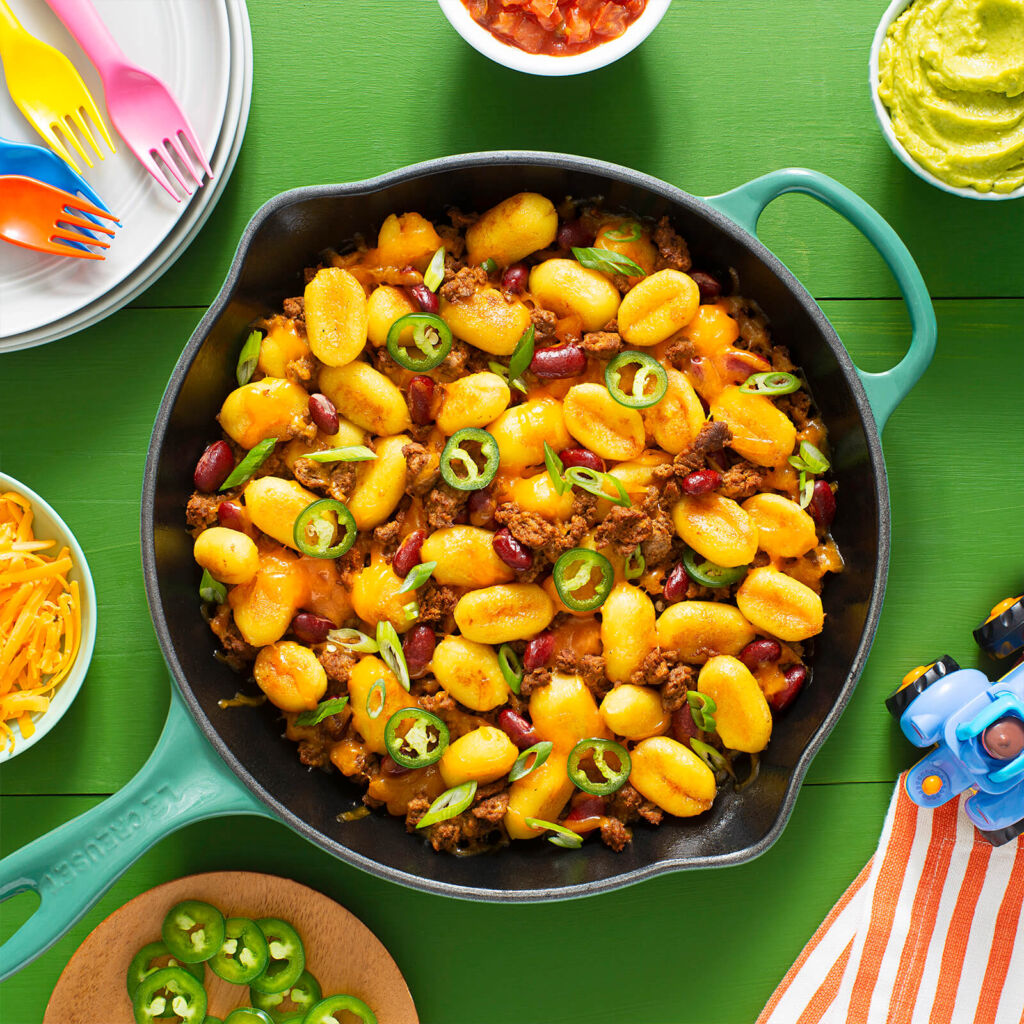 If you can't get enough of classic flavours, but want to see some traditional dishes, these Classic Italian Pasta Recipes should do the trick.
Gnocchi Sides and Salads
If you want to get the family eating more greens, serving side salads at meal time is the way to go. Although they're refreshing and easy to prepare, sometimes salads need an extra ingredient to make the little ones happy. That's where gnocchi comes in!
This Lemon Maple Skillet Gnocchi Salad has fruit and veg and plenty of flavour. With Olivieri® Cauliflower Emmental Skillet Gnocchi, there's an extra chewy texture added to the mix that makes this dish highly satisfying.
One of the most kid-friendly ways to prepare gnocchi is with these Skillet Gnocchi Antipasto Bites. Here, you can put the flavourful Olivieri® Pesto Mozzarella Skillet Gnocchi on little skillets along with cherry tomatoes, prosciutto, salami and other bites of your choice.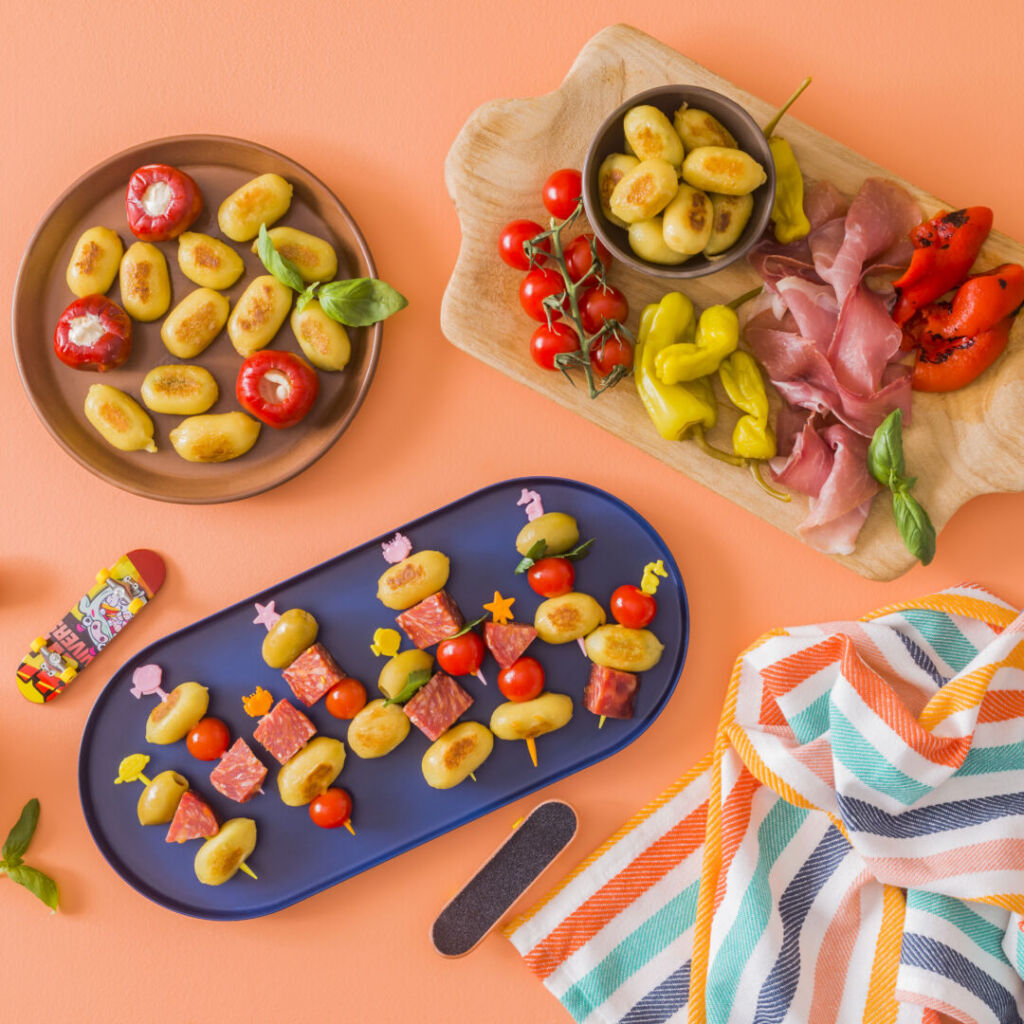 Vegetables, fruits, herbs, meats and cheeses can all be part of the mix if you're making a pasta salad. It's their versatility which makes them such a popular meal option. With a Gnocchi Pasta Salad, you'll have a fresh and colourful dish that you can change.
Gnocchi Recipes with Classic Sauces
There are not many things that can soak up the flavours of a delicious sauce quite as well as gnocchi does. That's why gnocchi recipes give you an opportunity to try out different sauces for recipes packed with flavour that the whole family can enjoy.
Olivieri® Herb Alfredo is rich and creamy sauce with a fresh and homemade taste. You can use it in this mouthwatering Alfredo Gnocchi with Crumbled Blue Cheese, a dish that's both sophisticated and simple.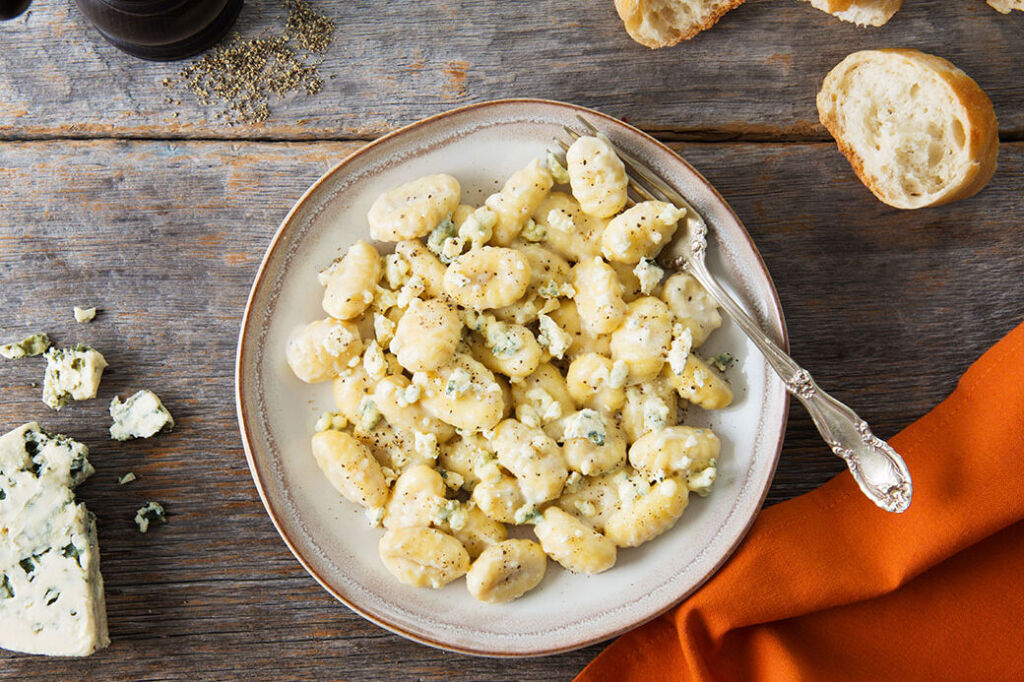 For a quick and easy side dish or appetizer, these Skillet Cheese Gnocchi with Tomato Basil Sauce give you an option that never fails to please. Simply put, this recipe is a matter of cooking up some fresh gnocchi in just a couple of minutes, heating the sauce, then serving.
For those who agree that a combo of cheese and bacon makes everything better, check out this Skillet Gnocchi Carbonara. The main taste in this dish comes from the Olivieri® Classic Alfredo Sauce while other ingredients such as the cheese and bacon can be swapped in and out to meet everyone's preferences.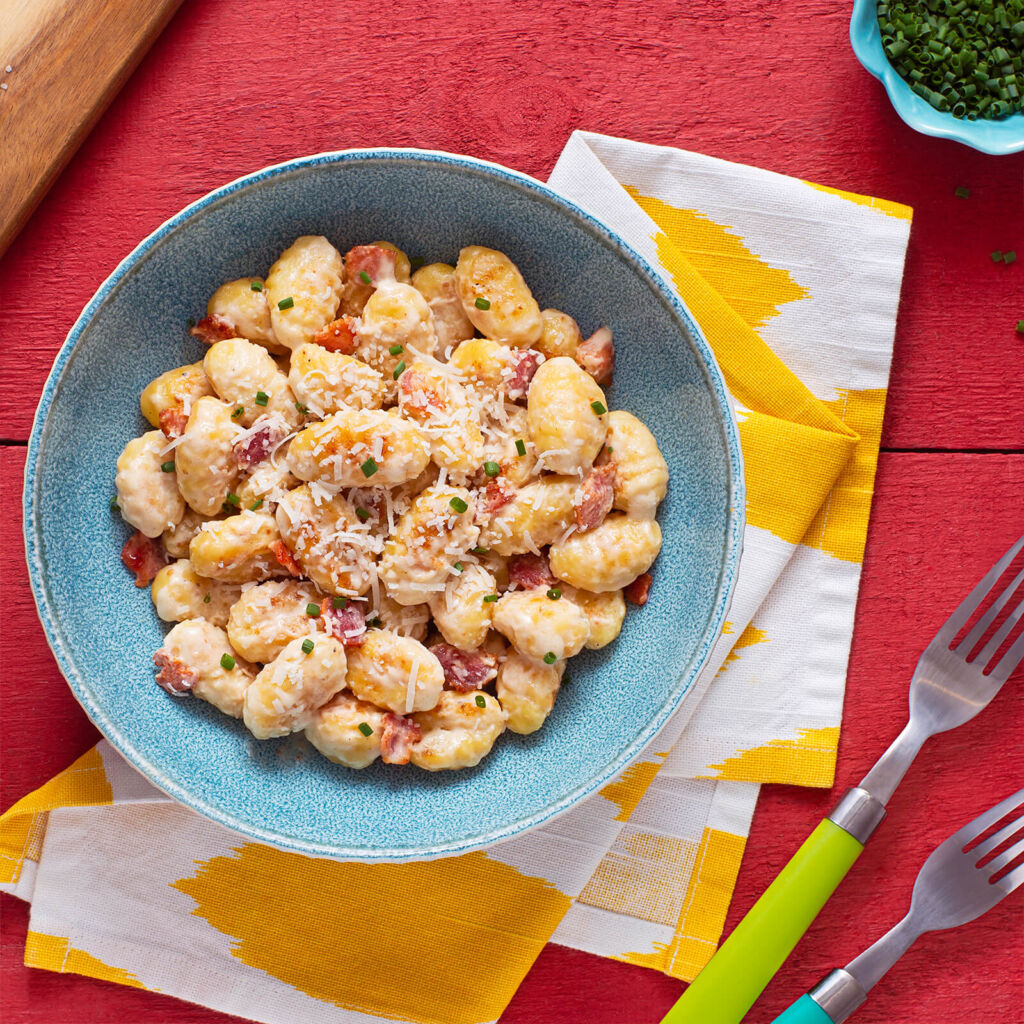 After having prepared a meal for the whole family, you may find there's a whole lot of food leftover! But there's no need to let any of this go to waste. You can Reduce Waste by Repurposing Leftovers and have plenty of impressive meals to make for the days ahead.
Our fresh gnocchi comes in various different styles and flavours as do our sauces. Keep up to date with our latest culinary tips and tricks by visiting our kitchen.