Us Cannucks love a good reason to bring people together over a delicious meal, especially if that reason is Canada Day! When July 1st rolls around, fireworks go off across the nation, parades are held through the streets, and grills are fired up for backyard feasts to celebrate Canada's creation. Gather around the dinner table, and celebrate the hard-fought journey towards independence with your community. Happy Canada Day!
Whatever your plans are for this year's Canada Day, enjoying a good meal is essential! And as the family gathers around the table to eat, a special day calls for a special recipe. WIth Olivieri®, you'll have all the tips, tricks and ideas you need!
Appetizers for the family on Canada Day
At Olivieri®, we know how important meal time is when it comes to days of celebration. One way to get a gathering off to a good start is to prepare a spread of tasty starters to bring everyone together as they chat away and the main course awaits.
Here are some quick tips for appetizers and starters that will help to set things off in a celebratory mood.
Charcuterie boards: Putting together your own charcuterie board is a great way to provide everyone with something they like, from the little ones to the elders and even the fussy eaters.
Gnocchi boards: Similarly, by learning how to make a gnocchi board, you'll also have a great option for crowd-pleasing appetizers that bring people together.
Pasta Salad: Easy customizable and full of colours and flavours, it's no wonder everyone loves a good pasta salad. It's also something that can be prepared in advance, stored in the fridge and served cold.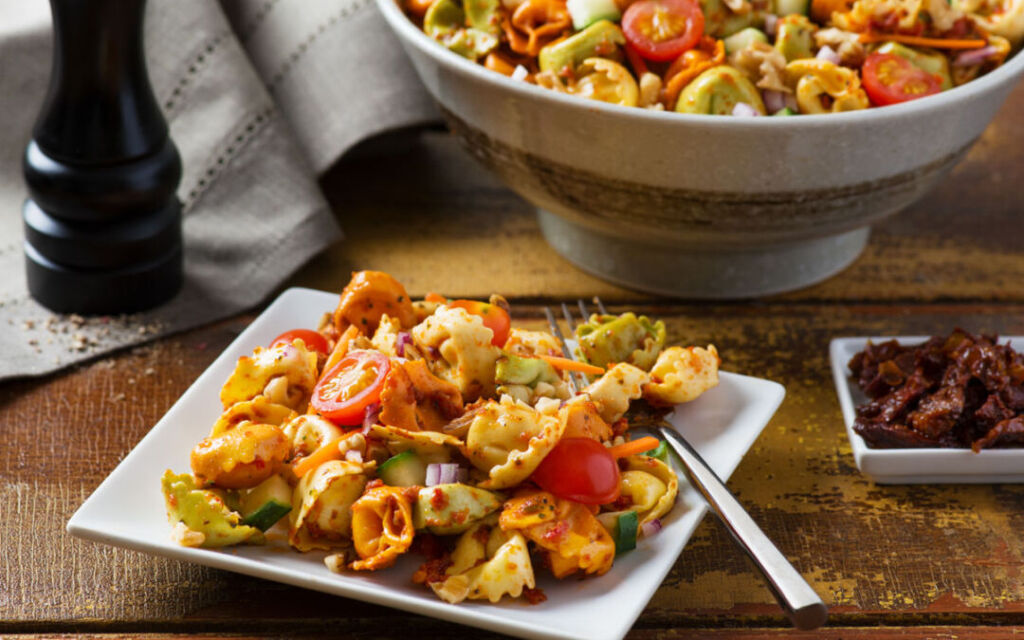 Classic Canadian Recipes
Celebrate the flavours of Canada with these mouthwatering Canadian classic recipes that pay homage to the rich culinary heritage of the land. From local vegetables to freshly caught seafood, these dishes will help celebrate the community of Canada with every bite.
Our 100% Canadian Braised Beef au jus Ravioli is a great option to fill up everyone at your table while paying homage to the land. Make this Braised Beef au jus Ravioli, Mushrooms, Maple Syrup and Québec Cheese Curds recipe that will fill you up and fill you with pride for your country's land.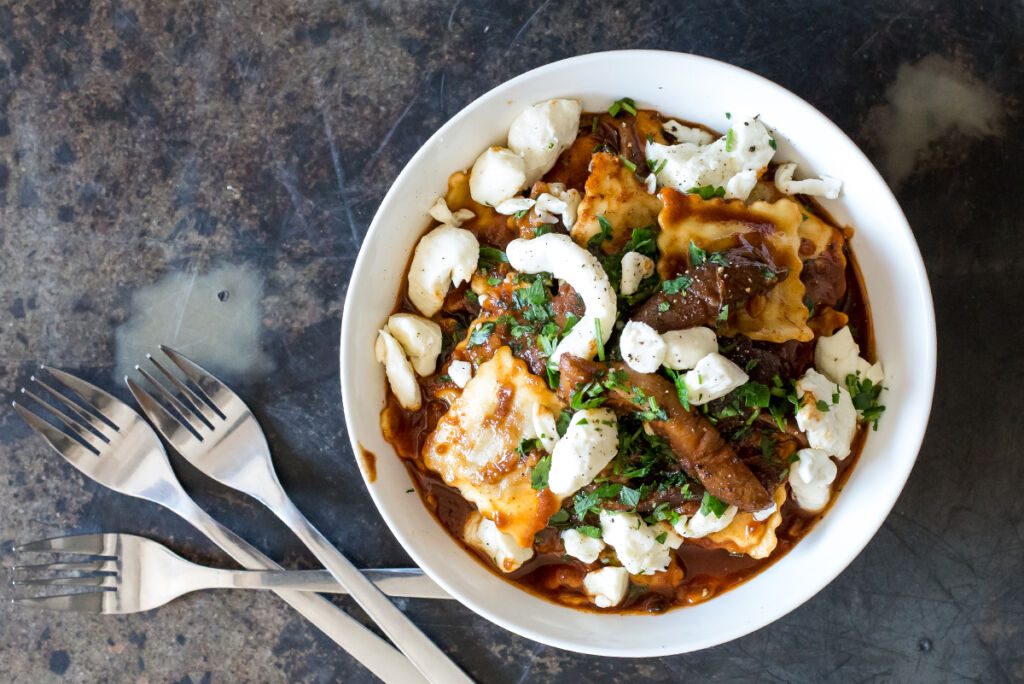 Celebrate the summer produce with our Tortelloni with Matane Shrimp and Québec Asparagus recipe that will highlight the fresh seafood found in the North. Or take a spin on a classic dish that everyone knows and loves with this Skillet Gnocchi Poutine recipe.
Our Classic Potato Skillet Gnocchi is a delicious and unique base to soak up your gravy and pair with those tasty cheese curds!
Meaty Dishes
If you're throwing a Canada Day party in your backyard, most often meat dishes are extremely popular. Made with lean ground beef, pinto beans, and all of your favourite nacho toppings, these Gnocchi Skillet Nachos are the perfect meaty side dish to share with everyone that even the kids will love!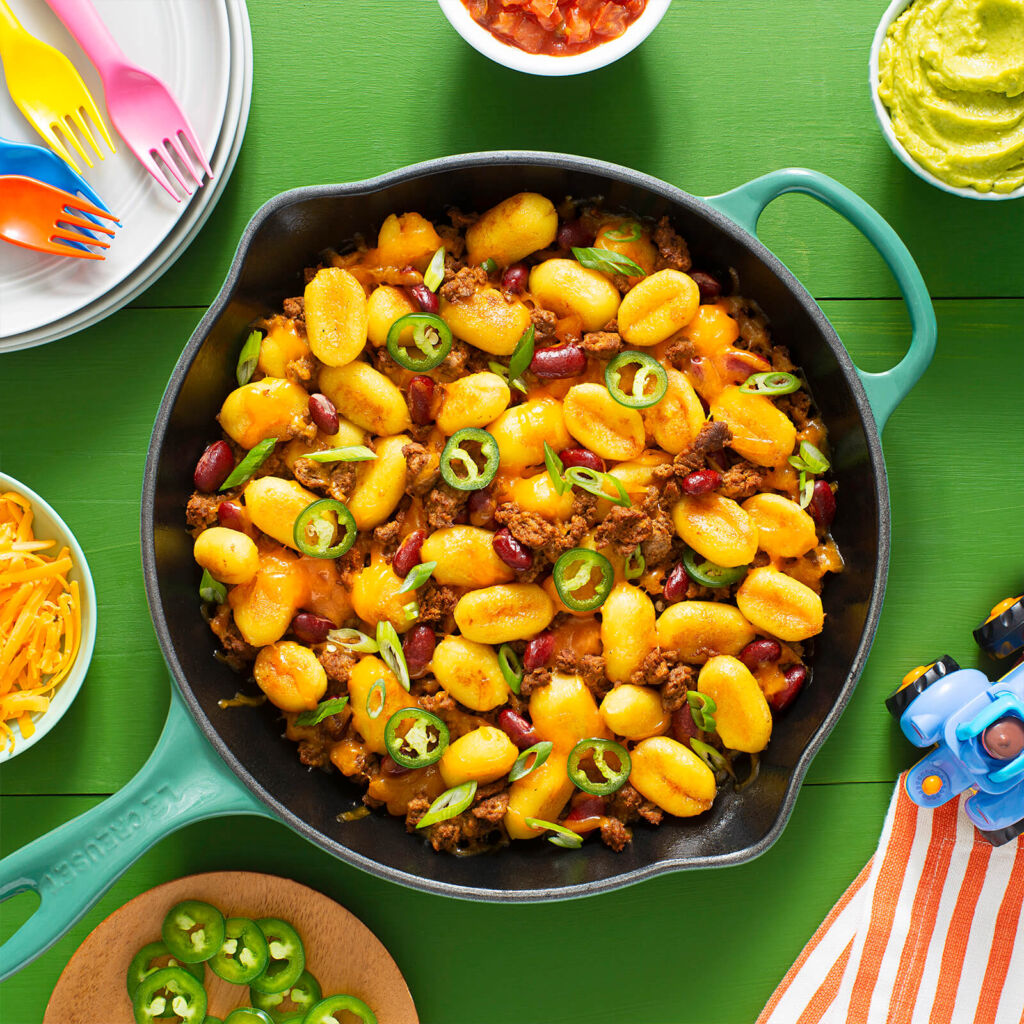 Discover more Meals for Meatlovers that can help you explore Canada's plethora of local meats.
Recipes with Canadian Bacon
Out of all the meat options, Canadian Bacon is without a doubt the most popular meat known all around, so popular it even has its own national day! Also known as bacon, those delicious strips of pork may be Canadian, but their quality has made them known around the globe.
Canadian bacon isn't as fatty as its American counterpart. That's because it's cut from the loin instead of the belly. This gives it a more even balance of meat and fat while maintaining plenty of flavour and not too much grease. Whether it's Canada Day or not, any excuse for back bacon must be a good one!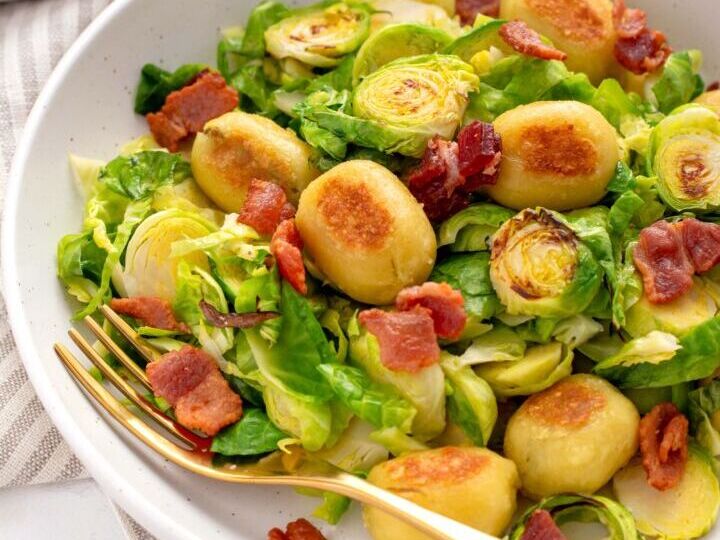 Fuel your day of festivities by making this Loaded Bacon and Egg Breakfast Skillet Gnocchi alongside your pancakes and maple syrup. Once you are tired of the parades and outdoor activities, take a break and enjoy this Cheese Gnocchi with Bacon and Brussels Sprouts that will be great to bring as a side to a party.
Once the festivities wind down, end your day with a big plate of this Chicken, Bacon & Cheese Sacchettini in Basil & Cheese Pesto that will ensure everyone is sleepy and full after a day full of excitement!
Vegetarian Options
If you are throwing a backyard barbecue for the holiday, be sure that none of your guests leave hungry! No matter the dietary preferences of everyone at your table, make some of these Veggie-Packed Plates to offer vegetarian options and variety this Canada Day. Packed with veggies and full of flavour, this Roasted Zucchini Lasagna is the perfect dish to share with a crowd.
Kid-Friendly Recipes
We know how picky the little ones can be, so make some tasty kid-friendly dishes that they are sure to love, and even let them help you in the kitchen! Your kids will love helping you make these fun and customizable Skillet Gnocchi Antipasto Bites. You can even make them festive with red cherry tomatoes and white cheese!
Tip: Assemble these skewers the evening before so you have one less thing to do on the day of the celebration.
Every gathering needs something sweet and snackable, so why not make these Churro-Style Gnocchi Bites? They're super easy and will be a fan favourite among all the kiddos.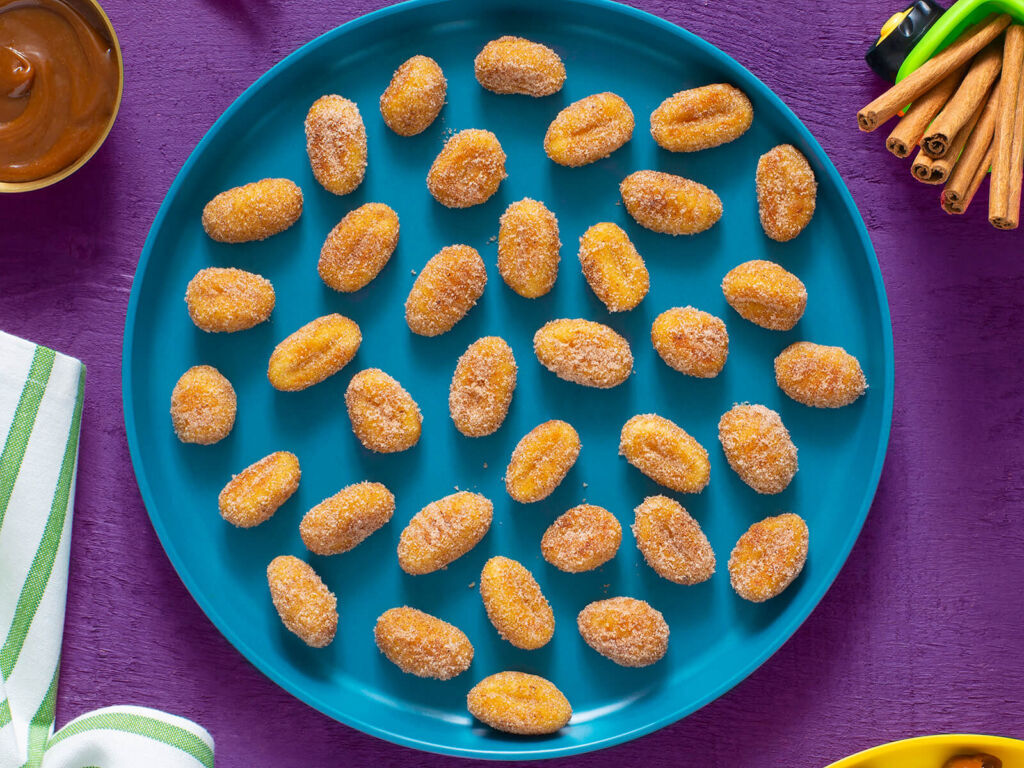 Celebrate the creation of Canada this July 1st with Olivieri®. From snackable gnocchi plates to big sharable pasta dishes, we've got you covered for your backyard bash or family gathering around the dinner table. When it's done, use all that extra food to reduce your kitchen waste by repurposing the leftovers!