You may have heard the saying: if a thing is worth doing, it's worth doing well. Nothing could be truer when it comes to cooking a meal for the family! In doing so, it's always worth having some pasta recipes at hand. Why? Aside from its global popularity and familiarity, pasta is incredibly versatile, encompassing a countless number of different textures, flavour combos and dietary choices. So, since it's worth doing, the question is how to do it well?
That's where the Ultimate Guide to Cooking Pasta is here to help! Firstly, you'll want to consider what kind of pasta to cook, whether it's in a classic Italian recipe or a creative dish with a brand new twist. Or maybe you're thinking about going for some vegetarian options? Whatever suits your guests or loved ones needs best, it's important to prepare your pasta dish the right way. Read on as we explore how you can do exactly that!
Lasagna
Here are some things to consider for a high quality lasagna recipe:
Ingredients: Whether you opt for an Old Fashioned Lasagna or meat-free alternative such as this Roasted Zucchini Lasagna, have all the necessary ingredients on hand.
Layers: Use high quality Olivieri® Lasagna Sheets, with cheeses and sauces evenly distributed within them. Lasagnas typically have a minimum of 3 layers, but can be increased up to 5.
Sauce: It's okay to be generous with sauce! Lasagnas are better with flavour, moisture and juiciness that sauces bring. You can use a meat sauce, like bolognese sauce, or simply a classic tomato sauce.
Cheese: Why add one cheese when you can add a delicious combo? Parmesan, mozzarella and ricotta make a mouthwatering melty mix of textures and flavours when combined.
Patience! However tempted you may be to get started, let your lasagna sit for 10 to 15 minutes after cooking. Not only does this make it a better temperature for consuming, but it also allows flavours to meld together for an even more satisfying effect.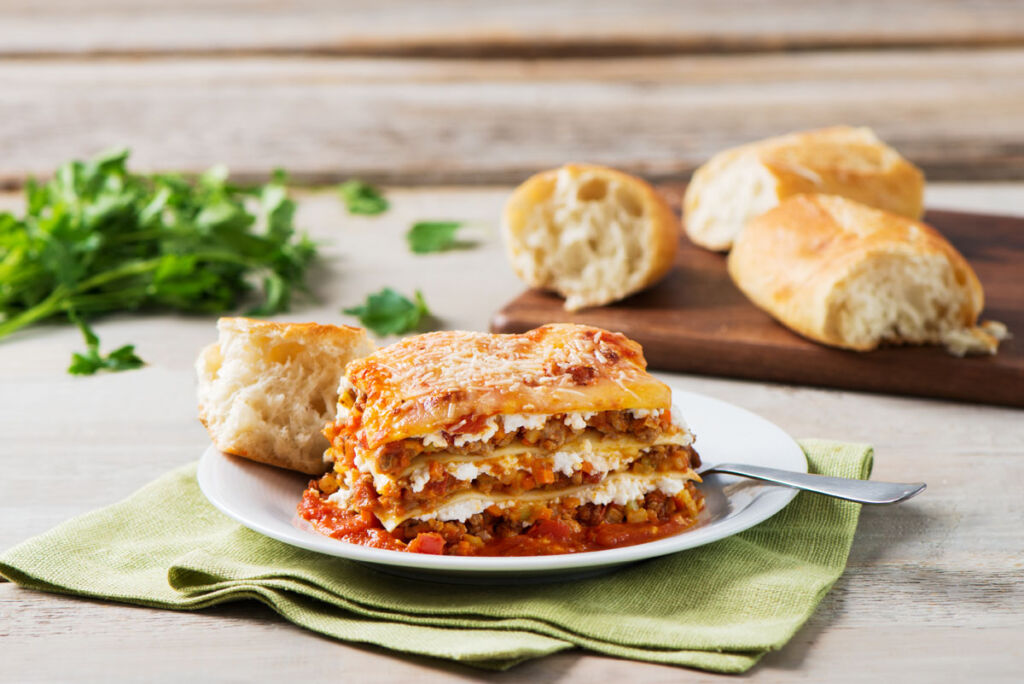 For a closer look at cooking this Italian classic, see our guide on how to make the perfect lasagna.
Filled Pasta
Filled pasta such as ravioli, sacchettini and tortellini not only look similar, but they are also cooked in the same way. Simply put, you add them to boiling salt water for 2 – 3 minutes, drain the water, add the sauce and they're ready to serve!
However, it's worth noting that depending on the filled pasta type, there is often a slight difference in recommended boiling time, usually by just a minute or two. Read the packaging for the best recommended time.
Ravioli
With onion, garlic, olives and sun-dried tomatoes, you can whip up your own flavourful sauce and prepare this Mediterranean Mushroom Lovers Ravioli.
Or opt for a marinara sauce, hearty spinach and goat cheese that combines for a creamy delight in this Roasted Portobello Mushrooms Ravioli with Spinach and Goat Cheese.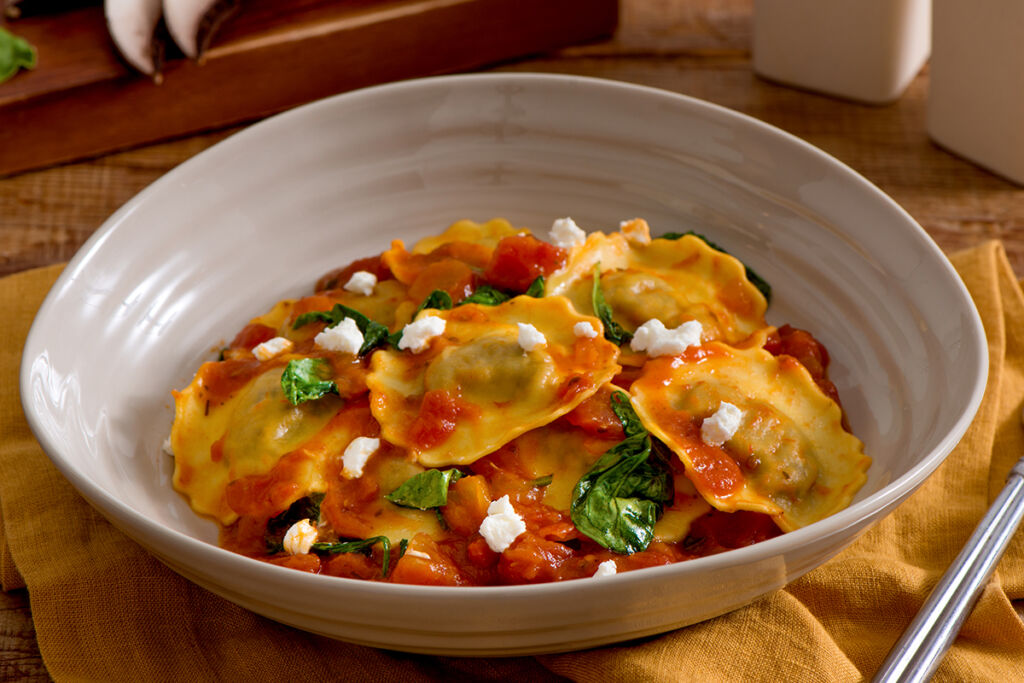 Sacchettini
Similar to ravioli, but with its own distinct shape, sacchettini is rarely found outside of restaurants in Italy. However, with Olivieri® Chicken & Bacon Sacchettini, you can bring those old-world flavours to your kitchen.
Try combining this traditional pasta with light and refreshing summer ingredients as in this Fresh Sacchettini Salad, a crowd-pleasing dish that's perfect for an outdoor gathering.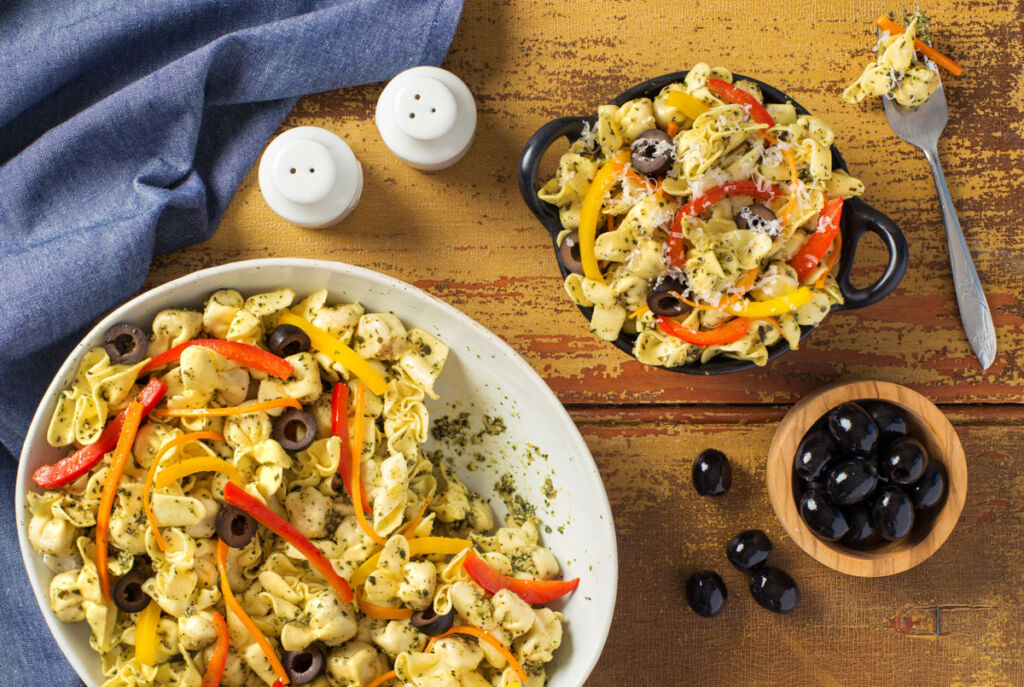 Tortellini vs. Tortelloni
The main difference between Tortellini and Tortelloni is size, with Tortelloni being the larger of the two. Nonetheless, they're both ring-shaped types of pasta originating from the Bologna region of Italy, typically filled with cheese, meat, greens or vegetables.
With Olivieri®, find out how to cook Tortellini with hacks! While it is a filled pasta, it normally requires a few more minutes of boiling compared to ravioli. With the tips and tricks found in the guide above, you'll be on your way to preparing this Italian specialty like a pro.
Then, it's time to put your tortellini skills to the test. How about starting with this Tasty Tuscan Tortellini Salad for a creamy blend of cheese and pesto? Or for a meat lover's alternative, try savouring the flavours of Olivieri® Alfredo Sauce in this Italian Sausage Tortelloni Alfredo with Mushrooms.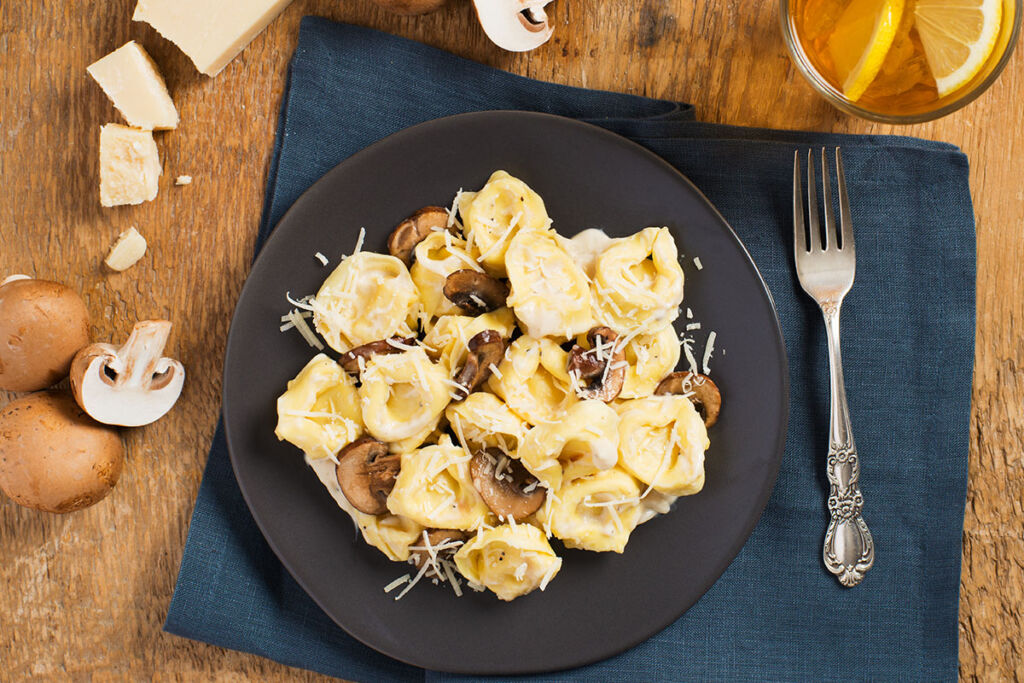 Angel Hair Pasta
Angel Hair Pasta, also known as capellini, is a long, thin and delicate type of pasta that's similar to spaghetti. It's known for cooking quickly and often going well in light dishes with creamy sauces. Here's how to get the best out of it:
Add Olivieri® Angel Hair Nested hair to a large pot of boiling salted water.
Let it boil for 30 seconds while stirring.
Test a strand to see if it's done, then drain the water if it's ready.
Serve straight away with the sauce of your choice.
Add some extra toppings to enhance flavours.
For a specific recipe option, our Angel Hair and Meatballs with Tomato Basil Sauce is a quick and easy option that results in an elegant and satisfying meal. However, one of the great things about capellini is how experimental you can get with it, whether that's by adding different sauces or bringing in ingredients from classic Italian dishes.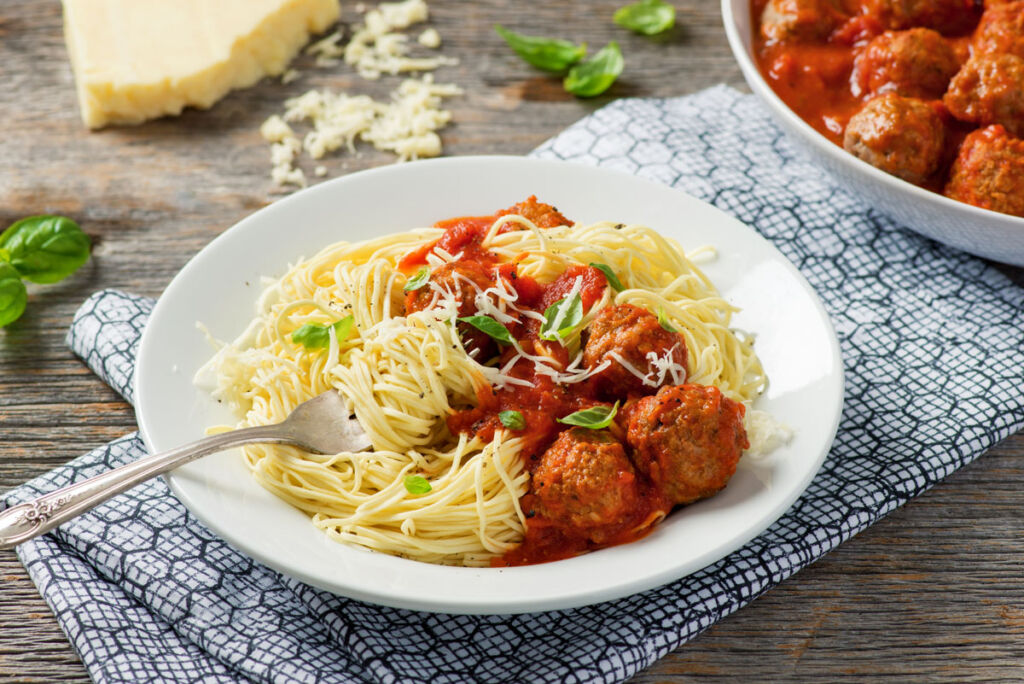 Cannelloni and Manicotti
Cannelloni and Manicotti offer Italian food lovers something different, that being delicious filled pasta tubes for flavour-rich and comforting dishes. Olivieri® Fresh Ricotta & Spinach Cannelloni requires only 5 minutes of cooking time either in a skillet or baked, allowing for a high quality and time-efficient dish.
Olivieri® 4 Formaggi Manicotti is a cheese filled alternative that can be prepared in the same convenient way. So, once cooked, what recipes can these filled pasta tubes be included in?
For a creamy dish that makes an elegant evening meal, try this Chicken and Prosciutto Cannelloni with Mushroom Alfredo Sauce. Bear in mind that the Cannelloni can be swapped out for our cheesy Manicotti alternative.
So what's the difference? They're both very similar types of pasta, identical at times, but the key difference, aside from their names, is a matter of location. Cannelloni has its roots in Italy while Manicotti is the Italian-American version.
Now it's time to put your pasta skills to the test and make mealtime a memorable one for your loved ones! For more meal inspiration, come and visit our kitchen.