Are you looking for original but simple family dinner ideas, food for kids and fun recipes that the little ones love? If so, do not miss out on these kid-friendly dinners! From gnocchi recipes to easy to make snacks and bites for dipping into your favourite gnocchi sauce, you'll be sure to make mealtime memorable!
At Olivieri®, we understand that dinner time is about more than just food – it's about bringing people together and having a good time. For families, that means keeping the kids happy with fun dinner ideas that taste delicious.
For the grown-ups, we normally want less time preparing and more quality time spent with everyone. So, which kid-friendly dinner ideas for family are best for that?
Gnocchi Recipes that Kids Love
Skillet gnocchi is one of the best ingredients to have on hand when coming up with easy weeknight dinners for family. With the right sauce nearby, opting for simplicity doesn't mean forgetting about deliciousness, and this Skillet Cheese Gnocchi with Tomato Basil Sauce proves it!
Or how about making your next gnocchi sauce recipe as Canadian as it gets by preparing this Skillet Gnocchi Poutine. While this national classic may often be seen as a humble and down-to-earth meal option, our version of the recipe gives it an elegant touch and elevated appearance.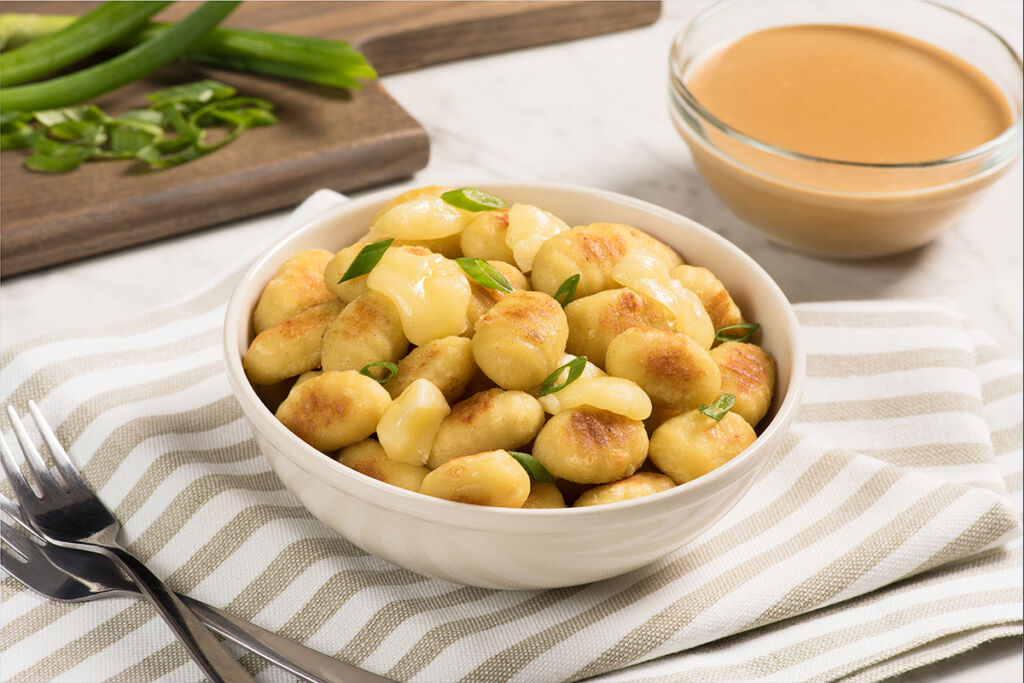 Did somebody say churros? It often seems like the only kid who doesn't love biting into a churro is the one who's yet to try it. Simply put, a good churros recipe is a sure way to put smiles on the little ones' faces. So, where does gnocchi come into this? WIth these delicious Churro-Style Gnocchi Bites!
Fun Snacks for Little Ones
Now that you're already familiar with our gnocchi poutine recipe, let's ramp things up and dive into a unique and fun twist that also takes advantage of our love for cheese curds. We're talking about this Gnocchi Stix Poutine. What makes it stand out is the use of Gnocchi Stix, a stick-shaped form of gnocchi that's perfect for dipping.
We all know what a popular, hearty and tasty sauce bolognese is, but did you know that there are plenty of fun ways to include it in more than just your typical spaghetti bolognese recipe? Make the kids happy by preparing this Gnocchi Stix with Bolognese!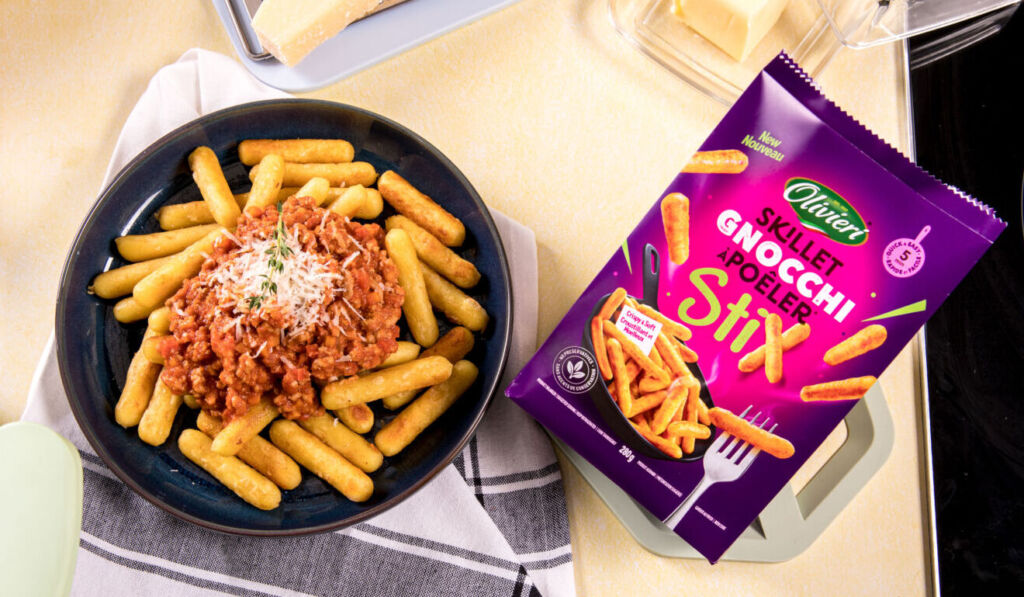 Homemade chicken nuggets make a funtastic, kid-friendly dippable dish, but they're even more fun when combined with our Gnocchi Stix. Serve up that mouth watering combo by making this Chicken Nuggets with Skillet Gnocchi Stix recipe.
While, in some places, gooey-melty cheese and flavourful bacon make a popular combo in sandwiches and even on top of fries, this delicious duo gets better! How? In this 3 Cheese and Bacon Loaded Baked Gnocchi Stix dish.
Dips for the Kids
Whether it's movie night, a family gathering or a party for kids, everybody loves delicious dips! The key is getting the right snack and sauce combo for all to enjoy. One of the most kid-friendly foods for dipping are these Gnocchi Pizza Bites. Here, you get the tastes of pizza in handheld appetizers with an irresistible Olivieri® Chunky Tomato & Basil Sauce on the side for dipping.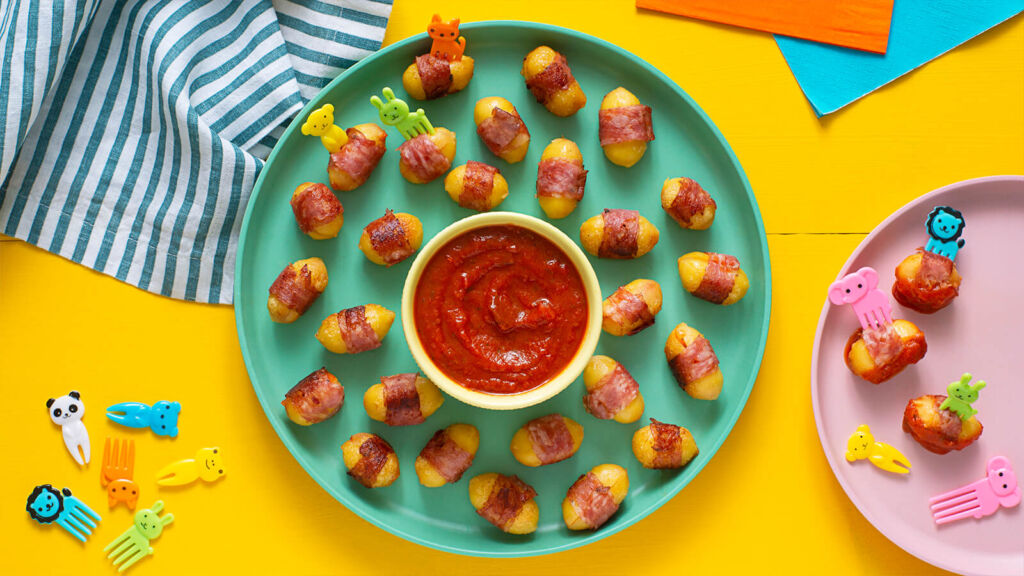 For those who love to snack on classic Italian flavours, these Skillet Gnocchi Antipasto Bites give you an easy to make yet highly satisfying option. They go down a treat with Olivieri® Basil & Cheese Pesto sauce but there's also room to switch things up here and try the sauce of your choice.
For a hearty and meaty option that's bound to keep everyone's hunger at bay for hours ahead, Black Bean Salsa makes a thick, chunky and irresistibly delicious dip that you can conjure up with just four simple ingredients. Then, it's just a matter of using it alongside the snack of your choice, from crackers to nachos to our fresh-tasting gnocchi varieties.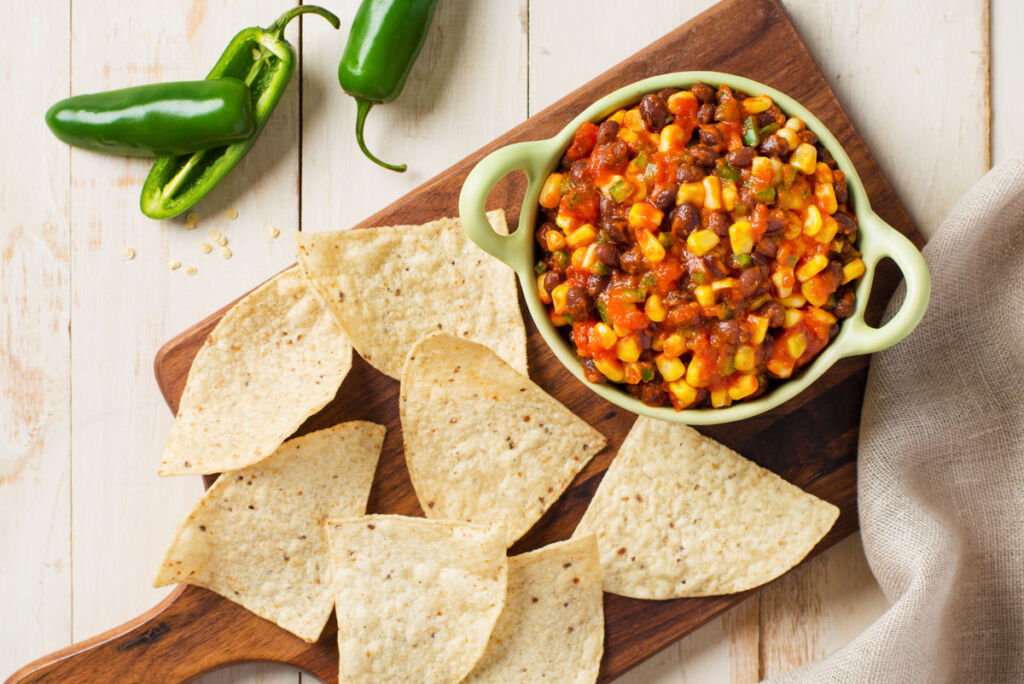 Quick Bonus Tips
By learning how to make a gnocchi board, you'll have a family-friendly and simple recipe to add to your culinary repertoire that's ideal for family gathering and takes very little time to put together.
With a few tweaks, kids' lunchbox ideas can also make delightful meals to be enjoyed at home.
For more tips, tricks, updates and recipe ideas, you can come and find us in the kitchen where we regularly share new and innovative ways to make meal time memorable for everyone.