Who doesn't love easy, delicious, and aesthetically pleasing meals? Whether you're a seasoned home chef or just looking for some simple family-friendly meals, we're here to inspire you with dishes that satisfy both your taste buds and your eyes.
Picture this: a table adorned with a rainbow of colours, each dish brimming with flavour and perfectly cooked pasta. With Olivieri® recipes, it's never been easier to create delicious meals that look as beautiful as they taste!
Plating Tips
No matter the type of pasta, you can use these tips to make your dish look its best!
Use an array of textures and colours: Make your pasta dish look more visually appealing by using contrasting elements with garnishes or toppings.
Be intentional with your garnishes: Too many garnishes can make the dish look cluttered, so use them sparingly and intentionally. Try using just one or two that enhance the dish!
Choose the right plate: Consider the type of pasta dish you're creating. The plate should be big enough so it doesn't look crowded, but not so big that the pasta looks lost.
Have fun with it: Be creative and your dish is sure to shine! No matter what you do, your loved ones will appreciate the extra touch that you put in.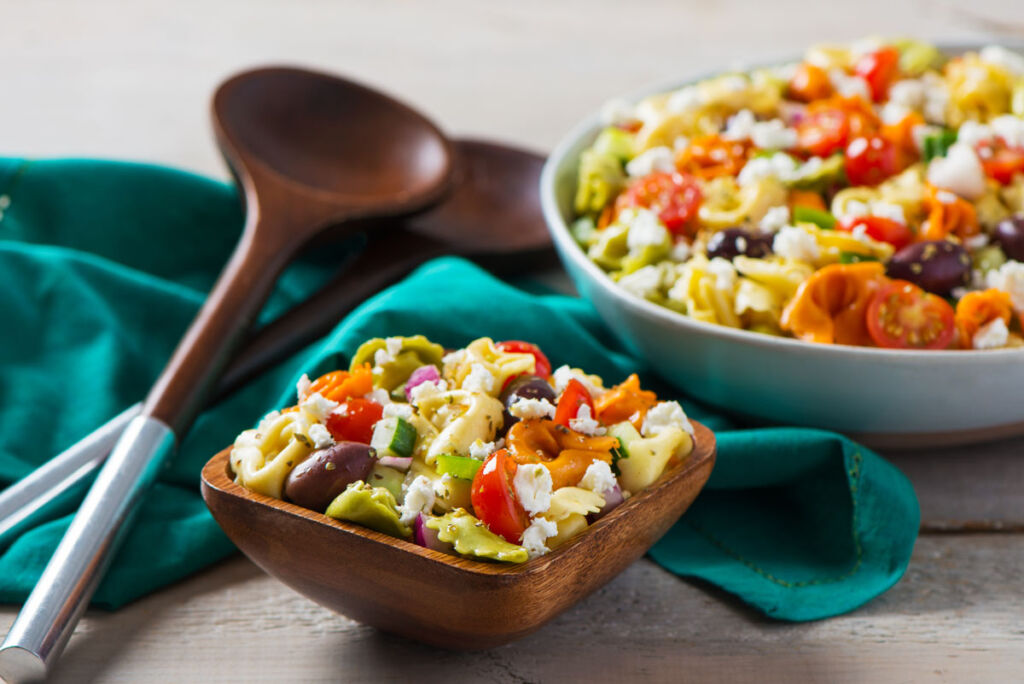 Pasta Salad
When it comes to versatile, crowd-pleasing dishes, pasta salads are true champions. They're full of flavours, colours, and textures in every bite. The best part? You can easily customize each recipe to suit every palette!
Starting off strong, you can eat the rainbow with our Confetti Pasta Salad! The star of the dish is Olivieri® 3 Formaggi Rainbow Tortellini—fresh pasta filled with creamy ricotta, Romano, and Parmesan Reggiano. The pasta is tossed with fragrant basil and cheese pesto and then combined with a medley of cherry tomatoes, black olives, and peppers.
This dish wouldn't be complete without the mix of mayonnaise and red wine vinegar. Ready in just 10 minutes, it's perfect for a weeknight dinner that your whole family will love!
If you're looking for a Mediterranean-inspired meal, try a Greek Salad Tortellini. The simple and refreshing meal dish highlights international flavours with cucumbers, red onions, lemon juice, and feta cheese. Picky eaters will be impressed thanks to the cheesy goodness of 3 Formaggi Tortellini.
It doesn't end there! There are endless possibilities when it comes to creating a picture-perfect plate with pasta salads. Check out our recent blog post for tips and tricks on side dishes for any occasion!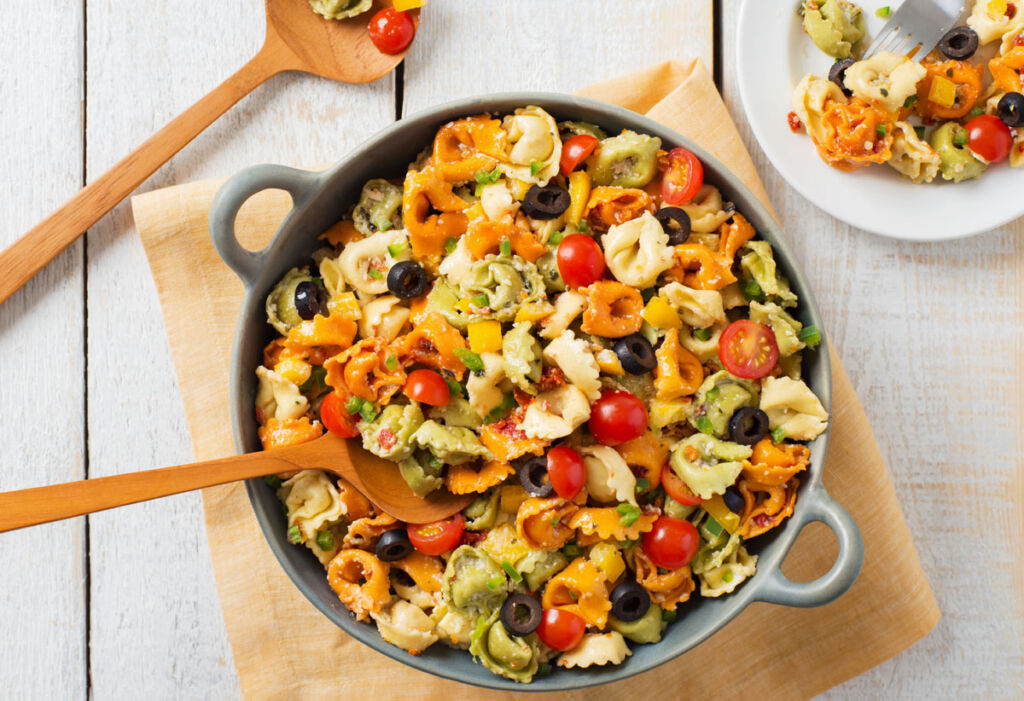 Gnocchi
From the fresh flavours of pasta salads, we now turn our attention to an equally delicious Italian staple. Gnocchi is a versatile star in the kitchen—from classic potato gnocchi with marinara sauce to cheese-filled variations, this mighty little dumpling can do it all!
For a different take on a pasta salad, try our Lemon Maple Gnocchi Salad. This dish features perfectly crispy yet soft pillows filled with cheese, with the light and earthy flavours of citrus, baby greens, and pears.
Another fan favourite that features baby greens is our elegant yet easy-to-make Gnocchi Salad with Walnuts. Baby arugula, with its peppery essence and delicate texture, combines perfectly with savoury balsamic vinegar and cured ham. And who can resist cheese? The dish is made creamy with Olivieri® Cheese-filled Skillet Gnocchi and delicate mozzarella.
An even easier and equally delicious meal, our Bacon Rosé Gnocchi is sure to impress the whole family. With indulgent bacon, creamy Rosé sauce, caramelized onions, and tender gnocchi, what's not to love? Even the pickiest of eaters will be asking for seconds!
Dive deeper into the world of gnocchi with our post on Tips for Preparing Skillet Gnocchi. This little dumpling is sure to become a household favourite!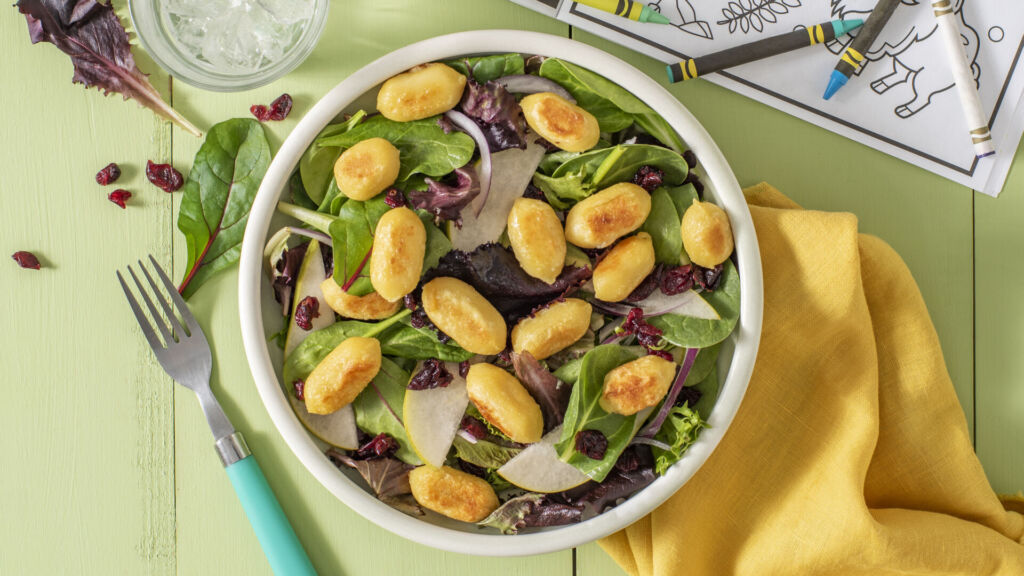 Tortellini
Tortellini is another versatile pasta that's perfect for easy and visually pleasing family meals. This circle-shaped pasta is usually filled with cheese, like in our 3 Formaggi Tortellini.
This pasta is perfect in dishes like Rosé Cheese Tortellini with Spinach. It's as pretty as it is simple and delicious! Rosé sauce melds with creamy pasta and herbaceous spinach to make a colourful dish that's ready in under 15 minutes. To make it more picture-perfect and flavourful, top with fresh or roasted tomatoes.
If you're craving a heartier meal with this delicious pasta, try Cheese Tortellini Chicken and Mushrooms. This one-skillet dish has it all—classic marinara sauce, cheesy goodness, protein, and fresh vegetables!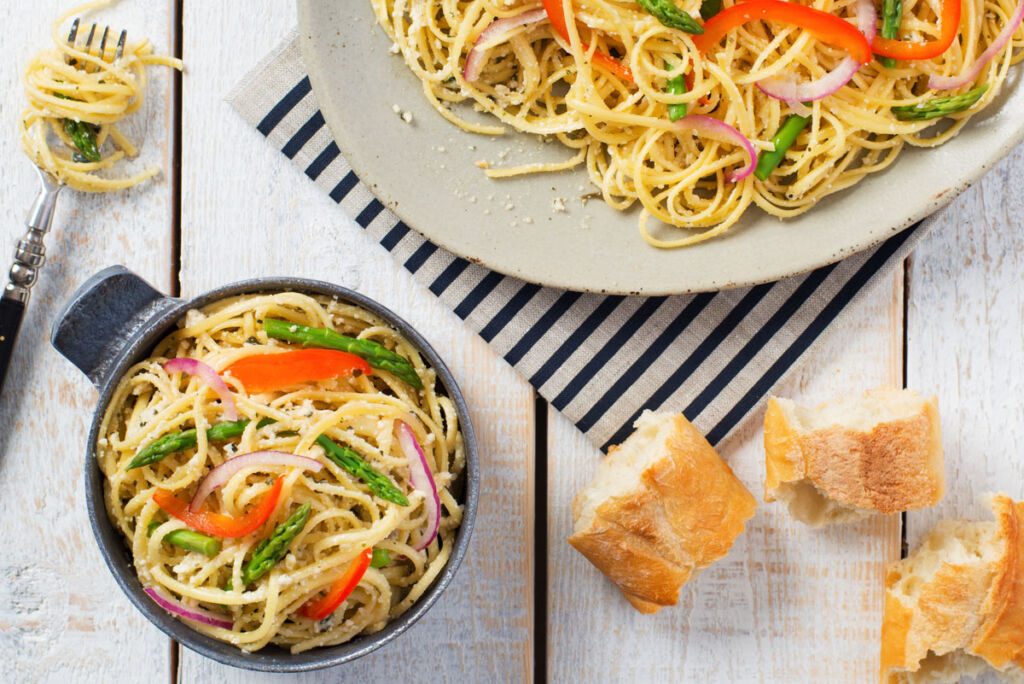 Linguine
When it comes to Italian food, you can't forget about linguine! This pasta is especially good with thick sauces, like our quick and delicious Linguine Alla Chitarra Leeks and Crispy Prosciutto.
The creamy and comforting dish uses a homemade cream sauce with aromatic shallots and garlic, traditional spices of thyme and rosemary, crisp white wine, savoury beef broth, and, of course, whipping cream. Combine this with salty prosciutto and perfectly cooked pasta, and you'll have the most decadent meal to enjoy with your loved ones.
When you're not in the mood to make a sauce yourself, try a Linguine Italiano. Made easy with our Classic Alfredo Sauce, this dish is a perfect option for a weeknight dinner. Restaurant-quality meals have never been so simple!
For even more dish options, you can always check out our recipes to find delicious family-friendly meals. The hardest part will be deciding which you want to try first!