There are some things that every kitchen needs. We're talking about staple foods! Such ingredients are essential for meal prep since they're often part of so many different recipes. But what exactly are those ingredients, otherwise known as staple foods?

That depends on where in the world you are. In our case, that'll be Canada, but as you know, Olivieri® is all about Italian-inspired ingredients and cuisine. That's why we're going to dive into the best of both worlds. Whether you're cooking something Canadian or Italian, read on as we guide you through these insights into staple food!
Canadian Staple Foods
Eggs
Eggs are incredibly versatile and end up in all kinds of dishes, from breakfasts to mains and even desserts. In the typical Canadian household, there are always some eggs in the fridge.
Here's something original you can do with them:
Prepare this simple but mouthwatering Eggs Benedict with Skillet Gnocchi Stix, a tasty and hearty dish that revamps a well-known breakfast or brunch classic by using our new, fun, and innovative stick-shaped gnocchi, great for dripping, twirling, and chewing!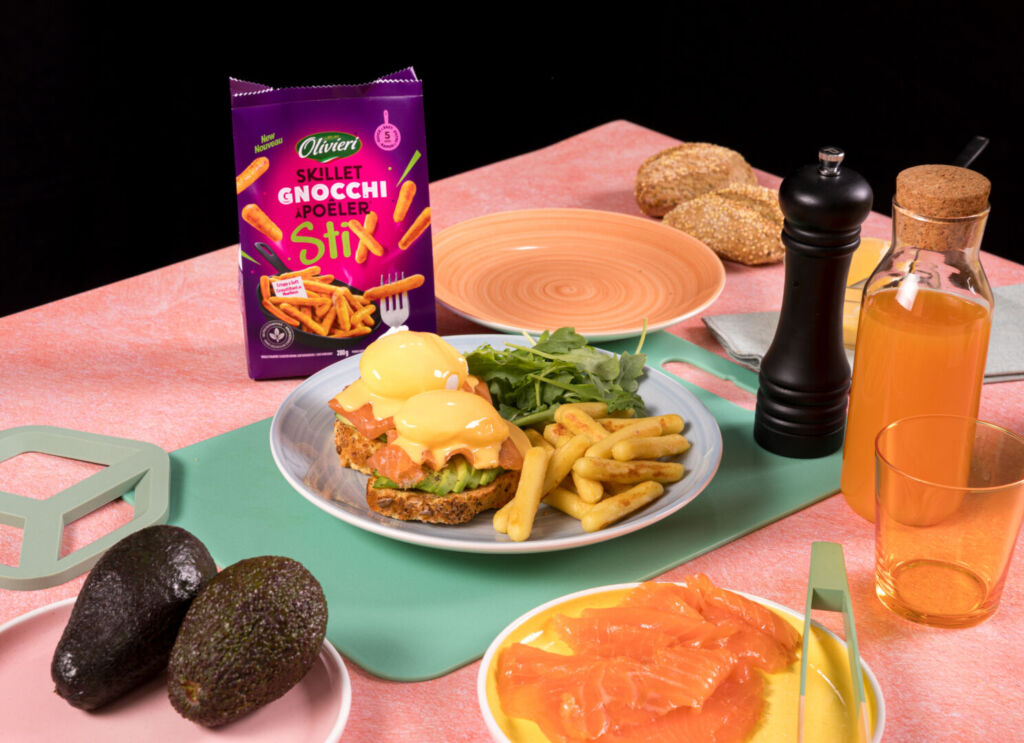 Potatoes
Since they can be transformed into so many delicious dishes, it's no wonder that potatoes became a staple in Canadian cooking. They're also one of the ingredients used in the making of those soft, pillowy, Italian dumplings, which we all know and love, and that's gnocchi.
With Olivieri®, gnocchi varieties are in abundance, and you'll be pleased to know there is no shortage of gnocchi recipes to turn those delicious bites into comforting family meals. What's more, preparing gnocchi is as quick and easy as it gets!
Dairy
How can you add some extra richness and flavour to your dishes? Whether by adding cheese to a dish or a splash of milk to what's cooking in the pan, dairy does a fine job. That's why it's part of one of our most famous national dishes, the much-loved poutine, in the form of cheese curds.
Be sure to try that Canadian classic with a revolutionary twist by preparing this Skillet Gnocchi Stix Poutine. Or, with those same Gnocchi Stix, cook up a bolognese and pour a little milk into the meat as it cooks with this Skillet Gnocchi Stix with Bolognese.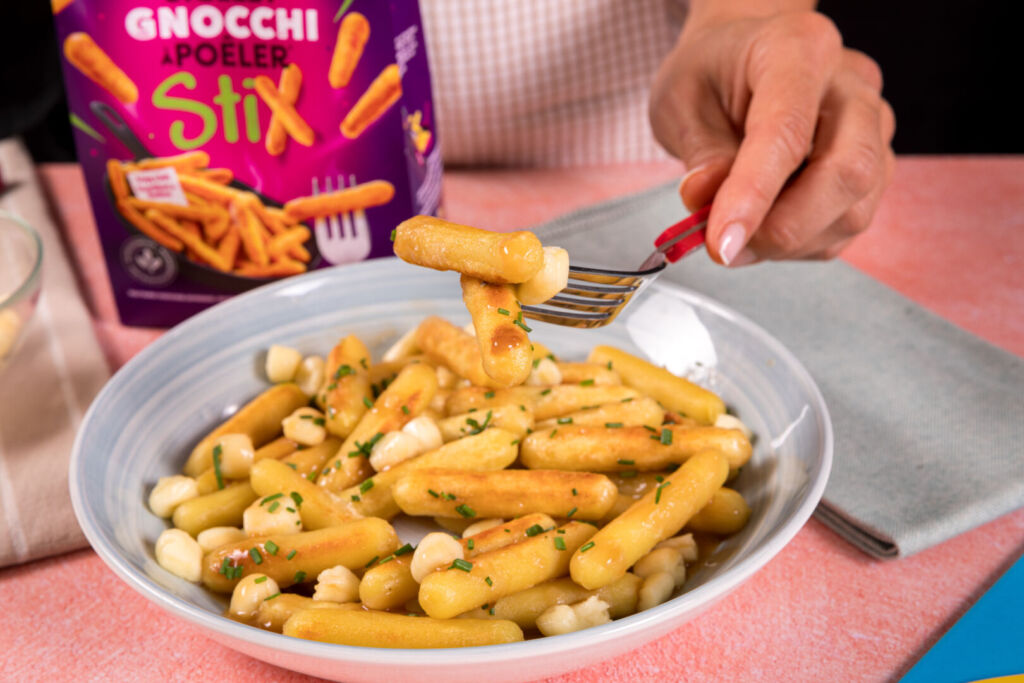 Wheat
As a fundamental ingredient in baking and cooking, wheat is found in various Canadian dishes. In fact, Canada is the fifth-biggest producer of wheat in the world. Make the most of that by preparing some garlic bread alongside this Fresh Mozzarella & Tomato Crostini recipe in just a few simple steps.
Beef
Finally, we couldn't talk about Canadian staple food without mentioning beef. Rich in protein and renowned for its delicious taste and chewy texture, there are plenty of ways you can beef up your mealtime. How about starting with this Braised Beef au jus Ravioli, Mushrooms, Maple Syrup and Québec Cheese Curds? There, you'll find a tantalizing and rich assortment of Canadian ingredients.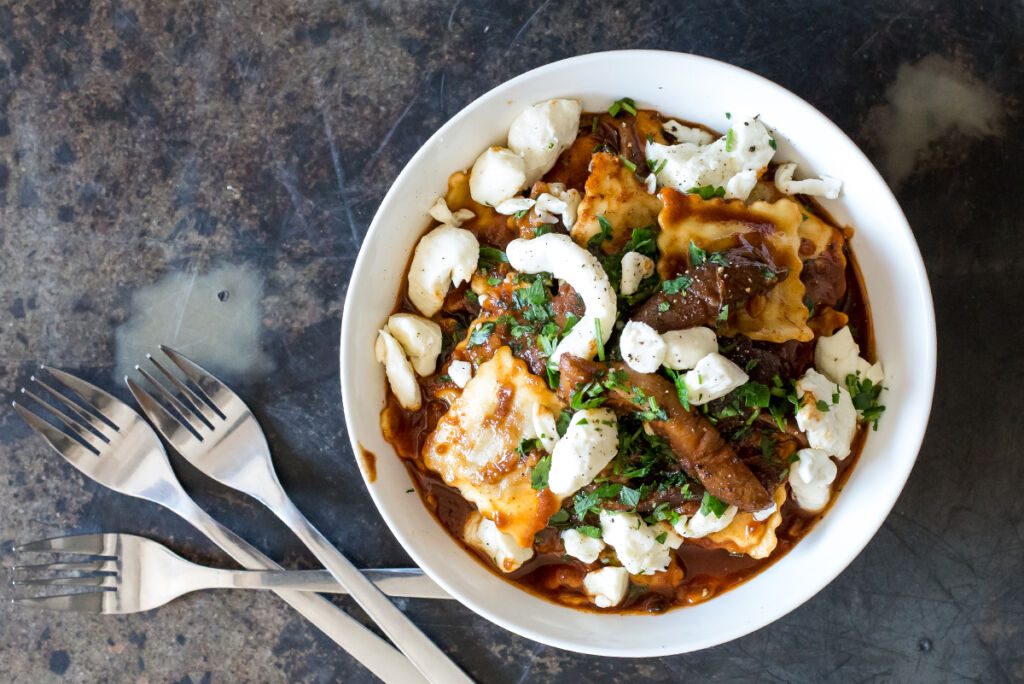 Staple Foods from Italy
Pasta
Those who know Olivieri® know that we pride ourselves on high-quality Italian-inspired ingredients and have done so since 1957. So, let's take a look at some Italian staple foods and find out how they can bring some Mediterranean flair to the Canadian kitchen.
At the heart and soul of Italian cuisine is that kitchen staple the world adores: pasta. Nowadays, you would struggle to find a kitchen anywhere that doesn't have pasta somewhere around. It's that popular! Just be sure you know how to cook pasta recipes like a pro.
Cheese
For flavour, texture, or to eat on its own or as part of a recipe, who doesn't love cheese and the fact that it comes in so many varieties? You can savour three types of cheese in their hot, gooey, and melty form by preparing this 3 Cheese and Bacon Loaded Baked Gnocchi Stix.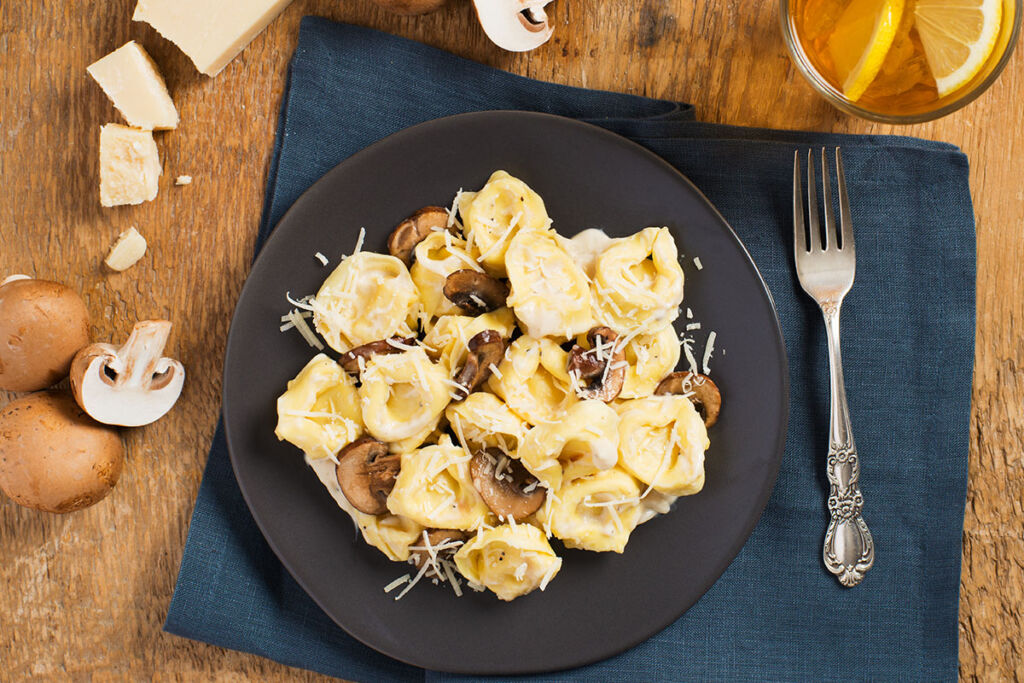 Mushrooms
With their earthy flavour and chewy texture, mushrooms are used in many classic Italian pasta dishes. In this Italian Sausage Tortelloni Alfredo with Mushrooms, you'll experience mushrooms at their finest in a rich, flavourful and comforting meal for the family.
Tomatoes
Whether freshly picked or canned, small or large, tomatoes are a refreshing and flavourful delight to add to pasta dishes, salads, and more. Their bright red colour also helps presentation, adding an attractive visual element to recipes such as this Mushroom Ravioli with Pancetta and Cherry Tomatoes.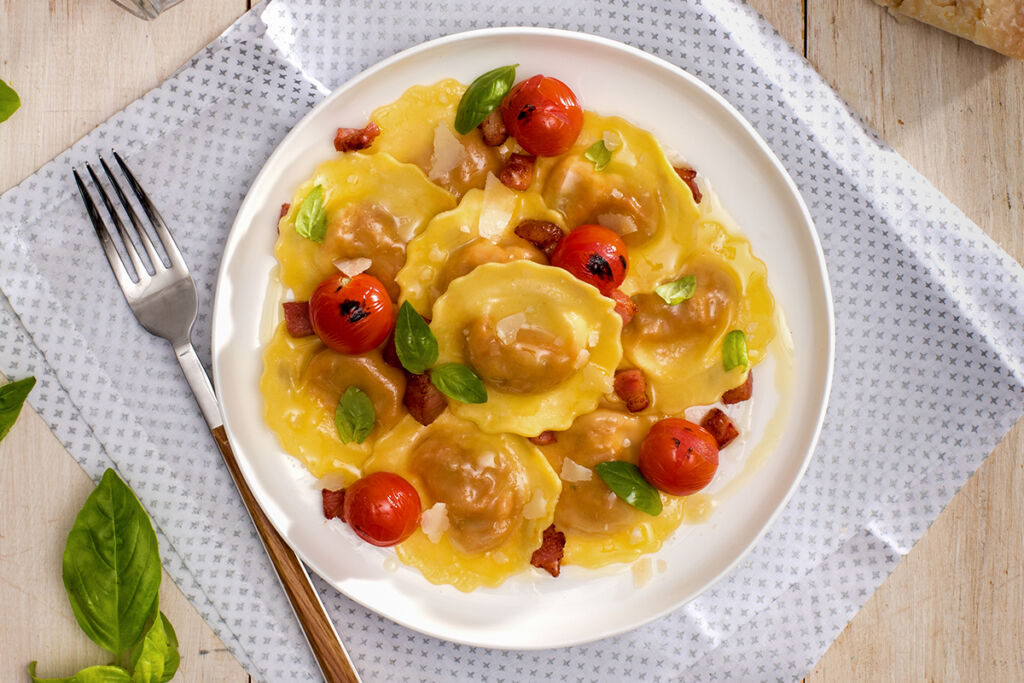 Olive Oil
In Italy and throughout the Mediterranean, olive oil is considered one of the most essential ingredients to have on hand, as it's used in so many dishes, for cooking, drizzling, and dipping. You can unleash its potential in this Skillet Gnocchi Stix with Smokey Hummus Dip, a fun but elegant appetizer the whole family will love.

Whether you're planning on keeping it Canadian or going Italian, these food staples will give you the foundations of various top-notch recipes. Stay tuned to Olivieri® for more meal inspiration.