Perfect for any pasta lover, gnocchi are a family-friendly, delicious and indulgent entreé that can spice up any weeknight dinner in just minutes! If you're not familiar with this Italian specialty, there is no better time to learn more about them in this guide. We'll show you how versatile these pillowy dumplings can be for any meal that both kids and adults will love, from breakfast to dessert.
What is Gnocchi? 
Pronounced N'YAW-kee, traditional gnocchi are simply made from potatoes and durum wheat semolina and may contain a few other ingredients like oil and salt. Olivieri® Fresh Gnocchi are a wonderful option for meals as they are made fresh and can be cooked in just a few minutes in boiling water or a skillet. The result is a light, airy, and fluffy bite-sized dumpling that pairs perfectly with a wide variety of incredible fresh sauces.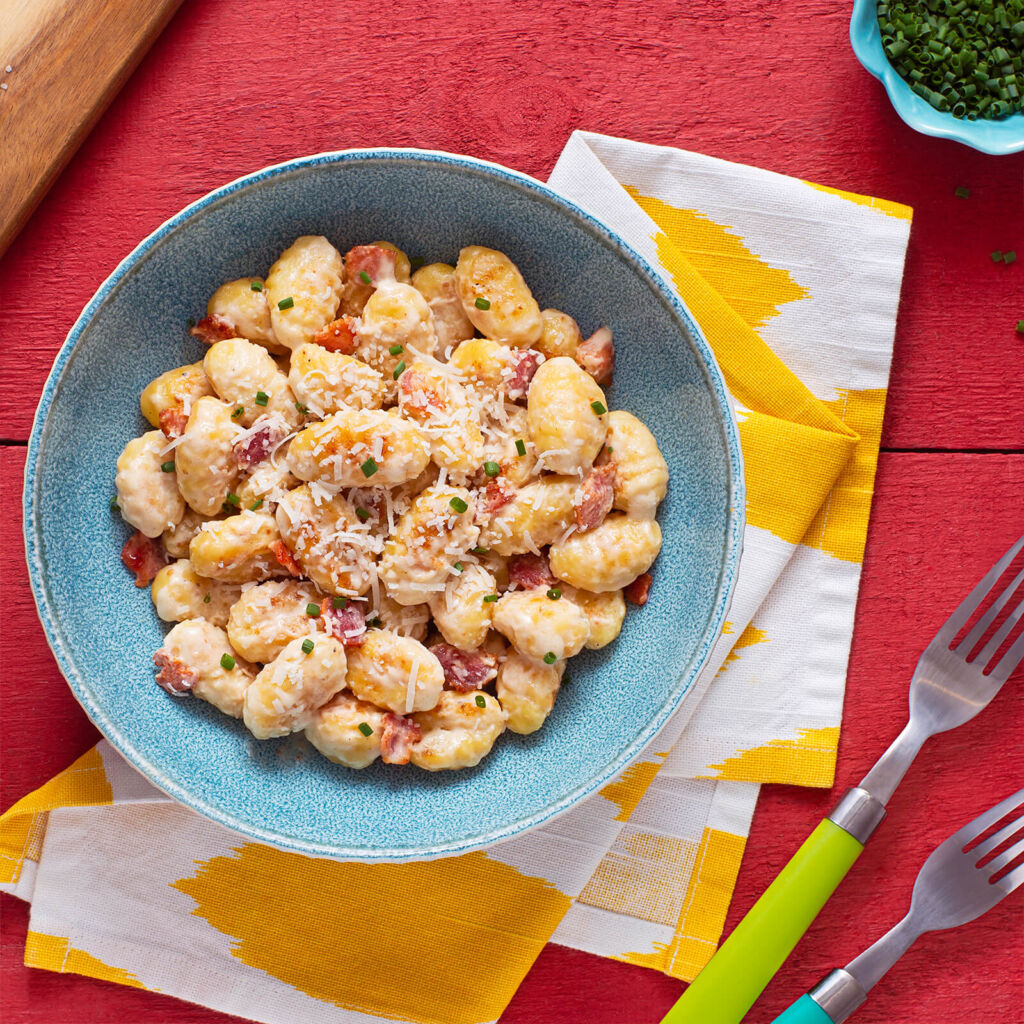 Is Gnocchi Pasta?
Gnocchi often have ridges that are ideal for holding onto sauce but make them look like shells, so many people confuse them with a type of pasta. Gnocchi, however, are not pasta but rather dumplings made from potatoes and flour.
But, they can be used as a delicious substitute anywhere traditional fresh pasta is used. Gnocchi offer the same comfort food taste with the tender texture of a plump dumpling. Try them in a creamy Gnocchi Carbonara, a warming gnocchi soup recipe, or a refreshing Pesto Gnocchi Pasta Salad to see for yourself.
How To Cook Traditional Gnocchi
Cooking fresh gnocchi is quite simple to prepare using minimal tools and just a couple of minutes. Add a sophisticated touch to anything from an intimate Italian-style dinner to a quick weeknight family meal that kids will truly enjoy. All you need to do is: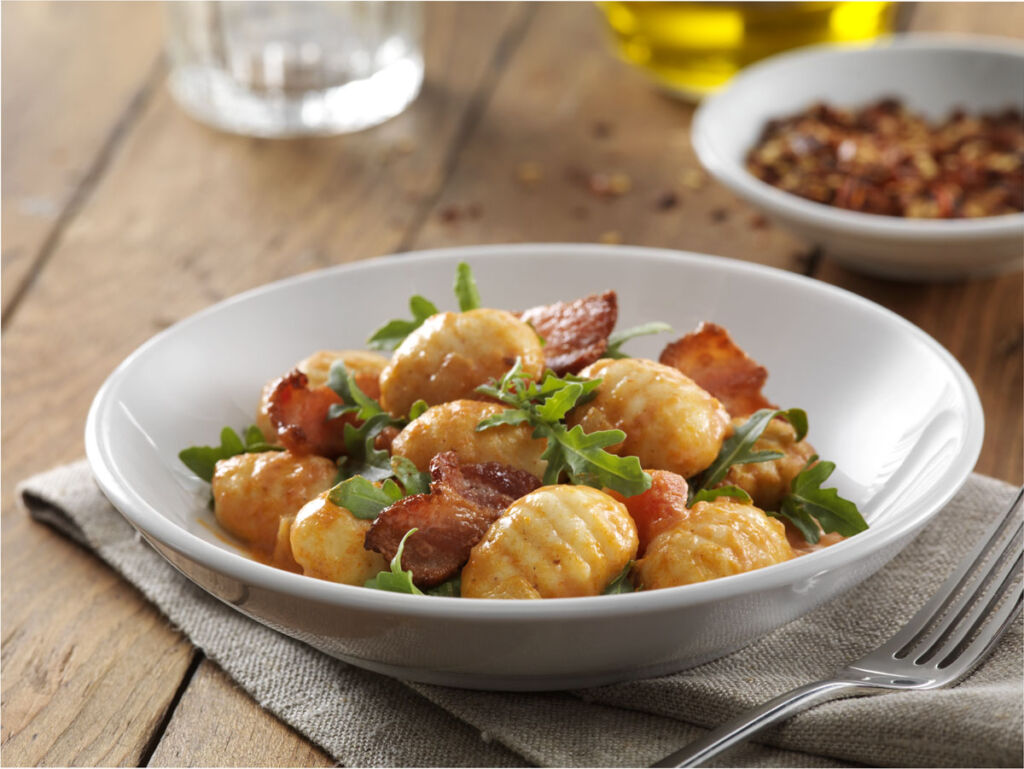 Bring water to a boil in a saucepan or pot and add salt.
Cook the fresh gnocchi for just 2 minutes at a gentle boil (Important: ensure they don't overcook).
Drain, eat as is or coat with sauce, and enjoy!
What is Skillet Gnocchi?
While classic gnocchi might be simple, if you ask us, the best way to cook gnocchi is in a skillet.
It's so convenient and simple anyone can do it, and all you need is one pan, which means no boiling is required! Cook the gnocchi in a bit of olive oil or butter until golden brown for a wonderfully crispy texture on the outside, with a soft, tender center.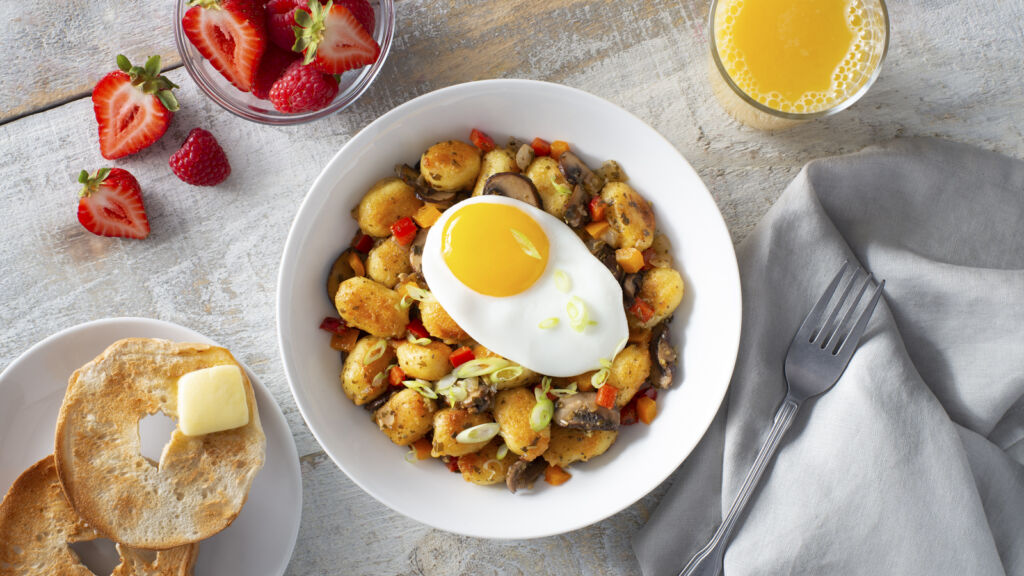 Want to try them out? Olivieri® Classic Skillet Gnocchi are fresh and tasty for an incredible meal that everyone in the family will enjoy, picky eaters too! And, for something that will impress your dinner guests, try levelling up your meal with additional flavours using stuffed skillet gnocchi:
Family Tip: Kids love skillet gnocchi, and the best part is that they are perfect any time of day for a filling breakfast, lunchboxes, easy dinners, entertaining and snacks. Keep reading for all kinds of meal inspiration.
What Are the Best Sauces to Pair with Gnocchi?
As we mentioned before, because of their shape, gnocchi are especially crave-worthy served with all kinds of thick and thin sauces. They're equally delicious drizzled generously with a Creamy Rosé Sauce in this recipe for Bacon Rosé Gnocchi or a lighter oil-based Basil and Cheese Pesto in this dish of Skillet Gnocchi with Mushrooms and Pesto.
They even work well with cheeses like mozzarella, ricotta or bold blue cheese like in this recipe for Alfredo Gnocchi with Crumbled Blue Cheese using specialty Herb Alfredo Sauce.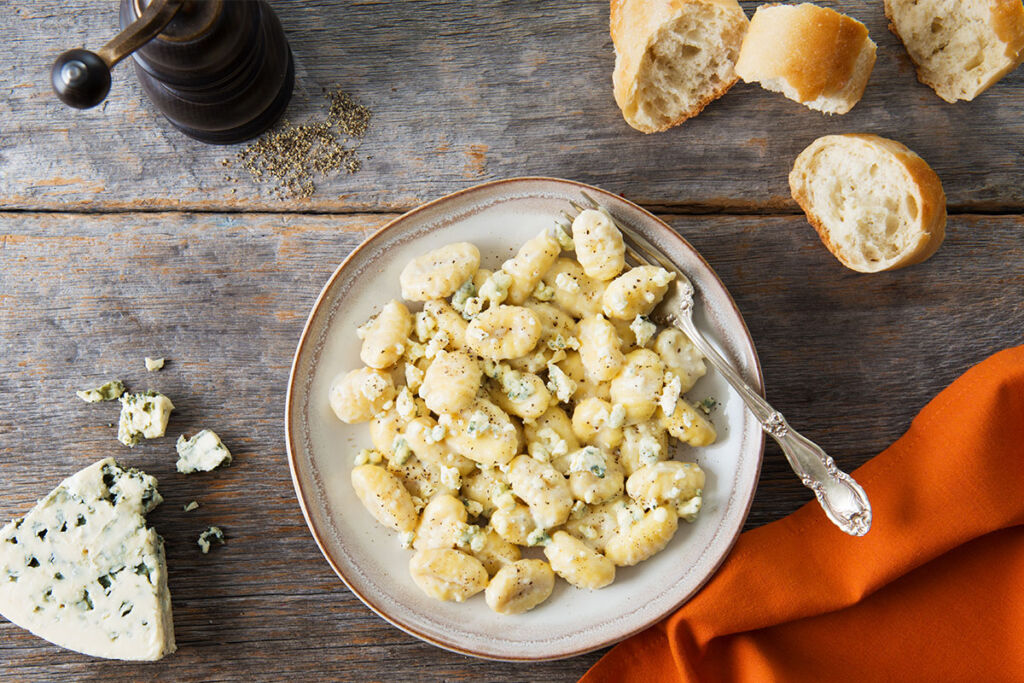 The Best Skillet Gnocchi Recipes
Are you intrigued to try more? Use these recipe ideas to prepare your gnocchi for irresistible Italian nonna-approved meals.
Gnocchi For Breakfast
It's true; you can even eat gnocchi for breakfast! Start the day with something filling and appetizing, whether it be a family gathering or a hearty weekday meal. Swap out the hashbrowns for these Cheese Filled Skillet Gnocchi in this kid and parent-approved Breakfast Skillet loaded with bacon, sausage and eggs.
Appetizers and Snacks
Need something crispy to share? These Classic Skillet Gnocchi with festive toothpicks are perfectly served with a side of marinara sauce for dipping.
Wrap soppressata or pepperoni slices around each crispy gnocchi to make flavourful Pizza Bites. Try it for yourself using this video recipe as a guide:
Dinner Ideas
Treat your entire family to a crave-worthy and hassle-free meal that they will look forward to all week!
Serve them as the main event in a Cheese Filled Skillet Gnocchi with Lemon, Ricotta and Asparagus. Or, use them to create a hearty side dish like Parmesan and Garlic Skillet Gnocchi to serve alongside any cut of meat like beef, chicken or fish, or a load of extra vegetables.
For a traditional taste, use Classic Skillet gnocchi for a tasty and revamped Homemade Poutine recipe with savoury gravy and cheese curds!
Dessert Gnocchi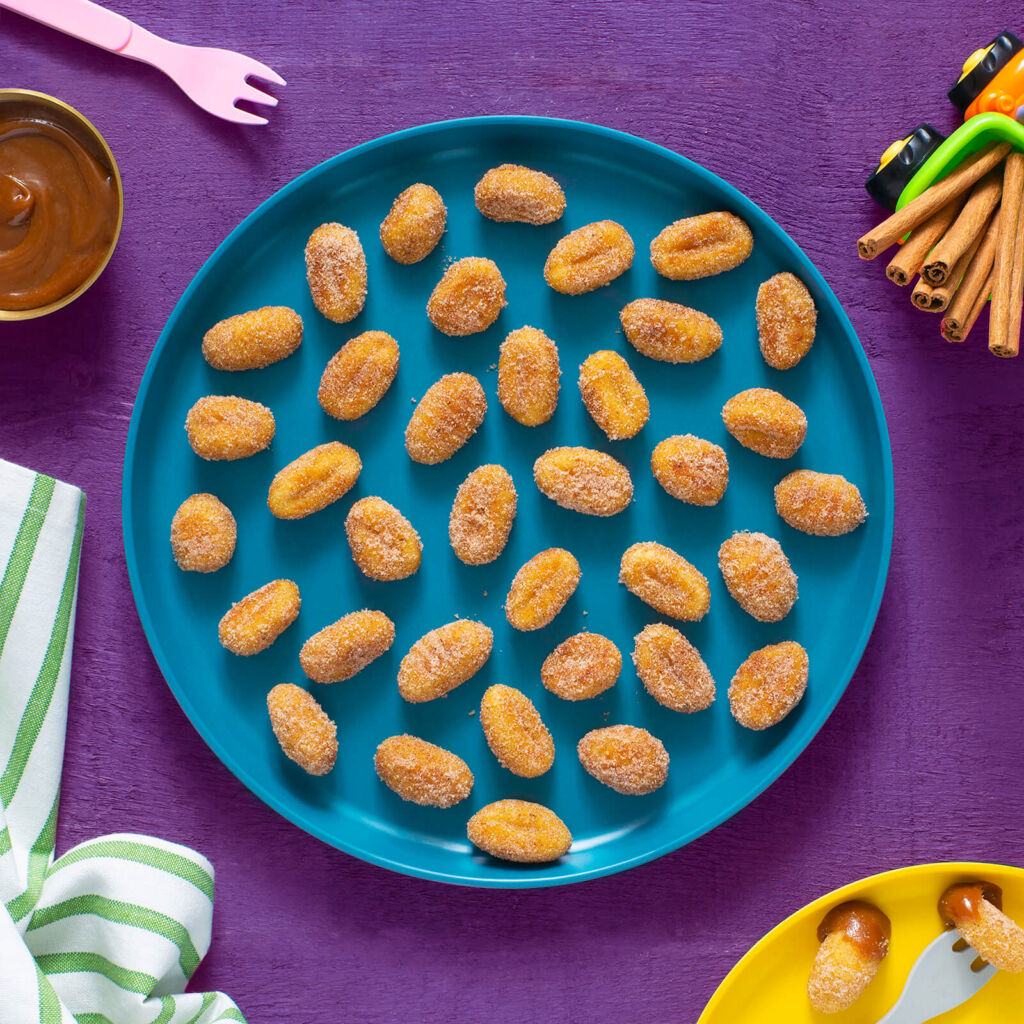 If you think you've seen it all, wait until you try our sweet version of Churro-style Gnocchi Bites with a side of dulce de leche, caramel or chocolate sauce for dipping.
If you have a bag of Olivieri® Fresh Gnocchi or Skillet Gnocchi on hand, you can create quick, easy and drool-worthy meals that everyone in the family will love! Experience the joy of an Italian-inspired meal any time of day. Explore more meal options with fresh pasta and sauces in our recipe section. Click on this link for even more gnocchi ideas.