Are you wondering how to add some creative magic to a classic chicken dinner? Doing so couldn't be any simpler. With Olivieri®'s chicken pasta recipes, the whole family can enjoy the comforting textures and flavours of a chicken dish with an Italian-inspired twist. Read on as we guide you through these family friendly and easy recipes that are sure to delight everyone at the dinner table.
Gnocchi Recipes for Chicken Lovers
Gnocchi recipes work wonders with chicken. Together, they up the ante when it comes to the chewy and tasty, but they also seem to go well with just about any sauce you decide to pair them with. That's great news for sauce lovers.
For a special occasion, it's nice for the family to see something elegant on the table to give the evening a feeling of charm and importance. That's where this Parmesan and Garlic Skillet Gnocchi dish does the trick. Add slices of grilled chicken to the meal and dinner will taste just as great as it looks.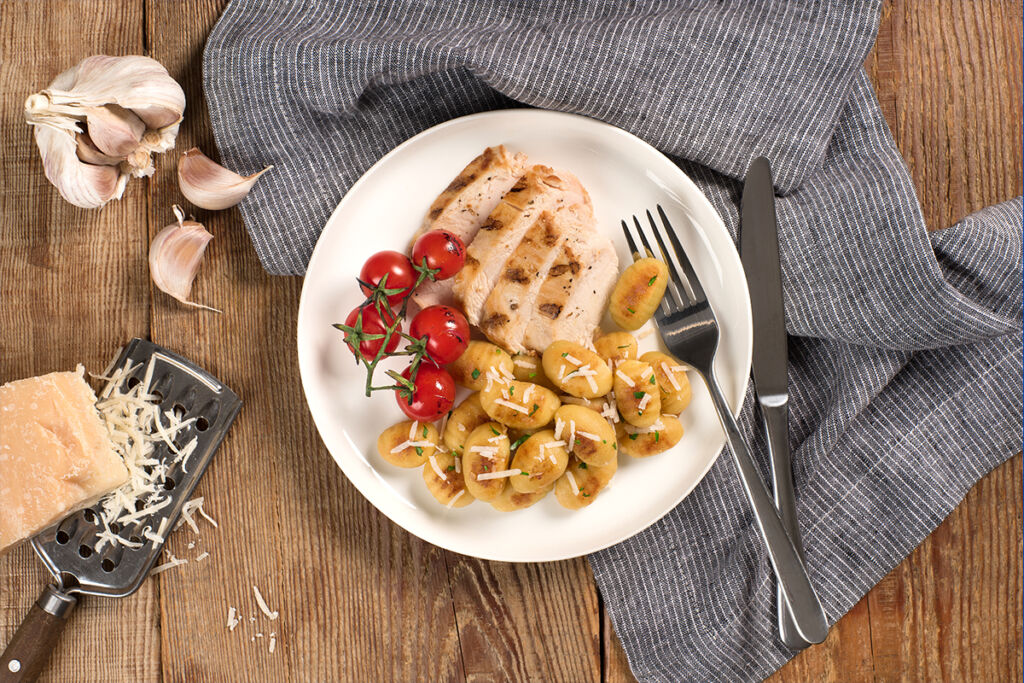 But not every dinner has to focus on the fancy. Sometimes, it's better just to make something fun. Chicken Nuggets with Skillet Gnocchi Stix make the ideal midweek treat for the little ones to reward them for a good day at school or to add some easy deliciousness to movie night at home.
One of the things we love about gnocchi is their versatility – you can cook them up in no time for an experimental dish or opt for one of these Classics with a Gnocchi Twist. Needless to say, you will not be short of ideas!
Quick Tips for Cooking Chicken:
Try out different methods: It's possible to grill, fry, roast, bake or slow-cook chicken. Each way brings out different textures and slightly different flavours. Only by trying each will you know which one you prefer.
Use seasoning: In some parts of the world, cooking chicken without seasoning is totally unthinkable, and so it should be! Seasoning will make your chicken more flavourful and satisfying to eat.
Choose quality: When buying the chicken at your local store, make sure it's plump, moist and properly labeled. High quality chicken that's fresh and in perfect condition makes the world of difference!
Tortellini Recipes with Tasty Chicken Temptations
With a few tortellini recipes up your sleeve, you will not be short of options when it comes to working some chicken into dinnertime. This Cheese Tortellini with Chicken and Mushrooms is a chicken pasta recipe that's easy to make, a joy to eat and even includes some nutritious greens.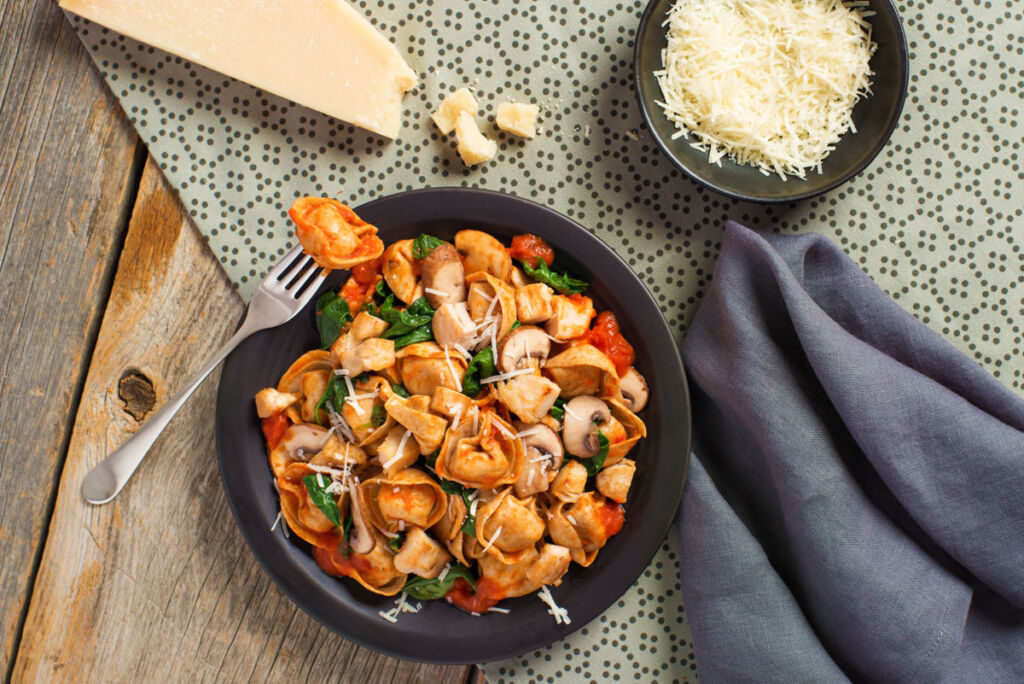 For those who love the refreshing flavours of tomatoes and asparagus, how about opting for this Chicken Pesto Tortellini with Cherry Tomatoes? What makes it even more tasty is the addition of Olivieri® Basil & Cheese Pesto, one of our irresistible fresh sauces.
Here's one for cheese lovers, this Chicken, Bacon & Cheese Sacchettini in Basil & Cheese Pesto. With cubed Fontina cheese spread around the pasta, this restaurant quality dish brings dairy delight to your taste buds!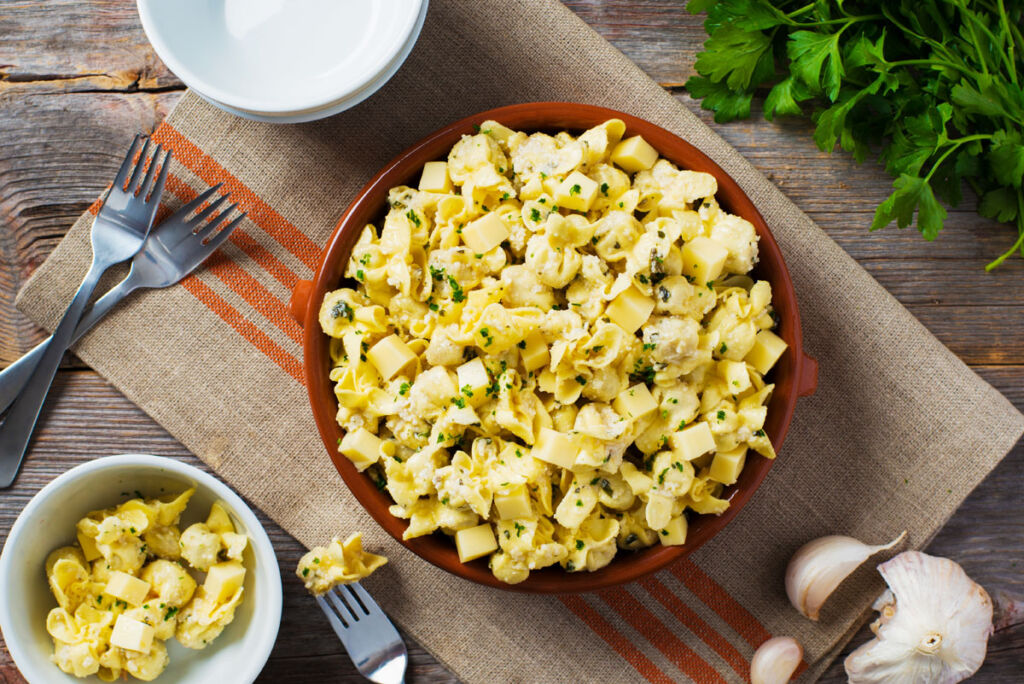 Cannelloni Creations
A good cannelloni recipe is different from your average pastas dish. Why? Because these little filled cylinders that are usually topped with sauce are a particularly hearty, comforting and rich component of Italian cuisine as this Chicken & Prosciutto Cannelloni in Rosé Sauce can attest!
You can also use cannelloni in a chicken alfredo pasta recipe such as this Chicken and Prosciutto Cannelloni with Mushroom Alfredo Sauce. The great thing about this dish is that it's simple yet sophisticated.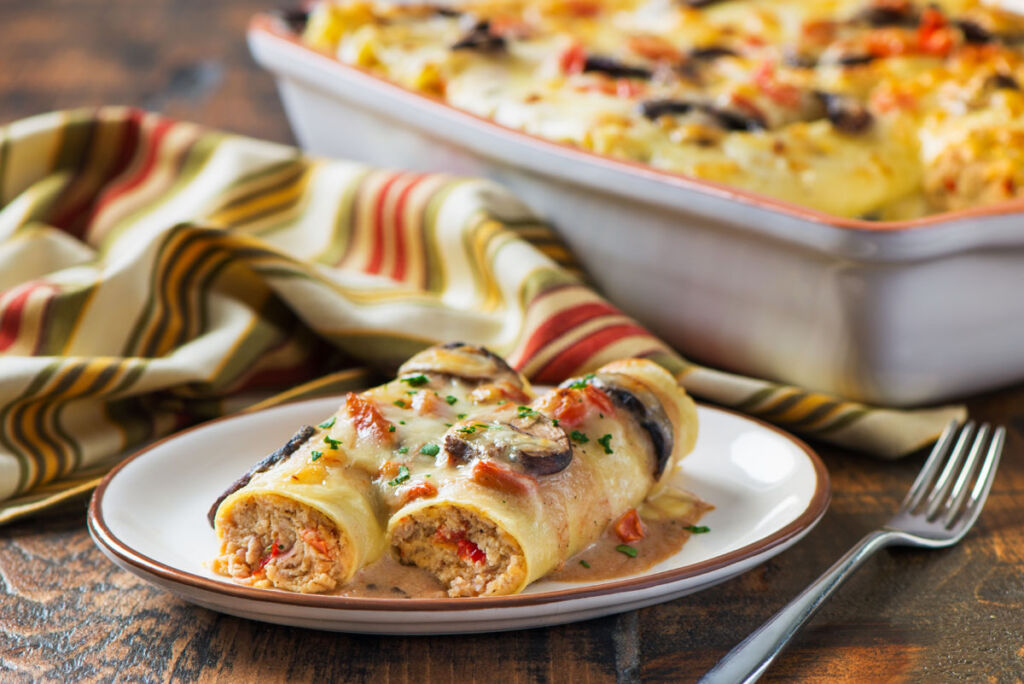 Flavourful Combos
For those around the table who like their meals to be rich, creamy, saucy and flavourful, our Butternut Squash Ravioli with Chicken and Kale will not let you down! With sliced chicken breasts and Olivieri® Creamy Rosé Sauce, the result is tantalizing.
You can also try adding some chicken strips to a classic Italian recipe with this Linguine Italiano, an elevated dish that brings Italian culinary traditions into the modern world. Twist it around a fork and let the magic unfold!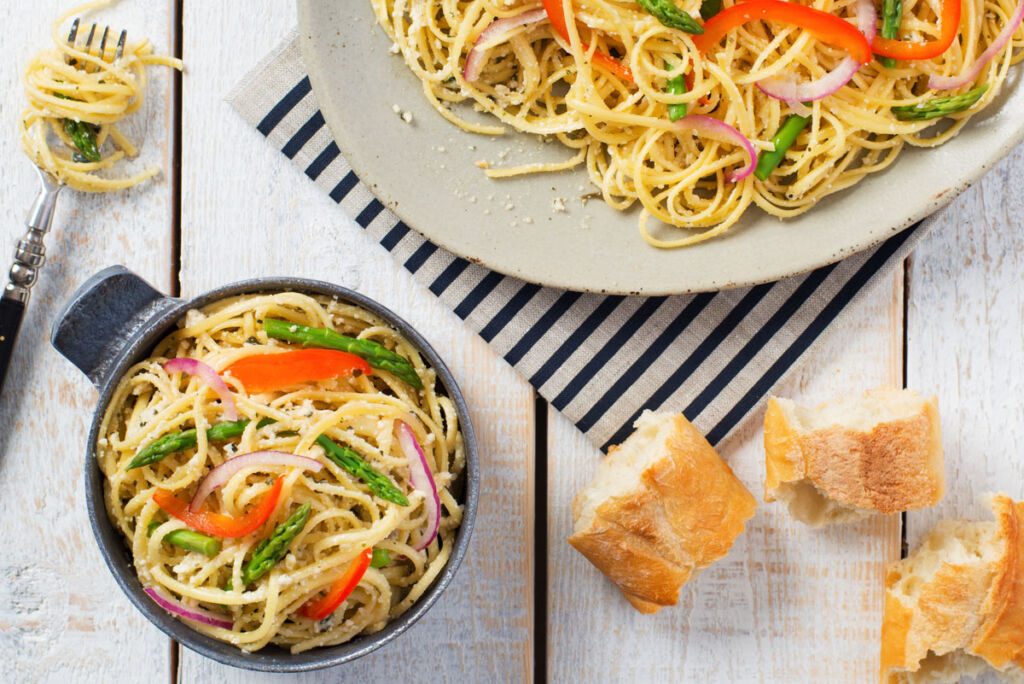 For pasta dishes like many of the above, it's worth knowing how exactly pasta should be cooked. Is it as simple as one might imagine? Have you been doing it wrong all this time? Find out all you need to know in the ultimate guide to cooking pasta.
For more Italian-inspired recipes that will satisfy the whole family, be sure to come and drop by our kitchen. There you'll find the latest tips, tricks and meal ideas conjured up with high quality products from fresh pasta and sauces to our gnocchi varieties.