Valentine's Day is a great time to step outside of your weekly routine to enjoy a wonderfully delicious meal. Impress your family and loved ones using Olivieri® Fresh Pasta, Sauces and Gnocchi for an elevated yet simple 3-course meal including appetizers and desserts! But, don't worry, it can all be put together in no time.
We've separated our meal ideas into an intimate night for two or a family-friendly event with enough food to share with everyone around the table.
Tips For an Elevated Home Meal
If you're going to make a special meal, we suggest preparing your dinner table for the event. Get the whole family involved clearing everything off and helping to make the night fun. Use these tips for enhancing your table:
Stop by your local convenience store to pick up a fun tablecloth, plates, cups and silverware for easy cleanup, and to add a pop of color.
Have everyone in the family help prepare by cutting out, drawing or handcrafting decorations.
You can even turn your kitchen or dining room into an at-home Italian restaurant by letting any younger members make up a menu from the recipes chosen. Add unscented candles to the table if desired.
Get creative and have fun with the family by creating a wonderful spread!
Now, let's get started with some indulgent meal ideas.
Appetizers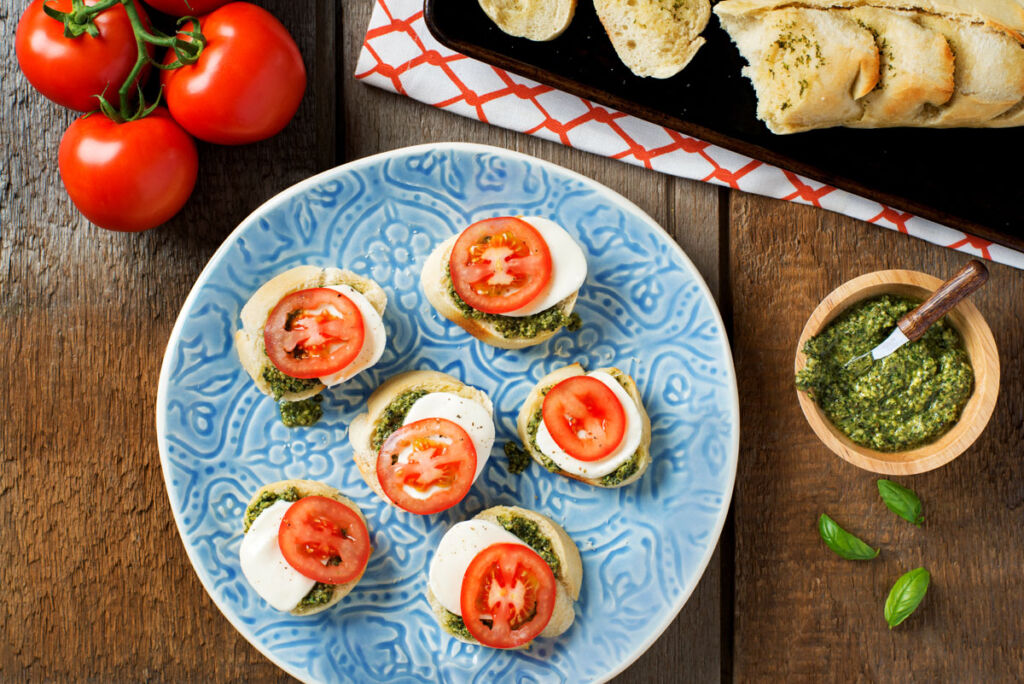 Start your meal off with finger food appetizers like Fresh Mozzarella Tomato Crostinis that can be prepared quickly but with superb quality. Find a fancy tray to lay out the crostini, slices of your favourite warmed garlic bread, layer on tomato, cheese, and drizzle over with Olivieri fresh Basil & Cheese Pesto.
Or, use fun toothpicks to stick into kid-friendly Gnocchi Pizza Bites with marinara sauce for dipping. Your kids will love these crispy on the outside and tender on the inside Skillet Gnocchi wrapped in soppressata, pepperoni or bacon if desired. Treat them to something special this Valentine's Day! 
And remember, with Olivieri®, there are plenty of ways to cook up an easy gnocchi recipe.
Family-Friendly Dishes
Now that we've got a few appetizers on the menu let's dig into some delicious entrée inspiration.
Pasta with Tomato Sauce
For an authentic Italian restaurant feel, you may want to choose something classic with an elevated touch of Olivieri® Fresh Pasta and Marinara or Rosé Sauce. Start with simple and crowd-pleasing Angel Hair and Meatballs with Marinara that everyone can twirl around their fork.
Or, try a filled pasta coated in smothered in fresh sauce like Beef Ravioli with Marinara or Cheese Tortellini in Rosé Sauce. Swap in your favourite filled pasta in place of ravioli or tortellini, explore all of our tasty Fresh Pasta varieties.
Breakfast for Dinner
Switch things up and enjoy breakfast for dinner! Prepare a loaded Breakfast Skillet with sausage, eggs and Cheese-filled Skillet Gnocchi in place of classic potatoes. See all of the different crave-worthy ingredients in our video:
Lasagna
For something that everyone can help with, try an Old Fashioned Lasagna. If you're preparing dinner with younger members, have someone measure out the ingredients while others layer everything in the tray.
Intimate Dinner Ideas For 2
If you're interested in a night for two to celebrate the special day, we've also got cozy and romantic comforting Italian dishes.
Try any of these dishes prepared explicitly for two:
Dessert
Whether you're feeding a family or sharing a quiet dinner, there is always room for a delicious dessert! Try something new like these Churro-Style Gnocchi Bites. Pan-fry Olivieri® Skillet Gnocchi in butter until golden brown, coat in cinnamon and sugar and drizzle generously with dulce de leche.
Experience the joy of an Italian-restaurant quality dinner at home with family this Valentine's Day! Trust Olivieri® to provide you with what you need for any occasion.